Air travel ground to a halt during the early days of the COVID-19 pandemic, and it seems like problems are part of the new normal. 
These days, delays and cancellations are much more routine, which can be frustrating for travelers — even those who travel nearly for free.
To get where you need to go on time as often as possible, it can help to choose airlines with the best track record. It turns out that some carriers really are more reliable than others, according to the Office of Aviation Consumer Protection.
10. Frontier Airlines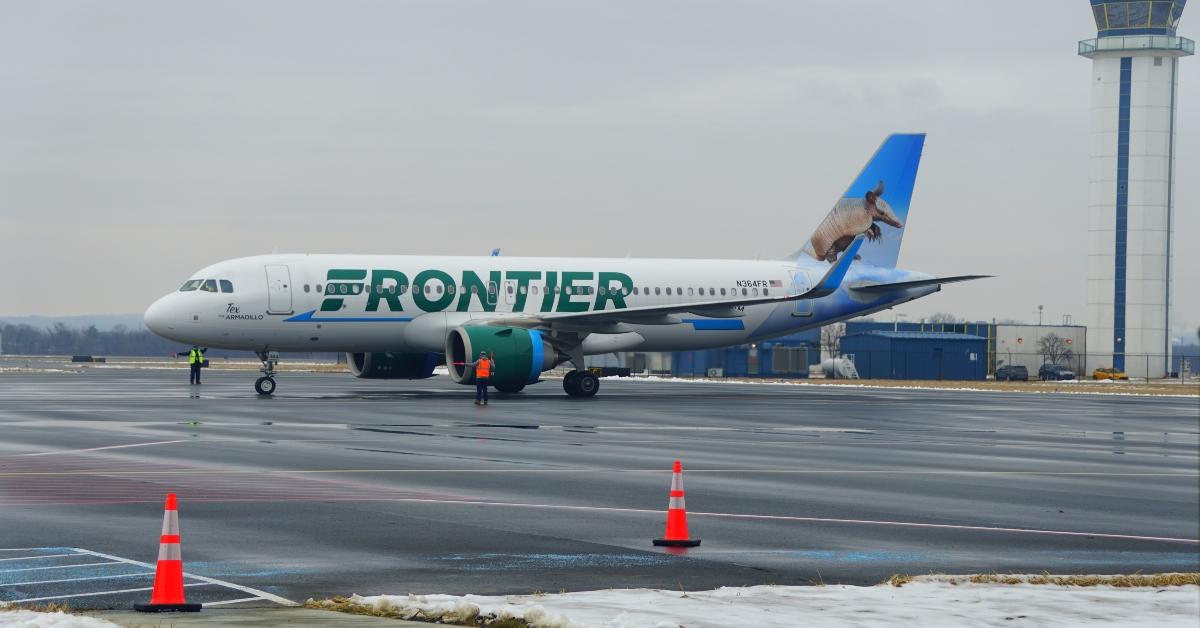 Frontier Airlines is a low-cost carrier that operates flights across the U.S., Mexico, and the Caribbean. 
They're best known for offering lower fares than their counterparts, although they do charge for amenities that some other airlines don't, such as carry-on bags and soft drinks.
Insofar as arriving on time, they rank the lowest on this list in the No. 10 spot. Only a paltry 56.6% of their flights arrived on time in 2022, according to data from 80 airports.
9. Allegiant Air
Allegiant Air is another low-cost airline that primarily serves domestic passengers in the U.S. seeking warmer locales for their vacations. 
They're also known for flying to airports that are off the beaten path, such as Bozeman, Montana, or Allentown, Pennsylvania.
While this budget airline does have a smart strategy, its track record for landing on time isn't very good, hence its No. 9 ranking. It's fractionally better than Frontier at 57.2%, per information from 124 airports.
8. Hawaiian Airlines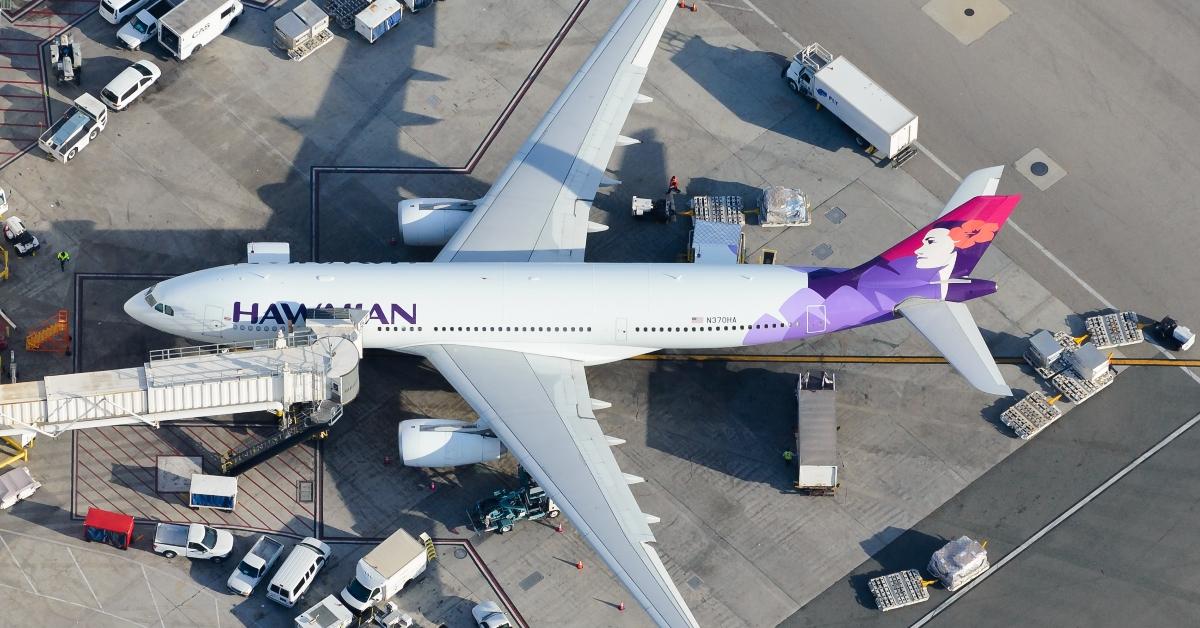 Based in Honolulu, Hawaiian Airlines operates flights to various destinations in the U.S., Asia, and the Pacific. 
It's one of the few airlines that still offers free meals on all of its flights, including traditional Hawaiian dishes such as poke bowls and kalua pork.
Despite its fairly solid reputation, only 58.1% of its flights landed on time in 2022. 
To be fair, though, Hawaii is a remote location that's quite far from most of its destinations, and that may impact arrival time. Also, only 21 airports weighed in with data.
7. JetBlue
One of the newer players on the scene, JetBlue is a lower-cost airline based in New York. They operate flights to destinations throughout the U.S., the Caribbean, and Latin America. 
One nice thing about this airline is that it has more free amenities than your average airline, such as Wi-Fi and movies. They have a bit more legroom than other carriers, too.
Despite the perks, there is room for improvement when it comes to JetBlue's punctuality. In fact, only 59.1% of flights managed to hit the tarmac in a timely manner, per intel from 64 airports.
6. Alaska Airlines
Headquartered in Seattle, Washington, Alaska Airlines is a major airline that operates flights to various destinations throughout the U.S., Mexico, and Canada. 
In general, this airline gets high marks, with an in-flight experience that's comfortable and safe. However, where it really shines is its loyalty program and perks for elite members.
Alaska Airlines is in the middle of the pile for timely arrivals, with 60.5% getting the job done, per 106 airports. 
Note that two numbers go into that percentage. Alaska Airlines flights made it on time a bit under 60% of the time (per 84 airports), while over 60% (per 51 airports) of its branded partners did the same.
5. Southwest Airlines
Based in Dallas, Southwest Airlines is another major airline that primarily services U.S. destinations. 
It's known for its lower fares and open-seating policy, which allows passengers to choose their own seats once they board the plane.
At No. 5 on the list, Southwest has mediocre luck getting their planes on the ground in a punctual manner. Specifically, data from 107 airports indicate that 60.7% of Southwest's flights manage to hit the mark.
Note that Southwest did have a meltdown during the holidays in 2022 that grounded the majority of its flights.

4. Spirit Airlines
Similar to Frontier, Spirit Airlines is a low-cost carrier based in South Florida that serves the U.S. 
Spirit Airlines is known for its no-frills approach to air travel, offering low fares but charging extra for everything else, including seat selection and soft drinks. Consequently, it may be surprising to see them in the respectable No. 4 position.
The ranking is well earned, though, as 61 airports chimed in with their data. The result? Spirit landed 65% of its flights on time in 2022, a solid five-point jump over Southwest. Let's give credit where credit is due.
3. United Airlines Network
Onto the big three airlines for the final spots on our list, all with rankings within the 70th to 78th percentile. 
As one of the largest airlines in the world, United Airlines operates over 4,500 flights daily to 120 destinations. Additionally, they are a founding member of the Star Alliance, the largest airline alliance out there.
As for their stats, United manages to touch down 71.8% of its planes on the runway on time, according to intel from 220 airports. 
Branded partners hit the mark more often than the main United fleet, at 72.7% (per 200 airports) and 71.0% (per 109 airports). Not bad, United, not bad.
2. American Airlines Network
The runner-up for being on time is American Airlines, the biggest airline in the world. 
This is quite the distinction. They have more than 900 aircraft in their fleet and trace their lineage all the way back to pioneer Charles Lindbergh. So they've been doing things right for a long time.
When you look at the numbers, American Airlines lands 73.7% of its flights right on time, per intel from 225 airports — more locations than any airline on the list. 
Its branded partners taxi in on time 77% of the time (according to 208 airports), while the main American fleet does 71.1% (according to 119). Impressive.
1. Delta Air Lines Network
Delta Airlines has cracked the code, as they are No. 1 in punctuality by a longshot. 
The major airline operates more than 4,000 flights every day, with more than 275 destinations around the world. And they're proud to call themselves "North America's most on-time airline."
Delta lands 77.5% of its flights as scheduled, per 209 airports, and their stats buck the trend of branded partners being more punctual: 78% (143 airports) to 76.7% (175 airports). 
Bottom line
Air travel can be a frustrating experience if your flights don't take off and land on time, which is why customers may prefer to book with airlines with good track records. 
Just remember that there are other important aspects to consider when booking, such as safety, customer ratings, and, of course, the cost of tickets if you have to make extra money to travel. 

Easy-to-Earn Unlimited Rewards
Earn 25,000 online bonus points after you make at least $1,000 in purchases in the first 90 days of account opening - that can be a $250 statement credit toward travel purchases
Earn 1.5 points per $1 spent on all purchases
Longer intro APR on qualifying purchases and balance transfers
No foreign transaction fees
Earn unlimited 1.5 points per $1 spent on all purchases, with no annual fee and no foreign transaction fees and your points don't expire.
25,000 online bonus points after you make at least $1,000 in purchases in the first 90 days of account opening - that can be a $250 statement credit toward travel purchases.
Use your card to book your trip how and where you want - you're not limited to specific websites with blackout dates or restrictions.
Redeem points for a statement credit to pay for travel or dining purchases, such as flights, hotel stays, car and vacation rentals, baggage fees, and also at restaurants including takeout.
0% Introductory APR for 18 billing cycles for purchases, and for any balance transfers made in the first 60 days. After the intro APR offer ends, 17.74% - 27.74% Variable APR will apply. A 3% fee applies to all balance transfers.
If you're a Preferred Rewards member, you can earn 25%-75% more points on every purchase. That means instead of earning an unlimited 1.5 points for every $1, you could earn 1.87-2.62 points for every $1 you spend on purchases.
Contactless Cards - The security of a chip card, with the convenience of a tap.
This online only offer may not be available if you leave this page or if you visit a Bank of America financial center. You can take advantage of this offer when you apply now.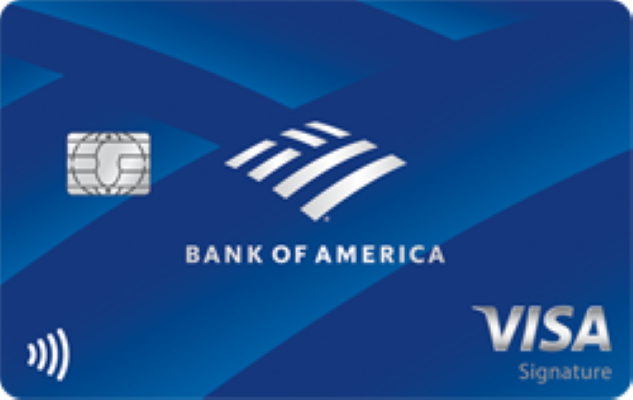 Apply Now
on Bank of America's secure website
Read Card Review
Intro Offer
Earn 25,000 online bonus points after you make at least $1,000 in purchases in the first 90 days of account opening - that can be a $250 statement credit toward travel purchases