There's still some time for summer travel, but you might not be the only one going to the coolest cities and latest hot spots.
In fact, tourists have overrun some places in the U.S., particularly during busy months in the summer or around the winter holidays.
To make sure you avoid wasting money the next time you book a trip, we've got a list of some places you might want to avoid if you don't like vacationing among throngs of people. We also suggest some better alternatives.
New York, New York
The city that never sleeps is also the city full of tourists. Tourist spots like the Empire State Building or Statue of Liberty can be exciting, but be prepared to wait in long lines if you don't book tickets early.
Places like Times Square also might be crowded with tourists.
Where to go instead: Boston, Massachusetts
Boston is a great city in the Northeast that has fewer of the extra people and added costs you find in the Big Apple.
Enjoy historic sites and attractions without the excessive crunch of a New York City crowd, particularly if you avoid peak visiting times.
Denver, Colorado
Denver offers plenty for outdoorsy tourists to do. There are hiking trails and whitewater rafting in the summer. Or, head up into the nearby Rocky Mountains in the winter to take on any number of huge ski resorts.
However, ski season also means big waits at restaurants and expensive hotels. You'll also face long lines just to get on a ski lift and enjoy the slopes.
Where to go instead: Sun Valley, Idaho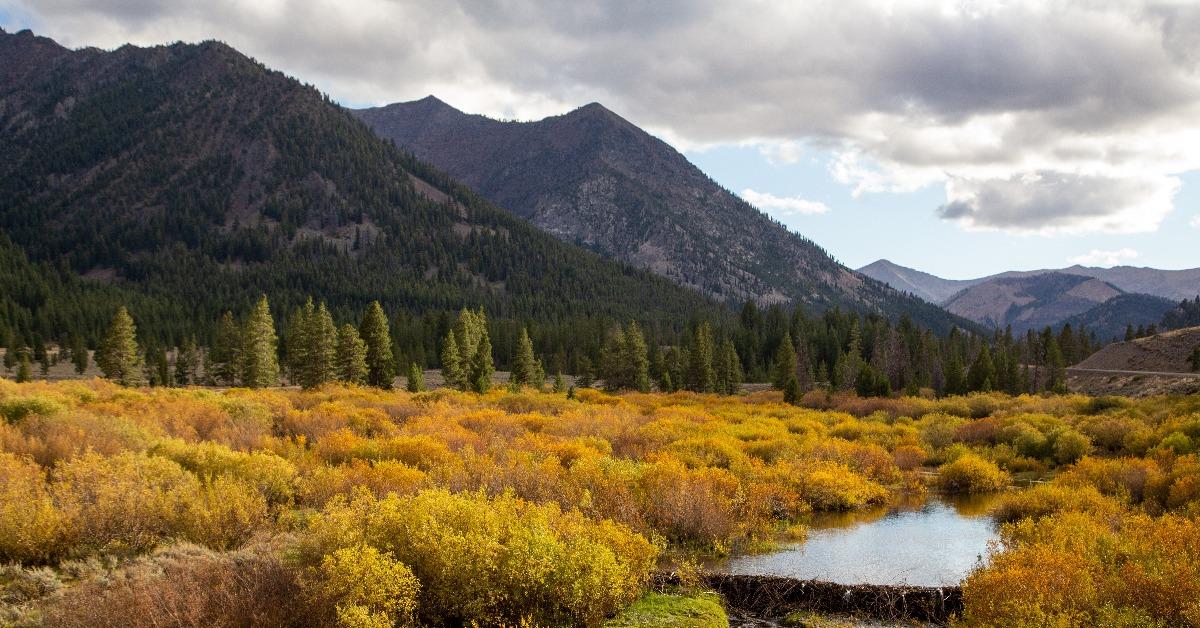 Sun Valley in Idaho also offers plenty of wintertime activities, from skiing to snowshoeing. But unlike some Colorado resorts, it might not be as popular or as packed with tourists, giving you more time to enjoy the mountain.
Philadelphia, Pennsylvania
Philly may be rich with history, but those interesting historical sites can also be overrun with tourists.
Attractions like the Liberty Bell and Independence Hall may have long waits and big crowds. That can be a big price to pay for a small glimpse of American history.
Where to go instead: Pittsburgh, Pennsylvania
On the other side of Pennsylvania is Pittsburgh, which also offers cool sites without the crowds.
Check out the memorial dedicated to hometown hero Fred Rogers, walk through one of the four Carnegie Foundation museums, or take a ride on the Duquesne Incline for sweeping views of the city.
Las Vegas, Nevada
If you want gambling fun, Las Vegas can be a good bet. However, the tables can be packed on weekends, and it might be hard to find a spot to play blackjack or poker.
You also may have to deal with an influx of people for conventions in the city or have to stay at a less-than-glamorous hotel to save money.
Where to go instead: Biloxi, Mississippi
Along Mississippi's Gulf Coast is Biloxi, which has had a bit of a rebirth after Hurricane Katrina roared through in 2005.
You'll find casinos such as the Golden Nugget, Hard Rock, and Harrah's, which give gambling-loving tourists a relaxing and more affordable alternative to the flashy Vegas crowds.
Napa Valley, California
Wineries are a great place to visit for those who like to try new reds and whites. But Napa Valley, which is home to more than 400 wineries, can still become crowded with tourists in tasting rooms and among the vineyards.
Where to go instead: Finger Lakes, New York
Head to the East Coast instead and check out the Fingers Lakes region of upstate New York. The area has fewer wineries than Napa Valley — around 100 — but that also means there are fewer tourists pushing their way into tasting rooms.
Chicago, Illinois
The Windy City is home to several museums, including the Field Museum of Natural History, the Art Institute of Chicago, and the Museum of Science and Industry, which is housed in a historic building from the 1893 World's Columbian Exposition.
Unfortunately, all those sites attract hordes of tourists during the summer months.
Where to go instead: Detroit, Michigan
Detroit is another Great Lakes city with some wonderful museums. The Motor City is home to the Motown Museum, which is reopening after a major expansion project.
Nearby is Dearborn, home to The Henry Ford Museum and Greenfield Village. Highlights include a reproduction of the laboratory from Thomas Edison's Menlo Park and the bus Rosa Parks was on when she was arrested in 1955.
Yellowstone National Park, Wyoming
Although it's not a town, this true gem of the U.S. National Park Service attracts many tourists who enjoy the hot springs and surrounding scenery, as well as a diverse collection of animals. Overcrowding can be an issue here.
Where to go instead: State parks
There is no need to travel far when you can enjoy nature in your own backyard. Do some research to find the best state parks in your area that may have hiking trails in the summer or snowshoeing and snowmobiling in the winter.
You might be surprised by what you can find only a few hours away.
Key West, Florida
The last stop on U.S. Route 1 is Key West, where tourists flock every year to enjoy laid-back days in the sun. The charming island is home to colorful houses that have become tourist attractions, including those that once belonged to Ernest Hemingway and Harry Truman.
The island has plenty of restaurants and bars to enjoy a night out, and they attract big crowds.
Where to go instead: Islamorada, Florida
Just a short trip north on U.S. 1 is another stop in the Keys called Islamorada. The town may not be as busy as Key West, but that can make it easier for you to truly relax while on vacation. You also can pick up some key lime pie without a wait, or find a perfect beach and not have to fight others to stake your spot.
Orlando, Florida
What kid doesn't want to go to Disney World? Orlando has theme parks that offer endless fun, depending on what type of rides you enjoy. Unfortunately, that means there are a lot of people crammed into the area's many amusement parks.
Where to go instead: Pigeon Forge, Tennessee
Is there anything more American than apple pie and Dolly Parton? Check out Dollywood, a fun amusement park nestled in the mountains of Tennessee. You're likely to save money and spend less time in line compared to at Disney World.
And if you need an amusement-park break, the nearby Great Smoky Mountains National Park can provide your family with some quality outdoor time together.
Miami, Florida
Miami has become more popular with glamorous tourists who take over beaches, restaurants, and bars in the area. The city also has a robust nightlife, with plenty to do if you like to stay up late.
But beware that things may look different in the morning when you check out of your expensive hotel and try to find a sliver of sand that isn't taken already.
Where to go instead: Savannah, Georgia
Head up the East Coast and stop in Savannah instead. The city on Georgia's coast has plenty of sand and water to enjoy, and you'll pay less for the experience than you would in Miami.
Savannah has plenty of history if you want to spend a day exploring away from the beach.
Bottom line
Instead of going overboard and maxing out your credit cards at tourist traps, keep more money in your bank account by considering affordable alternatives that can give you a fun time without the added cost.
And if you still want to check out Times Square or Disney World, consider booking a trip during non-peak season, when it may not cost as much and there will be fewer tourists. After all, traveling smart is a great way to stay out of debt.
Easy-to-Earn Unlimited Rewards
Earn 25,000 online bonus points after you make at least $1,000 in purchases in the first 90 days of account opening - that can be a $250 statement credit toward travel purchases
Earn 1.5 points per $1 spent on all purchases
Longer intro APR on qualifying purchases and balance transfers
No foreign transaction fees
Earn unlimited 1.5 points per $1 spent on all purchases, with no annual fee and no foreign transaction fees and your points don't expire.
25,000 online bonus points after you make at least $1,000 in purchases in the first 90 days of account opening - that can be a $250 statement credit toward travel purchases.
Use your card to book your trip how and where you want - you're not limited to specific websites with blackout dates or restrictions.
Redeem points for a statement credit to pay for travel or dining purchases, such as flights, hotel stays, car and vacation rentals, baggage fees, and also at restaurants including takeout.
0% Introductory APR for 18 billing cycles for purchases, and for any balance transfers made in the first 60 days. After the intro APR offer ends, 17.99% - 27.99% Variable APR will apply. A 3% fee applies to all balance transfers.
If you're a Preferred Rewards member, you can earn 25%-75% more points on every purchase. That means instead of earning an unlimited 1.5 points for every $1, you could earn 1.87-2.62 points for every $1 you spend on purchases.
Contactless Cards - The security of a chip card, with the convenience of a tap.
This online only offer may not be available if you leave this page or if you visit a Bank of America financial center. You can take advantage of this offer when you apply now.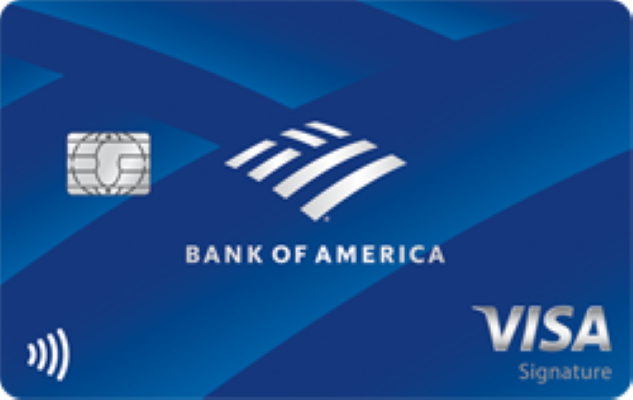 Apply Now
on Bank of America's secure website
Read Card Review
Intro Offer
Earn 25,000 online bonus points after you make at least $1,000 in purchases in the first 90 days of account opening - that can be a $250 statement credit toward travel purchases