It can be fun to plan a vacation and think about all the different things you will spend money on, from local restaurants to cool hotels.
You may be excited about going to museums or eating at local restaurants. You also might want to set aside money for a cool hotel near all the sights.
But before you crack open that wallet, consider the many ways you can cut costs and keep more cash in your savings account. Avoid the following common ways tourists waste money.
Hoarding cheap souvenirs
You see them everywhere in tourist locations: Mass-produced plastic versions of the Eiffel Tower in Paris, cheap tiki statues in Hawaii, and overpriced koala toys in Australia.
Instead of wasting cash on cheap trinkets, consider spending a little more money on something that you'll actually use, or at least want to keep. It may be a better reminder of your visit than cheap things that end up in the trash after only a little while.
Indulging in cocktails
Cocktails are a great way to relax while on a cruise, trip to the beach, or other vacation. But those drinks are going to come with a big price markup.
Try to limit the number of fancy cocktails you consume while on vacation. Or, check with your resort or cruise line to see if they offer a drink plan that can help you cut costs.
Buying beach toys
A beach vacation is a perfect time to unwind, and the hotel or resort you've booked may have a great gift shop full of things that can make your trip more enjoyable.
But it might be a good idea to skip the big inflatable beach toys. Those inflatable rafts and huge floaties may work on the beach, but it's going to be hard to pack them to take home.
Eating at chain restaurants
You may love having dinner at Olive Garden when you're home or grabbing a Big Mac near your office. But why patronize chain restaurants during your vacation when you can enjoy them anytime?
Instead, try out a local restaurant for a unique dining experience. Ask hotel staff to recommend a great place.
Getting hit with transaction fees
You might incur fees if you try to exchange cash when visiting a country with a different currency. 
Instead of paying for those fees, check with your local bank before you leave home to see if it can get you some of that currency before you leave. The rates might be better.
And before you travel, shop around to find a credit card that charges minimal or no transaction fees on international purchases.
Overpacking and paying baggage fees
It can be challenging to decide what to pack for a two-week trip. Packing too much might result in extra fees for overweight bags.
Instead, weigh your bags before you go to make sure you're within limits. You also might want to consider taking fewer clothes and spending a little money to launder them while on your trip rather than paying fees for additional baggage.
Booking trendy hotels
Sure, it can be cool to stay at a trendy hotel right in the heart of everything you want to see. But it can also be expensive.
Consider shopping around and looking for better deals on hotels, even if they are a bit out of the way.
Pro tip: Take advantage of hotel rewards. Loyalty to one hotel chain can lead to earning additional points for every place you stay.
Paying full price for expensive museums
Some cities like New York and Chicago are well-known for their museums. But admission to places like the Field Museum in Chicago or the Museum of Modern Art in New York can cost a good amount of cash.
Instead of spending all that money on admission fees, see if the city you're visiting offers a special tourist pass for multiple museums that can help you save on admission and keep more cash in your pocket.
For example, the New York Pass gets you admission to a bunch of local museums.
Forgetting about roaming charges
You may be excited to share photos of your trip on your favorite social media sites. Or perhaps you want to share videos with friends and family.
That's great fun. But beware that roaming charges can add up quickly if you're not in a place that's covered by your phone carrier.
Call before you travel to find out if your carrier covers the area you plan to visit. If not, ask about purchasing a SIM card so you can get local coverage and lower charges.
Overlooking the cost of parking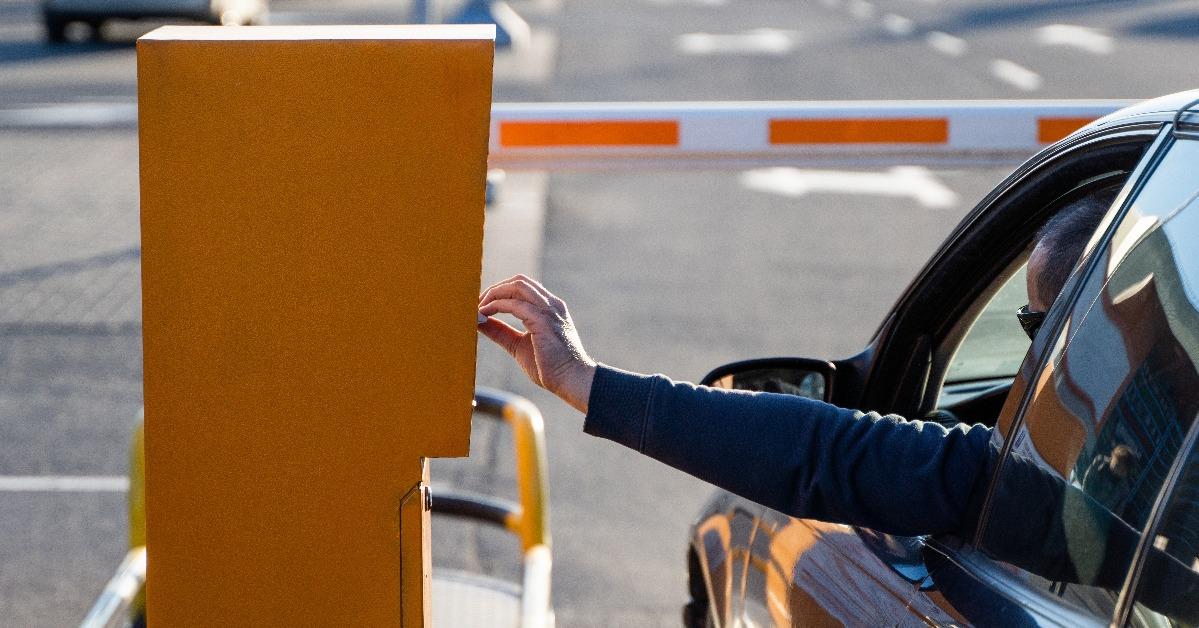 It may seem like you can save money by driving to your destination instead of flying or taking another form of transportation. However, before you decide, make a line for transportation in your budget to account for gas and parking costs.
A hotel or public parking lot might charge more than you expect for parking, especially in a tourist area.
Bottom line
With a little planning, you can avoid making travel mistakes that waste money. Consider creating a budget before you leave for your trip so you know how much you can spend each day without breaking the bank.
Also, remember to pack your wallet with the best travel credit cards to maximize the number of rewards you can pick up on vacation.
Easy-to-Earn Unlimited Rewards
Earn 25,000 online bonus points after you make at least $1,000 in purchases in the first 90 days of account opening - that can be a $250 statement credit toward travel purchases
Earn 1.5 points per $1 spent on all purchases
Longer intro APR on qualifying purchases and balance transfers
No foreign transaction fees
Earn unlimited 1.5 points per $1 spent on all purchases, with no annual fee and no foreign transaction fees and your points don't expire.
25,000 online bonus points after you make at least $1,000 in purchases in the first 90 days of account opening - that can be a $250 statement credit toward travel purchases.
Use your card to book your trip how and where you want - you're not limited to specific websites with blackout dates or restrictions.
Redeem points for a statement credit to pay for travel or dining purchases, such as flights, hotel stays, car and vacation rentals, baggage fees, and also at restaurants including takeout.
0% Introductory APR for 18 billing cycles for purchases, and for any balance transfers made in the first 60 days. After the intro APR offer ends, 17.74% - 27.74% Variable APR will apply. A 3% fee applies to all balance transfers.
If you're a Preferred Rewards member, you can earn 25%-75% more points on every purchase. That means instead of earning an unlimited 1.5 points for every $1, you could earn 1.87-2.62 points for every $1 you spend on purchases.
Contactless Cards - The security of a chip card, with the convenience of a tap.
This online only offer may not be available if you leave this page or if you visit a Bank of America financial center. You can take advantage of this offer when you apply now.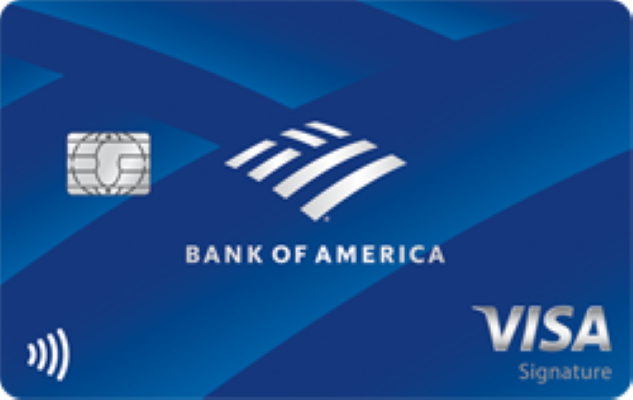 Apply Now
on Bank of America's secure website
Read Card Review
Intro Offer
Earn 25,000 online bonus points after you make at least $1,000 in purchases in the first 90 days of account opening - that can be a $250 statement credit toward travel purchases