Travel is supposed to be an enjoyable experience, one in which you get to see new things, have a few great experiences, and perhaps even catch up with old friends.
But some simple mistakes can turn the best trip into a disaster costing you time, money, and frustration.
Check out the worst travel mistakes you'll want to avoid in 2023 to help you avoid wasting money and make your next trip a positive experience.
Not updating your passport
Any travel overseas requires the use of a passport. If you haven't updated yours in some time, do it now.
Some travel destinations require the passport to be valid for another three to six months after your trip.
If you're trying to squeeze in one more trip before renewing, you could find yourself locked out of your destination, costing you time and money.
Also, be sure to check if the country you're visiting requires a visa. You can turn to the U.S. Embassy in that country to verify this information.
Checking a bag when you don't need to
Airlines differ in their carry-on and checked bags, though many today charge a hefty fee for checking a bag. Many allow carry-ons, though, which can be larger than you think.
Don't spend the money on a checked bag if you don't need to — and the time of having to search for it after the flight. Even with modern tech, checked bags can still get lost.
Not having a backup for a delay
Do everything you can to avoid being late for the airport. Triple-check all of the details of the flight, including its date and time. You also want to be sure to consider delays that could make a connecting flight a problem.
After ensuring all of this, create a backup should a flight get canceled. Have an idea of what your options are for local hotels, rebooking, and any travel insurance protection you have.
Pro tip: You could recoup some of the costs of a delayed or canceled flight when you use the best credit card for travel insurance to book your trip.
Not updating your cell phone plan
Depending on your carrier, you could face some pretty expensive increases in your phone bill if you use it overseas without checking your plan first.
Before you decide to travel, check with your cell phone provider about your coverage abroad and provide it with the location you're visiting. That way you can avoid costly surprises later.
Failing to learn local laws and customs
When you're traveling overseas, make it a point to learn as much as you can about the local customs and laws.
It's up to you to know how to properly thank someone and whether or not you can wear a certain type of clothing or use a certain product. For example, some nasal sprays are actually illegal to bring into Japan.
Ensuring that your communication and clothing aren't going to offend or violate any laws can help you avoid turning a good trip into a bad one.
Overscheduling your trip
One of the best things about traveling to a new destination is getting to explore it with new eyes. Some people like to schedule every hour of their trip to ensure they get everything in they can.
But doing that can cause you to miss the natural beauty of the location while also creating frustration as soon as you miss one planned experience. Try and relax and take it all in without a packed schedule.
Pushing for the lowest price on everything
It feels good to know you saved money on your hotel or rented a car for a fraction of what you expected. You may have gotten a cheap flight to save money too. Just don't ruin your experience for a bit of saving.
There's often a reason some prices are lower. No one wants to spend six hours on a bus to go from an obscure airport to their destination or stay in a hotel that's too far from any of the sights worth seeing.
Overpacking for the trip
A week-long trip doesn't mean you need seven or more outfits. Overpacking may also include bringing along a dozen toys for the kids to play with, tons of snacks for the hotel room, and numerous accessories.
Keep it simple and avoid the higher cost you may pay with checked bags or carry-on luggage that's too heavy. Find out if there are laundry services you can use nearby or choose lightweight, layered clothing to wear instead.
Waiting until the last minute to get vaccinated
Traveling to some countries may require the update of certain vaccinations. It's no fun to get poked with a needle, but getting it done before your trip is always worthwhile.
Don't make the travel mistake of waiting until the last minute, though. Pushing off vaccinations might mean that you can't schedule them in time, or you may feel ill for a day or so after.
Not exchanging money before you go
Many people use credit cards while traveling, but even that can lead to expensive fees.
First, if you plan to use your credit cards (be sure to verify that you can), check the expected costs according to the card's terms.
Second, if you plan to use money changers, realize that many of these can be less than above-board, meaning they could charge you far too much.
Check with your home bank before you leave instead to see if the exchange rate is better. That could save you money and hassle later.
Sticking to tourist spots
If you just stick to the tourist spots, you're not getting an authentic experience. Instead, take a trip into the countryside or visit the small town near the big city you're planning to visit.
If you have a car on your trip, take to the often more affordable surrounding towns for meals, shopping, and sightseeing whenever possible.
The experience is nearly always worth stepping away from the highly expensive, tourism-driven area.
Bottom line
One of the other things to remember as you set out to explore a new area is not to obsess over photos and social media. Experience the moment instead.
And put your phone down so you don't make the mistake of not enjoying your trip fully and creating lasting memories.
Great travel rewards with no annual fee
Earn 25,000 online bonus points after you make at least $1,000 in purchases in the first 90 days of account opening - that can be a $250 statement credit toward travel purchases
Earn 1.5 points per $1 spent on all purchases
Longer intro APR on qualifying purchases and balance transfers
No foreign transaction fees
Earn unlimited 1.5 points per $1 spent on all purchases, with no annual fee and no foreign transaction fees and your points don't expire.
25,000 online bonus points after you make at least $1,000 in purchases in the first 90 days of account opening - that can be a $250 statement credit toward travel purchases.
Use your card to book your trip how and where you want - you're not limited to specific websites with blackout dates or restrictions.
Redeem points for a statement credit to pay for travel or dining purchases, such as flights, hotel stays, car and vacation rentals, baggage fees, and also at restaurants including takeout.
If you're a Preferred Rewards member, you can earn 25%-75% more points on every purchase. That means instead of earning an unlimited 1.5 points for every $1, you could earn 1.87-2.62 points for every $1 you spend on purchases.
Contactless Cards - The security of a chip card, with the convenience of a tap.
This online only offer may not be available if you leave this page or if you visit a Bank of America financial center. You can take advantage of this offer when you apply now.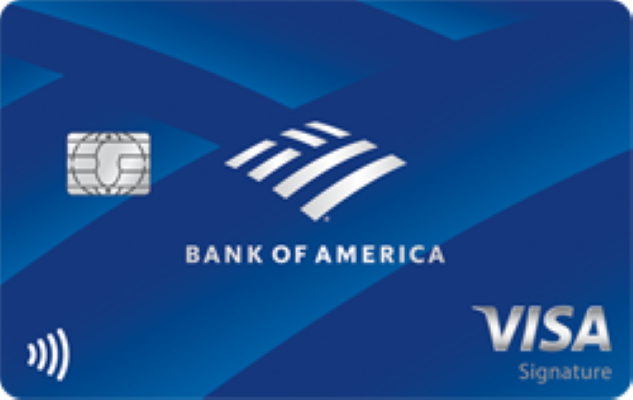 Apply Now

on Bank of America's secure website

Read Card Review
Lucrative welcome offer
Easy-to-earn points you can redeem for travel
$0 annual fee