We hate to knock cheap staycations, but some things are simply worth spending money on. Especially vacations to one-of-a-kind locations and experiences that just can't be replicated.
If you've been searching for a vacation that's worth every cent, we guarantee that one of these 18 spots will fit the bill.
These extravagant adventures may require you to cash in your travel credit card rewards, but they'll pay off with a lifetime's worth of memories.
Reykjavik, Iceland
As one of the only two world capitals where you can see the aurora borealis, Reykjavik is more than worth visiting. Experiencing the Northern lights in person is something you'll never forget.
If you visit in the spring and summer months, the ongoing daylight gives you ample opportunity to explore Reykjavik's many museums or head out on a whale-watching day trip.
Moab, Utah
This red rock paradise is the gateway to Arches National Park, home of Utah's Delicate Arch.
It's hard to imagine the awe you'll feel looking at the giant arch perched precariously on the edge of a massive slickrock bowl. Pictures just can't capture the experience.
New York City, New York
You've seen New York in hundreds of movies and TV shows — but is the Big Apple really worth seeing in person? Absolutely!
Film tries to capture the city's uniquely vibrant energy, but seeing the Statue of Liberty up close and in person is life-changing in ways a photograph just can't be.
Yosemite National Park, California
Like Utah's Delicate Arch, California's El Capitan has to be seen in person to be believed.
The 3,000-foot-high slab is made out of 100 million-year-old granite carved into a sheer rock face by the slow movement of glaciers.
Lisbon, Portugal
Portugal might be a small country, but it's rich in cultural and architectural history. You could spend an entire trip simply studying the centuries-old tile that covers buildings all over the city.
But while you're at it, we're guessing you'll want to savor Portugal's many sidewalk cafes and sample its picturesque beaches.
Isla Navarino, Chile
As part of the Argentine and Chilean Patagonia region, Isla Navarino is both gorgeous and unique.
With rugged mountains creating sweeping views and stellar fly fishing opportunities, it's easy to see what captivated a young Charles Darwin when he landed on the island in 1833.
Ho'okipa Beach, Maui, Hawaii
Perfectly placed along the scenic Road to Hana, Ho'okipa Beach is a dream come true for surfers and snorkelers alike.
It's also a protected home of Hawaiian green sea turtles whose heads you can see poking up for air in the evening.
Volcanoes National Park, Rwanda
Volcanoes National Park is the only place in Rwanda where you can see endangered silverback mountain gorillas.
There are only 1,000 mountain gorillas left in the world, all of them scattered across Rwanda, Uganda, and Congo — you won't find any in zoos.
Marrakech, Morocco
Morocco's capital is a famous cultural hub and shopping center. The city is full of traditional riads and luxurious Moroccan homes that surround a central fountain.
It's also home to the best in North African cuisine, comforting traditional steam baths, and UNESCO-designated gardens.
Galway, Ireland
While it's certainly worth swinging by Ireland's capital, Dublin, Galway's slower harborside pace offers a different type of Irish experience.
The area is an artistic hub, with a calendar packed with performances, events, and festivals. It's also beautifully walkable with plenty of opportunities for fresh-air strolls by the sea.
Machu Picchu, Peru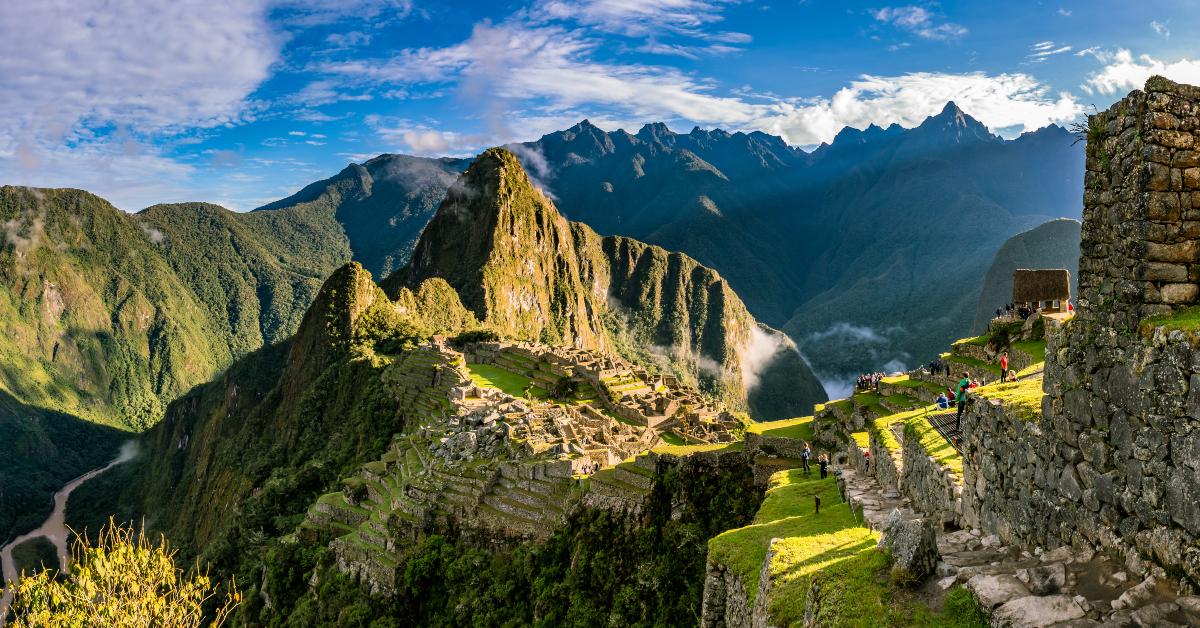 You might run into some trouble visiting Machu Picchu right now, but once the area opens to tourists again, it's a must-see site.
If the stunning Peruvian mountains weren't enough of a draw on their own, the terraced citadel is a fascinating relic of the ancient and undeniably ingenious Incan empire.
Agra, India
Home to the Taj Mahal, one of the seven wonders of the modern world, Agra is also one of India's top tourist sites.
Once you've seen the incomparable monument, you can visit the famous nearby Persian gardens and the Agra Fort, a UNESCO historical site.
New Orleans, Louisiana
Every big city has its own unique character, but perhaps no U.S. city comes close to rivaling the exuberant, history-drenched energy of NOLA.
Yes, it's worth enjoying the city's famous Mardi Gras celebration, but New Orleans is fascinating any time of the year — from its (supposedly haunted) Pirate's Alley to the French Quarter's world-famous cuisine.
Bali, Indonesia
It's almost a cliche at this point, but it's hard to find a more beautiful location than Bali. The beaches are as beautiful as you've heard, the accommodations as luxurious, and the people as friendly.
And if for some reason, beaches aren't your thing, Bali's waterfalls, mountains, rice fields, and other diverse landscapes are sure to inspire.
Boston, Massachusetts
If U.S. history is your thing, Boston should be near the very top of your must-see list. Everything from the streets to the buildings is steeped in stories dating back to the pre-Revolutionary War period.
And if slightly more niche history appeals to you, the whaling island of Nantucket immortalized in Moby-Dick is just a few hours' drive and ferry ride away.
Berlin, Germany
Germany's place in Cold War history alone makes it worth visiting, but there are all sorts of reasons to see Berlin beyond its intriguing world history.
The city's excellent museums could take a lifetime to explore, and its cultural scene (concerts, plays, operas, and festivals) is a huge draw as well.
Grand Canyon National Park, Arizona
Watch all the movies and check out all the photos that you want, but standing in front of the sweeping Grand Canyon itself is in a completely different category of experience.
No matter how many times you've heard it described, the canyon's size and scale are hard to believe, even when you're looking straight at it.
Fairbanks, Alaska
Fairbanks is far enough north that you can see the Northern lights in the winter. It's also a popular area for classic Alaskan sports like snowshoeing, dog-sledding, and cross-country skiing.
And if you're interested in Denali, the tallest mountain in North America, it's just a two-and-a-half-hour drive south from Fairbanks. Or you can take a helicopter flight in the other direction to tour the Arctic Circle.
Bottom line
You don't have to blow your budget to make your vacation dreams a reality. Instead of skipping the adventure of a lifetime, consider making the most of credit card travel perks.
The scrimping, saving, and — above all — the splurging will be completely worth it.
Easy-to-Earn Unlimited Rewards
Earn 25,000 online bonus points after you make at least $1,000 in purchases in the first 90 days of account opening - that can be a $250 statement credit toward travel purchases
Earn 1.5 points per $1 spent on all purchases
Longer intro APR on qualifying purchases and balance transfers
No foreign transaction fees
Earn unlimited 1.5 points per $1 spent on all purchases, with no annual fee and no foreign transaction fees and your points don't expire.
25,000 online bonus points after you make at least $1,000 in purchases in the first 90 days of account opening - that can be a $250 statement credit toward travel purchases.
Use your card to book your trip how and where you want - you're not limited to specific websites with blackout dates or restrictions.
Redeem points for a statement credit to pay for travel or dining purchases, such as flights, hotel stays, car and vacation rentals, baggage fees, and also at restaurants including takeout.
If you're a Preferred Rewards member, you can earn 25%-75% more points on every purchase. That means instead of earning an unlimited 1.5 points for every $1, you could earn 1.87-2.62 points for every $1 you spend on purchases.
Contactless Cards - The security of a chip card, with the convenience of a tap.
This online only offer may not be available if you leave this page or if you visit a Bank of America financial center. You can take advantage of this offer when you apply now.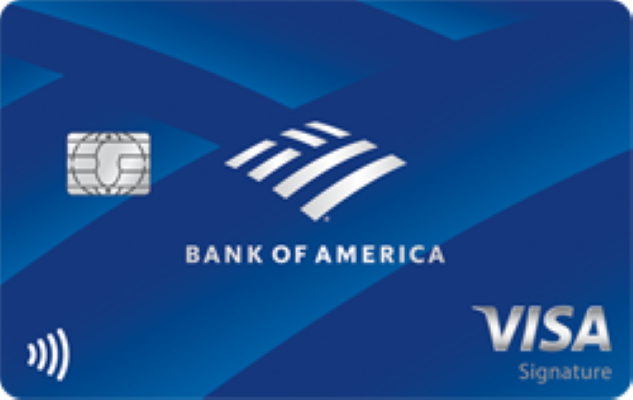 Apply Now
on Bank of America's secure website
Read Card Review
Intro Offer
Earn 25,000 online bonus points after you make at least $1,000 in purchases in the first 90 days of account opening - that can be a $250 statement credit toward travel purchases