There is a wide range of investment platforms and brokerage firms that investors can choose from today. Some platforms offer basic access to stocks, mutual funds, ETFs, and other types of securities. Others might be better for frequent traders and those interested in futures and options.
As an investor, it's important to look at the types of features you need and evaluate an investment platform based on those needs. If you're considering investing with E*TRADE, our E*TRADE review can help provide some insights into this popular platform and how it works.
What is E*TRADE?
E*TRADE is one of the first online brokers and was founded in 1982. According to the E*TRADE site, it helped pave the way for online trading. The company executed its first online trade in 1983, well before the internet became mainstream. It eventually went public in 1996.
E*TRADE has over 4,100 employees and 30 retail branches across the U.S. The company is a member of the Financial Industry Regulatory Authority (FINRA) and the Securities Investor Protection Corporation (SIPC), and its banking products are Federal Deposit Insurance Corporation (FDIC) insured. It's also a member of the National Futures Association (NFA) for its futures and commodities trading.
E*TRADE was recently acquired by brokerage industry giant Morgan Stanley. This could be either good or bad for account holders. Morgan Stanley likely bought E*TRADE to expand its reach to other corners of the investor universe or simply as an investment. 
Current E*TRADE customers and those considering the platform should be mindful of any changes made by Morgan Stanley over time, as they could potentially impact the E*TRADE platform.
One move that Morgan Stanley made was the sale of E*TRADE's registered investment advisor (RIA) custodial business to another clearing firm. If you are working with a financial advisor that relies on this custodial service to help execute your investment decisions, consider communicating with them to see how this impacts you.
How does E*TRADE work?
E*Trade is an online broker and offers a full suite of investment tools to serve the full range of investors, from those who are new to investing to experienced traders. E*TRADE provides a number of choices for investors and traders.
Investors can fund their account(s) based on the rules for the type of account they are looking to open. Besides its web platform, it also offers mobile apps for iOS and Android with robust capabilities.
E*TRADE has two trading platforms, E*TRADE Web and Power E*TRADE. Both are available to all users free of charge with no account minimums.

E*TRADE Web offers free market data, streaming quotes, real-time market commentary, stock screeners, and other services.
Power E*TRADE offers additional trading tools for active investors interested in more sophisticated investments like futures and options trades.
In addition to its investment accounts, E*TRADE also offers bank accounts through E*TRADE Bank. Its offerings include an FDIC-insured Premium Savings account and multiple checking accounts. Investors can also access an E*TRADE line of credit, allowing you to borrow against investments held at E*TRADE.
E*TRADE at-a-glance
Brokerage account
Core Portfolio
Managed Portfolios
Minimum investment required
$0
$500
$25,000 - $250,000, depending on account tier
Management fees
None, though fees may apply for specific types of trades
0.30% annually
0.35% to 1.25%, depending on account tier
Account types available

Taxable brokerage
Custodial
Traditional IRA
Rollover IRA
Roth IRA
SEP IRA

Taxable brokerage
Custodial
Traditional IRA
Rollover IRA
Roth IRA
SEP IRA

Asset classes

Stocks
Bonds
CDs
Mutual funds
ETFs
Options
Futures

Stocks
Bonds
ETFs
Mutual funds
Note: Investment mix depends on the account tier you choose.

Features

No commissions for ETFs, options, and U.S. listed stock trades
No-fee mutual funds
Free debit card, checking, and bill pay

Customized portfolio tailored to your situation.
Professional monitoring by a team of experts paired with technology
Personalized help and support
Portfolio rebalancing as needed to stay aligned with your goals.

Dedicated Financial Consultant
Professionally managed account based on your situation.
Personalized help and support
Portfolio rebalancing as needed to stay aligned with your goals.
Pros and cons of E*TRADE
E*TRADE pros
The E*TRADE platform offers low transaction costs, including free trades (in some cases) for stocks, ETFs, and options.
Account minimums are as low as $0, in some cases.
The site offers an array of educational resources that can be helpful for beginner and experienced investors alike.
Investors can access an extensive menu of no-transaction-fee mutual funds.
An E*TRADE mobile app is available for on-the-go account access.
E*TRADE cons
The E*TRADE website is not intuitive and challenging to navigate. It can be difficult to find the information you need.
E*TRADE charges high per-trade fees for less frequent options traders.
Who can open an E*TRADE account?
E*TRADE is a good option for a wide range of investors based in the U.S. Its onsite educational materials are excellent for beginning investors, and it offers futures and options trading for more sophisticated investors.
Its brokerage account requires no account minimums, which could make it a good option for new investors. However, other account options may have minimums, depending upon the type of account. E*TRADE offers several different portfolios, including its Core Portfolio offering and multiple Managed Portfolio options. It also supports multiple account types, including various IRA accounts.
You can easily open an account via an online application which can be found on the E*TRADE website. You can also call the company's customer service team at 800-ETRADE for assistance as well. As with any brokerage account you may be considering, be sure to read the fine print and ask questions if you don't understand something.
How much can you earn with E*TRADE?
How much an investor earns with E*Trade or any other broker or advisor depends on how they invest. Investing always involves risk. An investor is no more likely to do well or poorly by investing with E*TRADE versus any other broker.
How an investor's portfolio performs is a function of their time horizon, risk tolerance, the state of the economy and the financial markets, and other factors. Investors might consider seeking the advice of a financial advisor or perhaps using one of the managed account options at E*TRADE if they'd prefer to get help and advice from a professional.
FAQs
Is E*TRADE good for beginners?
E*TRADE could be a good broker for beginning investors to consider. It offers an online knowledge library of information and educational resources. 
However, the E*TRADE site isn't very user-friendly and can be overwhelming and difficult to navigate at first glance, which may be off-putting for some new investors. Beginners might want to consider more intuitive investing apps like Stash or Robinhood.

Is E*TRADE good for active traders?
E*TRADE might be a good choice for active traders due to its low fees on stocks, ETFs, options, and other types of investments often used by active traders. 
E*TRADE also offers helpful online trading and charting tools through its Power E*TRADE platform and mobile app, and active traders can get access to 24/7 customer support.
How much does it cost to use E*TRADE?
E*TRADE touts its low costs and low account minimums. It aims to make investing affordable to investors at all levels. Some accounts can be opened with a $0 minimum deposit. 
E*TRADE also offers commission-free trades for most listed U.S. stocks, ETFs, and options. It also offers over 4,400 no transaction fee mutual funds on its platform as well.
Does E*TRADE have trading fees?
While E*TRADE offers some zero-commission trading options, it charges trading fees or other types of transaction costs in many cases. That said, many of the trading fees it charges are quite low.
Can you lose money with E*TRADE?
Yes, you can lose money with E*TRADE. It's possible for investors to make or lose money on every investing platform. Various factors can impact your portfolio performance, including your investment strategy and market conditions.
How to open a brokerage account with E*TRADE
Opening a brokerage account with E*TRADE is pretty simple and can generally be done online in about 10 minutes. You'll be asked which type of account you'd like to open, and E*TRADE will request some basic information from you, such as your name, address, email address, date of birth, and Social Security or tax identification number.
You can also work with their customer service team by phone or open an account by completing the appropriate form and mailing it to them.
Once your account is opened, it can be funded in one of four ways:
Transfer money: This is a free service that allows you to move money between accounts at E*TRADE or from outside accounts at other financial institutions to fund a new account. This process can take up to three business days.
Wire transfer: This is generally executed on the same business day. There may be fees attached with a wire transfer, depending on your bank.
Account transfer: This involves transferring your assets from another investment account at a different financial institution to an E*TRADE account. This process could take ten business days or longer. Some financial institutions may process these types of account transfer faster than others.
Deposit a check: This can be done electronically or by mail.
Alternative investment platforms to consider
If E*TRADE doesn't seem like the right investment platform for you, there are a number of alternatives out there to consider.
TD Ameritrade, which was recently acquired by Charles Schwab, is a major player in the discount brokerage space. It offers investors a full range of services and investment alternatives. It has many similarities to E*TRADE, including various asset classes to choose from, a variety of investment account types, and relatively low fees. 
It also offers several trading platforms, including its Thinkorswim platform. Thinkorswim offers options for traders of all experience levels. For more information, read our TD Ameritrade review.
Another option worth considering is Betterment, a popular robo-advisor that offers a range of account types and other services for investors. 
Betterment is not a true substitute for a brokerage platform like E*TRADE, as do-it-yourself investing is not really an option on the Betterment platform. However, Betterment can be a good option for investors who want advice and a managed account option. For more information, read our Betterment review.
To compare more options, check out our best online brokers to evaluate some alternatives and to get reviews of these various investment platforms.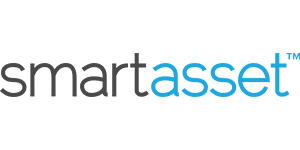 Smart Asset Benefits
Get matched with fiduciary financial advisors
Advisors are vetted and certified fiduciaries
Take the mystery out of retirement planning
Their matching tool is free
FinanceBuzz doesn't invest its money with this provider, but they are our referral partner. We get paid by them only if you click to them from our website and take a qualifying action (for example, opening an account.)