At the beginning of October 2019, many major stock brokerage firms changed their course, slashing their online trading commissions to zero. Charles Schwab was the first to announce this move, and rivals TD Ameritrade and E*Trade followed suit shortly thereafter.

But the popular trading platform, Robinhood, has been offering free trades since it officially launched to the public in 2015. With this move by the major stockbrokers to offer commission-free trades, you may be wondering why you might still want to choose the Robinhood app and if it is the best online broker.
In this Robinhood review, we'll walk you through what this platform offers to help you decide if it's the best investment app for you.
Quick Summary
Invest with commission-free trading via an intuitive, user-friendly online platform.
Earn a reward of a value of up to $200 when you sign up and connect your bank account

No account minimums make it easy to get started

Trade stocks, funds, options, and cryptocurrencies
What is Robinhood?
Robinhood was founded in 2013 by Stanford roommates and classmates Vladimir Tenev and Baiju Bhatt. The duo had previously built two finance companies that sold trading software to financial institutions in New York City.
Immersed in the world of finance, Tenev and Bhatt quickly realized the discrepancy between what big Wall Street firms were paying to trade stocks and what most Americans were charged for every trade — up to $10 each trade for the average person. This led to the decision to move back to California, where they built a stock trading platform that leverages technology and simplicity to democratize access to the financial markets. Thus, Robinhood was born.
Before Robinhood became available to the public in 2015, 800,000 people signed up for its waitlist. As of March 2022, there are over 22 million active Robinhood customers after it gained popularity among millennials in 2020 and 2021 during the GameStop meme stock rise.
Robinhood gives you access to a taxed brokerage account as well as a tax-advantaged individual retirement account (IRA) for retirement savings. A Robinhood Retirement account differs from other IRAs by offering a 1% match on external deposits to help with your portfolio's growth. This feature is uncommon among investment apps and brokerages.
Robinhood is U.S. Securities and Exchange Commission (SEC) registered broker-dealer and member of the Financial Industry Regulatory Authority (FINRA), as well as a member of the Securities Investor Protection Corporation (SIPC). This means stocks and options in your brokerage account are protected for up to $500,000.
How does Robinhood work?
Robinhood gives its users several ways to make their money work harder. Whether you're trading stocks, funds, or options or buying and selling cryptocurrencies, there are no commission fees. It's also free to open a brokerage or retirement savings account and use the Robinhood platform. This allows you to have low-cost investment options without having to sacrifice a portion of your investment in trading fees or management fees.
Robinhood offers three main investing categories:
Stocks and exchange-traded funds (ETFs)
Options
Cryptocurrencies
All products are available only to U.S. citizens and permanent residents over 18 years of age. It also has products that support its platform, including Robinhood Gold and cash management.
1. Stocks and ETFs
You can use your Robinhood brokerage or Robinhood Retirement account to access the U.S. stock market, where you can invest in more than 5000 stocks, including many shares listed on U.S. exchanges. You could also invest in exchange-traded funds (ETFs) and get access to more than 650 global stocks through American depositary receipts (ADRs), which represent shares of foreign companies in the U.S. market. 
Additionally, Robinhood offers both IPO stocks and fractional shares investing. With its IPO Access feature, you could request shares of companies before their stock starts trading on major exchanges. And with fractional shares, you could invest in a portion of stock with as little as $1 rather than buying entire shares. You choose how much you want to invest, and Robinhood converts your dollars to parts, or fractions, of a whole share of stock. 
When you sign up for a new Robinhood account, you can deposit up to $1,000 instantly, which would let you begin investing money immediately. Any deposit over $1,000 may take up to five business days to clear before you could start investing that money.
Robinhood gives you the option to add stocks to your 'watchlist' if you're interested in them but not necessarily ready to invest.
Keep in mind
You can't be able to buy or sell dividend-paying preferred shares, mutual funds, bonds, fixed-income assets, and stocks that trade on foreign exchanges.
2. Options
Aside from investing in stocks, Robinhood offers its users the chance to invest using options. An option is a contract between a buyer and a seller that gives an investor the right (but not the obligation) to buy or sell a certain asset — with Robinhood, this underlying asset would be a stock. This gives investors a way to actively interact with stocks without actually trading the stocks themselves.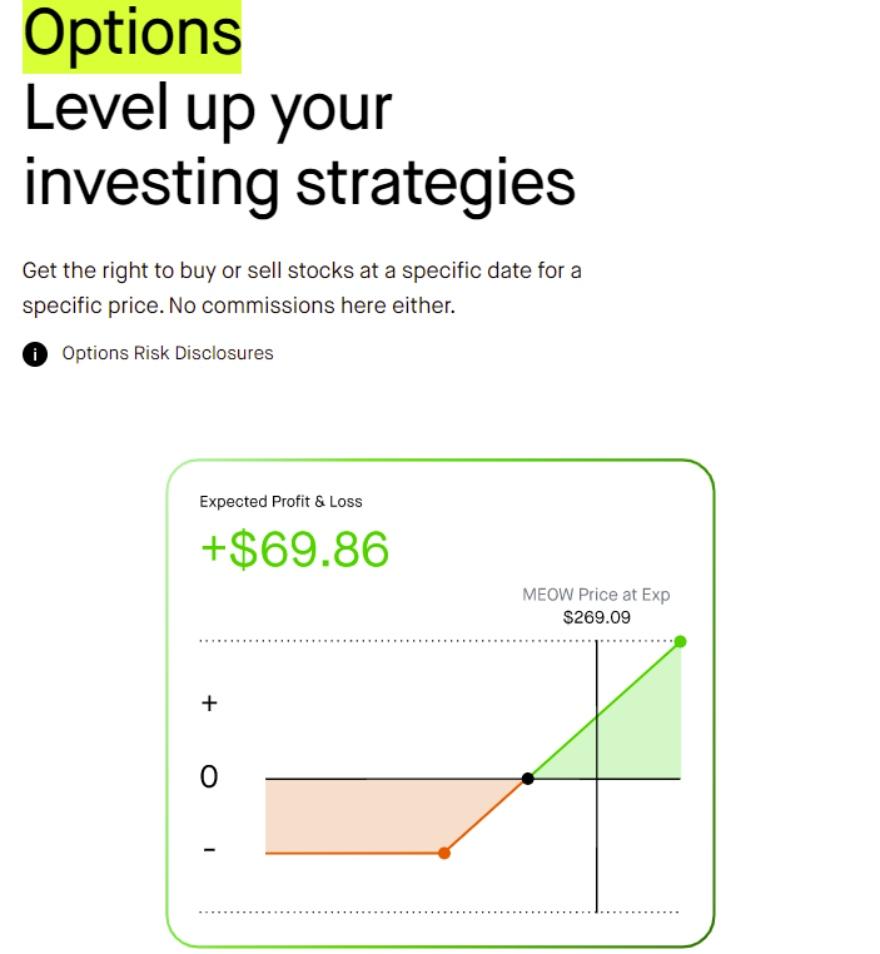 Just as with trading stocks, Robinhood charges zero commissions for options trades. You can use options trading on your brokerage account, and Robinhood plans to enable it soon on its retirement accounts. However, to use this feature, you need to submit an application through the Robinhood mobile app or the web platform.
Robinhood uses this application process because options trading tends to be riskier than stock trading. The platform requires you to provide some additional information about your investment experience and your income before you get approved.
The application may contain questions about your risk tolerance, financial information, and investment goals to determine if options are appropriate for you. 

3. Cryptocurrencies
Investors interested in learning how to buy cryptocurrency may value Robinhood's cryptocurrency trading feature, which comes without the trading fees. Robinhood Crypto launched in early 2018 and is currently available in 48 states, though it's not available in Hawaii and Nevada as of January 2023. 
Robinhood Crypto allows you to buy and sell cryptocurrencies 24/7 without paying a commission. Upon opening a brokerage account, you can access the Robinhood Crypto exchange platform right from your dashboard (as long as it's available in your state).
The following 18 cryptocurrencies could be traded on Robinhood:
Ethereum classic (ETC)

Litecoin (LTC)
Polygon (MATIC)
Shiba Inu (SHIB)
Solana (SOL)
Stellar Lumens (XLM)
Tezos (XTZ)
Uniswap (UNI)
USD coin (USDC)
You could begin investing in these cryptocurrencies with at little as $1. The platform aims to add more cryptocurrencies to its list of offerings. 
Keep in mind
You can't trade cryptocurrencies on a Robinhood Retirement account.
What accounts does Robinhood offer?
Robinhood offers four main account types through its mobile app and web platform:
Robinhood brokerage account
Robinhood Retirement account
Robinhood crypto account
Robinhood margin account
Robinhood brokerage, Retirement, and crypto accounts are free to open. The margin account requires upgrading to Robinhood Gold for $5 a month. Robinhood Gold also gives you access to in-depth market data, a higher interest rate on uninvested money, bigger instant deposits, and more.
Robinhood also gives you access to a debit card that can connect to a spending account.
1. Robinhood brokerage accounts
A Robinhood brokerage account is a type of investment account that allows you to buy and sell U.S. stocks, exchange-traded funds (ETFs), and American Depositary Receipts (ADRs). Robinhood Financial LLC is the brokerage arm of Robinhood that acts as an intermediary between you, the investor, and the stock exchange.
Your Robinhood brokerage account gives you access to the following types of market orders:
Market orders: This is an order type in which an investor places an order to buy or sell a stock or asset immediately at the best available price.
Limit orders: This is an order type in which an investor specifies a maximum price they are willing to pay for an asset they want to buy or a minimum price they are willing to accept for an asset they want to sell.
Stop orders: This is a type of trade that combines elements of a market order and a limit order. It is used to limit potential losses or lock in profits.
Stop limit orders: This is an order type that combines elements of a stop order and a limit order. An investor specifies the stop price, which acts as a trigger, and the limit price, which sets the maximum or minimum price at which the trade can be executed.
Trailing stop orders: This is a type of trade that allows an investor to set a stop price that adjusts automatically based on the stock's price movements. The stop price trails the asset's market price by a specific percentage or dollar amount.
2. Robinhood Retirement accounts
Robinhood offers individual retirement accounts (IRAs) to help you save for your later years. These Robinhood Retirement accounts are different from the regular account because they allow you to:
Earn 1% match: You can grow your savings faster by earning a 1% match from Robinhood on money deposited into your Robinhood IRA account from an external source, such as a bank account or a direct salary deposit. This is a unique feature not often offered through other investment apps or brokerages.
Keep in mind
Your maximum IRA contribution can't exceed the
annual IRS limits
, and you need to keep the funds that earned the match in your account for at least five years to avoid losing the matched amount.
Build a customized or recommended portfolio: When you open a Robinhood retirement account, you can build your own portfolio, use a portfolio that Robinhood recommends for you, or combine a mix of both. Note that the portfolios Robinhood recommends for you aren't the same as having a robo-advisor manage your investments since Robinhood doesn't continue to monitor your portfolio's performance.
Benefit from tax advantages: IRA accounts come with certain tax perks. Depending on your account type and income level, you may be able to deduct your contributions from your taxable income or have tax-free growth on your post-tax contributions.
The retirement savings accounts Robinhood offers come in two types. These two types are:
| | |
| --- | --- |
| Roth IRA | Traditional IRA |
| This is a retirement savings account you fund with after-tax dollars, meaning that contributions to a Roth IRA are not tax-deductible. However, the money in the account can grow tax-free and can also be withdrawn tax-free during retirement as long as certain conditions are met. | This is a retirement savings account that allows you to make contributions that may be tax-deductible, depending on your income and whether a retirement plan at work covers you or your spouse. The money in a traditional IRA can grow tax-free until you withdraw it at retirement age. At that point, you'll pay taxes on the money you withdraw. |
Find out more information in our Roth versus traditional IRA comparison.
These two Robinhood IRA account types enable you to invest in stocks and ETFs with no account fees. Robinhood plans to allow trading options on its IRA accounts as well. However, unlike the regular Robinhood account, your Robinhood IRA account doesn't give you access to crypto trading.
3. Robinhood crypto account
A Robinhood crypto account enables you to buy, sell, or trade cryptocurrencies such as bitcoin, ethereum, and more. Robinhood offers access to 18 cryptocurrencies in 48 U.S. states. Robinhood crypto accounts aren't available in Hawaii and Nevada.
By depositing funds into your crypto account, you can use those funds to buy and sell cryptocurrencies at market prices or through limit, stop, and stop limit orders.
You can store your cryptocurrencies on the Robinhood platform or transfer them out to an external account. Robinhood also supports receiving digital currencies you may have on a different platform as long as they're among the 18 cryptocurrencies the platform supports.
4. Robinhood margin account
Another investment option on Robinhood is margin investing, which allows you to borrow money from Robinhood to buy and invest in stocks. This feature gives you access to more purchase power and increases your cash flexibility. For example, if you see an investment opportunity, you could invest in it right away without waiting for a deposit from your bank account.
Just like options trading, the margin investing functionality isn't enabled by default. You would need to activate it by becoming a Robinhood Gold member and applying for margin investing. You also need to have at least $2,000 in your account to be able to use margin investing.
Since margin investing enables you to use borrowed money that isn't yours, losses can be quite costly. If a stock you buy on margin loses value, the losses can be amplified due to the increased purchase power of margin. Since you would still owe Robinhood the money you borrowed, it's possible for a margin account to inflate your losses. That's why margin trading is often viewed as a highly risky form of trading that require advanced investment experience. 
Robinhood Gold
Robinhood Gold isn't about investing in the shiny precious metal but rather gives Robinhood users bigger instant deposits, higher interest on uninvested cash, professional research, in-depth data, and margin investing for $5 a month. It's essentially an upgraded version of a free Robinhood account. 
Instant deposits are how much of your newly deposited money you're allowed to use immediately instead of waiting five business days for your funds to clear. With Robinhood Gold, you would access up to $50,000 in instant deposits instead of the $1,000 you could use with a standard Robinhood investment account. Your instant deposit limit is based on your total account balance. For instance, you could make an instant deposit of $5,000 if your portfolio balance is over $5,000, $10,000 if it's over $10,000, etc.
Robinhood Gold subscribers also get a higher interest rate on their uninvested cash through the Robinhood cash sweep program. You earn 5.00% annual percentage yield (APY) on money in your account that isn't actively invested (subscription fees apply). This is higher than the 1.50% (as of Nov. 15, 2023) you receive if you have a free Robinhood account.
As a Gold subscriber, you can also access professional research reports and educational resources provided by Morningstar, a global financial services firm that offers independent research and ratings and Nasdaq Level II market data. Level II market data may provide insights into a stock's price, the type of trader buying or selling a stock, and the direction the stock is likely to head, among other things.
A Robinhood Gold account also gives you access to margin trading. 

Robinhood Benefits
Earn more interest on your uninvested cash with 5.00% APY
Get up to $50K of your deposits instantly, so you can jump on investment opportunities faster
Borrow money to increase your buying power with margin investing at 8% (as of Nov. 15, 2023) APY for Gold members
Robinhood Cash Card
Robinhood offers a debit card that is linked to an FDIC-insured spending account. The card allows you to automatically invest your change in stocks or cryptocurrencies. When you opt in for this feature, Robinhood will round up your transactions to the nearest dollar and invest the difference in assets of your choice.
This cash card also offers the following features:

Weekly bonus between 10-100% on round-ups (round-ups are capped at $100 per week, and bonuses are capped at $10 per week)
Paycheck splitting using direct deposits
Ability to send checks
No hidden fees or account minimums
Access to 90,000 fee-free ATMs
Cashback opportunities when you spend on offers from participating brands
How much can you earn with Robinhood?
Robinhood is an investment platform that allows you to invest in stocks, funds, options, and cryptocurrencies without incurring commission fees or monthly fees on your trades. As is true with any investment, there's no guarantee on the amount of money your investment will return. You could also lose money when you invest.
How much you may earn with Robinhood depends on the securities you invest in, how long you allow your investment to grow, and general stock market conditions.
Who can earn money with Robinhood?
Anyone has the potential to earn money with Robinhood, but the bottom line is that there are no profit guarantees. If you're simply trying to figure out how to make extra cash, consider the many different side hustles out there. 
That said, Robinhood has an intuitive mobile app for Android and iOS and a simple browser-based trading platform. This user-friendly approach could make the platform a great broker for beginners.
If you're new to investing, it may be helpful to compare it to a traditional brokerage firm accessible to beginners, such as TD Ameritrade to better understand your options. By directly comparing TD Ameritrade vs. Robinhood, you can more easily see what exactly Robinhood is doing differently and which approach is a better fit for your investing goals.  
Common questions about Robinhood
Is Robinhood really free?
It is free to set up a Robinhood account that provides commission-free investing in stocks, funds, options, and cryptocurrencies. However, to access Robinhood Gold and its suite of tools, you'll have to pay $5 a month.
Does Robinhood affect my credit score?
No, investing with Robinhood has no effect on your credit score. Robinhood does not run a credit check on users who open an account with them.
Is Robinhood good for beginners?
Robinhood could be a great option for new investors who want to start investing their money. Aside from Robinhood's simple, well-designed web platform, the company also offers in-depth research tools and access to customer support if you have questions. Robinhood's blog provides numerous articles to browse, and you can also sign-up for Robinhood Snacks, the company's daily newsletter for ongoing financial news.
If you're looking for automated features that can take some of the friction out of investing, consider Stash. Beginners can compare Stash vs. Robinhood and see which makes it easier to get a strong start in investing. 
Is Robinhood cash management FDIC insured?
Yes, the uninvested cash within your Robinhood Cash Management account is deposited in FDIC-insured banks. Note that the cash management feature is no longer accepting new customers.
What is the minimum deposit for Robinhood?
Robinhood does not have a minimum deposit to open a brokerage account. You can deposit however much you want to start investing in the stock market.
How to sign up for Robinhood
If you want to sign up with Robinhood, the process is quick and shouldn't take more than a few minutes. You'd need to be a U.S. citizen or permanent resident over the age of 18 to sign up.
To get started, you would provide basic contact information such as your name, email, and address.
Next, Robinhood would ask for your phone number to confirm it.
The platform also requires your date of birth and Social Security number. 
You may be required to upload photos of certain documents to the mobile app for verification purposes. For instance, Robinhood might request a copy of your driver's license. Once you've provided this information, you can link your bank account to fund your Robinhood account using an ACH transfer or a wire transfer. You can also fund your account using a debit card.
As a new user, you'll also receive one share of free stock in a randomly chosen company when your brokerage application is approved to help get you started. Because the shares are chosen randomly, the value of your share can be anywhere between $5 and $200.
Other investment tools to consider
If you're eager to start investing but Robinhood doesn't sound like it's the best trading app for your situation, there are some other options to consider.
Acorns is a finance company that allows you to round up purchases and automatically invest the spare change in ETFs. In addition, the company provides a checking account and options for investing for retirement. Prices start at just $1 per month for an investment account and top out at $5 per month for an account that includes investment accounts for both you and your children, an individual retirement account (IRA), and a checking account. This might be a sound option if you're looking for a passive investing strategy.
Read our full Acorns review.
If you're not interested in investing in stocks at this point but still see the enormous value in investing your money to improve your personal finance, you might want to consider Fundrise. Fundrise is an online real estate investing platform that allows you to get started investing in real estate for as low as $10. The company's eREITs and eFunds open the door to affordable real estate investing in a variety of property types.
Read our full Fundrise review.
FinanceBuzz is not an investment advisor. This content is for informational purposes only, you should not construe any such information as legal, tax, investment, financial, or other advice.

Robinhood Benefits
Earn more interest on your uninvested cash with 5.00% APY
Get up to $50K of your deposits instantly, so you can jump on investment opportunities faster
Borrow money to increase your buying power with margin investing at 8% (as of Nov. 15, 2023) APY for Gold members