If you enjoy passing the time with classic games like hearts or Solitaire, you might find bingo to be a worthy addition to your lineup. These games are often available to play for free through apps that can be accessed on mobile devices like your phone. Certain game apps turn the fun up a notch by offering cash prizes for playing and winning.
With Blackout Bingo, you can have fun playing bingo while having the chance to earn real money. For app lovers and bingo enthusiasts, this might seem like it's too good to be true. So is Blackout Bingo actually legit? Let's find out.
Blackout Bingo Benefits
Earn money playing bingo
100% legit and vetted
Free to play with opportunities to win cash
Stop scrolling and start earning
In this Blackout Bingo Review
What is Blackout Bingo?
Blackout Bingo, formerly called Blackout Blitz, is a mobile app game that's available on iOS and Android devices, typically found in the Apple App Store or Google Play. The game was created by Big Run Studios Inc., which is a company founded in 2019 and based out of Oakland, California. This company focuses on developing mobile-based games that are a fun way to get a chance at real world rewards and cash prizes. Apart from Blackout Bingo, they've also created Big Cooking, Big Run Solitaire, Word Star, Big Hearts, and Farm Sweeper.
Blackout Bingo is a free game you can download and play, and it runs on the Skillz platform. Skillz is a company that helps developers enable social competition in their games. Other popular Skillz games include Dominoes Gold and Solitaire Cube. To save your progress in Blackout Bingo, you must create a Skillz account in the app.
After creating an account, you have the option to play different types of bingo game modes. This includes practice rounds, head-to-head (where you're paired against one other player), brackets, and events. Each of these modes has an entry fee, which is typically a certain number of z coins (the in-game currency) or some bonus cash. Within each mode, you'll play against other real players who should be around the same skill level as you.
You have the option to deposit real money into your Blackout Bingo account, which can open up opportunities to enter more competitive game modes and cash games. But if you're not interested in using real money, you still have a way to eventually earn some cash by winning enough games using your z coins.
Overall, Blackout Bingo is a popular game with tens of thousands of above-average ratings across the App Store and Google Play. It's currently the No. 3 Casino game in the App Store. Part of its appeal may be its beautiful graphics, which showcase exotic places such as Mexico City and Hawaii.
Blackout Bingo alternatives
Earn Up to $200 Every Time You Win Playing Bingo
Learn More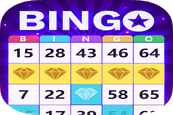 Earn Extra Pocket Money from Your Phone with This Game
Learn More
How does Blackout Bingo work?
You have the option to play games in Blackout Bingo using z coins or bonus cash. Games with bonus cash entry requirements typically have larger and more valuable prizes, but you would first have to earn some bonus cash. The easiest way to earn bonus cash is by depositing real money into your account, which you might not be too keen on doing. After all, you're then paying actual money to play a game that's supposed to be free.
To avoid this situation, use z coins to play games. You can earn tickets (called "Ticketz" in the game) this way, which can be redeemed for prizes. Because one of the available prizes is bonus cash, you can earn enough tickets to make your way into the higher-tier games and potentially win bigger prizes. However, the process could take a while because some of the low-level games only offer one ticket for winning and you need 20,000 tickets for $1 of bonus cash.
Z coins can be earned by winning games, collecting bonuses, watching ads, and earning trophies. Trophies include doing tasks such as winning three games in a row, winning tournaments, changing your username, and more.
It can take a lot of time to make any progress toward earning real cash if you're only using z coins to earn tickets compared to using real cash. But if you're playing for fun to pass the time, this shouldn't matter too much.
Who can use Blackout Bingo?
Blackout Bingo is rated for individuals 18 or older by the App Store. It's available for both iPhones and iPads on iOS 10.0 or later. Available languages include English, French, German, Italian, Japanese, Portuguese, Russian, Simplified Chinese, and Spanish.
Playing online bingo isn't allowed in these states:

Illinois
Indiana
Louisiana
Nevada
Michigan
New York
Oregon
South Dakota
Wisconsin
Washington
But if you want to play online bingo apps for fun and to pass the time, Blackout Bingo could make sense for your situation. It follows the same rules as when you play with real-life bingo cards, though you might find it's more fast-paced. Because of this, there is some skill (along with luck) involved with winning consistently. The quicker you can react and daub, or click, the called numbers, the more points and boosts you can earn.
How much can you earn with Blackout Bingo?
As with many similar games, Blackout Bingo rewards the players who can consistently win their matches. If you learn how to play this fast-paced game and become used to how the power-ups and bonuses work, you could win a real payout.
But this likely wouldn't happen for a while if you're not depositing any of your own money into the game. It can take a while to make your way up to earning enough tickets to unlock bonus cash. Once you have some bonus cash, you can participate in games that have cash prizes. If you only have z coins, you can only participate in games with z coin prizes.
Still, it doesn't take much bonus cash to get started in game modes with cash prizes. For example, you might have the option to play a head-to-head game against another player and win $1. But you have to put in 60 cents to be able to play. Or you could play in a game mode called "brackets" where there are multiple other players and the prize is $8, with an entry requirement of $3.
Blackout Bingo also has limited-time game modes, such as "Big Money Mondays," where there might be a prize pool as big as $3,000. This type of cash tournament typically has changing rules, but in one instance it might be a timed event where anyone who pays $5 can participate. The players with the highest scores win the prizes at the end of the event. If you want to try for a higher score during the event, you would have to pay another $5 entry. You can enter this event an unlimited number of times.
Possibly one of the quickest ways to earn cash from a game like Blackout Bingo is to invite other people to play the game through a referral link. For example, if you invite someone to play Blackout Bingo with your promo code and they join and make a deposit, you could both earn $20. 
You can withdraw your balance at any time. The withdrawal will be processed back to the same form of payment as your deposit, such as PayPal or a credit card, up to how much you originally deposited. Any additional withdrawal amounts over your initial deposit amount will be sent to you by mailed check. There's a $1.50 processing fee for any withdrawal under $10. You can also redeem your winnings in the form of gift cards on platforms such as Amazon and PayPal.
If Blackout Bingo doesn't seem like it would make sense for your situation, check out other options with our list of the best side hustles.
Common questions about Blackout Bingo
Is Blackout Bingo legit?
Yes, Blackout Bingo is a legit app that can be found in the App Store or Google Play. It's normal to ask if online money games are a scam or not. In this case, Blackout Bingo has a 4.5 out of 5 rating with over 70,000 ratings and reviews. It's the No. 3 Casino app in the App Store.
What is a blackout in bingo?
A blackout in bingo is when you cover all the spots on your bingo card, rather than covering one finished line like you would in classic bingo. This type of bingo game is called "blackout bingo" and is often used in online bingo games.
Can you really win money playing Blackout Bingo?
You can win real cash playing Blackout Bingo, but it might not be as easy or quick as you would hope. If you don't want to deposit any of your own money, it could take a while to generate enough tickets and redeem them for bonus cash that would allow you to participate in game modes with cash prizes. If you deposit your own money into the game, you can immediately play games for cash prizes, but you run the risk of losing money.
How to get started with Blackout Bingo
To get started with Blackout Bingo, follow these steps:
1. Download Blackout Bingo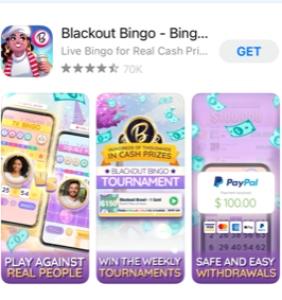 2. Open the app and then choose an avatar and enter a username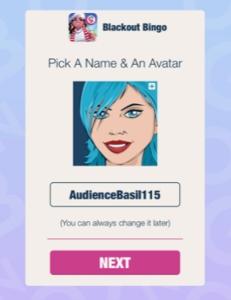 3. Start a practice game and get your first experience with playing Blackout Bingo

4. After the practice game, play another match

5. Once you're able to navigate the menu, select "My Account" and then "Save Account" to create your account

6. Enter your date of birth and other information to finish creating your account. You'll eventually have to verify your email as well

7. Start playing the game by selecting a game mode
Other apps to consider
Blackout Bingo might not be the right fit for everyone. If it doesn't make sense for you to play this particular blackout bingo game, there are other game apps that pay real money to explore that can help you earn extra cash in your spare time.
For another type of online bingo game, consider Bingo Clash. This app from Aviagames Inc. offers real cash for playing bingo and shares similar key features to Blackout Bingo, such as using tickets or bonus cash to play different game modes. But if you're not a fan of the artwork or gameplay with Blackout Bingo, you might prefer how Bingo Clash is set up. It's also highly-rated in the App Store and free to download and play.
Check out our Bingo Clash review to learn more.
For a different game entirely, consider Solitaire Cash. Based on the popularity of Solitaire, this app offers users the opportunity to play this classic game while competing against other gamers for real cash prizes. If you like Solitaire (and are skilled), you could pass your free time clearing decks and potentially making money.
Read our Solitaire Cash review to learn more.
Blackout Bingo Benefits
Earn money playing bingo
100% legit and vetted
Free to play with opportunities to win cash
Stop scrolling and start earning