Bingo Cash is a legit online bingo game you can download and play for free on your iPhone or iPad. You have the option to play free bingo games within the app or compete in cash tournaments where you'll have to deposit your own money to participate.
Bingo Cash is a skill-based game that rewards the best players with prizes, including actual cash. Check out our Bingo Cash review to see how the game works and whether it's worth playing in your spare time.
Bingo Cash Benefits
Make money play bingo in your free time
Real-money tournaments and no ads
Cash out securely using PayPal
Addictive game you'll want to play for hours
In this Bingo Cash review
Key takeaways
Bingo Cash is a mobile bingo game for iOS and Android developed by Papaya Gaming.
The Bingo Cash app is legit and offers a skill-based game with positive App Store reviews and an overall score of 4.5 out of 5 stars.
Bingo Cash offers free and paid modes with entry fees in gems or cash with varying prizes.
You can win real money in cash tournaments. PayPal withdrawals are available, with a $5 minimum and a $1 processing fee.
Utilize boosters like Wild Daub and Double Score strategically to improve your scores in the game and increase your chances of winning.
What is Bingo Cash?
Bingo Cash is a mobile game app available for iOS devices in the App Store. You can also download it for Android devices on the Galaxy Store or through the download link on the Bingo Cash website. Bingo Cash was created by Papaya Gaming, a mobile game development company based out of Tel Aviv, Israel.
Papaya Gaming apps are some of the most popular games in their respective categories and have been downloaded more than 17 million times worldwide. Popular games that pay money from Papaya Gaming include 21 Cash, Bubble Cash, and Solitaire Cash.
Is Bingo Cash legit?
Yes, Bingo Cash is a legitimate app. It has received numerous reviews from users on both the App Store.
Bingo Cash is a top 10 game in the Casino category on the App Store. It has a 4.5 out of 5 rating with more than 50,000 ratings and reviews. These games could be good options for learning how to make money playing video games.
Many users have reported that they were able to earn money from the app. However, some users have expressed concerns about the amount of time spent playing in relation to the earnings.
How does Bingo Cash work?
If you already know how to play the classic bingo game, you'll already be familiar with the Bingo Cash gaming experience.
Apart from the scoring system and boosts, there's not much difference between the gameplay of Bingo Cash and classic bingo. You're simply trying to fill out rows on a bingo board before the other players do.
Each standard Bingo Cash match has a two-minute timer. Balls with a letter and a number on them will drop at regular intervals. If you see a matching number on your game board, tap on it to mark it off (daub it) on your virtual bingo card.
The faster you daub a matching number, the more points you get. You have about five seconds between each number called.
If you correctly daub a number, you'll earn points and your booster bar at the bottom of the screen will charge up. The faster you daub, the faster your booster bar charges, which unlocks different boosters.
Available boosters include:
Wild Daub: Daub any available number on your board.
Pick-A-Ball: Choose the next ball to be called from the available options.
Double Score: Receive double the points for the next 10 seconds.
Bonus Time: Get 10 seconds added to your match time.
You can use your boosters to increase your overall score, which includes achieving different bingo varieties. You can get a bingo by completing horizontal, vertical, or diagonal lines, or by getting daubs in all four corners of the board.
When a line on your bingo card is full, click the "Bingo" button in the bottom right corner to complete your bingo and score points.
The player with the most points at the end of a match wins the most prizes, which could be gems (the in-game currency) or actual cash. Depending on the game mode, you could share a prize pool with other players.
Scoring
Your Bingo Cash round score is calculated with these factors:
Daubs: Correctly selecting a number on the board when the corresponding ball is called.
Bingos: Completing a bingo variety and selecting the bingo button in the corner.
Multi Bingos: Completing multiple bingo varieties at the same time.
Double Score: Using a double score booster and earning points during the allotted time.
Penalties: Making an incorrect move, including tapping the bingo button if you don't have an available bingo.
Scoring in Bingo Cash is fairly straightforward, but there are a few strategies that could help improve your round scores. For example, you will need to daub as fast as possible to get the highest score.
You also might want to hold onto boosters and wait on selecting a bingo until you get a large point combination. If it looks like you're about to hit a multi bingo, hold onto a double score booster right before you hit the bingo button. This could give you a larger bonus compared with hitting bingos separately and only using double score boosters on daubs.
Also, be careful of penalties. I was a bit too excited in a few of my matches with hitting the bingo button and earned a few penalties. This is because I hit the bingo button when a bingo wasn't available.
Keep in mind that your booster bar will lock after you've unlocked two boosters. If you want to continue charging your bar and unlock more boosters, you'll need to use an available booster.
Game modes
Bingo Cash offers a variety of game modes that are separated into free and paid versions. All game modes have an entry fee, but the free versions use gems. Here are some ways you can collect gems:
Winning certain game modes
Leveling up your account
Collecting daily rewards
Depositing money into your account
Watching advertisements
You can play some game modes (where you can win real cash) using gems. However, the entry fees for these modes are typically much higher.
For example, the screenshot below shows a free game mode called "Gems Factory" that requires 20 gems to play and offers a 110-gem prize pool. You can also choose a "Freeroll" mode that requires 1,200 gems to play and offers a $7 prize pool.
Paid game modes are often separated into games with different prize pool sizes and numbers of players. Limited-time games are also available if there's an in-game event happening, such as this Hawaiian-themed event.
Some game modes will be locked until you level up your account to a certain level. You can gain XP and level up by playing more games.
Who can use Bingo Cash?
Bingo Cash isn't considered a gambling game or game of chance. Because you're matched up against players of a similar skill level, it's categorized as a skill-based game.
You can download and play Bingo Cash for free from the App Store for compatible Apple iOS devices. It's also available on the Galaxy Store and, for Android devices, from the Bingo Cash website.
Bingo Cash offers cash tournaments where you could lose money, so you must be 17 or older to download the game. However, Papaya Gaming says you need to be at least 18 to participate in cash tournaments.
Cash tournaments are offered in English in multiple countries, including the U.S., U.K., Australia, and Canada. Cash tournaments aren't available in the following U.S. states:
Arizona
Iowa
Louisiana
Maine
South Carolina
Washington
How to get started with Bingo Cash
Follow these steps to get started with Bingo Cash:
1. Download Bingo Cash from the App Store, Galaxy Store, or, for certain Android devices, from the Bingo Cash website (not Google Play).
2. Open the app and choose an avatar and username.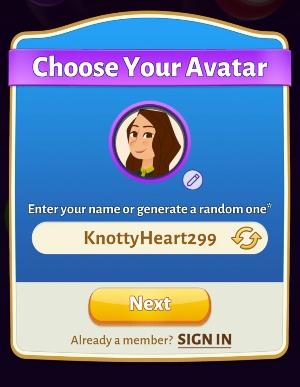 3. Play through the tutorial to learn how the game works.
4. Play your first tournament using 20 gems.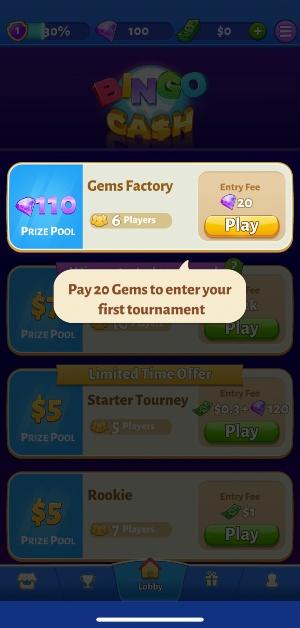 5. Register your account in the "Account" section to enable withdrawals.
6. Select a game mode to start playing (you have to deposit cash to play in cash tournaments).
How much can you earn with Bingo Cash?
Papaya Gaming advertises that winners can earn thousands of dollars playing Bingo Cash, but that's likely not the case for most players. Although Bingo Cash does let you play bingo for cash, the game won't make you rich.
These types of game apps often require a large investment of time or money (or both) to earn a lot of money. But they could still be good for passing the time and earning a little money on the side if you love bingo and want to play a fun game.
Keep in mind that Bingo Cash offers ways to win actual cash without depositing any of your own money. If you earn enough gems, you may be able to participate in cash tournaments and win money.
However, this strategy could take a while and isn't nearly as quick as depositing your own money to participate in cash tournaments. The lowest entry fee for cash tournaments is $1 with a prize pool of $7 and the winner taking $2.90.
If you're looking for other ways to make money on the side, check out our list of the best side hustles.
Other cash tournaments often have higher entry fees but also offer larger prize pools. For example, this tournament has an entry fee of $11 but offers a $61 prize pool. The winner would receive a $24 cut.
Cashing out (withdrawing funds)
To cash out, you need to register your account. Then select from your withdrawable balance and submit the withdrawal with your PayPal email address. PayPal is the only available payout method.
You need a minimum of $5 in your account to withdraw money. You'll also be charged a $1 processing fee for each withdrawal request. Withdrawals are processed within 14 days and are typically paid out within two business days. Keep in mind that any bonus cash in your account is forfeited if you withdraw money.
Bingo Cash pros and cons
Bingo Cash is a legitimate gaming app that offers a fun experience that offers real money prizes in cash games. It provides free practice rounds and has an engaging community. However, it has limited earning potential, and you may need to stake your own money to play.
Pros
Legitimate gaming app that offers the potential for cash prizes.
The top three players in cash tournaments get to share the prize pools.
The app offers a fun and social gaming experience. 
Practice rounds are available.
Enables simple cashing out via PayPal
Cons
Limited money-earning potential.
Participating in cash tournaments requires cash entry fees of at least $1.

You may lose money if you don't end up in the top three.

Bingo Cash FAQ
Is Bingo Cash legit?
Yes, Bingo Cash is a legit (not a scam) game app that's free to download and play. It's a skill-based game with classic bingo elements that offer opportunities to compete against other players for real money in cash tournaments.
Bingo Cash has more than 47,000 reviews on the App Store with an overall 4.7 out of 5 rating.
How do you score high in Bingo Cash?
Consider these strategies to score high in Bingo Cash:
Daub as fast as possible to score more points and charge your booster bar.
Use your boosters strategically.
Use your boosters to receive more boosters.
Score bingos horizontally, vertically, diagonally, or by filling the four corners of the game board.
Complete multiple bingos at the same time.
Don't get penalties.
Can you really win money playing bingo online?
Yes, you can really win money playing bingo online. One of the simplest ways to win real money playing bingo online is by downloading bingo apps that offer cash tournaments.
All you need is a compatible phone or tablet and you can start competing against other players for actual cash with these apps:
Other game apps to consider
Consider these other gaming apps if you are learning how to make money in your spare time.
Bingo Clash
Bingo Clash is one of the most popular bingo games on the App Store, with more than 75,000 ratings and reviews. This app offers competitive bingo matches against other players, including cash games where you can win cash prizes.
Check out our full Bingo Clash review to see how this game works.
Solitaire Cash
Solitaire Cash is another popular game from Papaya Gaming with more than 160,000 ratings and reviews on the App Store. This skill-based card game takes classic Klondike Solitaire elements and gives them a competitive twist by offering real money for competing in cash tournaments.
Read our Solitaire Cash review for more details about this app.
Bubble Cash
Bubble Cash is a skill-based pop shooter game that offers real prizes and cash rewards for top players. The game is simple: Pop bubbles to clear your board and earn the most points. You can play for free or compete in cash tournaments for real money.
Check out our Bubble Cash review to see how to get started.
Bingo Cash: bottom line
Bingo Cash is a legitimate and engaging mobile game app that offers players the opportunity to play skill-based bingo, compete in cash tournaments, and potentially earn real money.
The app can be fun to play in your free time, and the potential for cash prizes can add to the experience. Make sure to use in-game boosters strategically to maximize your score.
Bingo Cash has a straightforward withdrawal process through PayPal, making it a solid option for those seeking a fun pastime with the chance to win cash rewards.
Bingo Cash Benefits
Make money play bingo in your free time
Real-money tournaments and no ads
Cash out securely using PayPal
Addictive game you'll want to play for hours