Bingo Tour is a mobile bingo game available for free on your iPhone, iPad, or Samsung device. The game's premise is to compete against other players in free or paid games for a chance to win in-game currency or real money.
It's a fun game that you can play if you're at least 18. Keep in mind that not every state has cash games available, but you can still use the app in these states. Let's jump into our Bingo Tour app review to see how the game works and how much you could potentially win.
Quick Summary
Earn money by playing and winning cash bingo games
Skill-based game where everyone gets the same bingo card
Win one of the top three positions to receive a prize
Take out your earnings via PayPal
In this Bingo Tour app review
Bingo Tour: Is it worth it?
Pros
Cons

Play free or cash bingo games against other players
Have a chance to win real money in certain states
Winning requires some skill and isn't entirely based on luck

You typically have to deposit your own money to play cash games
Cash games are only available in 40 states

Verdict: Bingo Tour is a gaming app that should feel familiar to anyone who has played the classic bingo game. But this app takes luck out of the game by giving all players the same board and calling the same numbers. This makes Bingo Tour a non-gambling app that offers a fun way to play and potentially make some extra money on the side.
What is Bingo Tour?
Bingo Tour is a game app available for iOS devices on the Apple App Store and Samsung devices on the Galaxy Store. It's not currently available on Google Play, so Android devices other than Samsung may not be able to download it.
Bingo Tour was created by AviaGames Inc. in 2021. It joined a collection of other popular games from AviaGames with good gameplay and visuals, such as Solitaire Clash and Bingo Clash.
Warning
Google Play has a gaming app called Bingo Tour that was created by JD Hunter Studio. This is not the same gaming app as the higher-rated Bingo Tour from AviaGames Inc.
Bingo Tour is a legit game app and isn't a scam. Most players seem to be satisfied with the gameplay and the payouts, which makes it one of the highest-rated Casino games on the App Store and the Galaxy Store.
Bingo Tour has more than 62,000 ratings and reviews on the App Store with an overall rating of 4.9 out of 5 stars. It has more than 5,000 ratings on the Galaxy Store with a score of 5 out of 5 stars.
Bingo Tour was also named a gold winner at the 2022 NYX Game Awards in the casual mobile game category.
Year created
2021
Available on

iOS devices via the App Store
Samsung devices via the Galaxy Store

Minimum withdrawal
$2 (any withdrawal under $10 has a $1 fee)
Withdrawal methods

PayPal
Electronic check
Visa, Mastercard, or debit card

Review rating

4.9 out of 5 (App Store)
5 out of 5 (Galaxy Store)

Availability

Free games: All states
Cash games: All states except Arizona, Arkansas, Connecticut, Delaware, Louisiana, Montana, South Carolina, South Dakota, Tennessee, and Vermont

Download Bingo Tour
Alternatives to Bingo Tour
Earn Up to $200 Every Time You Win Playing Bingo
Make money playing bingo in your free time. Real-money tournaments and no ads. Cash out securely using PayPal. Addictive game you'll want to play for hours.
Download Bingo Cash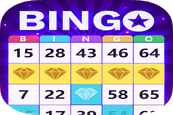 Earn Extra Pocket Money from Your Phone with This Game
Earn cash just by playing bingo in your free time. Cash out your earnings securely via PayPal. Compete against real players of your skill level. Fun, engaging gaming experience.
Download Bingo Clash
How does Bingo Tour work?
If you know how to play the classic bingo game, you'll be familiar with Bingo Tour. This game takes classic bingo elements and brings them to your mobile device, and adds a few extra bonuses and power-ups to keep things interesting.
The point of the game is to score as many points as possible by daubing or tapping numbers on your bingo card as they're called.
If you daub enough numbers to complete a bingo variety, you can tap the bingo button and earn more points.
You also have a few bonuses to work with as you fill your bonus bar by daubing numbers. The "daub it" bonus lets you daub any number of your choice after using it.
The "gimme more" bonus lets you choose a number for the announcer to call. That number is called along with other numbers that were also going to be called.
The final bonus is the "X2 bonus," which simply doubles any points you receive in the following 10 seconds. Each game lasts for two minutes.
Overall, the game is simple to play and follow, but there are some techniques you can use to get more points.
Bingo Tour tips and tricks
You may need to play a few times to get a full picture of the game mechanics. Here are some things we've picked up by playing Bingo Tour:
You can get more points by daubing faster.
You can fill your bonus bar quicker by daubing faster.
You have 10 seconds on X2 bonuses, so use them wisely.
You can wait to daub the numbers that were called until later if you want to save several numbers and bingos for an X2 bonus.
You can only store two bonuses at a time.
You can hit the bingo button without having a bingo to complete, but you get a score penalty.
You can get multiple bingos simultaneously, which gives you more points.
Who can use Bingo Tour?
Bingo Tour is available to people who are at least 18. U.S. players need to be legal residents with valid U.S. addresses.
The Bingo Tour app is available on compatible iOS devices via the App Store, including iPhones and iPads. It's also available on compatible Samsung devices via the Galaxy Store.
You can play free games or cash games. Free games are available in all U.S. states, whereas cash games are available in all states except:
Arizona
Arkansas
Connecticut
Delaware
Louisiana

Montana
South Carolina
South Dakota
Tennessee
Vermont
Bingo Tour games are based on skill, not luck, so it's not considered a gambling game. But you could still lose real money if you deposit cash into your account, play a cash game, and don't win.
You can always play free games to practice your bingo skills. Quickly daubing the numbers called is one of the skills you need to have a chance at winning, so it's a good skill to refine.
How much can you earn with Bingo Tour?
You can win real cash playing Bingo Tour, but it likely won't make you rich. In actual gameplay as new players, we noted that cash prize pools ranged from $5 to $55. The top three players in each game win prizes, but you must also account for the entry fee when calculating potential winnings.
For example, the cash game with a $55 prize pool has an $8.99 entry fee. First place gets $27, second place gets $16, and third place gets $12. So you can earn some money after the entry fee as long as you finish in the top three. These are the potential winnings after deducting the entry fee:
First place: $18.01
Second place: $7.01
Third place: $3.01
Finishing first easily provides the best return on your investment. And because each game only takes a few minutes, that's a decent payout for your time as well.
Keep in mind
You may face between four and nine other players, which decreases your chances of winning.
As a skill-based bingo game, everyone playing Bingo Tour gets the same bingo card and numbers. So winning money in Bingo Tour comes down to how good you are at the game. If you're skilled and have the time, it can be one way to figure out how to make money during your free time.
Earn Up to $4,000 Playing Bingo on Your Phone
Earn cash just by playing bingo in your free time. Cash out your earnings securely via PayPal. Compete against real players of your skill level. Fun, engaging gaming experience!
Get paid to play bingo
Bingo Tour deposits and withdrawals
Bingo Tour uses these deposit methods to add money to your account and participate in cash games:
Apple Pay
Credit card (Visa, Mastercard, American Express, and Discover)
PayPal
Venmo
Keep in mind
Note that it's possible to compete in cash tournaments if you play enough free games to win enough bonus cash. You can use the bonus cash you win from certain free games to pay the entry fee for money games. But it's typically much quicker to deposit actual money if you want to compete in cash tournaments.
You need at least a $2 account balance to make a withdrawal. Keep in mind that there's a $1 processing fee for any withdrawals under $10. Bingo Tour provides these cashout options:
PayPal account
Electronic check
Visa, Mastercard, or debit card
How to get started with Bingo Tour
Follow these steps to create an account and get started with Bingo Tour:
Download Bingo Tour from the App Store using a compatible iPhone or iPad. You can also download it from the Galaxy Store using a compatible Samsung device.
Open the app, choose an avatar, and create a username.
Go through the tutorial to learn how the game works.
Play a practice game after completing the tutorial.
Select "Save Account" from the dropdown menu to create an account.
Enter your email address and password to register your account, which allows you to save your progress and enable cash withdrawals.
Choose a game mode to start playing.
Note that you must be at least 18 to play Bingo Tour games for real money. You'll be asked to complete an age verification step before having access to cash deposits.
Bingo Tour FAQs
Can you win real money on Bingo Tour?
Yes, Bingo Tour is a gaming app that offers opportunities to win real money when you play its cash games. You typically have to deposit actual cash to participate in these games, and the top three players of each game win money prizes. You can also play free games in Bingo Tour that don't require using any of your own money.
How do you get a high score on Bingo Tour?
Score the most points in Bingo Tour by taking advantage of the following bonuses:
Daub score: Daub numbers as quickly as possible.
Bingo score: Get a bingo.
Multi-bingos: Get multiple bingos at the same time.
X2 bonus: Use your X2 bonus for double points.
Note that you'll lose points if you press the bingo button and there's no bingo.
Is winning bingo based on skill or luck?
Bingo is typically a game based on both skill and luck. But games such as Bingo Tour are skill-based. This is because an algorithm matches you against other players of a similar skill level, and everyone receives the same bingo card and numbers. The only differences are how quickly you daub your numbers and how you use your bonuses.
Other gaming apps to consider
If Bingo Tour isn't the right app for you, check out other games and ways to make extra money on our list of the best side hustles. You can also consider Bingo Clash and Solitaire Cash gaming apps.
Bingo Clash
Bingo Clash is another great game from AviaGames that's rated as one of the top Casino games in the App Store. This fun bingo app is free to play and offers opportunities to compete against other gamers in skill-based tournaments. You can win real money by playing and winning cash games.
Find out more in our Bingo Clash review.
Solitaire Cash
Solitaire Cash takes the fun of the classic Klondike Solitaire game and gives it a modern twist. It lets players compete against each other in a multiplayer gaming experience with their mobile devices. This top-rated App Store game offers ways to win actual cash by competing in cash tournaments and winning one of the top prizes.
Check out our Solitaire Cash review.
Bingo Tour - iOS Benefits
Earn cash just by playing bingo in your free time
Cash out your earnings securely via PayPal
Compete against real players of your skill level
Fun, engaging gaming experience