My wife and I are using points and miles to go to the 2018 FIFA World Cup in Russia this June and couldn't be happier! We want to share how we did it to help others book trips like this in the future.
Going to the World Cup can cost a small fortune and you could be looking at spending $5,000 or more, which is a huge chunk of cash. Not us though – we're spending less than $900 in total.
World Cup Overview
In case you're unfamiliar, the World Cup is one of the world's largest sporting events and is similar to the Olympics in that teams from around the world come together to compete in a different location.
When was the first World Cup? 1930, hosted in Uruguay
What is FIFA? An acronym that stands for Fédération Internationale de Football Association that governs the sport
How often is the World Cup? Every four years
What are teams competing for? The FIFA World Cup Trophy (it's solid gold!)
How many teams go to the World Cup? 32 teams qualified this year
Where is the 2018 World Cup? In 11 cities throughout Russia, including St. Petersburg and Moscow, where we'll be heading
Going to the 2018 FIFA World Cup for next to nothing out of pocket was a slight challenge, but we love a good challenge.

My wife and I are extremely frugal travelers, so if we can make a trip like this work, so can you.
How Much We've Saved So Far
Airport Parking – $96 (friends will drop us off/pick us up)

Flights – $3,200

Entry Visas - $320

Transportation - $200

Hotels - $400

Total savings = $4,216

I'll share how much we spent on touristy stuff, food, and miscellaneous expenses in a follow-up article once we are back from Russia.
Finding Flights To The World Cup Using Points and Miles
Flights could have cost: $3,200 ($1,700 each person)

Miles redeemed: 108,000 AA Miles

Net cost of flights = ~$225 for taxes and fees

Using a stash of 60,000 miles in my American Airlines AAdvantage account that I earned from my AAdvantage® Aviator® Red World Elite Mastercard®, I set off to find flights to the World Cup.
Because we fly economy, and American Airlines offers economy Award Saver tickets from the West Coast to Europe for as little as 22,500 miles, I focused my search on finding airfare to Europe to start.
Even though we were booking six months in advance, I was still surprised to find a decent amount of availability to several destinations in Europe in the summer since it's peak season.
📌 I've had great success using American miles, but I know some travelers insist availability can be tough to find. Another concern for many award travelers are the fees associated with award redemptions when flying on British Airways. My best advice is to be flexible! By flying out one day later, we saved almost $400 in fuel surcharges (more on that in a bit).
Step By Step: Booking Our Flights
After narrowing down our dates, I booked tickets to Poland because it offers two easy layovers and I was able to avoid the large fuel surcharges that British Airways (a.k.a. BA) is known for.
Economy flights from Portland, Oregon to Gdansk Poland during peak summer season were 30,000 points each way, but I knew my AAdvantage® Aviator® Red World Elite Mastercard® would get 10% of those points credited back to me instantly, bringing our total to 54,000 miles + $23.60 in taxes and fees (or 27,000 miles + $11.80 per person).
Here's the valuation – I was very happy to be able to book this flight for over 2.5 cents/point.
$1,400 (flights) - $23.76 (10% instantly credited back) = $1376.24/54,000 miles = $.025xx/point.
Here's a step by step walkthrough of how I found this deal:
Step 1: I logged into the American Airlines site, then selected "Redeem Miles" and one-way flights since we wanted to do an open-jaw ticket. There was a lot of availability around the dates we wanted.
Step 2: I double-checked Google Flights to be sure I was getting a good deal.

Step 3: After confirming availability, I choose our dates. One thing that can make this time consuming is not being able to see taxes and fees until the last step, which means you can't be exactly sure how much the flight will cost until the end. Still, a small price to pay for being able to travel almost for free.

Step 4: The options that initially came back were more than I wanted to pay, so I looked at rates for the following day and excluded BA as an option to see how that might change the results.

Step 5: Changing our departure by one day (21st to the 22nd), I found a new itinerary excluding BA, which after making it through to the end of the booking, saw that we owed just $23.60 in taxes and fees! So, we managed to save nearly $400 by being flexible with our departure date.

FBZ Insider tip: American Airlines miles allow you to book one-way flights from two different locations (known as an open jaw flight) for the same price as a round-trip ticket. This allows you to see more places in less time, for the same amount of miles – one of our favorite travel strategies. 
Some value these points at 1.5 cents per point and say they're difficult to use, but we found it was easy and straightforward for us.
Flights From Poland to Russia On Points and Miles
Once our flights to Poland were taken care of, we moved on to booking flights to Russia.
I used the +/- 3 day search feature on Momondo which showed flights to St. Petersburg from Krakow were under $200 one-way. We had already decided to take a train from Gdansk to Krakow to explore along the way, so this option was perfect for us.
I used points from my Capital One Venture Rewards Card to book our flights, saving us over $600 round-trip for both of us.
📌 In my experience, the Capital One Venture Rewards Card isn't top of mind for a lot of travelers, but I think it's a solid option to have around. You can redeem points easily by making any travel-related purchase with the card and then "erasing" the expense on your account, which is what I did. It's really useful for when other points just don't make sense.
World Cup Visa: How We Got It For Free
Visas could have cost: $320 ($160 each)

Then, we learned about visa-free entry and transport benefits with a FAN ID

Net cost of visas = FREE

Note: We put these savings towards buying our soccer match tickets

The visa process for Americans entering into Russia can be difficult and expensive, but luckily for people heading there for the World Cup, the visa requirements have been waived by the Russian Federation.
📌 If you're traveling to Russia another time (not during the World Cup), you'll need to get a visa by visiting your local Russian Embassy or mailing in your passport for the visa if there isn't one nearby.
This was a relief since tickets to the soccer (or football, if you prefer) matches can get pricey, and we weren't sure how much it would end up costing us.
We actually found out about the waived visa-entry fees from a Russian couple we shared a cab with on a recent trip to India. We started chatting about our World Cup trip and they were quick to mention the waived visa entry fees, which was awesome.
Buying World Cup Tickets
Match tickets start at $105 and as soon as we found out about the waived visa requirements, we went straight to FIFA's website to buy our tickets online.
Using the money saved from not having to pay for a visa, we went all in and bought tickets to watch England vs. Tunisia for $105 each. The cost was further justified since transportation is included in the cost (more on this in a bit).
💡 Be sure to use a credit card with no foreign transaction fees!
After our tickets were issued and sent via email (took a few hours), we registered our FAN IDs which is what entitles us to a Russian Visa upon arrival, plus free public transportation between the cities hosting World Cup matches.
We're planning to take full advantage of this by hopping on a train from St. Petersburg to Moscow to explore the country's capital for free.
Traveling Home Using Points and Miles
St. Petersburg → Estonia → Prague → Washington D.C. (& East Coast) → Portland (home)
I haven't fully booked our flights yet, but we purposely chose a longer, windy route to stretch our trip across a few more places we've wanted to visit. Thankfully, being able to book one-way tickets using points and miles is typically the same as booking a round-trip ticket, so it's easy to plan exactly where you want to go without paying more.
First, we're flying from St. Petersburg to Estonia one-way, of course, then we will work our way up to Prague for a few days.
From there, we're flying from Prague to Washington D.C., using my wife's stash of 60,000 miles from the AAdvantage® Aviator® Red World Elite Mastercard®.
Just like our first flights, we get 10% of miles back instantly using this card, so it cost us 54,000 miles and ~$186 in taxes and fees to book our flights. We weren't able to find a route completely avoiding the U.K., the taxes and fees were slightly higher for this flight.
From Washington D.C., we'll travel around the East Coast for two weeks, then jump on a Southwest flight home to Portland for $5.60, thanks to my Southwest Companion Pass (a.k.a. CP).
I earned the Southwest CP earlier this year and have plenty of points to fly on because of it, so the only cost we'll pay for our last flight home is $5.60 in taxes and fees.
Where To Stay in St. Petersburg
📌 I plan to break down more about our trip after we get back, but figured I'd share what I've researched so far.
Everyone has their own preference on how much to spend on accommodations while traveling. For us, spending a lot of money on high-end hotels isn't something we prioritize, so we typically stick with budget-friendly options. Since it's our first time to Russia, we're not sure how expensive hotels might be – especially during peak season – but here's what I've found.

Budget Friendly Hotels in St. Petersburg
Spoiler alert: we're going with this option.
We checked Tripadvisor for hotel reviews and found plenty of decent hotels with good reviews for under $60 per night, which is a relief since it's right around the amount we had budgeted for it.
At only $51 per night, the Original Sokos Hotel Olympia Garden is in a nice, highly walkable area, close to the airport and railway stations, and offers free Wi-Fi.
I'm booking our room with Chase Ultimate Reward Points directly through the Chase Travel Portal since I get 1.5 cents per point with my Chase Sapphire Reserve Card, which could be one of the best travel credit cards for points. If we were staying in a chain hotel, however, I would book directly to earn stay credit, points, and status.
Mid-Range Hotels in St. Petersburg
If you're okay with spending a bit more, the Crowne Plaza St. Petersburg - Ligovsky looks great.
Its fantastic reviews stood out to us while researching, and you can earn points on your IHG account by booking direct. Also, if you have the new IHG credit card, you can enjoy Platinum Elite status and may even get a free upgrade, which is awesome.
I found peak season rates to be around $149 per night and only $78 for low season rates.
Save More: If you book this hotel, you can save an additional 4.5% on your stay by using Ebates.
High-End Hotels in St. Petersburg
If you're ready to go "all in" and stay in luxury, it'd be hard to beat The Four Seasons Hotel Lion Palace St. Petersburg. You probably already know or have heard, that Four Seasons Hotels are world renowned for having incredible hotels, staff, and services.
While the price tag isn't for us, it's easy to see and understand why people choose to treat themselves and stay here on vacation – I mean, just look this place! My wife was nearly drooling as we scrolled through pictures while researching.
Getting Around Russia
Since free public transportation is included with the match tickets we bought, getting around should be a breeze.
Our T-Mobile ONE plan offers unlimited text and data (yes, even abroad) and we'll use Google Maps to help us navigate to wherever we want to go.
Food, Things To Do, Activities
We have budgeted $60 per day, or $480 total for our trip.
Tours in St. Petersburg
We are looking forward to some free "tours by foot" in St. Petersburg and will probably book them with a local guide (who work for tips – nothing is 100% free). We've literally done hundreds around the world on our travels.
There are also some cool tours and activities that can be booked with Chase Ultimate Reward (UR) points in the Chase Travel Portal. A few options:
St. Petersburg Metro Tour
Cost: $21.40 per ticket or 1,426 points

Reviews online looked great!

Peterhof: Skip-The-Line Tickets
Cost: $22.50 per ticket or 1,500 points

The Rooftop Tour in St. Petersburg
Cost: $22.52 per ticket or 1,501 points

Reviews online looked great!

St. Petersburg River and Boat Canal Cruise
Cost: $22.80 per ticket or 1,520 points

Siege of Leningrad Private Tour in St. Petersburg
Cost: $24 per ticket or 1,600 points

This is a private/custom tour which is pretty cool.

Food in St. Petersburg
We plan to hit up grocery stores to keep food costs low for the most part, but I'll be sure to share the details in the follow-up.
Things To Do & See in St. Petersburg
We're fond of finding little neighborhoods and markets to walk around in, and also plan to visit a bunch of churches, palaces, museums, and parks. We usually start our search on Tripadvisor for top things to do and go from there. 
Is Russia Safe For American Tourists?
We've been asked a few times if we're crazy for going to Russia. The fact of the matter is, we're super excited! It's been on our bucket list for a while and although we only moderately like soccer, we still can't wait to see the World Cup and explore different areas for free.
The ease of booking this entire trip definitely helps as well. All in all, we'll likely spend less than $900 on this once in a lifetime event. That makes the minimal risk worth it to us.
If you'd like to follow along on our trip, we'll be posting a lot of pictures in FBZ Elite - Travel and Points!
Easy-to-Earn Unlimited Rewards
Earn 25,000 online bonus points after you make at least $1,000 in purchases in the first 90 days of account opening - that can be a $250 statement credit toward travel purchases
Earn 1.5 points per $1 spent on all purchases
Longer intro APR on qualifying purchases and balance transfers
No foreign transaction fees
Earn unlimited 1.5 points per $1 spent on all purchases, with no annual fee and no foreign transaction fees and your points don't expire.
25,000 online bonus points after you make at least $1,000 in purchases in the first 90 days of account opening - that can be a $250 statement credit toward travel purchases.
Use your card to book your trip how and where you want - you're not limited to specific websites with blackout dates or restrictions.
Redeem points for a statement credit to pay for travel or dining purchases, such as flights, hotel stays, car and vacation rentals, baggage fees, and also at restaurants including takeout.
0% Introductory APR for 15 billing cycles for purchases, and for any balance transfers made in the first 60 days. After the intro APR offer ends, 18.24% - 28.24% Variable APR will apply. A 3% fee applies to all balance transfers.
If you're a Preferred Rewards member, you can earn 25%-75% more points on every purchase. That means instead of earning an unlimited 1.5 points for every $1, you could earn 1.87-2.62 points for every $1 you spend on purchases.
Contactless Cards - The security of a chip card, with the convenience of a tap.
This online only offer may not be available if you leave this page or if you visit a Bank of America financial center. You can take advantage of this offer when you apply now.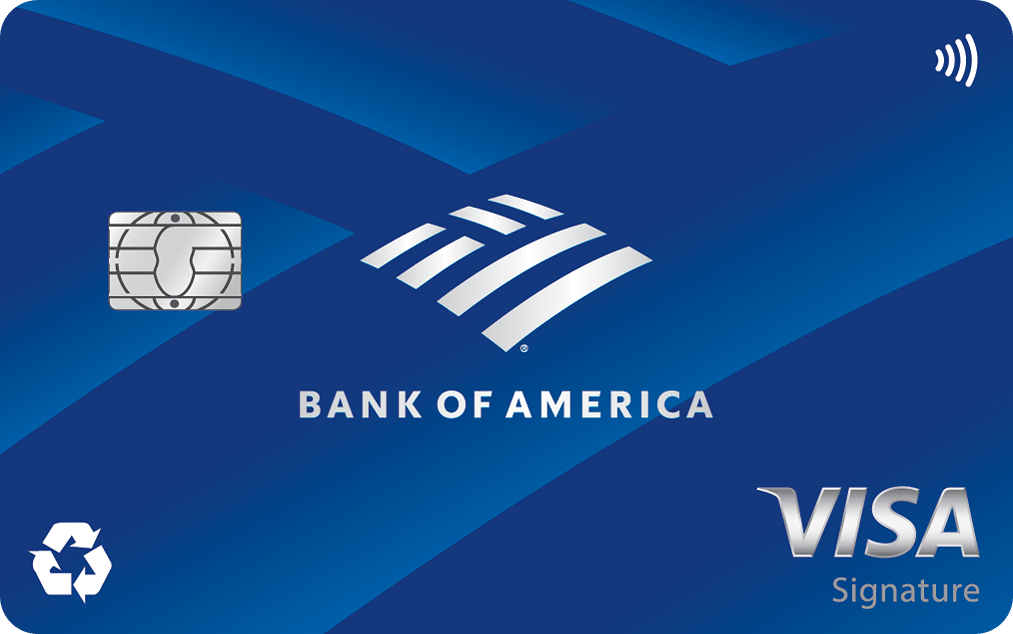 Apply Now
on Bank of America's secure website
Read Card Review
Intro Offer
Earn 25,000 online bonus points after you make at least $1,000 in purchases in the first 90 days of account opening - that can be a $250 statement credit toward travel purchases