Flying can be a stressful experience for anyone. You use your hard-earned money to pay for flights. There's the dreaded security line, the possibility of delayed flights, and lots of sitting in small, confined spaces. Occasionally, this will lead to some pretty bizarre behavior on airplanes — and the COVID-19 pandemic seems to have exacerbated that.
In 2021, the amount of incidents involving unruly behavior was six times more than it was in 2020, according to the Federal Aviation Administration (FAA). And that's just factoring in the occurrences that were reported. Here are 9 of the most bizarre instances of bad behavior that have gotten people kicked off planes.
Wearing underwear as a face mask
A Florida man was removed from a United Airlines flight in December 2021 after he attempted to skirt federal mask guidelines by wearing women's underwear over his face.
The passenger argued that the red thong he chose to cover his nose and mouth with complied with the mask mandate. He held firm that the mandate was "silly" and so he was being silly in response. United Airlines didn't find it funny, though, and he was removed from the flight before it took off from Florida to Washington, D.C.
Too much singing
An American Airlines passenger, described by the airline as "very unruly," caused a plane to make an emergency landing after she wouldn't stop singing Whitney Houston number one hit, "I Will Always Love You."
The 2013 flight from Los Angeles to New York City was diverted to Kansas City, where the woman was escorted off the plane, still belting out the hit song.
Unappealing scent
Anyone who has been on a longhaul flight may be curious if their deodorant will hold up. Many on a 2014 flight from Paris to Dallas felt a fellow passenger had this issue and they complained to the cabin crew about the scent emanating from one man.
He was subsequently asked to leave the plane. The man reportedly blamed the smell on some cologne he tried on at a duty free shop.
Chasing a butterfly
In 2017, a man was escorted off his flight from Los Angeles to Honolulu after running around the plane, claiming he was trying to catch and kill a butterfly.
Afterwards, the man pleaded guilty to interfering with the flight crew, saying he had seen a butterfly pop out of a seat pocket and began chasing it through the cabin. He later admitted he was likely ill and hallucinating the whole scenario.
Lashing out over a toddler
Flying with kids can be hard enough on flights that go well, but one flight from Florida to Las Vegas in February 2019 was the opposite of smooth for the parents of a 3-year-old. Another passenger was apparently so mad that she was seated next to the child that she began lashing out at other passengers and the crew on the JetBlue flight.
According to police, she even struck a crew member and spit on a fellow passenger. She was removed from the flight before it took off and later arrested.
Complaining about an upgrade
We'd all like to fly first-class or score an upgrade on a long flight — and can be envious of those that do. But one JetBlue customer in 2013 was so angry that another passenger got a free upgrade that she ended up getting herself kicked off the plane.
The passenger was reportedly mad because she paid for an "Even More Space" premium seat during the flight, and then another passenger who was having trouble with their in-flight TV was moved to the same section for free.
She apparently became "abusive" to the man who was upgraded and began arguing with the crew, to the point where the flight, which left New York for San Diego, had to be diverted to Denver.
Blocking a recliner
Dealing with minimal space on a flight is something most travelers just have to endure. However, one passenger on a flight from New Jersey to Colorado in 2014 tried to keep more of his space by preventing the woman in front of him from reclining her seat. He used something called a "knee defender" to try to stop the chair's recline, and then refused to remove the device when a flight attendant asked him to.
The woman ended up throwing a cup of water on the man, and the altercation led to the flight being diverted to Chicago where the two passengers were removed.
Attempting to open plane doors (mid-flight)
A woman on a flight from London to Turkey in 2020 became so unruly that she was banned from ever flying on the airline again and was hit with jail time. The woman apparently tried to open a plane door mid-flight, causing such a disruption that the flight had to be diverted back to London.
While the woman was on trial, she reportedly said that she had mixed alcohol with medication before the flight and did not really remember the incident.
Too much kicking
A family was asked to get off a 2017 JetBlue flight from Florida to New York after an altercation that reportedly began when a couple's 1-year-old child was kicking the seat in front of them. The parents alleged that they "exchanged words" with the person who was being kicked, and that person changed seats.
But a flight attendant later came and told them they needed to get off the plane. JetBlue said that the parents were removed for allegedly making threats, but the couple disputed that report, saying they were kicked off because of their baby's actions.
Bottom line
Traveling can be expensive and stressful, even if you've done the research, booked with the best travel credit cards, put yourself on a solid financial foundation, and planned for the unexpected. Flying also comes with a certain expected etiquette. Humans, however, have a way of … well, being human and not always following the rules.  
Easy-to-Earn Unlimited Rewards
Earn 25,000 online bonus points after you make at least $1,000 in purchases in the first 90 days of account opening - that can be a $250 statement credit toward travel purchases
Earn 1.5 points per $1 spent on all purchases
Longer intro APR on qualifying purchases and balance transfers
No foreign transaction fees
Earn unlimited 1.5 points per $1 spent on all purchases, with no annual fee and no foreign transaction fees and your points don't expire.
25,000 online bonus points after you make at least $1,000 in purchases in the first 90 days of account opening - that can be a $250 statement credit toward travel purchases.
Use your card to book your trip how and where you want - you're not limited to specific websites with blackout dates or restrictions.
Redeem points for a statement credit to pay for travel or dining purchases, such as flights, hotel stays, car and vacation rentals, baggage fees, and also at restaurants including takeout.
0% Introductory APR for 15 billing cycles for purchases, and for any balance transfers made in the first 60 days. After the intro APR offer ends, 18.24% - 28.24% Variable APR will apply. A 3% fee applies to all balance transfers.
If you're a Preferred Rewards member, you can earn 25%-75% more points on every purchase. That means instead of earning an unlimited 1.5 points for every $1, you could earn 1.87-2.62 points for every $1 you spend on purchases.
Contactless Cards - The security of a chip card, with the convenience of a tap.
This online only offer may not be available if you leave this page or if you visit a Bank of America financial center. You can take advantage of this offer when you apply now.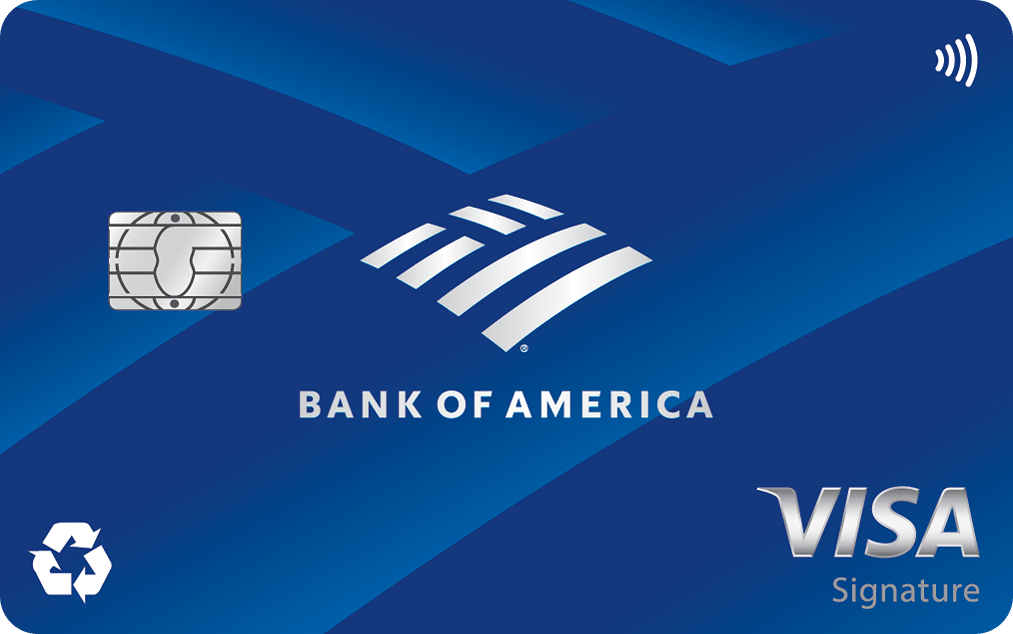 Apply Now
on Bank of America's secure website
Read Card Review
Intro Offer
Earn 25,000 online bonus points after you make at least $1,000 in purchases in the first 90 days of account opening - that can be a $250 statement credit toward travel purchases