Insurance is an unfortunate but valuable necessity if you own a home or vehicle. However, shopping for insurance can sometimes be as painful as paying the premiums.
Gabi can simplify your search. Gabi isn't an insurance provider — it's a broker with licenses to sell insurance in all 50 states and the District of Columbia. With Gabi, you can input your information just once and receive quotes from its network of over 40 insurance providers.

This Gabi insurance review will give you a look at what Gabi has to offer and how you can save time and money the next time you shop for car, home, or renters insurance.
Gabi Insurance: Is it worth it?
Pros
Cons

Works with more than 40 insurance providers
Compares quotes
Looks for possible bundling discounts
Get quotes quickly

Not an insurance company
Quotes may change

Our verdict: If you are looking for a quick comparison of car insurance rates and coverages, Gabi can help compile quotes for you. Unlike lead generation sites, Gabi is a licensed insurance broker that shops different insurance companies to find a policy that will fit your budget. However, the quotes Gabi provides have been known to change, so you may want to go directly to the insurance company instead.
What is Gabi insurance?
Gabi is an insurance brokerage firm, which means it works with insurance partners to sell vehicle, home, and rental policies to consumers. Gabi makes a commission from the policies it sells, so there is no charge to you for their services. And because Gabi works with over 40 insurance providers, it can show you options you may not have known to research and that could be lower priced than you might expect.
Headquartered in San Francisco, Gabi launched in 2016. It developed a proprietary price-quote process that uses information from your existing policies to find pricing for the same coverage with other insurers. Opportunities to bundle and save more are also presented, and most car insurance quotes are delivered to you in fewer than two minutes.
If you are already paying the best rate for your policy, Gabi will let you know. The company claims to operate on a customer-first business model and aims to build lifelong relationships, not one-off sales. The company has earned an A+ rating with the Better Business Bureau. 
Year founded
2016
Types of coverage

Liability
Comprehensive
Collision
Rental reimbursement
Uninsured liability
Emergency roadside assistance
Loan/lease coverage
Glass coverage

Discounts available

Good driver
Good student
Bundling
Defensive driver course
Multi-car
Payment

Where you can use it
Mobile app (Android, iOS) and desktop portal
Customer support
advisors@gabi.com
Availability
All 50 states including District of Columbia
How does Gabi work?
Gabi makes insurance shopping pretty simple. You create an account and then start a policy comparison. If you click "Get Started" from the main page, you're taken to the auto quote page. You can click on the "Compare Insurance" button on the main page and get a home insurance or renters insurance quote instead or start a chat with a Gabi insurance agent to get umbrella or landlord insurance. 
If you're getting an auto insurance quote, you can choose your current insurance company. Next, provide information, such as your name, birthdate, and address. You'll get to a screen that asks you to connect your online insurance account or upload policy documents like your declarations page. 
If you don't currently have an auto insurance policy, you can start a policy comparison and then click the "I Don't Have Insurance" button. This will open a new screen on which you'll be prompted to provide information to start a new quote. 
Once that information is analyzed, Gabi will show a summary of your current policy coverage and premiums, as well as a list of competitive quotes. 
Because Gabi is an insurance broker, it doesn't generate leads that are sent to providers who then pester you with phone calls and emails about buying a policy.  Instead, Gabi facilitates the actual purchase of your new policy. In that sense, they are just like going to a human broker at your local insurance agency who helps you find the best policy for your needs.
Get rates, offers & more from top rated insurance providers!
By clicking the button below I understand and acknowledge that this site uses site visit recording technology (provided by Trusted Form, Jornaya and Mouseflow)
Check Rates
What insurance does Gabi offer?
Gabi isn't an insurance company but an insurance broker that collects quotes from a network of more than 40 insurance providers to help find you the best car insurance policy for your budget. Gabi is licensed to provide insurance in all 50 states and the District of Columbia.
You can use Gabi to compare rates for auto, homeowners, renters, umbrella, and landlord insurance coverage. When it comes to auto insurance, almost all U.S. states require drivers to carry some level of auto insurance.
With Gabi, you can get rates for auto insurance coverage options, including:
Liability: Liability insurance helps to cover bodily injury and property damage, and it's usually required by state laws. This coverage helps pay for injuries or damages to another driver when you're involved in an accident that is your fault.
Collision: If you are involved in an accident with another car or stationary object, such as a light pole, collision insurance helps pay for repairs or replacement of your vehicle.
Comprehensive: Comprehensive coverage applies to damage to your car caused by something other than a collision. Incidents such as vandalism, theft, water or fire damage, and accidents with animals are covered under your comprehensive insurance.
Uninsured/underinsured motorist coverage: This coverage helps to pay for injuries or property damage from accidents with drivers who don't have adequate car insurance coverage.
Rental reimbursement: If your car is being repaired for a covered incident, this coverage pays for a rental car so you can still get around.
Emergency roadside assistance: This coverage is called "towing and labor" and provides emergency services if you get a flat tire, run out of gas, or need your vehicle towed.
Loan/lease GAP coverage: Similar to GAP insurance, loan/lease coverage can bridge the gap between your car's actual cash value and how much you still owe on it if your car is totaled in an accident.
Glass coverage: This coverage pays to repair or replace your damaged windshield or other car windows with no deductible.
Gabi can also help you find discounts on your car insurance by bundling it with other insurance products such as homeowners insurance, renters, condo, landlord, and umbrella policies. The company also offers motorcycle and RV insurance.
Gabi Insurance: How cheap is it?
Gabi claims it can help customers save an average of $961 per year on insurance by comparing quotes from more than 40 insurance providers.
How to find discounts
Because Gabi is an insurance broker that provides quotes from different insurance companies, the available discounts will depend on the insurer you decide to use. Here are some of the possible discounts you may be able to get to help you save money on car insurance:
Good driver discounts: Drivers that haven't had accidents or traffic violations in the past three to five years could save up to 20% on car insurance with a good driver discount.
Good student discounts: Car insurance for teenagers can be expensive. Teens that are students with a B or higher grade may qualify for a discount on car insurance.

Defensive driving course: Some insurers offer discounts for drivers who complete a certified defensive driving course.
Multi-car discounts: You may get a discount on your car insurance by having more than one vehicle on your policy.
Bundling discounts: If your insurance company also offers homeowners, renters, or condo insurance, you may be able to get a discount on your car insurance by bundling your different policies.
Payment discounts: Paying your premiums in full or setting up automatic monthly payments can sometimes save you money on your car insurance premiums.
How to maximize your savings with Gabi insurance
Here are some things you can do to get an even better rate on your insurance through Gabi.
Bundle multiple types of insurance
Many insurers offer discounts for taking out multiple policies. Gabi offers you the option of bundling coverage for auto, home, rental, and other vehicles. When you're comparing policies, it doesn't hurt to add in information about all your insurance needs so you can see whether Gabi can help you bundle and save.
Look for discounts available through the insurer
Insurers give all kinds of discounts that may not show up on a site like Gabi. These can include being an alumnus of a certain school, being a member or former member of the military, signing up for auto-pay, or even having extra safety features in your car. You can use your Gabi rate to narrow down providers, and then contact the insurer directly to see if they have additional discounts to help you save money on car insurance.
Go for a higher deductible or less coverage
It's always a risk to choose a higher deductible in return for a lower premium. If you get into a major accident or need to file a claim, you'll be out a much larger amount of money than if you'd stuck with the minimum deductible option. It's up to you to decide whether the risk is worth the savings reward. Also be aware that if you have a loan on your automobile, you'll need to maintain the insurance required by your financial institution.
Compare with Gabi when you're close to renewing your policy
Shopping around for rates when your insurance renewal date is coming up is something everyone should do. Insurance rates go up and down all the time, but it's when you're at the end of your policy that you can typically cancel without an extra fee (something I learned the hard way). If you put a note on your calendar to shop for new rates a month before your policy renews, you might find some savings that make switching insurers worthwhile. If you're researching your options, check out our list of the best home insurance companies.
How to get an insurance quote from Gabi Insurance
Go to Gabi.com and click on the "Sign Up" button on the top right corner of the screen. The prompts that follow will ask you about your current auto insurance provider. If you have a policy, select the company from the dropdown list. If you don't, click "I Don't Have Insurance."
You'll then be asked to provide personal information, such as your name, address, date of birth, phone number, etc. If you have an auto policy, you'll be asked about the make, model, year, and other details about your vehicle and driving record. 
You may also be prompted to connect your current insurance policy account to Gabi or add an existing home policy to your quote. Once all the questions are answered, you'll get a list of insurance quotes, with the least expensive policy at the top.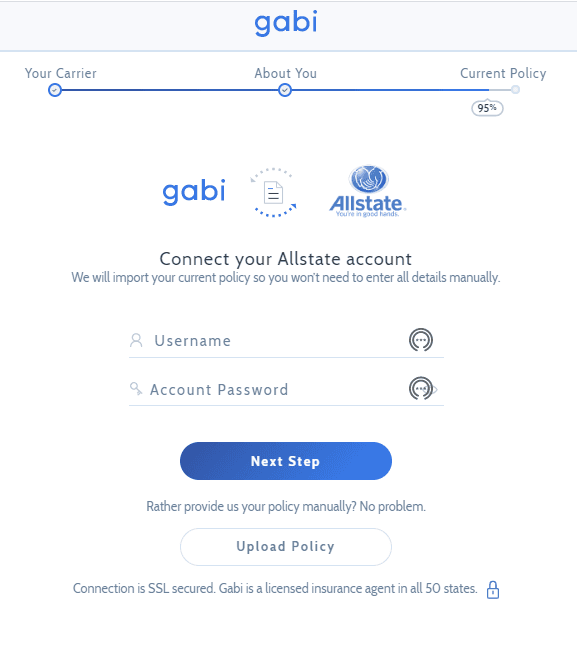 If you're shopping for a new auto policy because you're also buying a car, you'll be asked to provide some more information before you get a list of provider options. This may include the type of coverage you're looking for, your gender, and your age when you got your license, as well as your education level, job, vehicle basics, and more. Based on the information you give, you'll get a list of options for a new policy.
From there, if you'd like to get a quote for a bundled policy and you weren't already prompted about it, you can click "Add Another Policy" in the upper right corner. At that point, you'll be able to upload documents or provide your account access information for your existing insurance policy so Gabi can see what you're covered for and how much your premiums are. After the algorithm takes in all this information, it will provide you with updated quotes.
When you're ready to sign up for a new policy, click on "Select," and you'll be prompted for additional information to confirm the quote. From there, you provide your payment information and follow the prompts to complete the transaction. Your payment will then be processed by the insurance provider, not Gabi itself.
Gabi insurance FAQs
Is Gabi insurance legit?
Yes, Gabi is a legitimate insurance broker with licenses in all 50 states. Its main purpose is to sell insurance policies on behalf of a network of dozens of companies it works with. This allows Gabi to provide a listing of different policies for users to choose from. Gabi has an A+ rating from the BBB.
Who owns Gabi insurance?
Gabi is owned by Experian, which is one of the three major credit bureaus.
How much does Gabi cost?
Gabi is free to use. It makes a point to guarantee that users will not pay any kind of fee for its services.
How does Gabi insurance make money?
Because Gabi is an insurance broker, it makes a commission for every policy it sells. This commision is paid to Gabi by the insurance companies it works with. Gabi doesn't charge customers for its services and it doesn't process payments of any kind. Payment information that is collected is sent to the insurance company you've chosen to start a policy with, and payment transactions are conducted through that insurance company.
What insurance companies does Gabi work with?
Gabi doesn't provide a full list of insurance companies it works with. In our testing of the site, we found policy options from Travelers, Geico, Nationwide, Safeco, Clearcover, Allstate, Kemper, Hippo, Berkshire Hathaway, Lemonade, Foremost Insurance Group, Nation General, and Universal Property, but Gabi's options may not be limited to that list.
Bottom line
There seem to be some limitations to what Gabi can do for you in that it primarily focuses on providing competitive pricing options for your existing insurance policies while downplaying starting new policies. 
Still, Gabi is a service you can trust to provide you with information about competing car insurance rates for comparable insurance coverage. It's quick, easy, secure, and takes a lot of the guesswork out of shopping for rates.
Methodology
FinanceBuzz researches a number of factors in each auto insurance provider to create our reviews. These factors include cost and discounts, complaints and customer satisfaction, coverage, and ease of use. We also gather information from sources such as J.D. Power, AM Best, the National Association of Insurance Commissioners (NAIC), and the Better Business Bureau to ensure we provide the most useful information to our readers.
You could save up to $500 with some companies
Compare dozens of providers in under 5 minutes
Fast, free and easy way to shop for insurance
Quickly find the perfect rate for you