SmartAsset 1 is a service that can connect you with a financial planner or an advisor at no cost to you. The service also gives you free financial guides and calculators for your taxes, retirement, savings, and investments.
SmartAsset aims to help you manage your money and make smart financial decisions by simplifying money management. However, free financial guidance may not be for everyone, as working with a fee-based financial advisor has certain benefits.
Let's take a look at how SmartAsset works, how it can benefit you, and whether it's the service that fits your needs.
In this SmartAsset review
SmartAsset: Is it worth it?
Pros
Cons

Matches you with a financial advisor at no cost to you
Offers many financial calculators and tools
Has extensive guides and educational materials on several financial aspects

You may receive text messages and calls from SmartAsset or potential advisors
Has no mobile app

Our verdict: SmartAsset can be a valuable source of information for several aspects of your financial wellness. Its free advisor matching service can be a good fit for people with enough assets to meet the minimum requirement for human advisors, which can range between $150,000 and $3 million. However, you can still benefit from SmartAsset's financial guides, calculators, and tools if you don't meet these minimums.
What is SmartAsset?
SmartAsset is a fintech startup that was founded in 2012 by co-founders Michael Carvin and Philip Camilleri. The company is headquartered in New York City.
SmartAsset raises funding from several Venture Capital investors, including Citi Ventures, Javelin Venture Partners, and North Bridge Venture Partners & Growth Equity.
SmartAsset can also match you with financial advisors for free. This matching tool is SmartAsset's primary product. SmartAsset states that it matches 5,000 people with a financial advisor each month.
Keep in mind
Although the financial-planner matching service is free, the financial planner you may match with can charge a fee.
SmartAsset also reaches 75 million people monthly through its financial calculators and other educational resources. This financial technology company aims to help readers learn about their finances and manage their money.
SmartAsset is a private company that has raised money from investors such as Citi Ventures, Focus Financial Partners, Transamerica Ventures, and Y Combinator.
Company
Year founded
2012
Services offered

Match with a financial advisor
Access guides on investing, banking, savings, retirement, and more
Use calculators that can simplify managing your personal finances

Costs

Free to use the financial advisor matching service
Free access to guides, calculators, and tools
Services you sign up for may charge a fee

Customer support
Via email: info@smartasset.com
Visit SmartAsset
How does SmartAsset work?
SmartAsset works by providing access to a network of financial advisors. What a financial advisor does is help you design a plan for your money. A financial advisor may also recommend specific banking or investment products and services that fit your needs.
The matching process has three distinct parts:
Define your current situation. SmartAsset asks you several questions about your current finances and future goals.
Review your matches. SmartAsset sends you a list of pre-screened potential financial advisors.
Set up an appointment. Once you select your match, you can book an appointment.
To ensure you're working with advisors that put your interests first, SmartAsset matches you with vetted fiduciary financial advisors.
A fiduciary is a person that manages your money and other assets on your behalf in a manner that benefits you. Fiduciaries are legally required to put your financial wellness ahead of any gain they may receive.
For example, fiduciaries don't recommend products, investments, or services that give them bigger commissions while not being in your best financial interest. Keep in mind that fiduciary advisors you work with may have a minimum net value requirement, which can range between $150,000 and $3 million.
Other services that SmatAsset offers
In addition to its advisor matching service, SmartAsset also offers guides and calculators for savings, retirement, investments, and more.
Housing-related services:
Homebuying: SmartAsset offers several home purchase resources, such as a closing cost calculator and a home affordability calculator. You can also get mortgage quotes and compare living costs in different areas. You can also read guides on different homebuying aspects.
Refinancing: SmartAsset also offers information on refinancing your home. You can get different refinancing rates and compare providers. You can also use a calculator to figure out how much money you may save by refinancing.
Financial future services:
Retirement: SmartAsset can help you figure out how to save for retirement using the retirement tools it offers, including 401(k) and Social Security calculators. It also offers interactive maps that evaluate where your retirement funds may go furthest. You can also read guides on different types of retirement plans and how they work.
Life insurance: SmartAsset offers a calculator to help you figure out your life insurance needs. It also gives you quotes from different life insurance providers. You can also find information on Social Security benefits and other topics related to life insurance.
Estate planning: SmartAsset can help you understand estate taxes by state, learn more about trusts and wills, and connect to a financial advisor who can help plan your estate.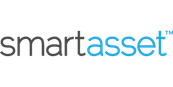 See if You Can Retire Early
Learn More
Banking and investments:
Banking: SmartAsset has several banking guides and reviews of checking and savings accounts. You can also use the savings calculator to estimate how much your balance can grow over time. SmartAsset also has several comparison charts that list bank accounts along with their interest rates, minimum balances, and terms.
Investing: SmartAsset can help you learn more about investing money with tools such as its asset allocation calculator and inflation calculator. It also has investment product reviews and articles explaining asset classes, such as Treasury bills and stocks.
Credit cards: SmartAsset has a tool that recommends a particular credit card for you based on the personal and financial information you enter. It also has guides that explain how the credit system works and give explainers for common credit terms.
Additional services:
Taxes: SmartAsset has educational materials about taxes and how they work. It also offers tips on reducing your tax liability and insight into how to file your taxes. You can also use different calculators to estimate your after-tax income, or how much you owe in taxes.
Student loans: SmartAsset has an interactive map to help you find the best value colleges. You can also find information about student loans, student loan forgiveness, 529 education savings plans, and more.
SmartAsset doesn't charge a fee to use its resources, but once you leave the SmartAsset website to sign up for a service or choose a financial advisor, you might be subject to fees. As a result, it's essential to carefully review the service or advisor you're selecting before moving forward.
Who can benefit from SmartAsset?
SmartAsset offers a financial advisor matching service that helps you find someone to work with. This service can be useful if you have enough money to meet the minimum balance requirement financial advisors may have, often ranging between $150,000 and $3 million.
A financial advisor can give you tailored solutions and suggestions. SmartAsset can even match you with someone who shares your values and understands your priorities.
You can benefit from SmartAsset regardless of how much money you have. The platform enables you to learn the basics of managing your finances. SmartAsset's calculators can help you run different scenarios to get an idea of what would make the most financial sense for your situation.
On top of that, extensive guides and articles can help you learn about mortgages, loans, retirement, taxes, and more. SmartAsset also has many product and service reviews that can help you make decisions about what to choose.
How to get started with SmartAsset
You can take a brief online quiz to get a financial advisor match through SmartAsset. Simply follow these steps:
Begin by choosing how you feel about your finances.
Let SmartAsset know what matters to you the most during retirement.
SmartAsset then asks you about the source of your retirement income, as well as your comfort and experience with investing.
Next, you'll have questions about your living situation and household.
You'll get questions about your finances, including whether you have a business, 401(k), IRA, and emergency fund.
SmartAsset also makes it a point to match you with an advisor that shares your social values and meets your needs.
You can then share more specific information about your assets and income.
Lastly, SmartAsset analyzes your information and sends your matches and retirement report to your email address. Be prepared to receive texts from SmartAsset or potential advisors.
FAQs about SmartAsset
Is it free to match with an advisor on SmartAsset?
Yes, it's free to get matched with an advisor via SmartAsset. Keep in mind that the advisor may charge their own fee structure for their service, so make sure that you review the cost of the service you use.
How can I reach SmartAsset customer service?
You can reach SmartAdvisor by emailing info@smartasset.com. SmartAsset doesn't list a customer support phone number on its website.
What is a fiduciary, and do I need one?
A fiduciary is a person who manages your money and assets. This person is legally or ethically bound to put your financial wellness first when making decisions about your portfolio or the products or services they recommend. Using a fiduciary as a financial advisor may provide you with financial advice that better fits your needs.
Bottom line
SmartAsset offers many useful services, guides, and financial tools. Its primary service connects you with a financial advisor who can help manage your money, assets, and retirement plan.
This matching service is free, which makes it attractive to use. However, one downside is that you may receive text messages and calls from SmartAsset and potential advisors after completing the online matching quiz.
Keep in mind the financial advisor you choose may have their own fees. These fees can come in different forms depending on your financial advisor. Working with a fee-only financial advisor can often be beneficial because they don't receive commissions from the products they recommend for you. Know the questions to ask a financial advisor before working with them, and take your time before selecting the one you can trust your money with.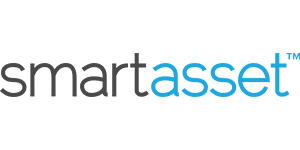 Smart Asset Benefits
Get matched with fiduciary financial advisors
Advisors are vetted and certified fiduciaries
Take the mystery out of retirement planning
Their matching tool is free