Travelers is an insurer that offers auto coverage, among several other insurance products. Travelers was the sixth-largest insurance provider by the number of policies issued in 2021.
Travelers offers many discounts that may help you get an affordable auto insurance premium. However, the service you receive may be below the industry average due to the company's low customer service ratings.
Is Travelers an option you should consider? Let's explore the detailed answer in this Travelers auto insurance review.
In this Travelers auto insurance review
Travelers auto insurance: Is it worth it?
Pros
Cons

High financial strength ranking
Many auto policy customization options
Long list of potential discounts

Lackluster customer satisfaction ratings
Rideshare coverage only available in Colorado and Illinois
Several discounts aren't available in California

Our verdict: Travelers can be a good option if you're after a highly customizable auto policy. It also offers many discounts that may help you get affordable rates. However, remember that Travelers ranks average or below average for customer satisfaction in most U.S. regions.
What is Travelers?
Travelers Insurance was founded in 1864 in Hartford, Connecticut, as an accident insurance company. Today it's one of the oldest and largest U.S. auto insurance companies, with around 30,000 employees and more than 13,000 independent insurance agents in the U.S., Canada, Ireland, and the U.K.
Travelers also offers other insurance options, including home insurance and business insurance. You can get a multi-policy discount by bundling your policies together.
Travelers offers more auto coverage options and insurance discounts than some of the major car insurers. However, it offers lackluster customer service, as reflected in its ratings. The company averages 1.1 out of 5 stars on the Better Business Bureau reviews. It receives a much higher number of customer complaints than the industry average, according to the National Association Of Insurance Commissioners (NAIC).
Year founded
1864
Types of coverage

Liability protection
Non-owner insurance
Personal injury protection (PIP)
Uninsured/underinsured motorist insurance
Medical payments
Collision coverage
Comprehensive coverage
Umbrella insurance
Rental car reimbursement
Rideshare insurance
Loan/lease gap insurance
New car replacement
Accident forgiveness
Roadside assistance

Discounts available

IntelliDrive app discount
Safe driver discount
Driver training discount
Good student discount
Student away at school discount
New car discount
Hybrid/electric car discount
Multi-car discount
Multi-policy discount
Early quote discount
Continuous insurance discount
Homeownership discount
Electronic funds transfer discount
Pay-in-full discount
Good payer discount
Affiliation with affinity programs

Where you can use it

The Travelers desktop portal
The Travelers mobile app on Android and iOS devices

Customer support
Availability
50 states, Puerto Rico, and Washington, D.C.
What insurance does Travelers offer?
Most states require drivers to carry a minimum amount of car insurance, which Travelers can provide. On top of the required auto coverage, Travelers offers a wide range of insurance options.
Keep in mind
Some Travelers coverage options may not be available in some states. Contact Travelers Insurance or a local representative to confirm the options available to you.
Liability coverage
If you accidentally hit someone or something while you're behind the wheel, liability coverage kicks in to help pay for injuries or damages.
Liability protection: This protection usually includes both bodily injury and property damage liability coverage. It helps pay for the medical care needed due to injuries to others or for the repairs from property damage in an accident you caused.
Non-owner insurance: This insurance coverage gives you liability protection when you don't own a car but want to be protected when you borrow or rent someone else's car.
Medical coverage
Travelers offers three coverage options to help pay the medical costs of injuries to you or other passengers in your car. Note that some of this coverage may be required in your state.
Medical payments: This coverage helps pay for medical bills when you're hit by a car or when you or your passengers are injured during a car crash. This coverage helps you regardless of who caused the crash.
Personal injury protection (PIP): This insurance is similar to medical payments coverage but adds payments for lost wages or other financial considerations when you or your passengers are hurt.
Uninsured/underinsured motorist insurance: This coverage helps protect you when an at-fault driver doesn't have insurance or is underinsured. Although you can sue someone who hits you, you may not receive more money than they were insured for. If they weren't insured at all — a common occurrence — then you may not receive any compensation at all. That's when this insurance can be helpful.
Vehicle coverage
Travelers offers additional coverage that can help pay for damages to your vehicle and other related charges following an accident.
Collision coverage: This insurance helps to pay the cost of repairing your vehicle if it's damaged in a collision. This coverage is often required when you finance or lease a car.
Comprehensive coverage: This coverage helps pay for damage to your car that resulted from floods, earthquakes, falling trees, and the like. Getting both collision and comprehensive coverage is referred to as full coverage.
Rental car reimbursement: This reimbursement helps with the cost of renting a car when your own vehicle is in the shop getting fixed after an accident.
Rideshare insurance: This coverage protects you while you're driving for rideshare companies such as Uber or Lyft. This coverage is only available in Colorado and Illinois.
Loan/lease gap insurance: This insurance kicks in if your car is totaled before your lease is up or your loan is paid off. It helps pay for the remaining amount on your lease or loan.
New car replacement coverage: This insurance helps with the cost of a new vehicle when your car is totaled in an accident. It is available for new cars only and covers replacing your car with a brand-new make and model within the first five years.
Roadside assistance: This coverage helps pay for assistance while you're out on the road, such as towing, help with a flat tire, and more.
Accident forgiveness: This forgiveness allows you to avoid higher car insurance rates for a single accident.
Other insurance products
Travelers offers several insurance products other than car coverage. These products can help cover other assets and situations you want to protect.
Bundling some of these insurance products with your car insurance may qualify you for a discount.
Homeowners insurance
Renters insurance
Condo insurance
Landlord insurance
Pet insurance insurance
Travel insurance
Umbrella insurance
Business insurance
Motorcycle insurance
Boat and yacht insurance
Valuable items insurance
Wedding and event insurance
Travelers offers its insurance products in all 50 U.S. states, Washington, D.C., and Puerto Rico.
Travelers auto insurance: How cheap is it?
As with all insurance companies, Travelers Insurance doesn't have a one-size-fits-all auto insurance rate. There are many factors that affect car insurance rates, such as your location, coverage, credit score, age, and more.
However, Travelers offer an extensive list of discounts that can help reduce your insurance premium.
How to find discounts
Travelers car insurance caters to budget-minded customers by offering 14 different discounts. These discounts can be helpful even if you can't qualify for all of them.
Drivers who take steps to drive more safely can qualify for two different discounts:
IntelliDrive app discount: You can download an app to record your driving habits over three months. You get a discount when you first sign up and another discount when you renew your rates. Your total discount can be up to 30% if the app determines you're a safe driver. Keep in mind that recorded bad driving habits can increase your premium.

Safe driver discount: You can get this discount when your driving record over the past three to five years doesn't include any violations, accidents, or claims.
Young drivers often pay high auto insurance premiums, but Travelers offers three discount options for them:
Driver training discount: You can get this discount by completing a driver education course from the Travelers approved list.
Good student discount: You qualify for this discount if you're a full-time high school or college student with a B average or better on your report cards.
Student away at school discount: You can get this discount by attending school more than 100 miles away from your home where you leave your car.
The type and condition of your car can also get you additional discounts:
New car discount: You can get this discount when you have a car that is less than three years old, whether you purchase it new or used.
Hybrid/electric car discount: You can qualify for this discount by having a hybrid or electric vehicle.
Finally, Travelers offers several more discounts based on your policy and personal situation:
Multi-car discount: You can get this insurance by including more than one car in your insurance policy.
Multi-policy discount: You can get a discount of up to 13% when you buy more than one insurance policy, such as Travelers home insurance, pet insurance, and motorcycle insurance.
Early quote discount: You can get this discount by getting a car insurance quote before your current policy with another insurer expires.
Continuous insurance discount: You can get this discount by having car insurance with Travelers without gaps. If you're in between cars, a non-owner car insurance policy can help you avoid such gaps in coverage.
Homeownership discount: Homeowners get a discount on their auto insurance policy with Travelers. This discount applies even if you get your homeowners insurance from another company.
Electronic funds transfer, pay-in-full, and good-payer discounts: You can get these payment discounts by using electronic funds transfers, paying in full for your policy, and always paying on time.
Affiliation with affinity programs: You can qualify for this discount if you're associated with certain employers, credit unions, and associations.
Heads-up
IntelliDrive, safe driver, new car, multi-car, early quote, continuous insurance, electronic funds transfer, pay-in-full, and good-payer discounts are not available in California.
How to maximize savings
In addition to discounts, there are several things you can do to lower your car insurance costs in general:
Decrease your coverage. You can save money on car insurance by choosing lower coverage, which reduces your premium. Make sure to stay above the minimum state-required amount of coverage, and keep in mind that decreasing your coverage increases your financial liability in an accident.
Increase your deductibles. Deductibles are the amount you need to pay before your insurance kicks in. Increasing your deductibles can lower your insurance premium. However, remember that this leaves you financially responsible for a higher amount if you have an account.
Drop the collision and comprehensive coverage. You can reduce your premium on a fully owned car by removing the optional collision and comprehensive coverage. Keep in mind that you'll be responsible for repair or replacement costs when your car is damaged or totaled.
In addition to these tips, you can explore quotes from several providers to find the best auto insurance rates. The more quotes you get from different companies, the more likely you are to find the best auto coverage rate.
How to get an insurance quote from Travelers
There are a few routes to figure out how to get car insurance from Travelers:
You can get a quote from a Travelers insurance agent using the agent locator tool.
You can call Travelers at 1-888-269-8072.
You can get a quote online.
You will need some essential information regardless of the option you choose. Once you have the information needed, you can start your quote process.
Collect your information
Travelers requires some information from you to get started, including:
Personal information: Such as name, address, ZIP code, date of birth, and gender. This information is needed for you and anyone else regularly driving the car you want to insure.
Contact information: This includes your email address and phone number.
Previous addresses: Including any addresses you lived at in the past six months
Vehicle information: Such as purchase date, mileage, and vehicle identification number (VIN).
Driving history: Including information about any past accidents, speeding tickets, or car insurance claims.
Get a quote online
Once you have the information you need, you can get an online quote by following these steps:
Enter your ZIP code and select your policy type.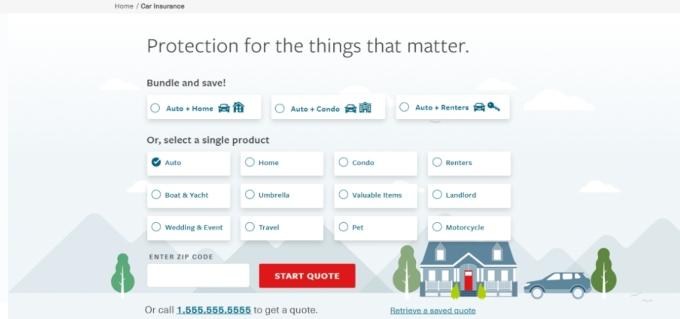 Type in your name, address, gender, and date of birth.
Enter your email address and phone number.
Add your vehicle information, such as average annual mileage, registration, and usage type.
Enter details about your driving history, including previous tickets, accidents, or claims.
Enter your current insurance information, such as how long you've been insured and how long you've been with your previous company in particular.
Get your quote. Travelers will give you the estimated cost for a six-month policy with a preselected amount of coverage.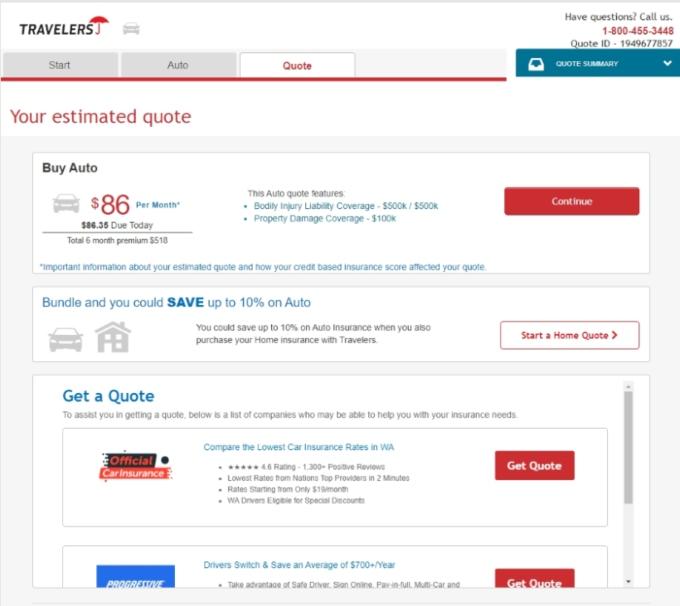 Adjust your coverage amounts and review your car insurance discounts before finalizing your policy.
Travelers auto insurance FAQs
Is Travelers insurance good at paying claims?
Travelers auto insurance has below-average ratings for claims satisfaction, which reflects the issues its customers face to get their claims paid. Many customer complaints filed with the Better Business Bureau indicate that claims are frequently denied.
Is Travelers a good insurance company?
Travelers offers many coverage and discount options and has a high level of financial strength, but it doesn't offer the best customer service. Travelers ranks below the national average for customer satisfaction in most regions of the country. For more alternatives, explore our list of the best car insurance companies.
What types of insurance does Travelers have?
Travelers offers a wide range of auto insurance options, including rideshare coverage, loan/lease gap insurance, new car replacement, and more. Travelers also offers pet insurance, travel insurance, homeowners insurance, renters insurance, landlord insurance, and more.
Bottom line
Travelers Insurance stands out for its breadth of coverage options, add-ons, and discounts. These options and discounts can help you get the exact coverage you need while keeping your premium affordable.
Unfortunately, that customizability and savings come at a price. Many policyholders complain about Travelers' poor customer service and feel dissatisfied with its claim process. Although this may not be enough reason to avoid this insurer, it's something essential to keep in mind.
Methodology
FinanceBuzz researches a number of factors in each auto insurance provider to create our reviews. These factors include cost and discounts, complaints and customer satisfaction, coverage, and ease of use. We also gather information from sources such as J.D. Power, AM Best, the National Association of Insurance Commissioners (NAIC), and the Better Business Bureau to ensure we provide the most useful information to our readers.
You could save up to $500 with some companies
Compare dozens of providers in under 5 minutes
Fast, free and easy way to shop for insurance
Quickly find the perfect rate for you