There is a kitchen gadget for nearly every task you could possibly think of, which makes it easy to get carried away and buy unnecessary items that will only drain your wallet. But beware, as not all of these purchases are worth your hard-earned money. In fact, Amazon even has an entire section showcasing kitchen gadgets that are shamelessly labeled as such!
While some kitchen items may seem helpful at first glance, many of them end up at the back of the drawer after a month or two. To help you avoid throwing your money away, we've curated a list of the most useless kitchen gadgets to avoid.
Get a protection plan on all your appliances
Did you know if your air conditioner stops working, your homeowner's insurance won't cover it? Same with plumbing, electrical issues, appliances, and more. Not being able to make repairs could leave you in a bad situation — but a home warranty could protect you against surprise expenses.
Whether you're a brand-new homeowner or you've owned your home for years, a plan from Choice Home Warranty could pick up the slack where homeowner's insurance falls short.
If a covered system in your home breaks down, you can call their hotline 24/7 for assistance to get it repaired. They have a network of over 15,000 technicians that can assist you, making sure any issue can be taken care of swiftly — without breaking the bank.
Not sure if it's for you? Rest easy: they were named one of the "Best Home Warranty Companies" by US News 360 Reviews and were awarded Best Company's 2020 Consumer's Choice Award. For a limited time, you can get your first month free when you sign up for a Single Payment home warranty plan.
Banana slicer
You likely already have a device that can slice bananas quickly in your kitchen: A knife. A banana slicer not only takes up room in the drawer, but it is also only good for slicing one thing. Save space and money by sticking to simple devices that are good for prepping a variety of foods rather than those that only serve a single function.
Pickle pincher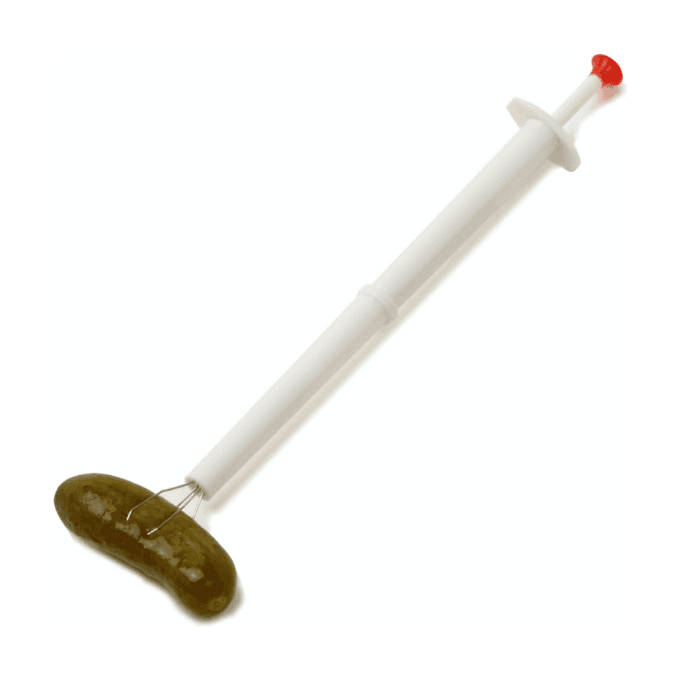 It can be annoying to get pickle juice on your hands when you reach into the jar for a spear or slice, but is it really worth a separate purchase? The tiny prongs on pickle pinchers bend easily and are really only strong enough for more petite pickles.
Instead, consider pouring off some of the pickle juice (and potentially drinking it for its health benefits like the probiotics — who knew?) before you snag a pickle with a fork or a knife.
Portion cake maker
Unless you run a catering business, you don't have to worry about perfectly portioned cake pieces. In fact, your guests probably prefer to pick their own thickness, which usually comes with eyeballing a slice. And even if the occasion warrants perfectly even cake slices, you can accomplish this with a knife rather than a kitchen gadget you'll forget you even own.
Stop overpaying when you shop online
Shopping online has its perks. It's super convenient, but it can be time consuming to find the best deals. Instead of hunting for coupon codes (that don't always work!) and opening tons of browser tabs comparing prices, you can try Capital One Shopping.
Capital One Shopping makes saving money effortless. Just add the browser extension and when you check out, it'll scour the internet for coupon codes to help you save cash. And before you check out at 25+ major retailers, Capital One Shopping will notify you with a friendly pop-up if the item you're buying is available cheaper somewhere else.
Capital One Shopping is free to use and won't show you ads. Add it today and stop overpaying!1
Grape and cherry tomato slicer
Slicing small, spherical foods like cherry tomatoes is tricky, so we kind of understand why the grape and cherry tomato slicer was invented. Still, this can't do anything a knife can't do, and it would probably take just as long to load the grapes in this gadget and slice them as it would to carefully cut them with a knife on a cutting board.
Tuna strainer
Fun fact: The lid of the tuna can perform the exact same function as this tuna strainer. No extra purchase is necessary. Your tuna will not be any drier or more delicious if you strain it with the lid instead of a special strainer, so skip this needless item and keep more plastic out of your kitchen drawers and the landfill.
Pizza scissors
Again, what's wrong with using a knife or pizza slicer? This gadget solves a problem that never existed since two additional items already do the same thing, if not better. Picking up piping hot pizza and cutting it with scissors seems like a recipe for a cheesy mess and burned fingers.
Bear claws
Sure, you'll look pretty impressive shredding your barbeque pork with these bad boys, but how often will you really need them? A pair of forks may take a little longer, but they already have a place in your drawer. You can also consider using a paddle in a stand mixer.
Butter dispenser
This butter dispenser allows you to dispense butter in a thin ribbon, which is great if you're making toast for an army but fairly useless otherwise. The product adds a lot of time to a relatively simple task. Not only do you have to wait until the butter is warm enough to dispense, but the product description notes that you'll have to shave larger sticks to size before you can use it in the dispenser. And on top of all of this, it's also just one more product to clean.
Garlic press
Another not-so-worth-it device is the garlic press. If you think it'll help you avoid smelling like garlic, think again. Because you have to peel the garlic before you use this product, your hands will still smell like garlic whether you mince it with a knife or use a fancy garlic press. This device can also be a nightmare to clean with all of the tiny holes. If you really detest chopping garlic, you can always purchase garlic that is already minced.
Electric salt and pepper grinder
We've reached a new level of laziness when it's too much effort to crank a pepper grinder. For the entire cost of the set, you could potentially buy a manual set, five pounds of pink Himalayan sea salt, and a pound of peppercorns — and still have money left over. Unless you have severe arthritis, this gizmo is a waste of money.
Burger press
It's nice to have even burger patties, but you can make them with your hands just as well as you can with a burger press. If you're squeamish about touching raw meat, a pair of latex gloves are much cheaper, and you don't have to clean them afterward.
Egg separator
Although this little guy is pretty cute, an egg's shell itself does a pretty good job of separating the yolk from the white. When you crack an egg, simply transfer the yolk from one side of the shell to the other over a bowl, and the white will fall into the bowl, leaving just the yolk in the eggshell.
Butter spreader
If you're a corn-on-the-cob fanatic, you might be able to make a case for owning a butter spreader. But getting butter into this device will probably leave you a greasy mess, and avoiding that is the whole point of buying a product like this. If you're a purist, you'll poke the corn cob's ends with corn holders and roll it over a stick of butter. This gets you the same even butter distribution without an extra gadget to clean.
Pasta maker
Despite inflation, pasta remains one of the cheapest things at the grocery store, so DIYing your pasta isn't going to help you save on groceries. What's more, the pasta maker has to be taken apart and cleaned every time. Will you take the time and effort to make and dry fresh pasta when you can pick up a pound at the store for a buck or two? Chances are this purchase will end up in a donation bin in a year.
Toaster tongs
This set of toaster tongs is adorable. While this set of tongs is adorable, his little bunny ears can't do anything that a wooden skewer or even your own fingers can't do (other than take up more space). Besides, many toasters nowadays come with an extra lift function that raises the toast just enough so you can grab it without getting burned once it's done.
Bacon bin
You can't dump bacon grease down the drain, and it will create a congealed, hard-to-clean mess if you leave it in the pan. But the solution doesn't have to be a silicone pig-shaped container. Sure, it's cute, but cooks have been using washed-out tin cans or glass jars to catch bacon grease for decades. Also, bacon grease only keeps for about three months in the fridge, so if you don't use it up by then, your piggy will start to stink.
Bottom line
When you're considering buying an additional gadget for your kitchen, ask yourself the following questions: How often will I use this? Do I have an item that will adequately perform the same function? Do I want to store, maintain, and clean this item?
Limiting your purchases to items that you'll use often and perform multiple tasks (like knives and blenders) are worth the space they take up in your drawers. Plus, a neat and organized kitchen that's free of useless gadgets is much nicer to cook in. Not to mention avoiding spending money on useless gadgets means you'll keep more money in your bank account.
Get out of $10,000 or more in debt
If you have a lot of debt, getting out of it can feel stressful (and nearly impossible). Here's the problem: the longer you put off tackling it, the harder it gets to fix. If you don't take control of it early on, it can add undue stress to your life for years. But what if there was a way to get out of debt once and for all?
National Debt Relief could help. If you have more than $10,000 in debt from credit cards, medical bills, collections, or personal loans, their representatives might be able to assist you in consolidating your debt into one low monthly payment.
Best of all? There are zero fees until your debt is resolved, and you could be debt-free in 24-48 months. To get started, just answer a few simple questions. It only takes 30 seconds to see if you qualify!
Lucrative, Flat-Rate Cash Rewards
Current Offer
$200 cash rewards bonus after spending $500 in purchases in the first 3 months
Rewards Rate
Earn 2% cash rewards on purchases