Arrived (formerly known as Arrived Homes) is a real estate investment platform that allows you to invest in fractional ownership of rental properties. The platform aims to simplify the complexity of the real estate market by acting as the intermediary between you as an investor and the actual property.
You can begin investing on Arrived for as little as $100, and you don't need to have special investor status to be able to use the platform. But how much do you stand to gain from this type of investment? And does it fit the way you manage your personal finance?
Quick Summary
The first company to offer shares of rental homes to the general public.
Select from high-quality rental homes, purchase shares, and let Arrived do the rest

Property offerings are registered with the Securities & Exchange Commission (SEC)

Backed by Jeff Bezos, Spencer Rascoff, and the founders of Warby Parker, Allbirds, & Harry's
What is Arrived?
Arrived (previously known as Arrived Homes) is an online investment platform founded by Ryan Frazier, Kenny Cason, and Alejandro Chouza in 2019. The platform lets you buy fractional shares of rental properties.
You can invest as little as $100 in single-family rental homes in Denver, Nashville, Atlanta, and other high-growth U.S. real estate markets. You can earn money through rental income and grow your investment as the investment property appreciates. Keep in mind that you may also lose money if your property depreciates.
Arrived received funding from big-time investors such as Amazon founder Jeff Bezos. The company has funded 156 properties with more than $53 million.
How does Arrived work?
Arrived makes it easy to begin real estate investing. You can sign up for a free Arrived account. Signing up for this account doesn't require you to be an accredited investor.
Once you're signed up, you get access to the homes the platform has in its portfolio. You can see what homes are open to new investors and homes that are already fully funded.
You don't need to go through a credit check to invest in a property you select on Arrived. Arrived analyzes the different markets across the country, attempts to identify the ones that offer substantial property appreciation potential, and buys properties in desirable neighborhoods in these markets.
Arrived property information
All property descriptions include valuable information that may guide your investment decision. The details Arrived offers include:
Purchase price
Monthly rent
Property description and address
Tenant leasing process
Historical returns in the market
Description of the market
Property improvements and cash reserves
Costs for closing, offering, and holding
Equity raised from investors
Price per share and the total number of shares
Active and new properties also show the percentage of shares still available to investors.
Investing in Arrived properties
When you find a home you want to invest in, you can select how much you want to invest. You can invest between $100 to $20,000 per property.
Arrived will present you with the investment terms after you select the amount you'd like to invest. Review these terms, sign the contract, and pay for the shares to finalize the process.
Tip
Investing in an Arrived property shields you from the liability you would typically have if you owned your own rental property. Each Arrived property is placed in a Limited Liability Company (
LLC
).
Arrived takes care of all the operational and maintenance responsibilities of the homes it lists. The company also carefully vets potential tenants and has a two-year lease requirement, which helps limit turnover.
Invest in Rental Homes with Just $100
Learn More
Who can earn money with Arrived?
U.S. residents over the age of 18 can sign up for the Arrived platform. You need $100 or more to invest and possibly earn money through Arrived.
You also need a bank account to link it to your Arrived account during the account setup process. Quarterly dividend yields you earn from the rental income can be directly deposited into your bank account.
How much can you earn with Arrived?
There are two ways to earn money with Arrived — rental income and property value growth.
Rental income
As an Arrived investor, you will receive quarterly cash dividends from the rent tenants pay to live in the home you own a share of. This is a form of passive income that provides you with cash flow without selling your share.
The amount of the dividend is based on the size of your share. If you invest $100 in a property, your share of the rental income will be less than someone who invested $2,500.
Although Arrived avoids guaranteeing a rate of return on your investment, the company estimates that historical dividends from rental income translate to an annual return between 3.0% and 7.2%, depending on the property.
Property value growth
You may also make money as the property value increases over time. Of course, there is no guarantee that the property value will actually increase. Arrived doesn't have any data on what these returns may look like because it has not sold any of its properties yet.
The money you may make from an increase in value isn't realized until Arrived sells the property. On average, Arrived holds individual properties for five to seven years.
Past performance
Single-family homes have appreciated an average of 3.9% per year over the past 20 years.
The key to getting the most out of this investment opportunity with Arrived may be holding your shares for several years with the hope that the property value will appreciate over time.
However, investors wishing to redeem their shares and liquidate their investments can place a liquidation request every quarter following the initial six-month hold period.
How to open an account with Arrived
Opening an account with Arrived is simple and only requires:
Being a U.S. resident over the age of 18
Providing basic information such as your name, address, and Social Security number
Having a bank account to link it to Arrived
Follow these instructions to open your account:
Enter your email address and password.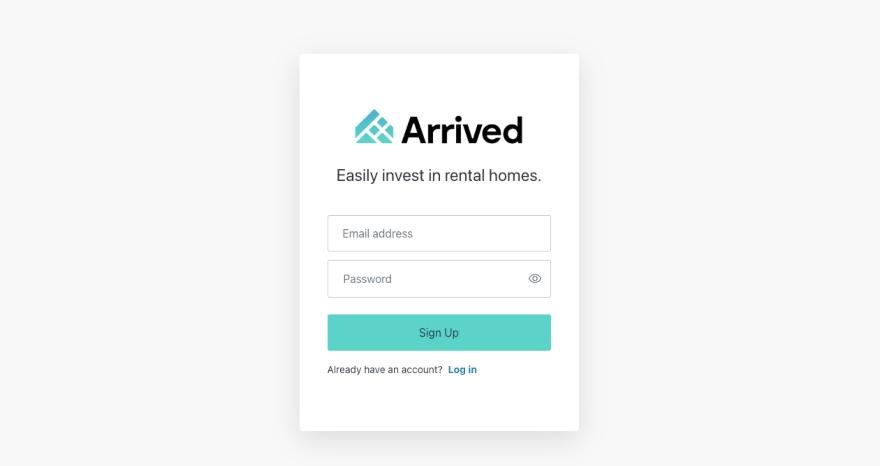 Enter your name, the amount you plan to invest in the next 12 months, and how you heard about the platform.
The next part in the process invites you to learn more about investing with Arrived by attending a free webinar on Tuesdays at 9 a.m. PT and Fridays at 1 p.m. PT.
Federal laws require Arrived to collect personal data about all its investors. The platform provides a disclaimer to let you know it needs this information to verify your identity.
Enter more personal information, including your legal name, citizenship, account type, phone number, and Social Security number.
To finalize the sign-up process, you need to agree not to invest more than 10% of your net worth or income in Arrived properties.



After creating your Arrived account, you'll need to link your bank account to be able to invest. However, you can skip this step if you're only browsing the platform's properties.
Arrived FAQs
Is Arrived legitimate?
Yes, Arrived (formerly known as Arrived Homes) is a legitimate real estate investing platform. The platform has received funding and support from Amazon founder Jeff Bezos, who has been investing in the company since June 2021. Other investors include Uber CEO Dara Khosrowshahi and former Zillow CEO Spencer Rascoff. To date, Arrived has funded about 156 properties totaling $53 million.
How does Arrived make money?
Arrived makes money in three different ways:
Agent rebates: This is a fee the original property owner that sells the house to Arrived pays.
Sourcing fee: This is a one-time fee the platform charges investors for sourcing properties and preparing them for investment. The cost is already included in the share price of the property and is declared in the property details.
Property management fee: This fee is taken from the quarterly rental income dividend payments to investors. It helps cover the cost of managing the property. This fee is also listed in the property details.
What are the benefits of investing in Arrived?
There are several benefits you may get when you use Arrived, such as its ease of use, low investment minimum, and limited investor liability.
Ease of use: Arrived reduces the process of real estate investing down to four simple steps. The company does most of the work by scouting properties, buying them, handling any renovations or repairs, and getting renters. All you need to do is invest.
Low minimum investment: You can start investing with Arrived for just $100.
Limited personal liability: Each Arrived property is placed in an LLC legal entity, which helps protect you and other investors from legal and financial liabilities.
Other investment apps to consider
Arrived offers a simple platform to invest in real estate even if you're a non-accredited investor or don't have a significant amount of money to invest. However, there are other investment platforms that make investing money in markets other than the stock market simple.
One alternative is Diversyfund. Rather than investing in actual properties, Diversyfund enables you to invest in real estate investment trusts (REITs). REITs often include several real estate types and may trade on stock exchanges just like traditional stocks. DiversyFund specializes in multifamily properties and gives you investment access starting from $500.
Read our DiversyFund review.
If you'd like to explore more alternative assets, Masterworks can give you access to the fine art world. When you invest through Masterworks, you become a fractional owner of fine art pieces from artists such as Andy Warhol, Banksy, or George Condo. The minimum investment with Masterworks is $1,000.
Read our Masterworks review.
Arrived Benefits
The first company offering shares of rental homes to the general public
Select from high-quality rental homes, purchase shares, and let Arrived do the rest
Property offerings are qualified with the Securities & Exchange Commission (SEC)
Backed by Jeff Bezos, Spencer Rascoff, and the founders of Warby Parker, Allbirds, & Harrys