Ark7 is an investment platform designed to help people who want to invest in real estate without using a large chunk of money. With as little as $20, you can start investing in rental real estate properties in several locations around the country.
Ark7 provides access to the real estate market by offering fractional shares of a rental property. Learn whether this platform is a good choice for you, as well as what you need to get started in this Ark7 review.
Key takeaways
You can invest in some Ark7 properties for as little as $20
You can buy shares in some properties without special requirements, whereas others require you to be an accredited investor
Many properties come with a minimum holding period of at least one year
Ark7 has a marketplace where you can sell your shares
You can open a traditional or Roth IRA with Ark7
Some Ark7 fees can be hefty, including the IRA custodial fee
Quick Summary
Build passive income by investing in shares of rental properties
Invest in rental properties starting from $20

Receive regular dividend payouts from rental income when applicable

Trade rental property shares on the Ark7 secondary market
Ark7: Is it worth it?
Pros
Cons

Invest in rental real estate with as little as $20
Receive regular dividend payouts from rental income
Have Ark7 manage the rental properties for you

Some Ark7 fees are high
Some properties are available only to accredited investors
A minimum holding period applies before you can sell your shares

Our verdict: Ark7 is a legitimate real estate investment platform that focuses on rental properties. It reduces the entry barrier to this market by offering fractional rental property shares and managing the properties by itself. However, this comes with fees that may be too high for some investors.
What is Ark7?
Ark7 is a real estate crowdfunding platform that was founded in San Francisco by Yizhen Zhao, an ex-Google engineer, along with Jim Holt, Yujian Weng, and Ling Yang.
Ark7 provides access to rental real estate through fractional shares, which resemble a form of partial ownership. The company states that it serves more than 20,000 investors that invest in properties valued at more than $15 million.
Rental properties listed on Ark7 are located in different real estate markets and cities around the country. Each property has a title that is held by an LLC company that Ark7 creates. This allows investors to buy shares of each LLC while Ark7 takes care of the administration and management of each property.
How does Ark7 work?
Investing money with Ark7 is fairly straightforward. Ark7 purchases the rental properties it offers on its platform, either with cash or through financing. Then, the company lists shares of each property on its website, retaining between 1% and 10% of shares in the property for itself.
The shares you buy from Ark7 don't represent fractional ownership of the actual property. Instead, each property's title is held by an LLC company, and your shares represent fractional ownership of this LLC.
When you buy shares, you receive a part of the monthly property income proportionate to the percentage you own. Keep in mind that Ark7 deducts its operating expenses from this passive income.
Ark7 owns homes in several cities and states. A few examples are:
Atlanta, Georgia
Dallas, Texas
Philadelphia, Pennsylvania
Phoenix, Arizona
Arizona City, Arizona

Berkeley, California
Seattle, Washington
Austin, Texas
Memphis, Tennessee
How to use Ark7
When you sign up and log in Ark7, you should see trending properties on your dashboard, along with the cost of each share. You will only be able to view properties you're eligible to invest in. For the most part, these are single-family homes.
You can also check the marketplace on Ark7 to view shares for sale from other investors. When you open a property listing, you get additional information, including a summary, condition, share number, cash distributions, and more.
To access multi-family properties and short-term rentals, you need to qualify for Ark7+. You can qualify by verifying your status as an accredited investor and providing information and documentation proving your accreditation status.
How to choose properties on Ark7
Once you're ready to invest, it's important to review the property information available on Ark7 carefully. You can view details, such as how many bedrooms and bathrooms a property has, when it was built, how much Ark7 bought it for, and why Ark7 decided to buy it.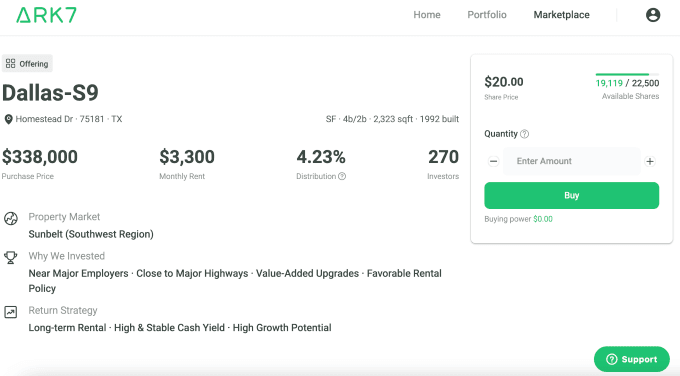 Some of the considerations Ark7 uses to select its properties include:
The property's area is a high-growth area
The property's proximity to major employers
The property's proximity to major highways and other amenities
Potential property upgrades that add value
Do your due diligence considering these factors, as well as your own needs and risk tolerance. You can also think about your return strategy. For example, several Ark7 properties may offer steady income from long-term rentals.
Other properties may be marked as having high growth potential. These properties may give you an investment opportunity that may offer value through real estate appreciation in addition to your monthly dividends from rent.
How to sell your shares
Investing in rental real estate is often a long-term strategy. The same is true when you invest through Ark7. The platform has a minimum holding period of at least one year unless stated otherwise.
Once you fulfill the minimum holding requirement, you can sell your shares on a secondary market hosted by Ark7. On this market, you can directly sell your shares to other real estate investors on the platform.
How to invest with an IRA
In addition to offering a taxable investing account, Ark7 also offers individual retirement accounts (IRAs). You can open a Roth or traditional IRA with Ark7 and use your account to invest in rental properties.
Keep in mind that the money you invest in your Ark7 IRA counts toward your total contribution limit each year.
How much can you earn with Ark7?
As with any investment, there's no guarantee of return or profit. In general, investment returns vary according to several factors, such as:
Market conditions
The increase in the asset's value
The fees you may pay
Ark7 offers two main ways to earn money through investing in rental real estate:
Monthly dividends: Each month, dividends are distributed to all of the shareholders of a property. These dividends come from the monthly rental income received from the property minus operational costs.
Value appreciation: If the property is sold, Ark7 distributes money from the sale to shareholders. You can also benefit from value appreciation by selling your shares on Ark7's secondary marketplace.
Another way to earn with Ark7 is to open an IRA. Your money will grow in a tax-advantaged account. The account is held in custody for you, and you can hold the real estate in this account because you aren't involved in the day-to-day workings of the rental properties you invest in.
Ark7 fees
The total amount of money you can earn with Ark7 depends, in part, on the fees you pay. Fees eat into your real returns, which reduces how much money you keep.
Before you decide to invest in Ark7, you should understand the fees you'll pay:
Sourcing fee: 3% of the property market price. This is a one-time fee Ark7 charges for its services in acquiring and listing the property.
Property management fee: Between 8% and 15% of the property's income goes to Ark7 each month to pay for the cost involved with tenant management and property maintenance.
IRA custodial fee: A $100 custodial fee is charged per property for every year you maintain an IRA account, up to $400 per year. You can have your fee waived if your IRA account balance with Ark7 exceeds $100,000.
Build passive income with shares of rental homes
Learn More
Who can earn money with Ark7?
Ark7 is open to U.S. citizens and residents who are 18 or older. To use the platform, you need to have:
A U.S. bank account
A Social Security number (SSN) or an individual taxpayer identification number (ITIN)
Your Ark7 account gives you access to single-family rental homes. To access multi-family and short-term rental properties, you need to qualify for an Ark7+ account by being an accredited investor and providing proof of your accreditation. The U.S. Securities and Exchange Commission (SEC) designates accredited investors as investors who fit one of these conditions:
Have at least $1 million in net worth (excluding their primary residence)
Made at least $200,000 a year as an individual or $300,000 as a married couple in each of the past two years and expect to make the same amount in the current year
There are also some professional investment licenses and job experiences that enable you to become an accredited investor.
Find out how to become an accredited investor.
How to open an account with Ark7
Signing up for an account with Ark7 is simple and should only take a few minutes. You'll need to have information such as:
First and last name
Address
Date of birth
Phone number and email address
Social Security number or individual taxpayer identification number
Accreditation documentation if you're an accredited investor
Once you have the information needed, follow these steps:
Click the "Sign Up" button on the Ark7 homepage, then enter your email address and select a password.
Set up your profile by providing your name, address, date of birth, and Social Security number.
Fund your Ark7 investment account by linking your bank account and depositing money into your Ark7 wallet to start buying shares of available properties.
Alternatives to Ark7
Ark7 can be a good choice for someone who wants a simple way of investing in rental properties. The low entry barrier makes it easy to invest through Ark7 and earn a portion of the monthly rental income. However, if you have a relatively small investment, your dividends will be correspondingly small.
However, if Ark7 doesn't feel like the right option, you can consider investing in real estate investment trusts (REITs). A REIT is a form of a company or trust that holds certain properties. When you buy company shares, you invest in its underlying real estate assets.
REITs
Some REITs trade on major stock exchanges, while others are private. The publicly traded REITs are a form of alternative investments that can be easy to access and are regulated by the Securities and Exchange Commission (SEC).
Find out more in our guide to REITs.
Arrived (formerly known as Arrived Homes)
You can also consider the Arrived platform. This investment platform allows you to invest in single-family homes, vacation rentals, and long-term rentals. You can invest between $100 and $20,000 per individual property. Opening an account with Arrived is a quick process that doesn't require you to be an accredited investor.
Find out more in our Arrived review.
DiversyFund
Another option is DiversyFund, an investment platform that focuses on multi-family real estate. You can use this platform to access high-quality REITs. The minimum investment is a little higher at $500, but opening an account doesn't require investor accreditation either.
Get more information in our DiversyFund review.
FAQs about Ark7
Is Ark7 legitimate?
Yes, Ark7 is a legitimate company that offers shares of rental properties to investors. The company is registered with the SEC.
Ark7 buys properties using cash or financing before listing them for investors on its platform. The company has several single-family and multi-family rental properties in several cities in the U.S.
How does Ark7 make money?
Ark7 makes money through fee collection, rental income, and property appreciation:
Fee collection: You pay a 3% sourcing fee when you invest in a property.
Rental income: Ark7 keeps a portion of rental income proportionate to the percentage it owns in each property. It also takes a portion of the rental income for managing and maintaining each property.
Property appreciation: Ark7 makes a profit as a shareholder when a property is sold for a price higher than its purchase price.
What is fractional real estate investing?
Fractional real estate investing is a method of investing in real estate through fractional ownership of a property. This is often done by holding the property's title in an LLC and issuing shares representing partial ownership of the LLC for investors to buy and sell.
Ark7 review: Bottom line
Investing in rental real estate no longer requires you to become a landlord, manage the property yourself, or perform occasional repairs. Ark7 is a legitimate platform that enables you to quickly and easily invest in rental properties for as little as $20.
Keep in mind that the fees you pay when you use Ark7 can be high, which may reduce your potential returns. You also need to keep your money invested for a minimum holding period, often a year. That's why you shouldn't invest money you may soon need. You should also consider your risk tolerance and the goals of your investment portfolio.
Ark7 - Real Estate Investing Benefits
Build passive income by investing in shares of rental properties
If applicable, receive monthly distribution straight to your account
Ark7 investors have earned 5%+ annualized distributions from monthly income alone1