Making smart banking choices is one of the keys to successful entrepreneurial endeavors. The best banks for small businesses should include everything from employee accounts to software integrations and low fees.
Banks like Novo, BlueVine, and Axos prioritize low fees and easy-to-use online banking platforms. Others like U.S. Bank, Bank of America, and Capital One offer a seemingly never-ending list of business tools linked to your accounts. Among the eight banks we discuss below, there's likely one that meets your needs.
Key takeaways
Small businesses need checking accounts that prioritize low fees and low-cost transactions.
No-fee options, like Novo and BlueVine have, work best for small businesses that want easy mobile banking.
Some business checking accounts, such as the one at Axos, offer interest-bearing checking accounts for high-balance customers.
Businesses that need a variety of business products should consider large banks like Chase, which provide thousands of branch locations.
The 8 best banks for small businesses
U.S. Bank: best for growing businesses
Bank of America: best for built-in business tools
Capital One: best for mobile banking
BlueVine: best for high interest rates
Wells Fargo: best for multiple linked business accounts
Axos: best for payment systems
Novo: best for no fees
Chase: best for in-person banking
Best banks for small businesses comparison
| | | | | |
| --- | --- | --- | --- | --- |
| Bank | Best for | Checking annual percentage yield | Minimum opening deposit | Monthly maintenance fees |
| U.S. Bank | Best overall | 0.005% (as of Sep. 13, 2023) or 0.01% (as of Sep. 13, 2023) depending on account and location | $100 | $0, $20, or $30 depending on account type |
| Bank of America | Built-in business tools | 0.01%-0.02% (as of Sep. 13, 2023) based on your balance | Not disclosed | $16 or $29.95 depending on account type |
| Capital One | Mobile banking | None | None, but must meet minimum requirements to waive fees | $15 or $35 depending on account type |
| BlueVine | High interest | 2.00% (as of Sep. 13, 2023) when you meet certain requirements | No balance requirement | None |
| Wells Fargo | Growing businesses | Offered through Navigate Business Checking Account, rate isn't disclosed until sign up | $25 | $10, $25, or $75 depending on account type |
| Axos | Payment systems | 1.01% (as of Sep. 13, 2023) | $0 or $100 depending on account type | None for certain accounts, but you may need to maintain a minimum balance to waive fees |
| Novo | No fees | None | None | None |
| Chase | In-person banking | Must connect with banker to get rate info | None disclosed | $15, $30, or $95 depending on account type |
U.S. Bank: Best overall
Provides kits to help you transfer to a U.S. Bank account
Personalized checking account recommendations
Check fraud protections
No-fee account available
Minimum deposit required for all checking accounts
Fee-free monthly transaction limit
We think U.S. Bank is the best overall option for small businesses due to its low minimum deposit, fee-free checking account option, and ease of use. You can open a U.S. Bank business account with just $100, and the Silver tier has no fees. Entrepreneurs who need more transactions will appreciate the 500 free transactions the Platinum package offers.
U.S. Bank offers three tiers for business checking accounts: Silver, Gold, and Platinum. Each checking account option caters to different-sized businesses, so you can have your pick of account options for your needs. If you're not sure which type of account is best for you, you can fill out a form based on your business needs and get personalized recommendations.
While you'll pay a monthly fee of up to $30 for the higher-tier accounts, U.S. Bank offers fee waivers if you meet certain requirements. If you do decide to switch, U.S. Bank also offers EZ Switch Kits, which help make the transition as easy as possible.
U.S. Bank is FDIC insured.
Boost your budget with up to an $800 bonus
Open a new U.S. Bank Business Checking account using the promo code Q3AFL23 and complete qualifying activities. A $100 minimum deposit is required. FDIC Insured. Offer valid through January 8, 2024.
Open Account
Bank of America: Best for built-in business tools
Access to digital debit cards
Access to a team of small business specialists who provide financial guidance
Cash flow management tools
Link your personal and business accounts and easily view all in one place
Best rewards are reserved for Bank of America Preferred Rewards members
Must maintain a high monthly balance to waive monthly fee
Bank of America is a traditional bank that can help you meet your business's financial needs. From offering digital debit cards to providing access to a team of business specialists ready to answer your questions, BoA offers many worthwhile features. You'll need to pay either $16 or $29.95 in monthly fees, depending on the account you choose, but this is more palatable than most business accounts.
BoA also offers cash management tools that help you understand where your money is going and what's coming in, like its Cash Flow Monitor and mobile check deposit ability. If you opt for the higher-tier plan, you also get access to fee-free incoming wires, stop payments, and electronic deposits.
Bank of America is an FDIC-insured bank.
Capital One: Best for mobile banking
Free additional employee debit cards
Easy-to-use mobile app
Access free ACH payments with certain accounts
Overdraft coverage available
No interest-bearing accounts
High monthly balance is required to waive fees
If you're looking for mobile business banking, Capital One is the account for you. You can make mobile deposits, set up bill pay to pay your vendors, and access free, unlimited digital transactions. Its app is easy to use and well-reviewed, with 4.9 stars on the Apple App Store and 4.6 stars on the Google Play Store.
Like many companies on this list, there are fees associated with Capital One's business accounts. However, you do have the ability to waive these fees. The $15 monthly fee for Capital One's Basic Checking gets waived if your last 30- or 90-day balance averages $2,000 or more.
Capital One is FDIC insured.
Visit Capital One | Read Capital One 360 review
BlueVine: Best for high interest
No monthly fees
No overdraft fees
High interest rate
Free ACH transfers
Dedicated employee logins
Must meet special requirements to earn interest
Interest rate cuts off if you have more than $250,000
BlueVine is an online-only bank designed around business products, and its business checking account is a clear reflection of that. It offers a high interest rate of up to 2.00% (as of Sep. 13, 2023) APY with no monthly fee or opening deposit requirement. Plus, you get access to free ACH transfers and access to over 37,000 fee-free MoneyPass ATMs.
The dedication to business also shines through in BlueVine's FDIC insurance. Typically, your money is only protected for up to $250,000, but BlueVine offers FDIC deposit insurance of up to $3 million. Plus, BlueVine also helps you organize your business's finances through up to five sub-accounts.
Wells Fargo: Best for growing businesses
Accounts built for multiple business types
Text and email alerts on your balance
Easy-to-meet opening deposit
24/7 fraud monitoring
High monthly fees for some accounts
High balance is required to waive monthly fees
With low minimum deposit requirements and multiple ways to waive monthly fees, Wells Fargo has three strong business banking options. While it doesn't offer the highest number of free transactions (it maxes out at 250), perks like 24/7 fraud monitoring, customizable checks and cards, and mobile banking features make up for this.
Wells Fargo's three account options — Initiate Business, Navigate Business, and Optimize Business — grow with you and your business. Start with the low-fee account when you first open your business, move up with the interest-bearing account when you start keeping a higher balance, and when your employees need accounts of their own, upgrade to the final tier, offering five separate linked accounts for you and your employees.
Wells Fargo is an FDIC-insured bank.
Axos: Best for payment systems
High interest rates for certain accounts
No monthly fees for certain accounts
Unlimited domestic ATM reimbursements
Must maintain a high balance to waive certain account fees
High interest rate only applies to a balance of up to $49,999.99
Axos provides two different accounts: a basic business checking (with no monthly fees and no minimum deposit requirement) and a business interest-bearing account. The Business Interest Checking account requires a high $5,000 average daily balance to waive the monthly fees, so businesses with lower cash flows may want to opt for the fee-free basic account.
Axos offers unique features like its own POS systems for your business, as well as mobile payment processing. For businesses that have pop-up locations, these systems are a huge help. Axos business accounts also come with treasury tools to help you manage your cash flow through reports and other specialized features.
Axos Bank is FDIC insured.
Visit Axos | Read Axos Bank review
Novo: Best for no fees
No fees to worry about
ATM fee reimbursement on all ATMs
Set automatic savings feature for taxes and other business goals
Unlimited transactions
No interest-bearing accounts
Limits on how much money you can deposit/move
Novo's online application process takes just 10 minutes, and it doesn't have hidden fees, monthly fees, or a required minimum balance. You can also access debit card tools and manage payments all from the mobile app. Novo makes its business account free to use, even reimbursing all ATM fees and offering unlimited fee-free transactions.
Novo's Reserves feature also sets it apart from other business accounts. You can set up automatic withdrawals for various expenses and put that money into separate accounts. For small business owners, this helps you set money aside for taxes, storefront improvements, and any other business savings goals.
Novo is FDIC insured.
Chase: Best for in-person banking
Free employee cards upon request
Over 4,700 branches
Same-day deposits available at no additional cost
Fraud protection available
High balance is required to waive monthly fees on most accounts
High monthly fees for certain accounts
Businesses that value in-person banking will appreciate Chase's more than 4,700 physical branches across the country and its ATM network of over 15,000 ATMs. While Chase's business account fees reach up to $95 and have relatively high minimum balance requirements to waive those fees, accepting payments and managing your money is so easy that the fees don't seem as hard to swallow.
Chase business checking accounts come with Chase QuickAccept, a payment system that allows you to accept credit and debit card payments on the go. You'll get fast access to your money with same-day deposits that require no transaction fees. You can also get free business debit cards for your employees upon request.
Chase is an FDIC-insured bank.
Visit Chase | Read Chase Bank review
How to choose the best banks for small businesses
When you pick your next business checking account, you won't be at a loss for options. To narrow down your choices, consider the factors that make a bank a good option for your small businesses. Before you open a business bank account, make sure you:
Think through your business needs: Different-sized businesses need different features. Smaller banks prefer fewer fees, while large businesses need employee cards and advanced planning features.
Consider local options: Having a mortar bank you can walk into helps you build a rapport with your bank tellers and representatives. If you have a local branch of a big-name bank, look into these options first if you're concerned about having an in-person relationship with your bank.
Start by looking at fees: Fees for business bank accounts tend to be higher than personal accounts, so they'll take a chunk out of your overall balance. Compare fees across all potential options, ruling out ones with high fees and few worthwhile perks.
Look at other business features offered: Business bank accounts often provide specific business-based features, including software integrations, financial guidance, and merchant services. If you're in the market for tools such as these, check to see if your preferred accounts already have these features built in.
Ask family, friends, and colleagues for recommendations: If you know someone who uses a business bank account, ask them about their experience with their chosen bank. This gives you a real look at specific banks.
FAQ about banks for small businesses
Which bank accounts should a small business have?
Like individuals looking for personal accounts, small businesses should consider having at least a business checking account and a business savings account. Having a checking account helps you make business purchases as needed, while a savings account helps you save for business expenses you may need down the line.
Which banks do free business banking?
Many banks offer free business checking accounts, which are arguably the best checking accounts. Novo and BlueVine are just two examples. Many of the banks that do charge monthly service fees also offer a chance to waive them if you meet certain minimum account balances or other specific requirements.
What are the best bank accounts for startup businesses?
Startups likely want to stick with an account that's low-cost and easy to manage. Fee-free accounts with no minimum balance requirements allow new businesses to direct their cash flow to areas that really need it rather than toward bank account fees.
Best banks for small businesses: bottom line
When seeking the right business account for your business's needs, keep an eye on fees and look at how much access to online and mobile banking services you'll get. Businesses need forward-thinking banks that make banking easily mobile and low cost.
The best banks for small businesses have no fees or the ability to waive fees if you meet certain requirements. Plus, look for a company that offers a wide range of account types or features that help you easily manage your money from wherever you are. When you're ready to officially apply, we'll teach you how to open a checking account.
Methodology
The companies we chose for the best banks for small businesses may be current or past FinanceBuzz partners. We did not review all companies in the market. When evaluating these financial institutions, we considered factors such as monthly fees, average APY, minimum opening deposit, locations, and other checking account perks.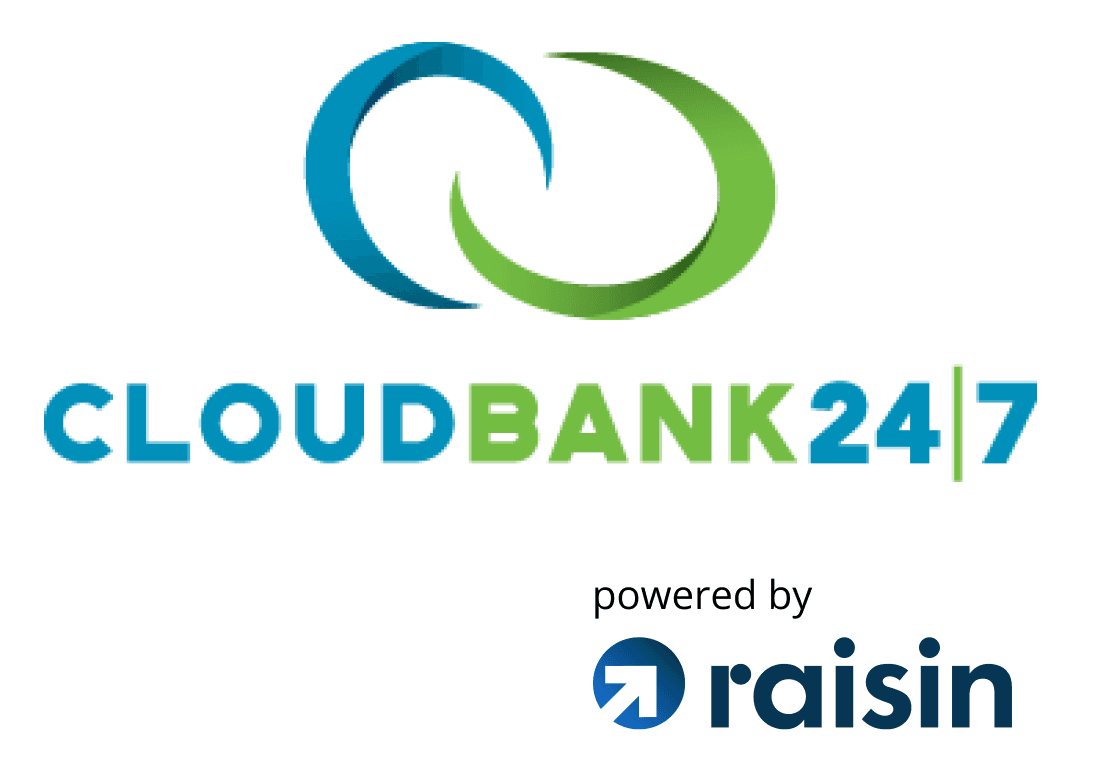 CloudBank 24/7 High Yield Savings Account Benefits
Incredible 5.26% APY1 to boost your savings
Interest is compounded daily and posted to your account monthly
Enjoy 24/7 online access to your account and funds
FDIC insured through Third Coast Bank SSB, no fees, $1 minimum deposit