Opening a business bank account is an exciting first step to take before you start making money with your business. Business bank accounts aren't just a fancy way to impress clients; they also offer you special protection and benefits that will help your business grow and thrive.
But before you head to a bank and sign up for your new account, there are several steps you'll want to take. Keep reading to get the full scoop on how to open a business bank account that's right for you.
How to open a business bank account
1. Find out if you need an EIN
The documentation you'll need to open a business bank account varies based on the type of business you own. Once you've registered your business, you'll want to decide whether or not you need to apply for an Employer Identification Number (EIN).
Depending on the type of business you're starting, banks may require you to have an EIN before opening your new account. Your EIN is the federal tax ID for your business, and you'll need one if you plan on doing things like paying employees or operating as a corporation or partnership.
After determining whether or not you need an EIN to open your bank account, it's time to start researching banks to find out which one has the best benefits for your business.
2. Choose your bank by shopping for the best benefits
Just as you would for any other bank account, you'll want to do some research before settling on a bank to be sure you're getting the best possible deals and benefits for your business. While you might be tempted to just open your account with the same bank you use for your personal accounts, take the time to compare a few offers before accepting one — even if you like your current bank.
When shopping around for the best bank to open your business account, here are some questions to address in your research or with a bank representative directly:
What are the interest rates for savings and checking accounts?
What are the interest rates for lines of credit?
Does the account have transaction fees?
Are there any minimum balance fees, and what are they?
Are there any transaction limits on the account?
Is the bank currently advertising any introductory offers, such as extra perks you can get for opening an account?
Keep a spreadsheet list with all of your findings so you can track which banks are offering the best benefits and the lowest fees. As you compare banks, also consider if a given account will be able to grow with your business. What makes sense for you today may not make sense a year from now when your business is up and running.
3. Find out what other documentation your bank may require
Once you've settled on a bank, it's time to find out exactly what documentation is required to open your new account. Waiting this long to get your paperwork together might seem backwards, but since every bank has different requirements, it can actually be less work for you to settle on a bank first and then start getting your documents together.
Every bank has different documentation requirements that may vary by location as well as by the type of business you have. Generally speaking, in addition to your EIN, banks will want to see documentation on the formation of your business, ownership agreements, and your business license.
Some banks may also require you to fill out additional forms, especially if you're applying online or over the phone (as opposed to in person). For example, if you were opening a business bank account online in Massachusetts, you might be required to complete a form that authorizes Wells Fargo to check your credit, as well as a form that provides information on anyone who owns a significant stake in the company or manages it.
These types of due diligence forms will vary based on the type of business you have, as will the original documentation your bank requires. Your bank of choice will be able to walk you through any remaining documents needed to complete your application.
4. Funding your new account
Once you've got your new business account, you're all set to go, right? Sort of. Unless you have some savings or funding from investors to start your new business, you'll have to come up with a plan to cover initial start-up costs and other expenses until your business begins making money. You might even consider applying for a small business loan or using crowdfunding to get started.
Other options for small business owners in need of some quick cash include applying for a business credit card — something you can do even if you don't have the best credit history.
However you get the liquidity you need to get started, be sure you have a long-term plan in place to fulfill these financial obligations— whether that includes meeting certain milestones for investors or paying back your business loan. You'll also want to have a solid system in place to record all financial transactions involving your business and keep these records pristine for tax season.
The final word
Figuring out how to open a business bank account is an important first step to give your company the best possible chance at success. But you already learned how to start a business, so you can do it. A business bank account helps ensure that all of your cash flow happens in one place and that you have additional personal liability protection by keeping your personal banking and business banking separate. This will be more important as your business expands and you learn how to make money faster.
If you ever find yourself in a sticky situation that requires some fast cash, you'll also be happy to have an established relationship with a bank that might be able to offer you a line of credit. So don't wait until you're earning money as a business to open a banking account. Get one before you need it and have your financial plan in place by the time you earn your first dollar as a new business.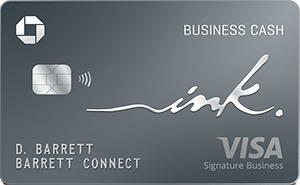 4.8
FinanceBuzz writers and editors score cards based on a number of objective features as well as our expert editorial assessment. Our partners do not influence how we rate products.
Current Offer
Earn $900 bonus cash back after you spend $6,000 on purchases in the first 3 months from account opening
Rewards Rate
5% cash back on the first $25,000 spent in combined purchases at office supply stores and on internet, cable and phone services each account anniversary year; 2% cash back on the first $25,000 spent in combined purchases at gas stations and restaurants each account anniversary year; and 1% cash back on all other purchases