Whether you're road-tripping through the Southern states or it's simply your local gas station, Buc-ee's is a favorite convenience store for many.
With its wide array of merchandise, food, and more, many people don't just like it — they're active superfans of the chain.
Dedicated Buc-ee's fans know everything about the store's inventory, including the best items to buy that can help you keep more money in your wallet. Here are their favorites.
Get a protection plan on all your appliances
Did you know if your air conditioner stops working, your homeowner's insurance won't cover it? Same with plumbing, electrical issues, appliances, and more. Not being able to make repairs could leave you in a bad situation — but a home warranty could protect you against surprise expenses.
Whether you're a brand-new homeowner or you've owned your home for years, a plan from Choice Home Warranty could pick up the slack where homeowner's insurance falls short.
If a covered system in your home breaks down, you can call their hotline 24/7 for assistance to get it repaired. They have a network of over 15,000 technicians that can assist you, making sure any issue can be taken care of swiftly — without breaking the bank.
Not sure if it's for you? Rest easy: they were named one of the "Best Home Warranty Companies" by US News 360 Reviews and were awarded Best Company's 2020 Consumer's Choice Award. For a limited time, you can get your first month free when you sign up for a Single Payment home warranty plan.
Beaver nuggets
One of the most recognizable and beloved items at Buc-ee's is their Beaver Nuggets. The regular flavor is both sweet and savory, made of corn puffs coated in a caramel-and-brown-sugar mixture.
However, there are other flavor options, including sea salt caramel, milk and dark chocolate, white cheddar, cinnamon, white cheddar habanero, and "Bold N Spicy."
Barbecue brisket
One reason people swear by Buc-ee's is the wide variety of fresh food options. You don't have to live off packaged snacks on your next road trip. Instead, try one of their fresh barbecue sandwiches.
An entire station in the convenience store is dedicated to producing fresh barbecue. There are plenty of grab-and-go options, but their most famous and well-loved option is the barbecue brisket sandwich.
Other sandwich options include a pastrami reuben and a signature club sandwich, but it certainly doesn't end there.
Car wash
Road trips can be taxing for both you and your car. Luckily, Buc-ee's has a gas station, a huge convenience store, and a car wash.
The Buc-ee's car wash in Katy, Texas, is the world's longest at over 255 feet long. It's also quick and fun, with rainbow-colored foam to top it off.
Stop overpaying when you shop online
Shopping online has its perks. It's super convenient, but it can be time consuming to find the best deals. Instead of hunting for coupon codes (that don't always work!) and opening tons of browser tabs comparing prices, you can try Capital One Shopping.
Capital One Shopping makes saving money effortless. Just add the browser extension and when you check out, it'll scour the internet for coupon codes to help you save cash. And before you check out at 25+ major retailers, Capital One Shopping will notify you with a friendly pop-up if the item you're buying is available cheaper somewhere else.
Capital One Shopping is free to use and won't show you ads. Add it today and stop overpaying!1
Buc-ee's apparel
Whether you need fresh clothes for the road or just want to memorialize the trip with a souvenir, there are plenty of options to flaunt your love of the Texas-based chain.
Among those options are various T-shirts, hoodies, sweatshirts, and even onesies, all bearing the store's beaver mascot.
Jerky
Returning to snacks, another fan favorite for many is Buc-ee's wide variety of jerky. There are too many flavors to name, and an entire wall dedicated to the dried snack at most locations.
Some of the most notable options include Bohemian Garlic, Sweet & Spicy, Korean Barbecue, Teriyaki, Ghost Pepper, Hill Country Peppered Beef, Lemon Pepper, and Cherry Maple.
If you need a filling and flavorful snack for the road, look no further than the store's vast jerky selection.
Fudge
A sweeter but just as diversified snack option is Buc-ee's fudge. They make it fresh inside the massive convenience store, and you can get samples if you're torn between the flavors.
Fan favorites include classics like chocolate or peanut butter, maple walnut, pecan, and rocky road. More unique options include blueberry cheesecake, red velvet, M&M;, and birthday cake.
Throw blankets
Whether you want to cozy up during a long road trip or add some Buc-ee's glam to your home, consider picking up one of the store's branded plush throw blankets.
As with all things at the large store, plenty of swatch options exist. There are even some seasonal options, like limited-edition Christmas blankets.
In keeping with other merchandise, each blanket depicts the beloved beaver mascot.
Coffee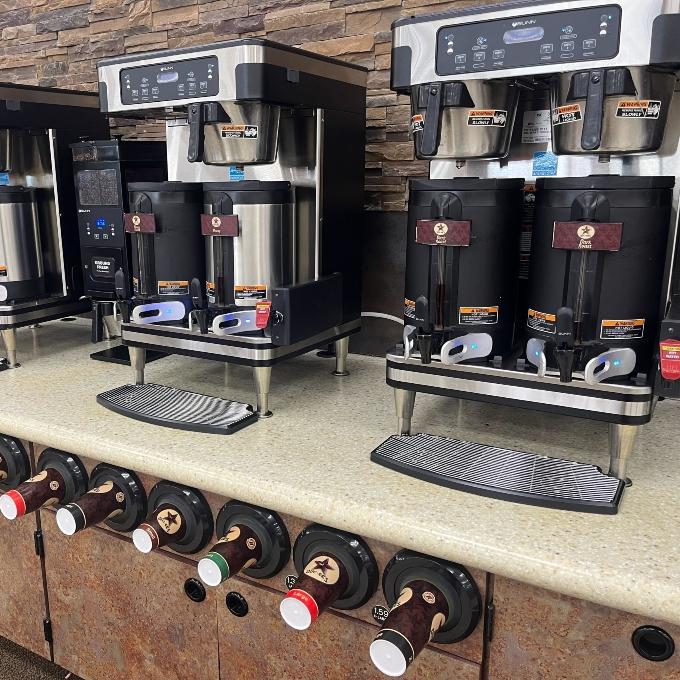 Don't let the gas pumps outside fool you. Buc-ee's coffee bar is anything from boring or straightforward.
The brew comes from a simple drip coffee machine, is available from a hot or iced machine, and is regularly made fresh.
The more interesting and distinctly Buc-ee's feature, though, is the wide variety of additives and sweeteners, including syrups, sugars, creamers, and milks.
They also sell their brand of ground coffee you can take home with you.
Breakfast tacos
Pair your fresh coffee with any number of Buc-ee's breakfast options. But if you want to go with a fan favorite, set your sights on their breakfast taco.
To call it a taco is perhaps an understatement, though — the tortilla is large and packed with fresh veggies and meats.
Both breakfast tacos have a base of eggs, cheese, beans, and potatoes. The hippo flavor comes with bacon and the rhino flavor with sausage.
You also have the option to add jalapeños or hot sauce and choose between corn or flour tortillas.
Earn 2% cash rewards at grocery stores and Costco
The Wells Fargo Active Cash® Card(Rates and fees) is a powerful rewards card that allows you to earn unlimited 2% cash rewards on purchases — including on groceries, even at warehouse stores like Costco.

New cardholders can also earn a one-time cash rewards bonus — $200 cash rewards bonus after spending $500 in purchases in the first 3 months!
If you're looking for a powerful rewards card that offers an extended intro APR period, look no further, the Wells Fargo Active Cash® Card checks that box too!
This card also offers an intro APR of 0% for 15 months from account opening on purchases and qualifying balance transfers (then 20.24%, 25.24%, or 29.99% variable). Which is great for someone who wants a break from high interest rates, while still earning rewards.
The best part? There's no annual fee.
Click here to apply for the Wells Fargo Active Cash® Card now.
Hot sauces
Speaking of hot sauce, Buc-ee's has its own line of bottled hot sauces in a variety of flavors and spice levels.
Some hotter flavors include Carolina Reaper, Sweet & Spicy Ghost Pepper, and Scorpion Pepper.
As with most things at Buc-ee's, there are too many options to list at once, but other subtler options are 7-Pot Primo Pepper, Taco Reaper, and Peach Habanero.
Fresh roasted pecans
Enjoy a traditional Southern sweet treat at Buc-ee's with its roasted pecans, candied and toasted fresh in-store and displayed on warming beds to keep them hot.
The sugar-roasted pecans are perhaps the more well-known flavor, but there are also almonds, cashews, and other roasted sweet nuts.
Banana pudding
Your dessert options at most gas stations are limited to packaged candies and the occasional popsicle or single-serve ice cream.
At Buc-ee's, you can treat yourself to freshly made treats, like banana pudding.
While it may not be on par with an authentic homemade version, many die-hard Buc-ee's fans love the gas station banana pudding, and it's a great sweet to take on the road.
Lemon crisps
Last up for sweets are Buc-ee's lemon crisps. If you prefer something lighter and airier, these cookies are perfect.
They come in a large tub, perfect for feeding a car full of people or savoring all by yourself.
The flavor is described as crispy but airy, not dense or chewy, with a punchy and sweet (but not overdone) lemon flavor.
Popcorn
It's hard to go wrong with a delicious bag of popcorn for a quick and light snack, but as with most things, Buc-ee's takes it up a notch with a wide variety of unique flavors.
There's the basic salted flavor, of course, but there are also punchier options.
One popular flavor is white cheddar jalapeño, which is both cheesy and just a bit spicy. For sweet tooths, there's kettle corn and caramel corn.
Finally, for those who like a bit of everything, try their triple mix, which has a blend of caramel, kettle, and cheddar flavors.
Souvenirs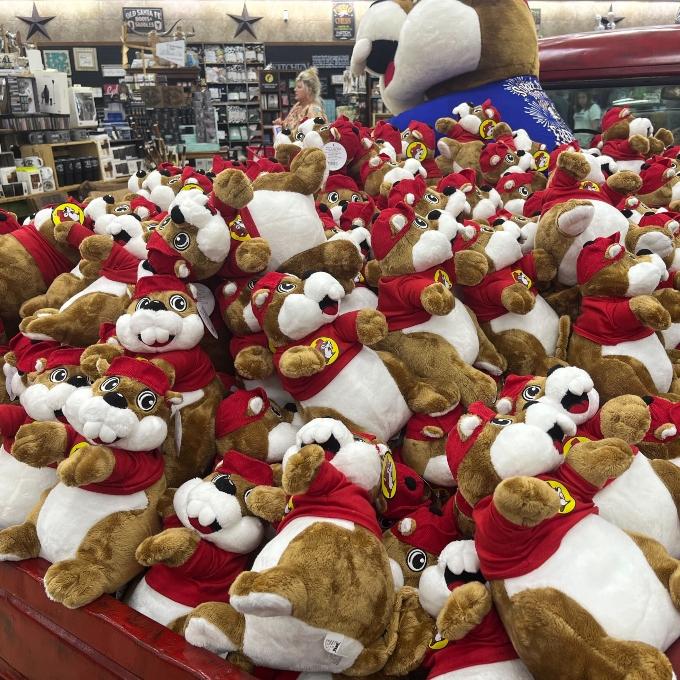 Don't forget to grab a souvenir before you hit the check-out line — don't worry, there's no shortage of options.
Commemorate your trip and unite with other Buc-ee's fans with trinkets and goodies.
There are beaver stuffed animals with Buc-ee's t-shirts (including a huge option), magnets, decorative signage, and pet toys.
Bottom line
For many, Buc-ee's is more than a simple gas station or convenience store; it's a destination all its own.
To eliminate money stress on your next road trip, stock up on delicious snacks or get a fresh meal at Buc-ee's. And if you fall in love with the store, treat yourself to some merchandise.
Lucrative, Flat-Rate Cash Rewards
Current Offer
$200 cash rewards bonus after spending $500 in purchases in the first 3 months
Rewards Rate
Earn 2% cash rewards on purchases