Between the water slides, balloon races, and roller coasters, you're bound to work up an appetite at Knott's Berry Farm. Luckily, the theme park's famous restaurants offer more than just boysenberries for hangry guests. There are options for every palate, even if you have dietary restrictions — in fact, choosing where to eat during your stay at Knott's Berry Farm is one of life's more difficult decisions. But we're here to help.
We've rounded up our 15 favorite eats so that you can take your dream trip through Knott's culinary playground. Whether you're craving a salty pile of french fries or a gourmet sweet treat, be sure to use a travel credit card to pay for your meals — that way, you'll leave with a full belly and a stack of rewards points you can use for future travel.
Here are the top 15 Knott's Berry Farm eats we've been drooling over in 2021.
Mrs. Knott's Chicken Dinner Restaurant
Go back to the beginning and enjoy the classic fried chicken dinner recipe that's been delighting folks since 1934. Located in Knott's California Marketplace, this western-style restaurant is one of the largest in California. It offers a traditional fried chicken dinner with mashed potatoes and gravy for just under $24. Or, you can opt for chicken and waffles or a chicken pot pie for around the same price. You'll also find a selection of boysenberry-infused cocktails to get buzzed on at the restaurant bar. Then, finish off the meal with a slice of boysenberry pie.
Calico Tater Bites
There's nothing like a plate of crispy, hot tater tots piled high — especially loaded with toppings. And at Calico Tater Bites, you have options. Chow down on BBQ pulled pork tots with cheddar cheese and fried jalapeno strips, or enjoy buffalo chicken tender tots, mac and cheese tots, and even pastrami tots. The best part? Gluten-free, vegetarian, and vegan options are available. You can find Calico Tater Bites in Ghost Town adjacent to the Wagon Camp Theater's south entrance.
Gourmet Churro Factory
Knott's Berry Farm has a team of trained professionals who hand-roll and fry churros at the Gourmet Churro Factory. Watch them come together and then eat them while they're hot with your choice of boysenberry, strawberry, or Bavarian cream stuffing. You can even get a churro sundae topped with ice cream, boysenberry or strawberry topping, and whipped cream. In the past, Gourmet Churro Factory has featured specials such as the Holiday Churro, a favorite that's stuffed with peppermint and topped with white chocolate and sprinkles. Stop by Ghost Town and prepare to be covered in powdered sugar.
Strictly-on-a-Stick
If you want your Instagram aesthetic to scream "theme park," you should probably make sure to get photographed holding a corn dog or fried cheese on a stick. These portable snacks are hand-dipped, and the specialty boysenberry corn dog is not to be missed. The sweet boysenberry cornbread and savory hot dog are a match made in heaven. To locate Strictly-on-a-Stick, find the Timber Mountain Log Ride in Ghost Town — it's just across the way.
Mix-it-Up Ice Cream Shop
Don't be the unfortunate soul to leave Knott's Berry Farm without tasting some form of the boysenberry soft-serve ice cream. Get it on a waffle cone dipped in chocolate, or if you're up for an eating challenge, pressed between a couple of freshly-baked chocolate chip cookies. Of course, if you've already eaten your weight in boysenberries, vanilla and chocolate ice cream are also available. You can find the Mix-it-Up quick-service counter outside the Calico Saloon in Ghost Town.
Ghost Town Bakery
You'll find more than just cakes and pies at Ghost Town Bakery, which is typically only open on weekends. Start the day with a latte or grab a savory sourdough bread bowl filled with Knott's famous chili or clam chowder for lunch. You can get a slice of boysenberry pie here as well, along with special seasonal treats. And the bakery offers gluten-free, vegan, and vegetarian options upon request. You'll find it directly across from GhostRider in Ghost Town.
Fireman's BBQ
Knott's Berry Farm is known for its delicious, open-air barbecued ribs, and Fireman's BBQ in Bird Cage Square is the place to get them. You can also order giant turkey legs, baked potatoes, and other favorites like the restaurant's specialty jalapeno bread and fire-roasted corn on the cob. You can even dine al fresco in the heart of Ghost Town. Fireman's BBQ is located in front of the Bird Cage Theatre.
Calico Saloon
The Calico Saloon provides the best of both worlds: Family-friendly entertainment and boozy adult beverages. It's been offering beverages of all kinds since the 1940s. Grab a beer, glass of wine, or signature cocktail, or watch your bartender craft an exclusive boysenberry cream soda with Knott's secret recipe. You'll receive your Calico Soda in a special mason jar to take home. Head to the center of the park to enjoy all The Calico Saloon has to offer.
La Papa Loca
These aren't your mom's french fries. This quick-service counter located across from WaveSwinger in Fiesta Village offers fries with all the fixings — choose from carne asada, Cubano, chili cheese fries, and more. Gluten-free, vegan, and vegetarian options are also available, and you can grab a drink at the Refresh and Refill station to enjoy while inhaling a mountain of fries.
Log Ride Funnel Cake
Each weekend day, this little spot located across from the Timber Mountain Log Ride offers freshly poured and fried funnel cakes. They're made the way they should be — doused in powdered sugar and the topping of your choice: Strawberry, boysenberry, or chocolate. A swirl of soft-serve ice cream on top makes it the perfect sweet treat after a splashy ride on a log flume.
Ghost Town Grill
Sometimes, you just need a place to sit back, relax, and watch a cowboy showdown. The Ghost Town Grill offers table service with a view of Main Street in Ghost Town, and you can find gluten-free, vegan, and vegetarian options on the menu. Grab a beer with your sandwich, salad, or soup in a bread bowl, and be sure to stay for dessert if you haven't yet tried a slice of boysenberry pie. Ghost Town Grill is also the only restaurant in the park to serve the Sarsaparilla float, and that alone is worth the trip.
Wilderness Broiler
When your stomach starts to grumble, a hamburger or spicy chicken sandwich may be in order. Wilderness Broiler does both, with gluten-free, vegetarian, and vegan options available upon request. This restaurant is known for its limited-time specials, which rotate every two weeks, so be sure to ask what's new. Head to Ghost Town any day of the week to grab lunch (and a beer) from Wilderness Broiler.
Boardwalk BBQ
If you want booze with your barbecue, forgo Fireman's for Boardwalk BBQ. You'll be able to order beer and wine along with rotisserie chicken, smokehouse sausages, pulled pork, and more. Plus, you can dig into a range of sides, including mac and cheese, baked beans, and cornbread. A half rotisserie chicken à la carte costs just $10.
Coasters Diner
Fill up on American classics like hot dogs, chicken tenders, burgers, and fries while you rock out to classic 50's tunes in this nostalgic diner. If you're really hungry, and we mean famished, order Xcelerator the Burger, a 12-inch patty loaded with bacon, cheese, and french fries. And don't forget to try Coaster's seasonal, extra-thick milkshakes as well. This quick-service counter offers indoor and outdoor seating and is located on the Knott's Boardwalk between the Coast Rider and the Xcelerator.
Chicken-to-Go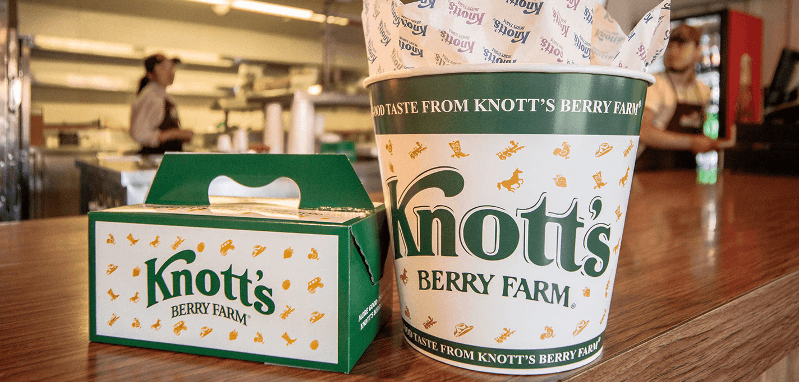 As you leave the park, consider grabbing a bucket of chicken for the family from Chicken-to-Go. You'll get the same classic recipes featured at Mrs. Knott's Chicken Dinner Restaurant in carry-out friendly packaging. An 8-piece mixed chicken meal bucket costs $34 and includes two sides of mashed potatoes, gravy, a side of whole kernel corn, and a half dozen biscuits with boysenberry jam. You can grab desserts from The Farm Bakery at the same time. Just order online and take Crescent Ave to the Marketplace Parking Lot for pickup.
Visiting the park
Knott's Berry Farm is open daily from 10 a.m. to 5:30 p.m. Daily admission costs $54, while season passes are available starting at $119 total. You can enjoy many of Knott's Berry Farm's most famous eats for one low price with a dining plan. An all-day dining plan costs about $32, and a $139 add-on to your season pass lets you get lunch and dinner all season long. If you'll visit more than four times in a season, it's definitely worth the cost.
Whether you're a visitor from out-of-town or a local who's always returning for more fun on the farm, use a travel rewards credit card to pay for your passes and dining. Some cards offer boosted points for dining purchases, even without paying an annual fee. Rack up those points with each boysenberry treat you eat so you'll be able to achieve your next trip sooner.
Great for Flexible Travel Rewards
4.9
FinanceBuzz writers and editors score cards based on a number of objective features as well as our expert editorial assessment. Our partners do not influence how we rate products.
Current Offer
Earn 60,000 bonus points after you spend $4,000 on purchases in the first 3 months from account opening
Rewards Rate
5X points on travel purchased through Chase Ultimate Rewards®; 3X points on dining, select streaming services, and eligible online grocery purchases; 2X points on all other travel purchases, and 1X points per $1 on all other eligible purchases