I'll let you in on a little secret that is not too popular in the points-and-miles world: I hate big brand hotels. When I stay at these hotels, I feel like I am stuck in a corporate box with no personality. I much prefer staying at vacation rentals such as Airbnb or small boutique or locally owned hotels.
Why I prefer Airbnb and boutique hotels
Many of the big brand hotels tend to be situated in a hotel-specific zone, whereas the smaller hotels or vacation rentals can be integrated into neighborhoods that are simply unable to house a larger property. For example, on a recent trip to Amsterdam, my family and I stayed in an Airbnb apartment in the de Pijp neighborhood (my favorite in that city), one block away from the famous and beautiful Albert Cuypmarket. This location simply wouldn't be possible in a large chain hotel.
There are other reasons I prefer small boutique hotels and vacation rentals to chain hotels:
Having much more space, usually two or three bedrooms plus a living room, kitchen, and even a dining room — which is great when you're traveling with a family
The ability to cook our own food in a full kitchen
Amenities that are often useful while traveling, such as a washer and dryer
Fun extras, such as private pools or balconies with a particular view
The personal touch of vetted and experienced hosts who frequently offer extra help to make sure you have a great stay — we have even had hosts babysit for us!
There are also reasons points-and-miles enthusiasts tend to stay at big-brand hotels. One is that they can use their points and free-night certificates for their rooms. They can also earn "status" with these kinds of hotels, and that will get them perks such as upgrades to premium suites and access to executive lounges.
But the truth is — if you are a points-and-miles earner, you don't need to feel hemmed into the big hotels. If you prefer to stay in vacation rentals or small, locally owned hotels, you can still earn and use points and miles with your travels.
In this article, I will detail how to book these properties with points and miles. I will also share my pro tips for how to book with Airbnb, so you minimize your chances of getting scammed.
How to book small, locally-owned hotels with points
How to book with Chase Ultimate Rewards
Even if you prefer a more intimate experience to your lodging, you can still book your stays using credit card points. One of my favorite ways to book small, locally-owned, or boutique hotels is using Chase Ultimate Rewards points.
To do this, I first research small hotels on review-based sites such as TripAdvisor and then narrow down which properties I would like to book. Since the Chase Travel site is now powered by Expedia, when you log in to Chase Travel and start browsing hotels, the results are exactly the same as what you would see when browsing Expedia, except you will see the price per night in both money and Ultimate Rewards points.
Additionally, if you are logged in through your Chase Sapphire Reserve®, you will be able to get more for each point you redeem. With the Chase Sapphire Reserve, you can redeem your points for 50% more. Basically, that means your points are worth 1.5 cents each, instead of 1 cent. The Chase Sapphire Preferred has a similar redemption bonus, but not quite as much — you can redeem your points at a value of 1.25 cents per point.
As an example of what you can book using this method — on a trip to San Miguel De Allende, Mexico, I found a locally owned hotel with great reviews called Casa Mia Suites. The cash price for this hotel was $95 per night. This translated into 6,344 Ultimate Rewards points per night.
For this, we received a one-bedroom suite with two double beds, a kitchen, a dining area, a living room, and a balcony overlooking a traditional Mexican courtyard. For additional savings, we used the kitchen to cook our own breakfasts after buying food from the grocery store. This cost us about $2 per day for all four of us. And, to top it off, this adorable little hotel was right in the heart of San Miguel, about two blocks from the main plaza.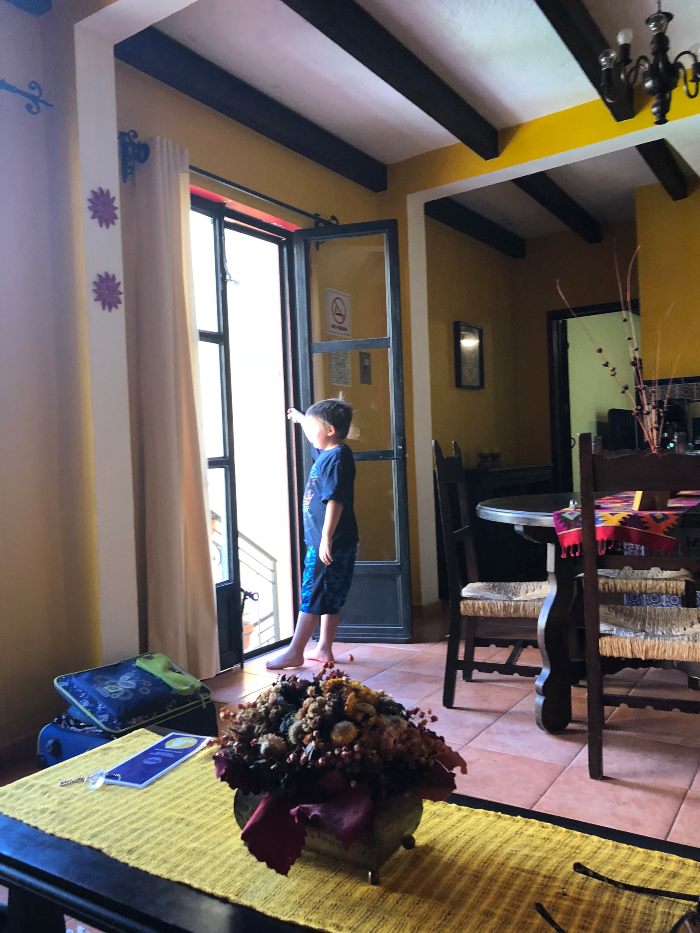 How to book with American Express Membership Rewards
You can also find similar boutique hotels on Amex Travel and use Membership Rewards points to book them. The value of Membership Rewards rates is usually about 1 cent per point, so this is less than you would get using Chase Ultimate Rewards, but the site often has sales on their lodgings where they will offer a certain percentage off. This could equate to the same points price for the same hotel in Chase Ultimate Rewards.
For example, using the hotel described above:
Chase Travel might offer the hotel for $95 a night or 6,344 Ultimate Rewards Points when booking with your Chase Sapphire Reserve at a value of 1.5 cents per point. (6,344 x .015 = $95.16)
American Express Travel may offer the same room at the same hotel but "on sale" for $63.44 a night, which would translate into 6,344 Membership Rewards points at 1 cent per point. (6,344 x .01 = $63.44)
Both these booking options come out to the exact same amount of points, so it's worth checking both sites if you have Chase Ultimate Rewards and American Express Membership Rewards.
Also, some boutique hotels participate in the American Express Fine Hotels and Resorts program, which you get access to with The Platinum Card® from American Express. Hotels in this program offer perks such as free breakfast and late checkout.
Both the American Express® Gold Card and Amex Platinum Card also get you access to The Hotel Collection, which showcases smaller hotels you can book with Membership Rewards. You will also receive a $100 property credit and a room upgrade when you book a room through The Hotel Collection for at least two consecutive nights.
Learn more with our full American Express Gold Card review.
How to book using a card with statement credit redemptions
Other ways to book small, non-chain hotels with points include using a credit card that has statement credits as a redemption option, such as the Capital One Venture Rewards Credit Card. To take advantage of this card's rewards, you would pay for the hotel either directly through their site or through a third-party website such as Hotels.com. Then use just your accumulated rewards points to issue a statement credit toward the charge after it appears on your credit card account.
Some third-party booking sites will offer their own perks and rewards as well. For example, with Hotels.com, you get every tenth night you book for free. With a card like the Capital One Venture, you will be able to take advantage of both the ability to redeem points to cover travel purchases and the perks you would get by booking through a program such as Hotels.com. 
How to book Airbnb and vacation rentals with points
So far, there is no "points system" available to book short-term apartments and home rentals on platforms such as Airbnb, but there are some ways you can still use points to book these properties.
One way to book a vacation property with points is through the Chase Travel portal using Chase Ultimate Rewards points. When you log in to Chase Travel, you can search for "vacation rentals."
You can book these short-term rental properties using your Chase Ultimate Rewards Points at the same 1.5 or 1.25 cents per point ratio, depending on if you logged in with your Chase Sapphire Preferred® Card or Chase Sapphire Reserve Card. Some of these properties may also be listed with Airbnb or Vrbo, so it's good practice to also look at those sites and cross-reference them to read the reviews and compare prices.
A second way to use points is to book the property with a card that allows you to redeem points to cover travel purchases, similar to what I just explained with small boutique hotels. You can use a card such as the Capital One Venture Card or the Bank Of America® Travel Rewards Credit Card. With these cards, Airbnb bookings code as "travel" purchases, so you will be able to cover the purchase with rewards.
It is important to note that as of this writing, Vrbo and HomeAway do not code as "travel" with credit cards such as the Capital One Venture – they code as "real estate," so you will not be able to cover them with rewards as a travel purchase.
This is important to know and is one of several reasons it may make sense to book your vacation rental with Airbnb, despite the problems that have recently been brought to light in the media. But before I get to my advice about that, I want to share some of my Airbnb experiences in case you're not quite convinced it can be a special way to travel.
My experiences booking with Airbnb
If you're not totally sold on how amazing and unique staying in an Airbnb can be, here are examples of some of our favorite Airbnbs we've stayed in over the years. And, by the way, the average price for these stays was about $120 a night, including taxes and all fees.
A two-bedroom townhouse in the Albaycin neighborhood of Granada, Spain, with a rooftop balcony overlooking the Alhambra, three bathrooms, a washer and dryer, and lots of extras from the hosts, including bottles of wine, olives, and beach supplies.
A two-bedroom private villa with a private pool in Costa Rica, two blocks from the beach.
A two-bedroom apartment in the heart of Madrid with a huge outdoor terrace.
This two-bedroom apartment has a washer and dryer and is steps away from one of the best bakeries in Paris, France, on Rue Mouffetard.
A condo in Grand Cayman with a pool overlooking the ocean.
How to not get scammed with Airbnb
So maybe you're thinking about trying an Airbnb on your next big trip. But there's no ignoring the fact that a lot has been written lately about how people use the Airbnb platform to scam consumers.
For example, one scam is to put a sham listing up, then cancel at the last minute, and then offer the weary and desperate traveler a different, less nice accommodation. This bait-and-switch tactic has existed in the travel world for probably a hundred years, and I have also heard of this happening to people when they book a small, local hotel online ("We have no rooms here, but we have something at our other hotel"). So while this is in no way just an Airbnb phenomenon, I am not surprised these scammers have found their way to the home-sharing platform. As long as there is a way to scam the system, people will figure out how to do so.
This is a real shame because all my experiences with legitimate Airbnb hosts have been outstanding. These are real people who rent out their guest house or apartment in the building they own while they live downstairs. The hosts I've met when booking through Airbnb couldn't be nicer or more accommodating. In fact, in the past year, I have joined several Facebook groups for Airbnb hosts since my family will soon begin renting out our own vacation property — and the horror stories I've seen about guests are worse than anything I've ever heard about hosts.
For example, guests will try to scam hosts out of a free stay by saying there are "bugs" in the house or by sending a picture of moldy coffee grounds in a coffee pot when no such thing has occurred. The moldy coffee host later realized it wasn't even their coffee pot in the pic! Not to mention the horrible property damage that happens more frequently than you can imagine.
Many hosts are tentative to call these guests out for their terrible ways for fear of a bad review. Suffice it to say, that bad behavior goes both ways, and scammers and both sides should not ruin it for the rest of us. You can book safely with Airbnb and have a wonderful stay — I've done it many times.
Here is my tried-and-true Airbnb booking advice:
Only book with "Superhosts." This is one way Airbnb has tried to weed out the bad guys. Superhosts are verified through the site and have never had any issues with their bookings. They are also not allowed to cancel your booking, or they will lose their superhost status.
Read every review. I know this sounds daunting, but it shouldn't take too long. Every review should be glowing or, if anything sounds negative, there should be a rationale for it. For example, if someone says, "The neighborhood was noisy," but the neighborhood is in fact in a lively part of town, that is not the host's fault, and you would just have to consider whether you want to stay there, as with any type of lodging.
Try not to book properties with reviews that say, "the host canceled the reservation xx days before the booking." This is a red flag that they are using the bait-and-switch tactic described above.
Book early and with sites that are a "rare find." If Airbnb says, "This is a rare find. Paul's place is usually booked," this is a good sign. The reason you want to book as early as possible with Airbnb is that, unlike with hotels, each property is usually one-of-a-kind, so once it's gone, it's gone. If I know I want to stay at an Airbnb for a particular trip, I usually get on the site and book right after I have booked my plane tickets. This is especially important if you are looking at a popular holiday break week, such as between Christmas and New Year's. I have booked a year in advance quite often.
Have a conversation with your host before you book. I usually ask whether they have anyone they can recommend to babysit, what local activities they recommend for kids, if they have restaurant recommendations, or if there are nearby grocery stores. You will get a sense through that conversation if the person is a legit host or a scammer. The good ones respond promptly and talk like real people.
What about those cleaning fees? Yes, it is true the nightly price Airbnb shows is not the "true" price once you add on the cleaning fees. But there is an easy way to deal with this. There is a widget you can download for Chrome called the Airbnb Price Per Night Corrector. After you install this, you will see the accurate price per night when you search for stays on Airbnb.
Finally, don't be afraid to ask for a discount on Airbnb, especially if you book last minute. Hosts are often happy to offer a discount to fill the space.
The bottom line
I hope this post helped give you the confidence to book some out-of-the-box lodgings for your next adventure. To me, the benefits of having a large and unique space, the special attention of the hosts, and the ability to stay more "like a local" far outweigh any potential for being scammed (and if you follow my guidelines, you will greatly reduce that possibility).
To sum it all up, the experiences we have had at our favorite Airbnbs or small hotels make up some of our best travel memories. Make sure you've picked the best travel credit card that will help you book some of these experiences with points. 
Easy-to-Earn Unlimited Rewards
Earn 25,000 online bonus points after you make at least $1,000 in purchases in the first 90 days of account opening - that can be a $250 statement credit toward travel purchases
Earn 1.5 points per $1 spent on all purchases
Longer intro APR on qualifying purchases and balance transfers
No foreign transaction fees
Earn unlimited 1.5 points per $1 spent on all purchases, with no annual fee and no foreign transaction fees and your points don't expire as long as your account remains open.
25,000 online bonus points after you make at least $1,000 in purchases in the first 90 days of account opening - that can be a $250 statement credit toward travel purchases.
Use your card to book your trip how and where you want - you're not limited to specific websites with blackout dates or restrictions.
Redeem points for a statement credit to pay for travel or dining purchases, such as flights, hotel stays, car and vacation rentals, baggage fees, and also at restaurants including takeout.
0% Introductory APR for 15 billing cycles for purchases, and for any balance transfers made in the first 60 days. After the intro APR offer ends, 18.24% - 28.24% Variable APR will apply. A 3% fee applies to all balance transfers.
If you're a Bank of America Preferred Rewards® member, you can earn 25%-75% more points on every purchase. That means instead of earning an unlimited 1.5 points for every $1, you could earn 1.87-2.62 points for every $1 you spend on purchases.
Contactless Cards - The security of a chip card, with the convenience of a tap.
This online only offer may not be available if you leave this page or if you visit a Bank of America financial center. You can take advantage of this offer when you apply now.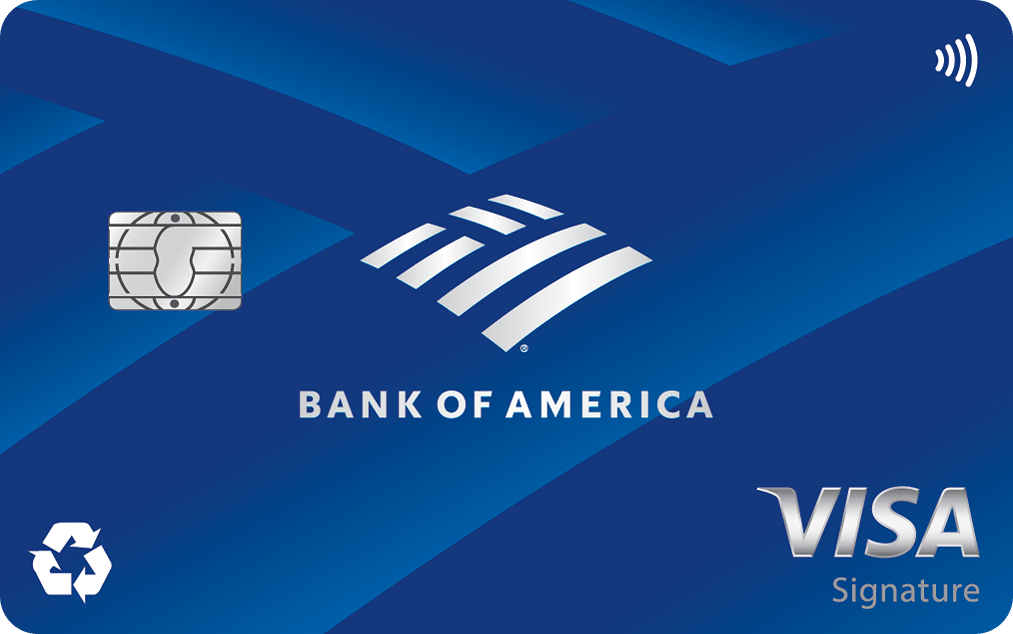 4.1
FinanceBuzz writers and editors score cards based on a number of objective features as well as our expert editorial assessment. Our partners do not influence how we rate products.
Apply Now
on Bank of America's secure website
Read Card Review
Intro Offer
Earn 25,000 online bonus points after you make at least $1,000 in purchases in the first 90 days of account opening - that can be a $250 statement credit toward travel purchases