Deep inside mountains and sometimes hidden just below our feet, caves are secret worlds, each with their own unique environments and history. They also serve as a portal, connecting us with prehistoric humans who sought shelter within their walls. These unusual geological formations that have been in the making for millions of years, and often have myths and tales involving ancient gods.
If you're going to spend your hard-earned money on a memorable trip, visiting caves are a fantastic addition to any travel itinerary that you won't forget. From the prairies of South Dakota to the mountains of Lebanon, check out this list of ten breathtaking caves around the world to explore.
Caverna Janelão, Brazil
Brazil's Caverna Janelão is right out of a fantasy fiction novel with red mushroom-shaped geological formations. The serene Peruaçu River runs through its massive 328-foot entrance, and beams of light fall through its natural skylights, illuminating tiny forests along the river banks and cave floors.
It's located in Cavernas do Peruaçu National Park, where there are over 180 discovered caves and grottos, and by some estimates, many more that are yet to be discovered. The region has archaeological and cultural significance as well, with preserved, 10,000-year-old paintings of animals and geometric patterns on its walls that were created by prehistoric artists.
The Crystal Cave, Iceland
Most glacier caves are ephemeral by nature. Rushing, melting water carves out space in the glacier during warm periods, the cave solidifies during the freezing months, and it might not appear in the same place every year. But one particular cave in Iceland's Vatnajökull glacier, created by a glacial river every summer, has managed to form in almost the same spot every year, so locals finally decided to give it a name — The Crystal Cave.
In the dome of the blue-tinged, crystal clear cave are patterns of flowing water that have been frozen in place, giving it the appearance of a giant, free-form Chihuly glass sculpture. We can't promise that it will be there next winter, but the journey of trying to catch this fleeting beauty is part of the mystique.
Pro tip: Iceland is one of the most expensive tourist destinations in the world. It's also an almost cashless economy. Be sure to use one of these credit cards with no foreign transaction fees to avoid unnecessary charges on your travel spending.
Majlis al Jinn Cave, Oman
In a remote area of the eastern Al Hajar Mountains, camouflaged beneath a rocky plateau, is the limestone Majlis Al-Jinn cave, formed around 50 million years ago, and perhaps the second largest single chamber in the world.
Inside, the 1017 by 738 foot domed cave resembles an amphitheater and stage, with one focused column of sunlight, as tall as a 36-story building, shining through a narrow opening in the ceiling. The opening is called "Cheryl's Drop," and if you want to visit this astounding site, this is where you'll make your entrance. Thrill seekers rappel down through the drop, hanging 393 feet above the cave floor, without any walls or rocks to push off of — not for the faint of heart!
Waitomo Glowworm Caves, New Zealand
Like millions of blue twinkle lights, colonies of bioluminescent glow worms (which are larvae of gnats) light up the ceilings of Waitomo Caves, located on New Zealand's North Island. For tourists, they're a beautiful sight, but for the glowworms, they're just a way to eat. The blue-green glow disorients passing moths so that the worms can ensnare them in their slimy webs and reel them in for a meal.
Traversing the labyrinth of walkways across subterranean streams, or taking a boat ride in the underground grotto — in silence, so as not to disturb the feasting worms — with millions of bioluminescent lights hanging overhead is quite an enchanting experience.
Melissani Cave, Greece
Sunlight streams from above the karst window here, lighting up an aquamarine, subterranean lake that flows through the two halls of Melissani Cave. This mystical-looking place has mythological roots. In antiquity, a rocky islet inside the cave served as a place to worship the Greek god Pan, a lusty, goat-like being, and the nymph Melissani — hence the name.
Located on Kefalonia Island, less than a quarter mile from the sea, the lake is partly filled by the Ionian's notoriously clear blue waters. Today, visitors enter through a tunnel, and on the other side, guides in boats await to paddle them around the caverns that are partially open to the Mediterranean sky.
The Cave of Three Bridges, Lebanon
Also known as the Baatara Gorge Waterfall, the Cave of Three Bridges is a Jurassic-era cave topped by three enormous natural limestone bridges. Together, the formation resembles a naturally-formed, karstic, mossy coliseum that dwarfs human visitors.
Located on Mount Lebanon, it becomes an even more wondrous site in the spring, when melting waters create an 820-foot waterfall, which cascades through an opening in the top of the gorge, thundering all the way down into the cave below. Serious spelunkers with professional gear may have their sights on entering the pitch-black sinkhole at the bottom, but most visitors come to witness the spectacle of the waterfall. Located on a mountain trail and surrounded by peaceful green meadows, it's a great place for a unique hike and quite a dramatic sight.
Hang En (Swallow Cave), Vietnam
After an hours-long trek through the mountains, valleys, and streams of the UNESCO World Heritage Site of Phong Nha-Kẻ Bàng National Park in central Vietnam, adventurers will be rewarded with the captivating, colossal Hang En Cave. It's taller than the entire Statue of Liberty and wider than the length of a football field.
The inside the mouth of this three-million-year-old limestone cave boasts perfectly framed views of the misty tropical jungle just beyond. Most special, though, is the cave's serene emerald lagoon and small sand beach, brilliantly illuminated by sunlight. It's a perfect, picturesque place to pitch a tent.
Pro tip: Depending on the time of year and origin city, flights to Vietnam can easily run into the $1,500-2,500 range. For big purchases, a smart move is to use one of the best travel credit cards so that you can earn rewards.
Wind Cave, South Dakota
Beneath the roaming buffalo and preserved prairie of Wind Cave National Park is over 150 miles of cave passages with some of the most rare and mysterious geological formations in the world, called boxwork. Parts of the ceilings and walls, of what also happens to be the sixth-longest cave in the world, are covered in intricate web-like veins of calcite.
Although one geologist has a theory, how the unique honeycomb patterns really formed is still a mystery. The only thing that can be said for sure is that nowhere else on earth are the boxwork as well-formed or abundant than at Wind Cave in South Dakota.
Postojna Cave, Slovenia
In southwest Slovenia, about a 30-minute drive from Trieste, Italy, the Postojna Cave Park is a 15-mile fairytale world of karst caves with massive dripping stalagmites and stalactites. There is also a subterranean river, vivarium — with baby dragons — and an 800-year-old cliff-side castle.
At the main cave, Postojna, visitors can explore the halls on foot or via an underground train that weaves through shiny white stalagmites — some reaching over 50 feet — that have been formed from tiny drops of water piling on each other for over millions of years.
Cueva de los Cristales, Mexico
Underneath Naica Mountain at the edge of the Chihuahuan Desert, a combination of just the right temperatures and calcium sulfate-rich waters create perfect conditions for the formation of giant, longer-than-a-London-bus-sized gypsum crystals. And not just a few of them but hundreds, sprouting from the cave floor and intersecting each other like massive white spears. The largest of the crystals can get up to 50 metric tons.
The Cueva de los Cristales as it's now been dubbed is actually owned by a mining company and is only open to scientists. Inside the cave, temperatures can reach 122 degrees Fahrenheit and relative humidity can reach over 90 percent. Researchers need to wear special suits and undergo a medical check before entering, and even then, they can only stay in the cave for 10-15 minutes.
Although the general public can't visit the "crystal cave" in Mexico at the moment, a similar one in Spain, home of the Pulpí Geode, is now open to the public.
Bottom line
If you're going to spend your hard-earned money on a memorable trip, consider touring caves for a truly unique experience. The caves that are developed for tourism are sometimes referred to as "show caves" and often they're listed on a country or region's official tourism website. In the U.S., the Forest Service, and national and state park directories are also good places to start your search.
To visit caves that are not developed for tourism, you'll absolutely need to go with a professional guide who has extensive cave knowledge as well as the proper gear, and then follow proper protocols to protect the cave. One of the biggest dangers to cave systems and their delicate ecosystems, are humans.
Easy-to-Earn Unlimited Rewards
Earn 25,000 online bonus points after you make at least $1,000 in purchases in the first 90 days of account opening - that can be a $250 statement credit toward travel purchases
Earn 1.5 points per $1 spent on all purchases
Longer intro APR on qualifying purchases and balance transfers
No foreign transaction fees
Earn unlimited 1.5 points per $1 spent on all purchases, with no annual fee and no foreign transaction fees and your points don't expire.
25,000 online bonus points after you make at least $1,000 in purchases in the first 90 days of account opening - that can be a $250 statement credit toward travel purchases.
Use your card to book your trip how and where you want - you're not limited to specific websites with blackout dates or restrictions.
Redeem points for a statement credit to pay for travel or dining purchases, such as flights, hotel stays, car and vacation rentals, baggage fees, and also at restaurants including takeout.
0% Introductory APR for 18 billing cycles for purchases, and for any balance transfers made in the first 60 days. After the intro APR offer ends, 17.99% - 27.99% Variable APR will apply. A 3% fee applies to all balance transfers.
If you're a Preferred Rewards member, you can earn 25%-75% more points on every purchase. That means instead of earning an unlimited 1.5 points for every $1, you could earn 1.87-2.62 points for every $1 you spend on purchases.
Contactless Cards - The security of a chip card, with the convenience of a tap.
This online only offer may not be available if you leave this page or if you visit a Bank of America financial center. You can take advantage of this offer when you apply now.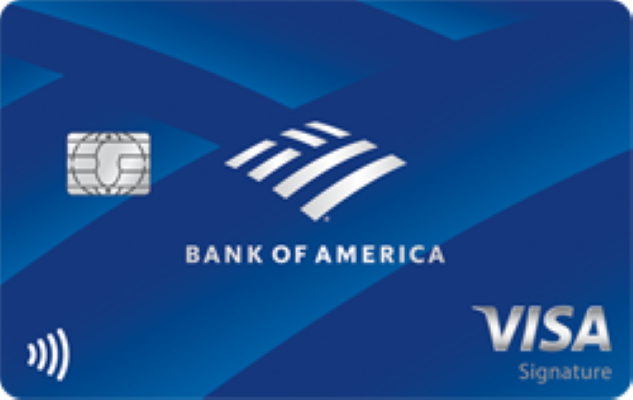 Apply Now
on Bank of America's secure website
Read Card Review
Intro Offer
Earn 25,000 online bonus points after you make at least $1,000 in purchases in the first 90 days of account opening - that can be a $250 statement credit toward travel purchases