If you're lucky enough to visit the Caribbean, you'll be enchanted by what it has to offer. This famous region is the stuff of tropical dreams, with turquoise sea views, lush greenery, and endless fruity drinks seemingly around every corner.
Before you jaunt off to paradise, however, make sure you have all your ducks in a row. That way, you will avoid wasting money by making rookie mistakes.
Following are some common mistakes to avoid on your Caribbean vacation.
Forgetting to bring cash
Many Americans simply don't bother to have cash on hand. But when heading to the Caribbean, be sure to bring some money with you and secure it smartly.
Without access to cash, you might miss out on quirky side-of-the-road vendors, which aren't exactly set up for plastic. You also need to be prepared to tip if you want the best service.
Many islands accept U.S. dollars, too, which is convenient. However, before you leave for your trip, find out if you will need to exchange currency.
Pro tip: Your Caribbean dream can turn into a financial nightmare if you run your bank account into the red. So, make sure to crush your remaining debts so you can start saving for your big vacation.
Only considering a cruise
We're not hating on cruises, but if that's the only way you've ever explored the Caribbean, you might not realize that you have other options. Skipping a cruise is especially good advice if you want to avoid congested tourist bars and souvenir shops designed with mass appeal in mind.
The better way to get to this iconic destination arguably is via plane, as there are ample flights to a wide variety of destinations. And if you get to take a seaplane, that counts as a true adventure.
Sticking to only all-inclusive resorts
As with cruising, spending your vacation at an all-inclusive resort takes the planning and coordinating out of your Caribbean vacation. Just keep those fruity and frozen drinks coming, right?
However, you might spend more money than you need to at these resorts. Be sure to read the fine print so you know what's actually included. Also, Airbnb and even regular hotels offer some great options that are much cheaper, so check those out too.
Not taking a long enough trip
Make sure you book a long-enough trip, even if you're planning on spending your entire Caribbean vacation poolside with an umbrella drink or lounging on the beach with a book.
It's good to schedule enough time to account for things like flight delays, jet lag, travel from the airport to your final destination, and traffic delays. All of these issues can eat up more vacation time than you would expect.
Expecting everyone to speak English
Yes, the Caribbean is a popular tourist destination. But don't assume that everyone in the region speaks English because of that.
This group of islands has a rich history, with a full spectrum of people, culture, and languages, including Indigenous tongues, Spanish, French, and Dutch. That doesn't mean you have to learn a language before going, but be mindful that some folks might not know what you're saying.
Presuming one island is just like the next
The Caribbean may be one region, but don't assume the islands are interchangeable. That aforementioned rich history extends to food, pop culture, traditions, and more.
The landscapes of each island are also wildly different, from the old city of San Juan in Puerto Rico to the mysterious Boiling Lake in Dominica. Even the wildlife varies from one place to the next, from swimming pigs in the Bahamas to green monkeys in Barbados.
Assuming the water is potable
Like many places in the world, not every island in the Caribbean has tap water that's safe to drink. For example, you should steer clear of tap water in the Dominican Republic, even for brushing your teeth.
Generally, the best way to approach this is to ask your hosts or guides which water is safe for your health given that you are just a visitor. Otherwise, you might end up seriously sick on your vacation.
Not preparing for Island Time
Yes, it's a thing — folks in the Caribbean generally aren't in a rush. So, if you expect your guides and porters to hurry up, you're inevitably going to be disappointed.
Rather than resist this slower pace, the best thing you can do is lean into it. After all, you are on vacation. So, expecting your waiter to make a drink faster means you're not enjoying yourself properly.
Sit back, and let things happen when they happen.
Not exploring the rest of island
What's better than getting to your destination in the Caribbean to find the resort is gorgeous, the views are pristine, and the food is worthy of a Michelin star?
Not much, to be honest.
But don't make the mistake of staying at the resort the whole time. You have a whole island to explore, with fun activities, friendly and informative locals, and hidden gems awaiting your discovery. Don't miss out on a chance to see something new.
Not accounting for hurricane season
Hurricanes are a fact of life in the Caribbean, and they usually develop between June and November, with August and September being the peak season. While major storms only hit a few times a year, they can make travel to some islands unpredictable during this period.
Still, you can often score good rates and avoid the crowds during hurricane season, so your mileage may vary. Note that some countries in the Caribbean — including Barbados, Trinidad and Tobago, and Grenada — are at significantly less risk of major storms.
Assuming there's cell service
You'd be hard-pressed to find an American who's not super-reliant on their phone, but don't expect to have 5G and high-speed Wi-Fi everywhere you go in the Caribbean. Sure, you can probably count on your hotel, but that's about it, especially in remote regions.
If you absolutely need service, consider signing up for an international data plan before you go. But ideally, leave work at the office and relax. Isn't that why you're in the Caribbean in the first place?
Not taking taxis
Some things are best left to the professionals, and that includes driving in the Caribbean. For starters, asking for directions might leave you confused, wondering at which palm tree to turn left.
Oh, and people drive on the opposite side of the road in many parts of the Caribbean. Then there are different traffic rules, and maybe even mountain roads that are barely paved. You're probably not going to find an Uber, either, so just sit back and take the taxi.
Bottom line
A vacation anywhere in the Caribbean can be a relaxing, adventurous, and overall fun experience for any traveler. Just be sure you don't make a mistake that can put a serious cramp in your style, or have you missing out on something wonderful.
Sure, the Caribbean has tons of stunning beaches and delicious drinks, but there's so much more to discover. Don't be afraid to wander off the beaten path.
If this story has you dreaming of a Caribbean visit this coming winter, it might be time to look into great ways to generate extra cash to pay for that trip.
Easy-to-Earn Unlimited Rewards
Earn 25,000 online bonus points after you make at least $1,000 in purchases in the first 90 days of account opening - that can be a $250 statement credit toward travel purchases
Earn 1.5 points per $1 spent on all purchases
Longer intro APR on qualifying purchases and balance transfers
No foreign transaction fees
Earn unlimited 1.5 points per $1 spent on all purchases, with no annual fee and no foreign transaction fees and your points don't expire.
25,000 online bonus points after you make at least $1,000 in purchases in the first 90 days of account opening - that can be a $250 statement credit toward travel purchases.
Use your card to book your trip how and where you want - you're not limited to specific websites with blackout dates or restrictions.
Redeem points for a statement credit to pay for travel or dining purchases, such as flights, hotel stays, car and vacation rentals, baggage fees, and also at restaurants including takeout.
0% Introductory APR for 15 billing cycles for purchases, and for any balance transfers made in the first 60 days. After the intro APR offer ends, 18.24% - 28.24% Variable APR will apply. A 3% fee applies to all balance transfers.
If you're a Preferred Rewards member, you can earn 25%-75% more points on every purchase. That means instead of earning an unlimited 1.5 points for every $1, you could earn 1.87-2.62 points for every $1 you spend on purchases.
Contactless Cards - The security of a chip card, with the convenience of a tap.
This online only offer may not be available if you leave this page or if you visit a Bank of America financial center. You can take advantage of this offer when you apply now.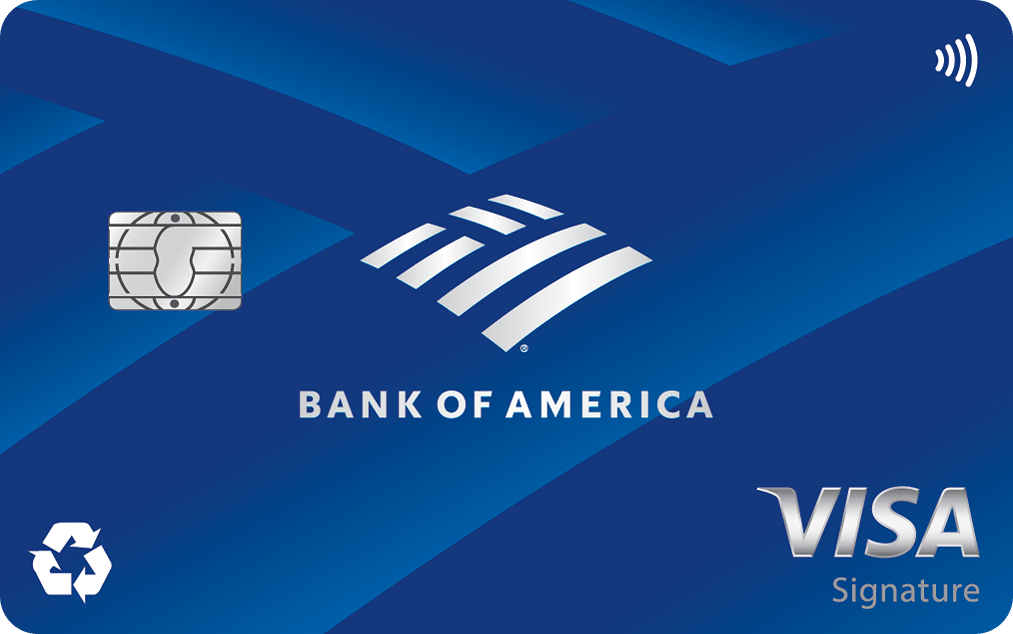 4.1
FinanceBuzz writers and editors score cards based on a number of objective features as well as our expert editorial assessment. Our partners do not influence how we rate products.
Apply Now
on Bank of America's secure website
Read Card Review
Intro Offer
Earn 25,000 online bonus points after you make at least $1,000 in purchases in the first 90 days of account opening - that can be a $250 statement credit toward travel purchases