Prices are surging in the U.S., leaving everyone scrambling to fight back against inflation. In addition to paying more for everyday items like groceries, those hoping to book airline flights this year should also expect some increased costs.
However, that is not the only challenge travelers face. In addition, they may have to work around canceled flights due to airline staffing shortages. And in fact, some flights are simply disappearing, seemingly for good.
Some major airlines have cut back on services — even eliminating flights to some cities altogether. Below, we've put together a list of 15 cities that have lost flights so far in 2022.
Newark, New Jersey
United Airlines announced that it would begin cutting about 50 daily flights from Newark Liberty International Airport in July. The goal is to diminish delays that have plagued travelers over the last few months at its hub just outside of New York City.
The cuts apply solely to domestic flights, and United said that it is not actually eliminating services to any cities, just trimming back the daily schedule by about 12% through the summer travel season. The airline says the changes aren't due to airline shortages, but other issues like airport construction and air traffic control.
Through mid-June, about 31% of flights at Newark Airport were delayed, the second-worst rate in the country behind only Chicago Midway International Airport.
Toledo, Ohio
In June, American Airlines announced that it would cut service to four cities in the U.S. on Sept. 7, including Toledo, Ohio. The airline said the changes are due to a "regional pilot shortage."
The change will stop flight service to Toledo Express Airport. The airport will still be serviced by Allegiant Air.
Ithaca, New York
Ithaca, New York, is another city on the American chopping block. The airline's service to Ithaca Tompkins International Airport in the Finger Lakes region will also cease on Sept. 7.
The airport will still be serviced by Delta Air Lines and United.
Islip, New York
Islip on Long Island is another city where American will cut services at the end of summer. The airline will stop serving Long Island MacArthur Airport, formerly known as Islip Airport, on Sept. 7.
The airline will still continue to be served by Southwest Airlines, Frontier Airlines, and Breeze Airways.
Dubuque, Iowa
The final city losing American flights is Dubuque, Iowa. Service to the Dubuque Regional Airport will cease on Sept. 7 as well.
American was the only airline flying to Dubuque. The airline did note that it is still offering service at airports within 100 miles of each of the cities it's cutting off.
For would-be Dubuque travelers, the closest option is Cedar Rapids' Eastern Iowa Airport.
College Station, Texas
Regional airports seem to be getting the brunt of these service cuts, including Easterwood Airport in College Station, Texas.
United cut service to the Texas A&M; University-owned airport at the beginning of 2022.
The airline had previously offered two daily flights to its Houston hub.
Killeen, Texas
United also cut service to the regional airport in Killeen, Texas, in January. Previously, about one to two United flights per day would take off from the Killeen-Fort Hood Regional Airport, which provides service to soldiers and their families stationed at the Army's Fort Hood base.
United cited pandemic-related shortages and limited staffing when cutting the route.
Columbia, Missouri
Columbia Regional Airport in Missouri also got the ax from United earlier this year. The airline previously operated two daily outbound flights from Columbia to its hub at Chicago O'Hare International Airport.
The airport is still serviced by American.
Evansville, Indiana
Evansville Regional Airport in Indiana is dealing with recent cuts from three major airlines, United, American, and Delta.
United stopped flying between Evansville and Chicago in January, and American cut its Evansville-Chicago route just weeks later. Delta also paused service between the Indiana city and Detroit.
Kalamazoo, Michigan
Kalamazoo/Battle Creek International Airport was also on United's chopping block earlier this year.
Previously, United flights had made up about 18% of the airport's total flights, with Delta and American making up the rest.
Lansing, Michigan
United also cut service to Capital Region International Airport in Lansing at the start of 2022. Previously, United flew from Lansing to the airline's hub in Chicago.
However, flights to Chicago are still available at the airport through American, Delta, and Apple Vacations.
Monroe, Louisiana
Monroe Regional Airport lost United service earlier this year. The airline had previously operated about three flights per day from the Louisiana town to Houston.
The airport is still serviced by Delta and American.
Wausau, Wisconsin
Central Wisconsin Airport was another regional spot to get the ax from United at the start of 2022 due to labor shortages.
Flights are still available at the airport with Delta and American.
Kalispell, Montana
JetBlue confirmed earlier this year that it was permanently getting rid of a pair of flights as well, including service to Kalispell, Montana. The airline had previously offered flights from the Montana airport to New York.
However, Kalispell's Glacier Park International Airport is serviced by several other major carriers, including Alaska Airlines, Delta, and United.
Boise, Idaho
JetBlue also stopped service to Boise, Idaho. The airline previously offered flights to New York, which were the airport's only nonstop options to the Big Apple.
The airline is still serviced by Delta, United, Avelo Airlines, and Spirit Airlines.
Bottom line
While many Americans are jumping at the opportunity to travel this summer after two years of COVID-19 disruptions, it may be wise to factor some extra time into your plans in case of airport issues.
However, service disruptions don't have to put a major damper on your summer plans, even if your closest airport is one of the cities losing flight options this year.
A little bit of savvy travel planning — such as booking flights earlier in the day in case of cancellation or opting for train travel instead — can help ensure you're getting where you need to go.
As airfares climb, you might also benefit from cutting costs by using the perks tied to any one of the best travel credit cards.
Easy-to-Earn Unlimited Rewards
Earn 25,000 online bonus points after you make at least $1,000 in purchases in the first 90 days of account opening - that can be a $250 statement credit toward travel purchases
Earn 1.5 points per $1 spent on all purchases
Longer intro APR on qualifying purchases and balance transfers
No foreign transaction fees
Earn unlimited 1.5 points per $1 spent on all purchases, with no annual fee and no foreign transaction fees and your points don't expire.
25,000 online bonus points after you make at least $1,000 in purchases in the first 90 days of account opening - that can be a $250 statement credit toward travel purchases.
Use your card to book your trip how and where you want - you're not limited to specific websites with blackout dates or restrictions.
Redeem points for a statement credit to pay for travel or dining purchases, such as flights, hotel stays, car and vacation rentals, baggage fees, and also at restaurants including takeout.
0% Introductory APR for 15 billing cycles for purchases, and for any balance transfers made in the first 60 days. After the intro APR offer ends, 18.24% - 28.24% Variable APR will apply. A 3% fee applies to all balance transfers.
If you're a Preferred Rewards member, you can earn 25%-75% more points on every purchase. That means instead of earning an unlimited 1.5 points for every $1, you could earn 1.87-2.62 points for every $1 you spend on purchases.
Contactless Cards - The security of a chip card, with the convenience of a tap.
This online only offer may not be available if you leave this page or if you visit a Bank of America financial center. You can take advantage of this offer when you apply now.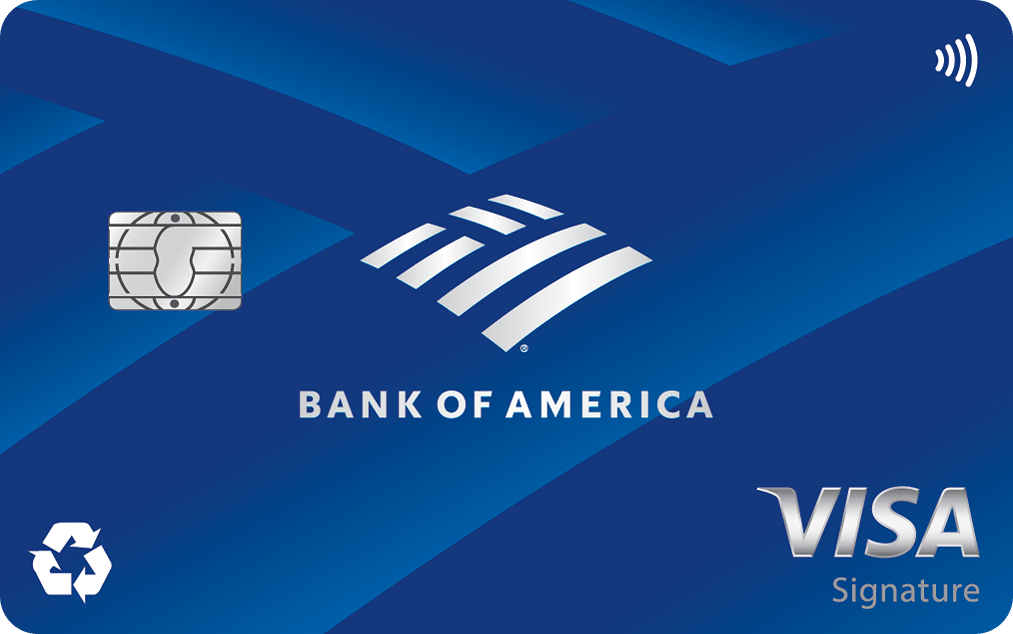 4.1
FinanceBuzz writers and editors score cards based on a number of objective features as well as our expert editorial assessment. Our partners do not influence how we rate products.
Apply Now
on Bank of America's secure website
Read Card Review
Intro Offer
Earn 25,000 online bonus points after you make at least $1,000 in purchases in the first 90 days of account opening - that can be a $250 statement credit toward travel purchases