A direct flight is the shortest and most ideal situation when traveling long distances.
Sometimes, adding a stop on a flight can keep more in the bank if you don't mind the long layover. Other times, it's the only option.
It's easier to manage those extra hours if you have something to do. Not all cities offer a lot of opportunities to have some fun, though, either at the airport or nearby.
These are the best cities for a long layover where you may not mind being stuck for a few hours or longer.
Las Vegas, Nevada
Let's be honest — even the airport in Las Vegas has plenty of opportunities to do something, whether you want to place a few bets or get some great food.
The airport here is also just a few minutes from the Strip itself, which means getting a rental car and heading out to see the city is easy to do, even when you have just a few hours.
San Francisco, California
You may spend some extra time at San Francisco International if you're traveling overseas, but there's plenty to do nearby.
For example, you can take the Yellow BART line from the airport to the Mission District in Downtown San Francisco. Once you get there, check out the pier and the views of the Golden Gate Bridge and find some great food.
Boston, Massachusetts
Do you have several hours at Boston Logan International Airport? There are a few things to do.
You can take the No. 66 shuttle from the terminal to the water taxis and check out the waterfront. Or take the Silver Line bus to the Seaport District to shop, eat, drink, and relax on the harbor promenade.
If you have a bit longer, check out the downtown area, which is just 30 minutes away.
Los Angeles, California
There's no doubt that LAX is one of the largest and most overwhelming airports out there, but there's lots to do here too.
The airport itself has several lounges, restaurants, and shops. If you have a bit more time, take an Uber to the beach since it's only a short drive.
You can also check out Hollywood if you have five or more hours to waste.
Chicago, Illinois
When you're trapped at Chicago Midway for a long layover, head to the CTA Orange Line and take it to Loop.
There, you can have some fun exploring the downtown area, including Union Station, Solider Field, and McKinley Park.
It's only about 20 minutes to the downtown area, where you'll find lots of restaurants to check out too.
New York City, New York
There's little doubt NYC is one of the most diverse and interesting cities you'll find. If you're stuck at JFK for several hours, get out to see the city.
You can take the Long Island Rail Road to get to Penn Station. Once you arrive, you're in the heart of the city. Check out Central Park, and just people watch. That's hours of entertainment all on its own.
Atlanta, Georgia
If you're traveling through Hartsfield-Jackson Atlanta International Airport, you'll find lots to do within about a 20-minute drive.
You can take the MARTA downtown and then spend an hour checking out the Georgia Aquarium or the World of Coca-Cola. You can even explore Centennial Olympic Park.
Seattle, Washington
The Seattle-Tacoma International Airport is massive but easy to navigate.
If you have a few hours to explore, take the Seattle Light Rail Service and check out some area attractions, like the Space Needle. You can also stop by Pike Place Market and the waterfront.
Just be sure to check the wait times for some of the tourism-heavy locations.
Cleveland, Ohio
Cleveland Hopkins International Airport is about a 20-minute drive from Downtown Cleveland and you can take the Rapid straight there.
While there, you can walk around the lakefront, spend some time checking out Tower City, an indoor mall, or walk through the Playhouse District with its extravagant chandelier.
You can also take in one of the dozens of restaurants and breweries that have helped the city grow its food scene.
Philadelphia, Pennsylvania
Are you a history buff or love shopping? If you're stuck in Philadelphia for a few hours, get out to explore. The SEPTA trains come right to the airport terminal and will take you downtown.
Do some shopping in the Midtown Village area, enjoy a meal, and then tour an art gallery before heading back for your flight.
Chicago O'Hare International Airport
For those stuck at the other Chicago Airport, O'Hare International, there are a few things to do nearby worth exploring.
Take the CTA Blue Line from the airport to head downtown (it's about a 45-minute drive, though). There you can check out Lurie Garden and the Chicago Riverwalk, which offers some fantastic river views.
Miami, Florida
It's very tempting to leave the airport when you land in Miami to explore the city. If you have a few hours, take the Metrorail Orange Line from the airport to the downtown area.
There are some art museums here, but you may also want to check out the beach. It's worth it just for the view.
Minneapolis, Minnesota
If you have some time with a layover at Minneapolis-St. Paul International Airport, check out the Metro Blue Line. For a few dollars, you can travel toward Target Field.
This also puts you right on the route to Mall of America, which offers plenty of shopping, eating, and people-watching. Finally, consider a tour of the Warehouse District for some great food.
Portland, Oregon
The Portland International Airport is an easy-to-navigate option. You can also take the MAX Red Line to check out the city (it's about a 40-minute drive downtown).
Once there, walk around Pioneer Square and check out the Rose Quarter for some food and shopping.
Washington, D.C.
No one will say navigating Reagan International Airport is simple, but there's a lot to see within a 15-minute ride.
Take one of the trains into the downtown area. There, you can tour the Smithsonian or walk along the National Mall.
Depending on how much time you have, you could do a tour of any of the notable museums here.
Bottom line
Even with the best travel cards, you may not be able to avoid a layover on your next trip.
But with a quick Uber ride, you can explore any city's best amenities and attractions if you have to wait awhile.
If you're unsure where to go, pull up a simple search on your phone to find out what's near your location. Then take a road trip to see the city.
That makes that layover less of an inconvenience and more of a tourist stop on your trip.
Great travel rewards with no annual fee
Earn 25,000 online bonus points after you make at least $1,000 in purchases in the first 90 days of account opening - that can be a $250 statement credit toward travel purchases
Earn 1.5 points per $1 spent on all purchases
Longer intro APR on qualifying purchases and balance transfers
No foreign transaction fees
Earn unlimited 1.5 points per $1 spent on all purchases, with no annual fee and no foreign transaction fees and your points don't expire.
25,000 online bonus points after you make at least $1,000 in purchases in the first 90 days of account opening - that can be a $250 statement credit toward travel purchases.
Use your card to book your trip how and where you want - you're not limited to specific websites with blackout dates or restrictions.
Redeem points for a statement credit to pay for travel or dining purchases, such as flights, hotel stays, car and vacation rentals, baggage fees, and also at restaurants including takeout.
If you're a Preferred Rewards member, you can earn 25%-75% more points on every purchase. That means instead of earning an unlimited 1.5 points for every $1, you could earn 1.87-2.62 points for every $1 you spend on purchases.
Contactless Cards - The security of a chip card, with the convenience of a tap.
This online only offer may not be available if you leave this page or if you visit a Bank of America financial center. You can take advantage of this offer when you apply now.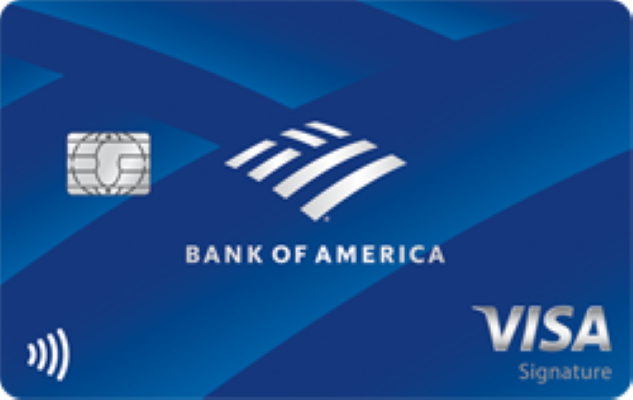 Apply Now

on Bank of America's secure website

Read Card Review
Lucrative welcome offer
Easy-to-earn points you can redeem for travel
$0 annual fee