Traveling abroad may be intimidating for people don't want to break the bank, but there are many workarounds that won't force you to sacrifice your financial wellness. The dollar is a commonly trusted currency around the world and many nations offer a favorable exchange and great prices for Americans who wish to explore other countries without breaking the bank.
Here are 10 countries you can visit where your dollar will go a long way.
Portugal
Yes, Portugal uses the Euro as its currency, but don't let that scare you away. The country is dealing with a stagnating economy and as a result the cost of living is low. Basic goods are less expensive than those in the U.S., and so is the cost of labor.
You may pay less for Mediterranean views that are just as beautiful as those in more expensive and crowded areas. To save even more, book your vacation during the spring or autumn, when there are fewer tourists from neighboring European countries and thus less demand.
Tunisia
One U.S. dollar is worth roughly 2.96 Tunisian dinar (as of Mar. 8, 2022). The North African country boasts a Mediterranean coastline, access to the Sahara desert, and is across the sea from Italy and France.
The bustling city of Tunis offers ruins of Carthage, beautiful architecture, and marketplaces and shops offering local goods, delicious foods, and spices at a fraction of the price you'd expect. You can look at historical landmarks, enjoy beautiful beaches, and have fun instead of thinking too hard about how to save money.
Spain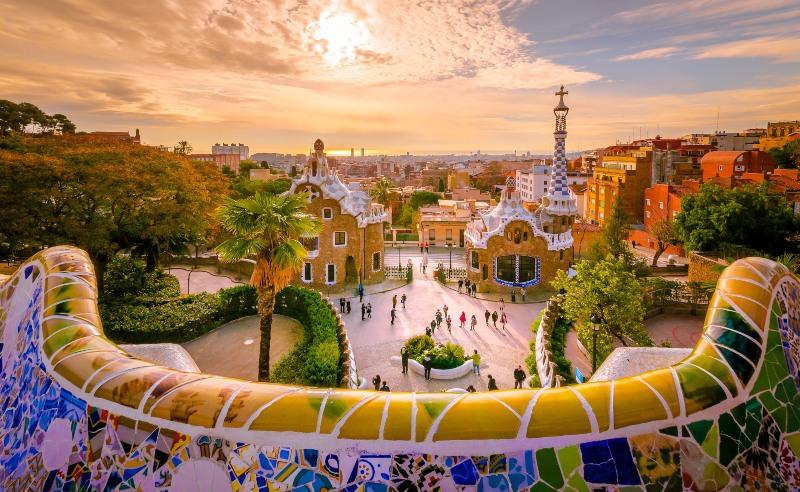 Another country using the euro as its currency is Spain but it remains a bargain for those looking at how to manage their money. This beautiful country is a great vacation spot for people who want to get good value. Spain is one of the sunniest countries in Europe, and its Mediterranean coastline gets an average of 300 sunny days a year.
Wine connoisseurs may be pleased to know that they have excellent bottles of wine at very low prices. Spain also has strong banks and many travel credit cards may have a great deal that can help you have an even better vacation.
Peru
It takes roughly 3.72 Peruvian soles to make one U.S. dollar (as of Mar. 8, 2022). Peru also boasts a strong tourism sector and beautiful sights, including Machu Picchu, and cities such as Arequipa, Ica, Cusco, and Lima.
The country is known for hosting tourists on a budget, and avid adventurers often camp throughout the majority of their trip. Your dollar will go far here, especially when it comes to many local eateries. Hotel and tour packages are commonly found, which helps you shop for the best deals.
Bangladesh
Situated next to India and Nepal, Bangladesh is often overlooked as many tourists favor its neighbors to the north and west. However, the country is full of rivers, mosques, temples, and natural wonders at a great price. One American dollar equals 85.84 Bangladeshi taka (as of Mar. 8, 2022). Some hotels even offer rates of $30 per night so you can get a good night's rest without overspending.
A stay here may mean you can avoid crowds found in more popular South Asian destinations, while still enjoying world class food, beauty, and nature.
South Africa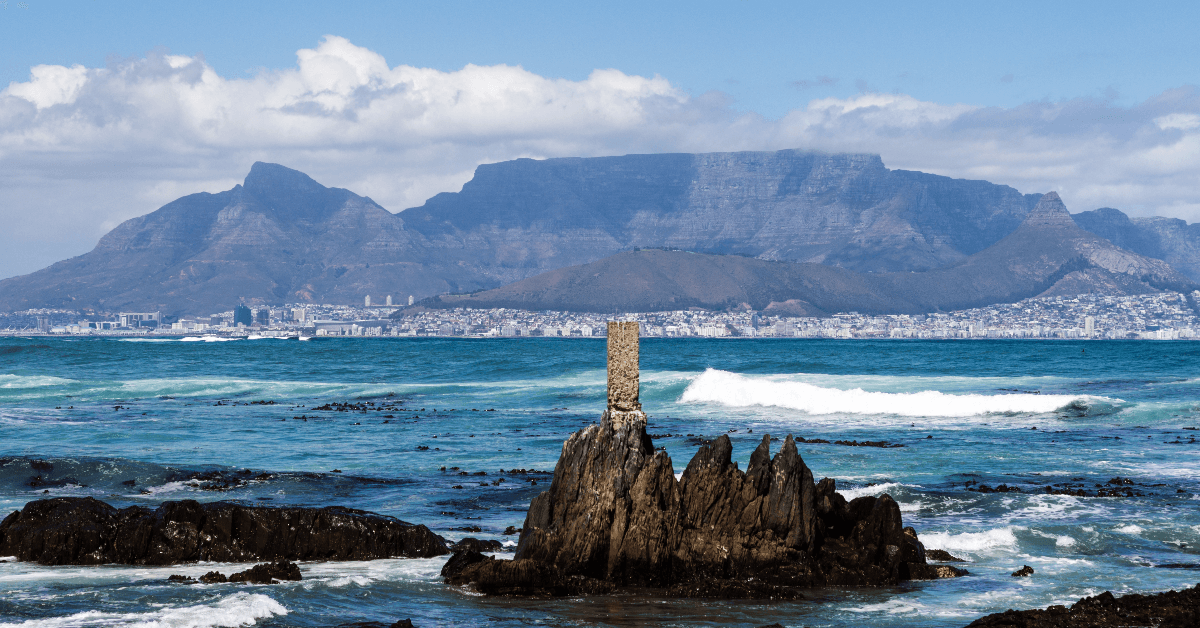 South Africa can be quite affordable — 15.25 South African rand equals one U.S. dollar (as of Mar. 8, 2022). It's no surprise that this destination offers great benefits to tourists on vacation.
Explore beaches and cliffsides, the lagoons and lush forest, along with the beautiful city of Cape Town. The country's wineries produce great quality wines for less than what you'd pay in some U.S. states or European countries.
Vietnam
Known for its great cuisine, mellow culture, and temperate climate, there's a reason why Vietnam is popular with tourists, digital nomads, and retirees. The country is also known for its low crime rates and peaceful way of life. Vietnam's currency is the dong, and it takes 22,847.50 dong to equal one U.S. dollar (as of Mar. 8, 2022).
With everything from five-star hotels to economy lodgings, the country's tourism sector is ready to accommodate travelers with different budgeting needs. Food is also known for being inexpensive and accessible.
Mexico
One of the best travel deals out there for U.S. travelers is its nearest neighbor to the south: Mexico. With roughly 21 pesos to the US dollar (as of Mar. 8, 2022), it's easy to see why so many Americans visit the country every year. For some, Mexico is also just a short drive away.
There are hotel, food, and tour packages for every budget, allowing visitors to Mexico to experience luxury at a fraction of what it can cost in the U.S. With deserts, beaches, and even a rainforest, Mexico has something for everyone.
Hungary
Nestled in Eastern Europe, Hungary is one of the most unique countries and cultures around the world. With its famed architecture, artsy capital of Budapest, natural landscapes, and exciting nightlife, Hungary can certainly provide an experience you'll never forget.
One U.S. dollar equals around 355 Hungarian forints (as of Mar. 8, 2022). The cost of dining out, entertainment, and hotel stays are often less than those in north and western European countries.
Egypt
Egypt is home to historically-rich cities, deserts, and of course, pyramids. Access to the Mediterranean sea and a strong tourism sector mean that visitors can enjoy history, luxury, great food, and nature at comfortable prices. One U.S. dollar is equal to 15.75 Egyptian pounds (as of Mar. 8, 2022), allowing your money to go far in this enchanting country that hosted one of the world's first civilizations.
Bottom line
The U.S. dollar is a commonly held currency by banks around the world that often enjoys a favorable exchange rate internationally. With a little bit of research, you can enjoy a great vacation in the countries listed above, and in so many more, without breaking the bank. 

As always, be on the lookout for ways to be smart with your finances, such as signing up for a travel credit card so you can earn more points and enjoy more benefits, such as avoiding foreign transaction fees while you're traveling.
How to maximize your travel rewards
The right travel card for you is the one that matches your interests and spending habits, allowing you to earn valuable rewards and travel the way you like — for less. Learn more about these top cards and choose the one that's best for you:
Easy-to-Earn Unlimited Rewards
Earn 25,000 online bonus points after you make at least $1,000 in purchases in the first 90 days of account opening - that can be a $250 statement credit toward travel purchases
Earn 1.5 points per $1 spent on all purchases
Longer intro APR on qualifying purchases and balance transfers
No foreign transaction fees
Earn unlimited 1.5 points per $1 spent on all purchases, with no annual fee and no foreign transaction fees and your points don't expire.
25,000 online bonus points after you make at least $1,000 in purchases in the first 90 days of account opening - that can be a $250 statement credit toward travel purchases.
Use your card to book your trip how and where you want - you're not limited to specific websites with blackout dates or restrictions.
Redeem points for a statement credit to pay for travel or dining purchases, such as flights, hotel stays, car and vacation rentals, baggage fees, and also at restaurants including takeout.
0% Introductory APR for 18 billing cycles for purchases, and for any balance transfers made in the first 60 days. After the intro APR offer ends, 17.99% - 27.99% Variable APR will apply. A 3% fee applies to all balance transfers.
If you're a Preferred Rewards member, you can earn 25%-75% more points on every purchase. That means instead of earning an unlimited 1.5 points for every $1, you could earn 1.87-2.62 points for every $1 you spend on purchases.
Contactless Cards - The security of a chip card, with the convenience of a tap.
This online only offer may not be available if you leave this page or if you visit a Bank of America financial center. You can take advantage of this offer when you apply now.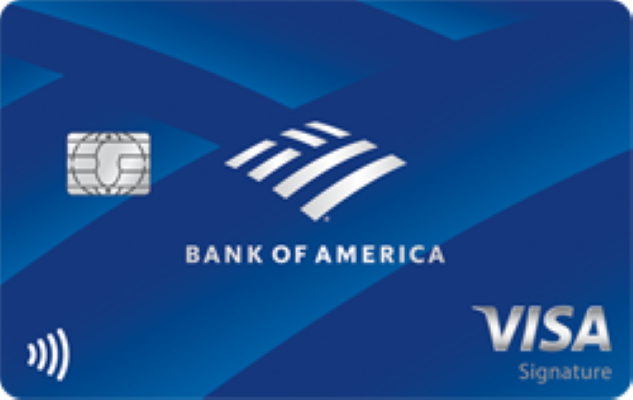 Apply Now
on Bank of America's secure website
Read Card Review
Intro Offer
Earn 25,000 online bonus points after you make at least $1,000 in purchases in the first 90 days of account opening - that can be a $250 statement credit toward travel purchases