Grocery shopping can be a stressful experience. You have to fight the crowds, hunt for what you need, and stand in long lines, all while resisting baked goods and salty snacks around every corner.
Going to the store on a whim and grabbing whatever catches your attention may be tempting, but it can have serious consequences for your wallet.
Here are 15 brutally honest truths about your grocery store habits that you can't afford to ignore if you want to save on groceries.
Get a protection plan on all your appliances
Did you know if your air conditioner stops working, your homeowner's insurance won't cover it? Same with plumbing, electrical issues, appliances, and more. Not being able to make repairs could leave you in a bad situation — but a home warranty could protect you against surprise expenses.
Whether you're a brand-new homeowner or you've owned your home for years, a plan from Choice Home Warranty could pick up the slack where homeowner's insurance falls short.
If a covered system in your home breaks down, you can call their hotline 24/7 for assistance to get it repaired. They have a network of over 15,000 technicians that can assist you, making sure any issue can be taken care of swiftly — without breaking the bank.
Not sure if it's for you? Rest easy: they were named one of the "Best Home Warranty Companies" by US News 360 Reviews and were awarded Best Company's 2020 Consumer's Choice Award. For a limited time, you can get your first month free when you sign up for a Single Payment home warranty plan.
You don't create a meal plan
A meal plan can guide you on what ingredients to buy and the appropriate quantities.
If planning individual meals isn't for you, try preparing basic ingredients such as rice, shredded meat, and roasted vegetables that you can use as a base for various meals.
This method allows you to be flexible and creative while still having a plan in place.
You forget to look at what you already have
Before you create your meal plan, take a moment to assess your fridge, freezer, and pantry to see what food items you already have. It can help you avoid rebuying items, which saves money and prevents food waste.
This simple habit can also reduce clutter, giving you more space to organize things.
You don't check weekly ads
Many stores have weekly circular ads that showcase their best deals. Use these circulars to plan your next grocery trip and maximize your food budget.
Try to base your meal plan around the meats and produce items that are on sale. You can also find discounted pantry staples to stock up on.
Stop overpaying when you shop online
Shopping online has its perks. It's super convenient, but it can be time consuming to find the best deals. Instead of hunting for coupon codes (that don't always work!) and opening tons of browser tabs comparing prices, you can try Capital One Shopping.
Capital One Shopping makes saving money effortless. Just add the browser extension and when you check out, it'll scour the internet for coupon codes to help you save cash. And before you check out at 25+ major retailers, Capital One Shopping will notify you with a friendly pop-up if the item you're buying is available cheaper somewhere else.
Capital One Shopping is free to use and won't show you ads. Add it today and stop overpaying!1
You don't buy in-season produce
There are many benefits to eating in-season produce. Fruits and vegetables picked at peak ripeness are usually more flavorful and have a higher nutritional value.
In-season produce is also more cost-effective because the increased supply drives down prices. It also might not spoil as quickly since it's more likely to be grown locally and has less distance to travel.
You forget a shopping list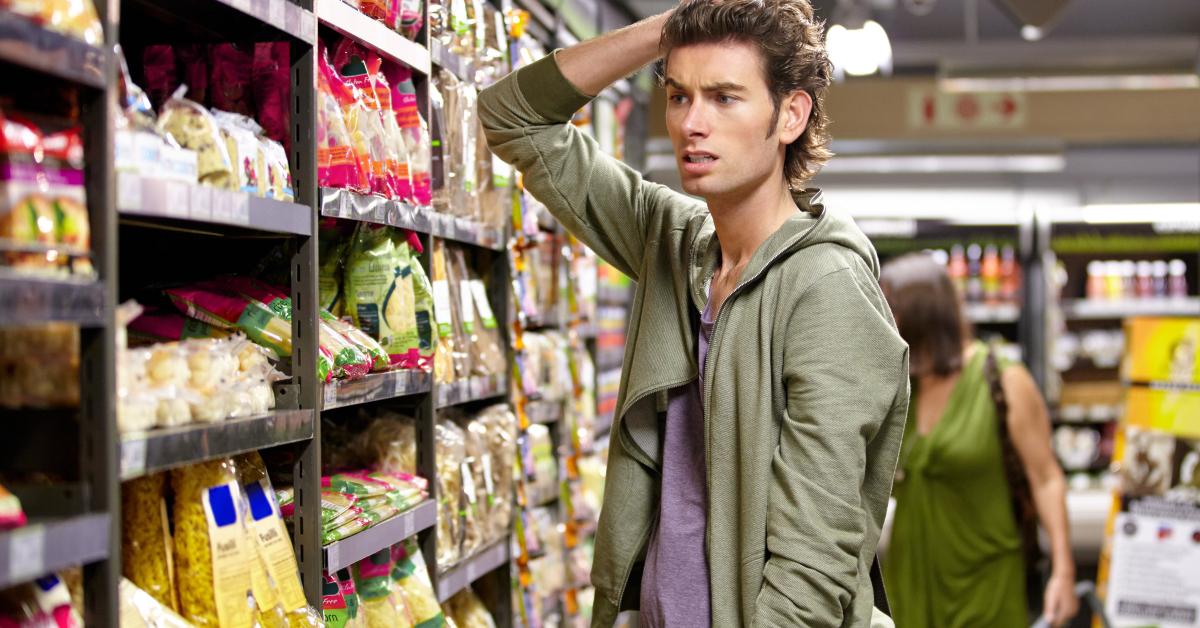 Forgetting a grocery list can result in a disastrous shopping experience. It's easy to forget the essentials and make unnecessary purchases when you do this.
When you get to the store, try not to venture from the grocery list, or you'll have a much higher grocery bill than expected. Keeping your shopping list on your phone is an easy way to prevent forgetting it.
You shop hungry
It can be difficult to resist impulse spending if you shop while hungry. You also might be more likely to buy food with little nutritional value rather than to opt for healthier options.
Studies have also shown that shopping hungry can make you more apt to buy nonfood items. So make sure to have a snack before heading to the store.
You only buy name brands
Because of lower marketing and advertising costs, store and generic brands can sell their products at lower prices. Opting for generic brands allows you to get the quality you love while saving money.
These brands usually offer comparable value to name brands. Sometimes they're even made by the same companies with different packaging.
Pro tip: One great Costco hack that members can use is to buy Kirkland Signature items. Costco's store brand is known for its excellence, and purchasing these items might save you money to boot.
You shop at eye level
Name brands make sure their products are at eye level on store shelves, so it's easy for you to grab them first.
Eye level is prime real estate for products, so pricier brands spend a lot of money to get these shelf spots.
That means you should look at the top and bottom of the shelf to ensure you see all the options and choose the product with the best value.
You pass the freezer sections
People tend to underestimate frozen foods. Producers freeze vegetables and fruits at their peak ripeness, so they are generally as flavorful and nutritious as fresh produce.
They're also readily available when needed, and you don't have to worry about them going bad.
Frozen meals like TV dinners are another item that can be convenient and friendly to your budget.
Earn 2% cash rewards at grocery stores and Costco
The Wells Fargo Active Cash® Card(Rates and fees) is a powerful rewards card that allows you to earn unlimited 2% cash rewards on purchases — including on groceries, even at warehouse stores like Costco.

New cardholders can also earn a one-time cash rewards bonus — $200 cash rewards bonus after spending $500 in purchases in the first 3 months!
If you're looking for a powerful rewards card that offers an extended intro APR period, look no further, the Wells Fargo Active Cash® Card checks that box too!
This card also offers an intro APR of 0% for 15 months from account opening on purchases and qualifying balance transfers (then 20.24%, 25.24%, or 29.99% variable). Which is great for someone who wants a break from high interest rates, while still earning rewards.
The best part? There's no annual fee.
Click here to apply for the Wells Fargo Active Cash® Card now.
You buy too much
We're all guilty of this one. It can be difficult to judge how much you'll eat during the week, so it's easy to overbuy. Unfortunately, buying too much food can lead to waste and buyer's remorse.
To circumvent this, set a budget for your shopping trip, use a smaller cart or basket, and avoid bulk purchases of perishable items you might not use.
You shop the inner aisles
Sticking to the store's perimeter may help you select healthier, more cost-effective items. This is because you'll usually find dairy, meats, and produce on the outer edge.
The inner aisles often hold processed food, which can be more expensive and unhealthy.
Although you might have to venture to the inner aisles for some pantry items, it's best to avoid these store sections whenever possible.
You buy convenience foods
From chopped produce to seasoned meats and premade dinners, convenience foods are tempting because they save you a little time.
Although they may still cost less than going out to eat, you'll pay extra for the convenience factor. If you want to slash your food expenses, pass on these items.
You don't look at the price per unit
It's easy to assume that buying products in bulk will be more cost-effective, but the price per unit may reveal a different story.
You can determine which item has the best value by comparing how much a product costs per ounce, pound, or liter.
Many stores include the price per unit on their price tags, so you don't have to do the math.
You pass on rewards programs
When the cashier asks if you want to sign up for their loyalty card, think twice before saying no.
Many stores offer rewards programs, and signing up is usually free. With these programs, you can get special offers and discounts you wouldn't get otherwise.
Stores can use these programs to track your spending, so they're also more likely to send you coupons for products you buy often.
Some shoppers prefer not to join rewards programs out of privacy concerns. But if this doesn't bother you, signing up can save you cash.
You don't check your receipt
Everybody makes mistakes sometimes — and that includes grocery store employees. But this simple step can prevent you from overpaying and maximize your savings.
After purchasing your items, take a minute to review your receipt for accuracy. Make sure all coupons were applied, sale items were discounted correctly, and you weren't accidentally charged twice for anything.
Bottom line
Making minor adjustments to your shopping habits can prevent food waste and help you keep more money in your wallet.
If you've ever made any of the mistakes above, you're not alone. In fact, grocery stores prey on people's desire for convenience.
The good news is that you can implement simple strategies such as meal planning and rewards programs to optimize your food budget.
Lucrative, Flat-Rate Cash Rewards
Current Offer
$200 cash rewards bonus after spending $500 in purchases in the first 3 months
Rewards Rate
Earn 2% cash rewards on purchases