Social media can be a wonderful tool for connection, socialization, business and career growth, and more. However, good intentions are often taken advantage of by creative scammers.
While many people are aware of more obvious scams, hackers and digital criminals get more crafty by the day. 
The best way to prevent getting scammed or hacked is awareness — keep reading to stay in the loop of the most recent and popular tricks so you can protect your wealth.
Resolve $10,000 or more of your debt
Credit card debt is suffocating. It constantly weighs on your mind and controls every choice you make. You can end up emotionally and even physically drained from it. And even though you make regular payments, it feels like you can never make any progress because of the interest.
National Debt Relief could help you resolve your credit card debt with an affordable plan that works for you. Just tell them your situation, then find out your debt relief options.
How to get National Debt Relief to help you resolve your debt: Sign up for a free debt assessment here. (Do not skip this step!) By signing up for a free assessment, National Debt Relief can assist you in settling your debt, but only if you schedule the assessment.
SPONSORED
Personality quizzes
Have you ever taken a fun Facebook personality quiz to find out what character you are, what the theme of your year is, or something similar? Odds are, that was a way to scam you out of information.
Some tests are harmless, but many may be farming you for personal data. If the test asks common security questions, like your grandmother's name, the name of your high school, or other personal information, it could be a scam to get access to your bank account.
Impersonating friends and family
Many of us use direct messaging to communicate with our family and friends. However, it's here that a lot of scams take place.
One of the more sinister, yet easy to fall for, tricks hackers use is to impersonate a close family or friend. 
After creating a fake profile with a matching picture and almost identical username, they'll message you, asking for money or passwords. 
Always click on their account to verify it's the person you think it is. If not, report and block them immediately.
Pretending to flirt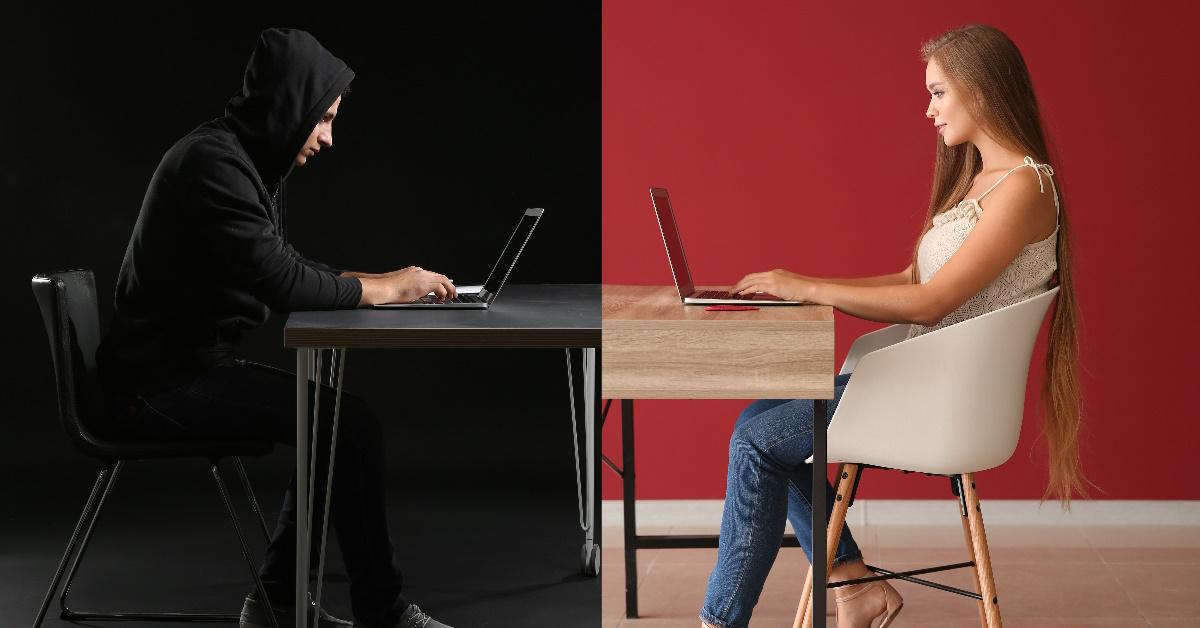 Not all scammers will try impersonating someone. Instead, they'll approach you as a stranger in your messages, using a tactic called social engineering, in which they manipulate your emotions to get one over on you.
This can involve several tricks, including flirting with and trying to woo you. Be incredibly cautious of strangers messaging you with a romantic pretense, as they could be trying to bait you into sending them money, revealing security information, and more.
Earn $200 cash rewards bonus with this incredible card
There's a credit card that's making waves with its amazing bonus and benefits. The Wells Fargo Active Cash® Card(Rates and fees) has no annual fee and you can earn $200 after spending $500 in purchases in the first 3 months.
The Active Cash Card puts cash back into your wallet. Cardholders can earn unlimited 2% cash rewards on purchases — easy! That's one of the best cash rewards options available.
This card also offers an intro APR of 0% for 15 months from account opening on purchases and qualifying balance transfers (then 20.24%, 25.24%, or 29.99% Variable). Which is great for someone who wants a break from high interest rates, while still earning rewards.
The best part? There's no annual fee.
Impersonating brands
Scammers get very creative when trying to steal your money or information. One tactic many digital thieves use is pretending to be a popular brand.
If the scammer knows you frequently shop with the brand, they may ask you for information about resetting your account password, a payment, a discrepancy, etc. 
Never exchange sensitive information like this over unencrypted platforms. Legitimate brands will have privately secured channels for dealing with account and payment-related issues.
False advertising and ecommerce
Many social media platforms now have shopping tabs where users can buy items directly from businesses on the site. However, this is an open invitation for scammers.
These scammers won't try to lure your credit card number from you. Instead, they'll advertise products on their pages. 
Sometimes, you may receive an item that looks nothing like what you paid for. Other times, the product never existed. If you try to contact them about your money, they'll block you, delete your comments, etc.
Fake job listings
Career-oriented social media platforms like LinkedIn or Indeed aren't free from scams. It's too easy to create a legitimate-looking job listing on the site, scamming people out of time and money.
Common scams include getting personal information, like bank routing numbers, during the "onboarding" process. Other times, they'll send victims illegitimate checks or payments and request them to wire part of it back before it bounces.
Fraudulent charities
Scammers know how to prey on people's sympathies and emotions. As such, illegitimate charities are a common tool they use to rip people off.
Some scammers set up entire sites, collecting account information, data, money, and more, spreading their plea for aid across social media platforms. 
Look out for GoFundMe fundraisers, too. While the platform strives to curtail scammers, it can't prevent them altogether.
Not every charity on the site is legitimate, and once they have your money, the scammer can do whatever they'd like with it. 
Hijacked friends and family
Clever scammers can hit multiple targets with one attack. They may launch a phishing attack on your friends or family, obtain information that allows them to hack their accounts, and set their sights on you next.
Unlike fake accounts, these attacks come from the profiles of people you know. Look out for odd or out-of-character communication, requests for money or information, and so on. 
The second you get suspicious, call or meet up with them in person to confirm if it's them or not.
Catfishing
Not all scammers aim to get money or personal information from you. Some may just want attention, such as catfishers.
Some catfishers will cheat you out of money, but some may just be using a fake identity to lure you into a virtual relationship. 
Again, be incredibly wary when talking to strangers on social media unless you can confirm their identity and intentions legitimately.
Get-rich-quick schemes
One of the more tempting social media scams is people offering you sums of money or ways to earn tons of cash instantly.
Whether they're claiming you won a giveaway or trying to recruit you into a pyramid scheme, if an offer seems too good to be true, trust that it is. 
If you did enter a giveaway, verify that the account contacting you is hosting it, usually through a verified checkmark.
Deleted account
Some scammers use social media as a pretense to trick you out of your personal information. Finding someone's email or phone number from their account information is easy enough.
With your contact information in tow, they'll text or email you saying your account is being deleted, whether by request or termination. 
They'll provide a link to dispute the claim or cancel the request, get you to enter your login information, and then get full access to your account.
Shortened URLs
Many people know basic cyber security tips, like not clicking sketchy-looking links. However, scammers get more creative as we get smarter and more aware.
Scammers have started to shorten or hide URLs in their direct messages, which may lead you to believe it's safe to click on. 
Curtail these hackers' attempts by using URL lengtheners before opening any link or just steer clear of strange, unknown links altogether.
Fake mural scam
Scammers are often experts on human impulses and urges, exploiting them to take advantage of unsuspecting victims through increasingly creative lures. One innovative new scam involves people asking if they can use your account as inspiration for a mural.
They'll offer you payment in exchange for your likeness, sending you a check or digital payment and then requesting some of it back, at which point their check bounces — after you've already sent them your money. 
They may also just request personal information they could use to hack into your accounts.
Zelle Pay scams
Many people use social media platforms like Facebook Marketplace to sell unwanted items directly. However, this is a breeding ground for scammers. 
Scroll through Marketplace, and you'll find tons of listings stating they won't accept Zelle Pay. This is because of the creative trick scammers have developed using the guise of the popular payment app.
They'll ask for your email to send payment, only to send a realistic-looking but fake confirmation email. Depending on the scammer, they'll either get you to put in your account information or claim they overpaid you and ask for part of their money back.
Claimed overpay scam
A favorite trick amongst scammers is to claim they overpaid you or manipulate e-pay platforms to make it look like they've paid you when they haven't.
This is common on Facebook Marketplace and other social media-based marketplaces. They'll either send fraudulent checks or digital pay statements or say the payment is on its way but hasn't gone through yet. 
Scammers will go so far as to forge realistic-looking screenshots as "proof" they paid you.
---
SPONSORED
Stop overpaying when you shop online
Shopping online has its perks. It's super convenient, but it can be time consuming to find the best deals. Instead of hunting for coupon codes (that don't always work!) and opening tons of browser tabs comparing prices, you can try Capital One Shopping.
Capital One Shopping makes saving money effortless. Just add the browser extension and when you check out, it'll scour the internet for coupon codes to help you save cash. And before you check out at 25+ major retailers, Capital One Shopping will notify you with a friendly pop-up if the item you're buying is available cheaper somewhere else.
Capital One Shopping is free to use and won't show you ads. Add it today and stop overpaying! 1
Bottom line
Scammers are clever and ever-evolving to surpass standard cyber security protocols. From phishing for data to coordinating a detailed, personal attack, they'll stop at nothing to obtain your personal information and finances.
The best way to avoid foolish mistakes is hypervigilance. You never want to just throw money away because you trusted a scammer.
Always be wary and skeptical of any interaction you have on a social media platform, taking time and effort to verify the identities and intentions of anyone you interact with.

National Debt Relief Benefits
No upfront fees
One-on-one evaluation with a debt counseling expert
For people with $7,500 in unsecured debts and up