Are you planning to take a much anticipated vacation? Thinking of visiting Southeast Asia or driving cross country in the United States? Will you hike forested mountains in Central America or visit islands in Oceania? If you're planning to put your hard-earned money towards a trip, make sure you plan around the risks of natural disasters.
Many nations face risk of storms or disasters, but some countries are in much greater and constant danger, experiencing numerous incidents every year — and in the path of annual storm patterns. Here are some of the countries with the most natural disasters and details on when it's best to avoid.
Vanuatu
The tiny Pacific Ocean nation has the highest disaster risk on the planet, according to the World Risk Index's 2021 report. Climate change has been incredibly rough to the 83 islands that make up the country, with rising sea levels shrinking the landmass and worsening tropical storms. Those in turn can trigger related disasters, from landslides to flooding.
Vanuatu was brutally hit by Cyclone Harold in early 2020, and the nation is still recovering. However, cyclone season typically runs through December-April, summer for the Southern Hemisphere, with the rest of the year generally safer to visit. Unfortunately the island is shrinking from rising sea levels, so if you plan to go, go sooner than later.
Solomon Islands
Part of the "Ring of Fire" at the basin in the Pacific Ocean, the Solomon Islands are at high risk for tsunamis, earthquakes, and volcanic disasters any time. Like Vanuatu, it was hit hard by Cyclone Harold in 2020, and over the last decade was struck by two large earthquakes. The hundreds of islands in the nation are most at risk for these storms from November to May, but take caution all year round.
Tonga
The tiny island nation of Tonga shares many of the extreme weather threats other Oceania countries face, namely storms and rising sea levels. Most recently, the island's volcano Hunga Tonga–Hunga Ha'apai erupted in January, and blanketed the area in a cloud of smoke for days, cutting off communication with the outside world.
Tonga sees the most rain between December and March, with March and February being peak rain time. While there isn't a "dry season" on this island, you could aim for May through December as the best time to visit. However, December through April are the months when tropical hurricanes tend to strike.
United States
Yes, even the United States is up there. The scale of the country means it contains multiple climates, and multiple risks based on what part of the nation you're in. Wildfires, tornadoes, floods, and hurricanes all hit the country, but only in specific regions.
Hurricanes from the Atlantic regularly hit the Gulf of Mexico, while the Pacific Coast is at risk of fires and earthquakes. However, given the number of cities along the coasts or in the range of earthquakes and tornadoes, it puts a heavy percentage of the population close to a potential disaster. Aging infrastructure also means less resilience against some of these incidents. In some cases, it can be easy to avoid the big, seasonal disasters. California's risk of wildfire is all year, but June through August is considered peak. The Midwest faces the highest risk of tornados during April, May, and June.
Indonesia
Indonesia is high up on the rankings of most at-risk nations. It was hit by 29 disasters in 2020, the highest amount for a country that year. The incidents ranged from massive earthquakes to landslides triggered by storms and floods, with hundreds of deaths. In December 2021, the volcano Mount Semeru erupted.
Given the diverse nature of the islands that make up the nation, the best time to visit depends on where you are going. As a rule though, avoid the first few months of the year when the storms are at their peak and the risks of landslides are at their highest.
China
Much like the United States, the sheer landmass of China gives it a high range of natural disasters. Earthquakes have frequently damaged several of the country's inner landlocked provinces, while drought has plagued the west and north.
The Yangtze River has been prone to flooding in the past. Avoid the storm season, and visit the coastal regions outside of the spring months of April and May, when rain is less constant.
Vietnam
With the majority of the population along coastal regions in Vietnam, the potential damage from floods or storm surge from typhoons is high. Rainy season here is heaviest in October and November. In March, it's been said to be unbearably hot.
Pro tip: Be sure to use one of the best travel credit cards when you book your trip. Some of them come with valuable trip insurance that could literally pay off if your travel goes awry.
Guatemala
This Central American country stands in the path of some of the hurricanes that sweep through the Gulf of Mexico, and several storms in 2020 caused landslides and floods. The country also has ongoing volcanic activity — the Volcán de Fuego has been active for years.
The biggest danger however is the seismic risk. The country stands on three different tectonic plates, with the potential for a major earthquake looming. These risks are constant, but June through November tends to be the rainiest.
Philippines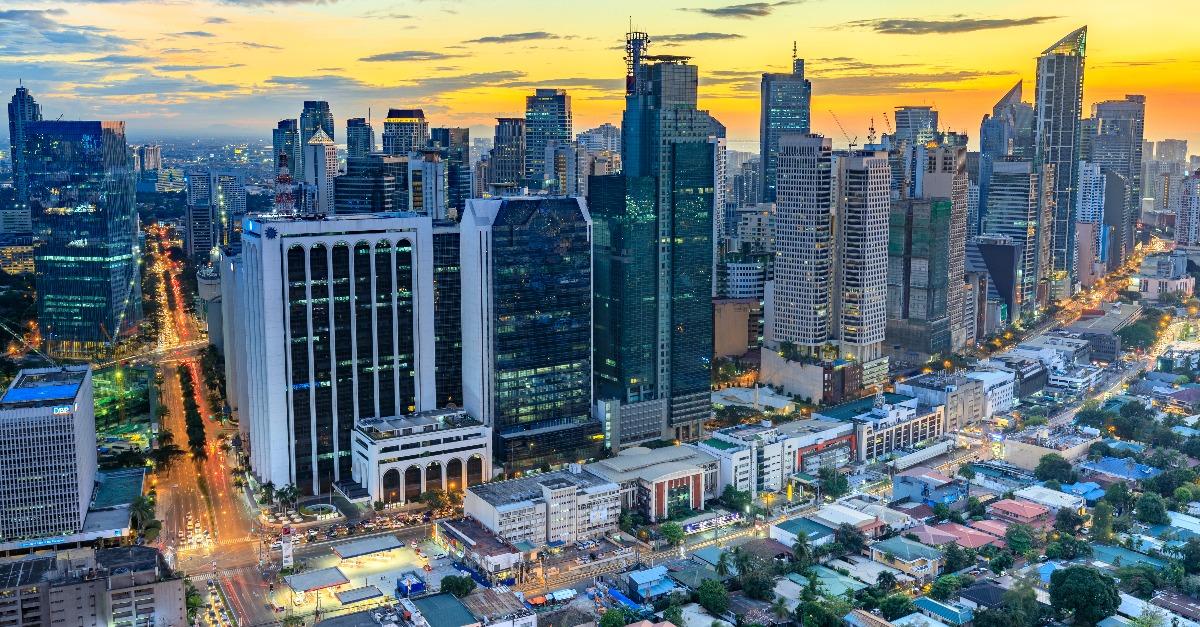 Similar to its neighbors in southeast Asia and the Pacific, the Philippines is highly vulnerable to flooding caused by tropical cyclones and typhoons that cause storm surge. It is one of the most at-risk nations in the world for the worsening effects of climate change.
On top of all of that, its islands sit on the edge of tectonic plates and the "Ring of Fire," the network of volcanoes around the Pacific Island. Typhoon season is from August through mid-October and is considered the best time to avoid a visit.
Turkey
Turkey is in an active seismic zone, and the country deals with wildfires, flooding, and landslides. It's been known to be extremely hot during the months of June, July, and August. The most favorable months for a visit are considered April and May, along with mid-September through mid-October before temperatures drop. However, the risk of a natural disaster is always there.
Bottom line
There is risk in travel no matter when you go, and that shouldn't deter you from seeing the world. These areas have a lot to offer vacationers, just do your best to keep yourself in the know. Check to see if there have been any recent disasters before your visit, and look up the seasonal risks. You wouldn't want to spend your money on a failed trip especially these days with rising costs.
Embassies in these countries often will have warnings and bulletins, including potential weather crises or natural disasters. Being prepared and knowing what to do in the event of an emergency situation helps to make you a smart traveler.
Easy-to-Earn Unlimited Rewards
Earn 25,000 online bonus points after you make at least $1,000 in purchases in the first 90 days of account opening - that can be a $250 statement credit toward travel purchases
Earn 1.5 points per $1 spent on all purchases
Longer intro APR on qualifying purchases and balance transfers
No foreign transaction fees
Earn unlimited 1.5 points per $1 spent on all purchases, with no annual fee and no foreign transaction fees and your points don't expire.
25,000 online bonus points after you make at least $1,000 in purchases in the first 90 days of account opening - that can be a $250 statement credit toward travel purchases.
Use your card to book your trip how and where you want - you're not limited to specific websites with blackout dates or restrictions.
Redeem points for a statement credit to pay for travel or dining purchases, such as flights, hotel stays, car and vacation rentals, baggage fees, and also at restaurants including takeout.
0% Introductory APR for 15 billing cycles for purchases, and for any balance transfers made in the first 60 days. After the intro APR offer ends, 18.24% - 28.24% Variable APR will apply. A 3% fee applies to all balance transfers.
If you're a Preferred Rewards member, you can earn 25%-75% more points on every purchase. That means instead of earning an unlimited 1.5 points for every $1, you could earn 1.87-2.62 points for every $1 you spend on purchases.
Contactless Cards - The security of a chip card, with the convenience of a tap.
This online only offer may not be available if you leave this page or if you visit a Bank of America financial center. You can take advantage of this offer when you apply now.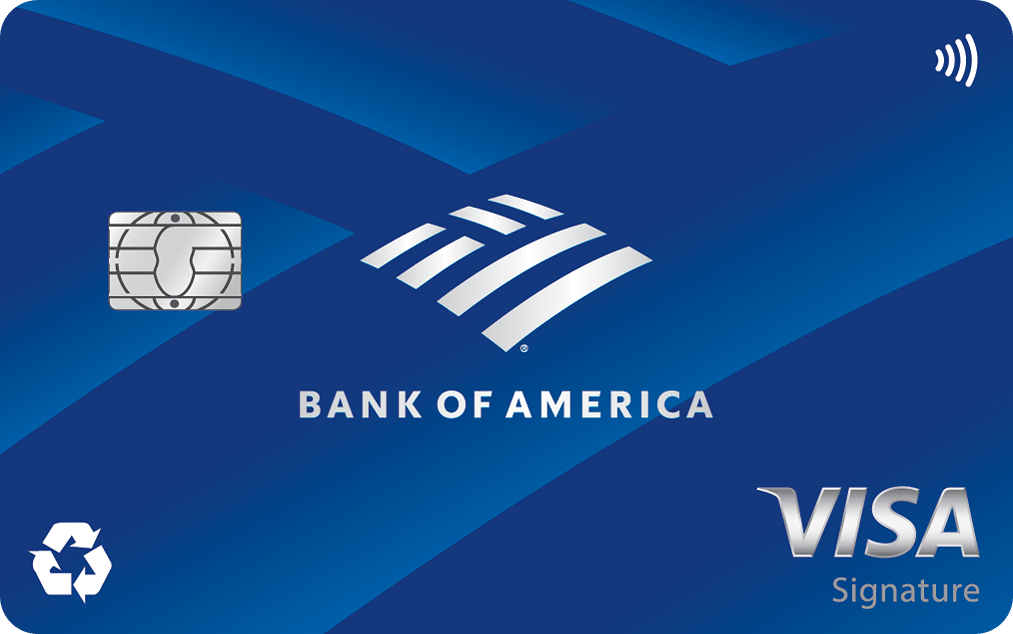 Apply Now
on Bank of America's secure website
Read Card Review
Intro Offer
Earn 25,000 online bonus points after you make at least $1,000 in purchases in the first 90 days of account opening - that can be a $250 statement credit toward travel purchases