COVID-19 has changed many aspects of American life. Not only has the novel coronavirus left many people worried about their finances, but it's also upended everything from wedding plans to interactions with friends and family.
Unsurprisingly, coronavirus is also affecting our willingness to travel and use those rewards credit cards. To better understand how COVID-19 has impacted summer trips for Americans, FinanceBuzz surveyed 1,500 adults about their vacation plans. We also asked our survey respondents what needs to be done by airlines, hotels, and vacation rentals to make people feel comfortable traveling again.
The survey results show that while most Americans are staying put, a minority are still planning on going somewhere — even if stay-at-home orders aim to keep them grounded.
Key Findings
Americans will travel less this summer: Of those who are planning summer travel, 56% have already cancelled their summer travel plans and 19% have changed plans due to COVID-19. A quarter of Americans (25%) are putting off making any summer travel plans due to the uncertainty caused by COVID-19.
Almost one-third (32%) of Americans said they'll still travel even if shelter-in-place orders are active where they live. Men were more likely to say they'll break the rule — 36% of men said they'll still travel versus 26% of women who said the same.
For those canceling or changing plans, the most commonly cited reason was "health concerns" (69%) beating out "travel restrictions" (50%) and "financial concerns" (42%).
For those who do travel, it will look different: 27% said they'll take a road trip instead of flying, 19% will travel domestically instead of internationally, and 15% will only book refundable options.
When will we fly again? 23% said there's nothing airlines could do to make them feel comfortable flying before there's a COVID-19 vaccine. Nearly half of Americans (48%) said they don't expect to get back on an airplane for at least a year.
Health worries are causing Americans to rethink summer travel
While the summer season is a popular time to see the world, most Americans who had previously scheduled travel are now opting to stay home because of COVID-19. In fact, only around 10% of all those surveyed expect to actually go on vacation as planned.
Most Americans (56%) have already given up completely on traveling this summer and have cancelled their plans. Nineteen percent have made changes to their plans but not cancelled, likely hoping to go later in the summer. And another 14% haven't yet altered their travel plans but expect to soon.
Unsurprisingly, health concerns are driving these cancellations, with 69% of those who changed their plans indicating they did so for health reasons. But it's not just worries about catching COVID-19 keeping people at home. Half (50%) of would-be travelers indicated they were prompted to cancel or change their trip due to travel restrictions or closures.
Unfortunately, airlines, hotels, Airbnb hosts, and others in the hospitality industry have already felt the financial effect of COVID-19 — and it's likely not over yet since 14% of Americans still expect to make changes to their travel plans.
Surprisingly, money worries aren't as big of a concern, even though COVID-19 has led to record unemployment and fears of a recession. Just 42% of respondents changed their plans for financial reasons. This could be a hopeful sign for the future, as many people may still be financially prepared to travel when a vaccine or effective treatment for COVID-19 becomes available.
Shelter-in-place orders won't stop some travelers
Although most Americans won't be packing their bags this summer, a determined few are going to see the world — even if there are restrictions in place that say they shouldn't. In fact, 32% of respondents indicated they'd violate a shelter-in-place order to go on a trip.
Many states have begun lifting restrictions, but there's a chance these rules will be reinstated if there's a sharp increase in COVID-19 cases during the summer or early fall. If stay-at-home orders are put back in place, men will be more likely than women to violate them: 36% of men said they'd go on a trip despite an order not to, compared with 26% of women.
That doesn't necessarily mean all women are going to be more responsible about staying home, though. Women were much more likely to indicate they weren't sure what they'd do about traveling during a stay at home order, with 36% of women expressing uncertainty compared with 27% of men.
How we're changing our summer travel plans
For those optimistic Americans still planning to take trips despite COVID-19, travel may look very different.
With flying viewed as risky by some, around 27% of would-be travelers said they'll take a road trip instead of going somewhere on a plane. Nineteen percent of survey respondents also said they're going to travel domestically instead of internationally.
Unfortunately for the airline industry, it looks like seats won't be filled any time soon, either — 48% of Americans said they won't get on a plane again for at least a year.
However, offering more refundable fares could help encourage potential flyers. Around 15% of survey respondents said they'd only be willing to book refundable travel. This makes sense since travel insurance may not cover trips cancelled due to COVID-19, which makes it a risky time to be putting cash on the line.
Some people haven't entirely given up hope on travel, though — even if they haven't acted yet. A quarter of survey respondents (25%) are simply putting off planning any trips due to the uncertainty involved. This is likely a smart move as it's not clear what will happen to the number of COVID-19 cases as states begin to re-open.
What airlines, hotels, and vacation rentals need to do to bring travelers back
As cancellations stack up, those in the hospitality business have already begun taking steps to try to make Americans comfortable with traveling again. For example,
Airbnb started a new optional protocol for hosts in May, allowing hosts to choose to keep their homes empty for 24-hours in between guests, with no activities allowed other than cleaning. Enhanced cleaning protocols will also involve offering masks and gloves to cleaners and using approved disinfectants.

Most airlines have announced enhanced cleaning procedures, including the use of electrostatic sprayers to sanitize aircraft cabins. They've also suspended food and beverage services for most flights, are requiring travelers to wear masks, and are providing more space between passengers.
What travelers want airlines to do before they'll fly
Some of these measures are exactly what Americans are calling for in order to feel safe. In fact, 56% of survey respondents said they'd be more likely to fly if airlines space out passengers, while 52% want to see everyone wearing masks.
Airlines won't be able to do much to change the minds of reluctant travelers, though. Twenty-three percent of Americans indicated there's nothing the carriers can do to make them feel comfortable and they won't be flying until there's a vaccine.
What travelers want vacation rentals to do before they'll stay
A little over half of Americans (55%) said they'd be more likely to stay in a vacation home like an Airbnb rental if enhanced cleaning procedures were adopted, while 38% want to see at least 48 hours in between guests.
And there's more bad news for vacation rental owners — 29% said they won't feel comfortable renting a vacation home until a vaccine has been distributed.
What travelers want hotels to do before they'll stay
Hotels are facing similar challenges. Respondents supported enhanced cleaning in hotels — 59% want to see this step taken, while just 42% said they'd feel more comfortable if masks were universally required, and 42% want rooms kept vacant for 48 hours between guests.

One in five (20%) said that without a vaccine they won't feel comfortable staying in hotels no matter what.
But despite airlines, Airbnbs, and hotels taking the steps Americans say they want, most people simply aren't ready to pack up and go. In fact, just 7% of survey respondents said they'd feel comfortable flying right now. The same number indicated they'd feel OK about staying in a hotel, while 8% said they'd be comfortable staying in a rental home right now.
Bottom line
Taking a cautious approach to travel is understandable as COVID-19 cases continue to rise throughout the country. Until a vaccine is found, companies ranging from airlines to hotels to restaurants to the best travel credit cards will need to find ways to adapt to the new normal.
The good news is that while life may not get back to the status quo for a long time, Americans have always weathered crises and come through them stronger. In this difficult situation, it's likely that science will prevail, Americans will one day feel safe again, and those with wanderlust will once again be ready to hit the road (and sky).
Methodology
FinanceBuzz surveyed 1,500 U.S. adults ages 18 or older, who comprise a nationally representative sample of Americans, on May 13, 2020.
Easy-to-Earn Unlimited Rewards
Earn 25,000 online bonus points after you make at least $1,000 in purchases in the first 90 days of account opening - that can be a $250 statement credit toward travel purchases
Earn 1.5 points per $1 spent on all purchases
Longer intro APR on qualifying purchases and balance transfers
No foreign transaction fees
Earn unlimited 1.5 points per $1 spent on all purchases, with no annual fee and no foreign transaction fees and your points don't expire.
25,000 online bonus points after you make at least $1,000 in purchases in the first 90 days of account opening - that can be a $250 statement credit toward travel purchases.
Use your card to book your trip how and where you want - you're not limited to specific websites with blackout dates or restrictions.
Redeem points for a statement credit to pay for travel or dining purchases, such as flights, hotel stays, car and vacation rentals, baggage fees, and also at restaurants including takeout.
0% Introductory APR for 15 billing cycles for purchases, and for any balance transfers made in the first 60 days. After the intro APR offer ends, 18.24% - 28.24% Variable APR will apply. A 3% fee applies to all balance transfers.
If you're a Preferred Rewards member, you can earn 25%-75% more points on every purchase. That means instead of earning an unlimited 1.5 points for every $1, you could earn 1.87-2.62 points for every $1 you spend on purchases.
Contactless Cards - The security of a chip card, with the convenience of a tap.
This online only offer may not be available if you leave this page or if you visit a Bank of America financial center. You can take advantage of this offer when you apply now.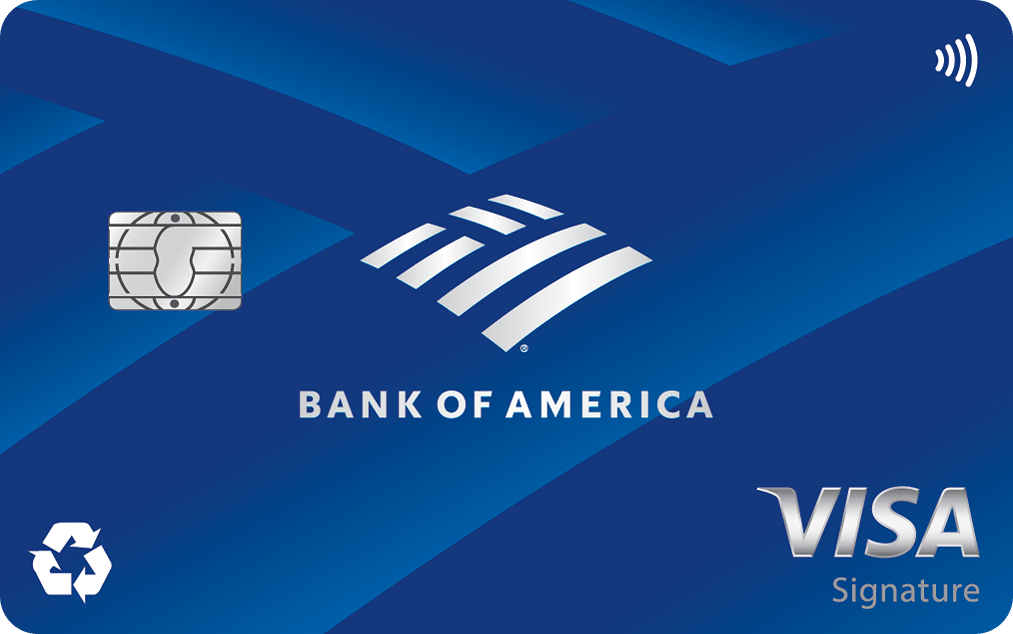 Apply Now
on Bank of America's secure website
Read Card Review
Intro Offer
Earn 25,000 online bonus points after you make at least $1,000 in purchases in the first 90 days of account opening - that can be a $250 statement credit toward travel purchases