There really isn't a CEO quite like Elon Musk, the charismatic leader of Tesla and SpaceX. His company's products are groundbreaking and have changed the way we think about driving or sending astronauts into space. 
His unique way of approaching how to do business makes his fans wonder what his next move will be or how he will respond to topics from transportation to cryptocurrency.
Musk also has a way with words, at least words he posts on Twitter, that could be viewed as insightful or controversial. And with almost 75 million followers hanging on for every tweet, some of his Twitter remarks can actually be stock market movers. Check out a few cases when his words actually moved markets.

Pro tip: We can't all be Elon rich. But here are some big moves that could help you grow your wealth this year.
Dogecoin is alive
Elon Musk is famous for sending ripples through the cryptocurrency markets with an offhand remark. His May 2022 tweet regarding dogecoin was no exception.
The struggling memecoin had dropped in value dramatically from its all-time high of 74 cents in May 2021 to just above 6 cents as of July 2022. So, when Musk posted that Tesla and Space X merch could soon be purchased with dogecoin, the value of the currency rose by 10%.
While likely not enough to bring dogecoin back to its former glory, Musk's tweet shows his ability to breathe life into a dead cryptocurrency with just a few words.
He's buying Twitter
In April of 2022, you couldn't open up your newsfeed without being bombarded with news of Elon's offer to buy Twitter, the very platform he used to rock the markets.
Perhaps more shocking than Musk's price offer of $44 billion for Twitter was the effect the announcement had on his own companies. After the initial tweet, Tesla's stocks lost nearly $40 billion in value within just one day.
He's NOT buying Twitter
After hemming and hawing about accurate data reporting from the company, Musk said in a May 2022 tweet that the Twitter deal was on hold, just one month after announcing his intent to purchase the company.
Not surprisingly, this announcement had a profound effect on the social media site, dropping the pre-market trading value of Twitter's stock by 18%.
Then, in early July, Musk stated that he wouldn't be buying the social media giant. The effect was immediate. Twitter's stock ended the trading day at $36.81 per share on the day Musk announced the termination of the deal compared to $51.70 per share when Musk declared his attention to buy the social media platform.
Stocking up on GameStop
In early 2021, users of the Reddit website's subreddit r/wallstreetbets forum began to promote GameStop, sending the stock soaring as more buyers bought up shares. 
Then Elon Musk weighed in with a simple tweet on Jan. 26: "GameStonk!!" He added a link to the r/wallstreetbets subreddit to further promote the effect the message board was having on the stock. In response, shares of the gaming company surged 50%.
The buying of GameStop was part of a "short squeeze" by the Reddit group, which forced investors, such as hedge funds, that shorted the stock to ‌buy it back at a loss. 
The stock started 2021 at $17.25 before surging, hitting an all-time high of $347.51 on January 27 — a day after Musk's tweet. And even though it fell after that, the stock still ended 2021 at $155.33.
Elon loves crafts
Online crafts retailer Etsy got an unexpected boost on Jan. 26, 2021, when Musk tweeted "I kinda love Etsy." In a subsequent tweet, he explained he had bought a hand-knit Marvin the Martian hat for his dog. The company's stock spiked 8% before settling down for the day, closing down 2.1%.
Ask the voters
On Nov. 6, 2021, Musk posed a question to his Twitter followers. "Much is made lately of unrealized gains being a means of tax avoidance, so I propose selling 10% of my Tesla stock. Do you support this?"
More than 3.5 million votes were cast in his poll with 57.9% saying they would support his move to sell. In response, Tesla's price fell as much as 7.3%. At the time, Bloomberg estimated that 10% of Musk's holding amounted to 170.5 million shares worth $21 million.
It's too high
Is it bad when the CEO of a company thinks his stock price is too high? Investors thought so after a tweet on May 1, 2020, from Musk that said "Tesla stock price is too high imo." The stock lost 10% of its value that day as the price tumbled from $156.38 to $140.26. It rebounded a week later, but there may have been a few investors who didn't enjoy that ride.
April's Fools falls flat
On April 1, 2018. Elon Musk tweeted out what looked like the first paragraph of a press release with the title "Tesla Goes Bankrupt." The tweet said even a last-ditch effort to sell Easter Eggs didn't help. "We are sad to report that Tesla has gone completely and totally bankrupt. So bankrupt, you can't believe it."
Despite the date — April Fool's Day — it still slightly spooked some investors. The company's stock dropped $3 the day after the tweet before rebounding.
Going private
Musk tweeted "Am considering taking Tesla private at $420. Funding secured." on Aug. 7, 2018, and Tesla's shares shot up 6% in response.
But the Securities and Exchange Commission didn't find it amusing. In a statement a month later, the government agency said Musk's tweet was misleading and caused market disruption, and it made Musk and Tesla pay $40 million in fines as part of a settlement against him for securities fraud.
Pump the brakes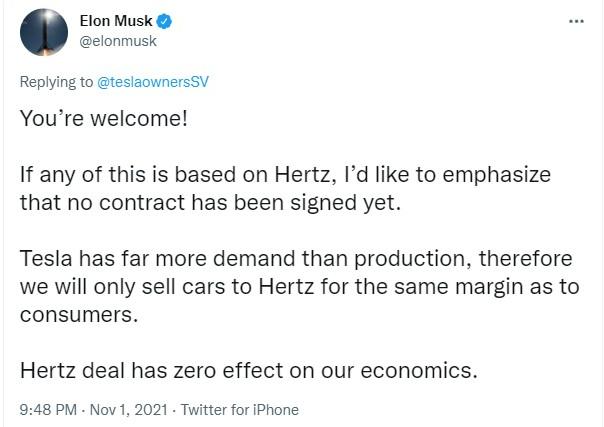 Rental company Hertz may be known for their slogan "Let's go," but they may have wanted to slow down because of a Musk tweet in late 2021.
After the rental car company announced that it would be buying 100,000 Teslas for its fleet, both Tesla and Hertz saw their stock prices increase. But in response to one thankful investor, Musk tweeted "If any of this is based on Hertz, I'd like to emphasize that no contract has been signed yet. 
Tesla has far more demand than production, therefore we will only sell cars to Hertz for the same margin as to consumers." Stocks of the electric car company tumbled almost 4% in response to the tweet.
Stoking a fire
In 2018, a Tesla on autopilot hit a fire truck, causing the driver to break their ankle. In response to a story about the accident in The Washington Post, Musk tweeted "It's super messed up that a Tesla crash resulting in a broken ankle is front-page news and the ~40,000 people who died in US auto accidents alone in past year get almost no coverage."
But the news still worried investors about Tesla's self-driving capabilities. After the May 14 tweet, it took the stock price almost a month to rebound.
Flying high
Starlink was launched in 2019 by Musk's SpaceX company ‌to provide users with internet access through satellites. Two years later, when asked if Starlink would be available on airlines, Musk tweeted "Yes, we are talking to airlines about installing Starlink. Please let them know if you want it on your airliner."
Airline internet provider Gogo, which would be a rival to Starlink, saw its shares fall as much as 5% in trading.
Bottom line
When trying to decide how to invest your money, Tesla may be a viable option for your portfolio. But unlike other companies, the electric car manufacturer has a CEO who can move stock prices simply with a tweet. That may be something you want to factor into your decision making before you commit to investing in Tesla. 

eToro Benefits
Buy fractional shares, invest exactly how much you want
0% commissions mean investing more for less
See what your friends are buying and selling
Limited time offer: Join eToro today and get a $10 bonus of the crypto of your choice