Investing in public stocks is easily accessible. However, public companies tend to be bigger and valued higher than your local coffee shop or new beer brewery. If you're an independent investor, it might sometimes feel like being a small fish in the big shark tank that is the stock market.
Enter Mainvest, an investment and crowdfunding platform that allows you easy access to investing in local businesses all over the United States. You could join businesses on the ground level and support them in their ventures, which may give you a sense of accomplishment and investment growth potential.
But how exactly does Mainvest work? And is it a platform you could trust? Let's explore the answers to figure out if Mainvest makes sense for you.
What is Mainvest?
Mainvest is a platform that focuses on helping investors find passive income by investing in small-to-medium businesses across the country.
The idea is that you could invest in small-to-medium businesses and receive a share of revenues from those you invest in. If the business is flourishing and growing, your income stream from the business grows as well.
Mainvest, Inc. was established in 2018 by co-founders Benjamin Blieden, Nicholas Mathews, and Felix Le Dem. The company headquarters is in Salem, Massachusetts.
One of the selling points of Mainvest is that the businesses listed on the platform are vetted. Mainvest contacts entrepreneurs who want to list their businesses on the platform to conduct a background check and review the company for potential fraud.
While this isn't a guarantee of no risk, it reduces the chances of scams. However, keep in mind that even if a business is legit, it doesn't mean it certainly is a good investment.
How does Mainvest work?
While some investors might choose stocks as their favorite investment vehicle, others might prefer supporting Main Street types of small-to-medium businesses.
Mainvest gives you access to investment opportunities in coffee shops, breweries, bakeries, and other local or independent businesses. You would make your investment, and you could receive a return on it as the business revenues increase.
According to Mainvest, you receive a share of revenue growth based on how much you invest in a business. Each quarter the business shares a portion of its revenue with investors.
Mainvest utilizes social responsibility against risk
Before they can list their business on the platform, Mainvest requires that a business raise at least $10,000 from 10 people the business knows personally.
Mainvest believes that attaching social value to investments might improve payout rates. By linking the capital that business owners raise to their family, friends, or loved ones, Mainvest aims to build trust and social responsibility between the business and its investors. As a result, Mainvest reports a track record repayment rate of more than 96% across its platform.
However, you might lose money despite the reported repayment rate. For example, the revenue of the business you invest in might not grow, or the business might end up closing down. Also, since Mainvest is itself a semi-new business, you might lose money if it folds.
Mainvest provides essential investment information
You could begin investing by looking into businesses that you think might be a good fit for your portfolio and investment goals.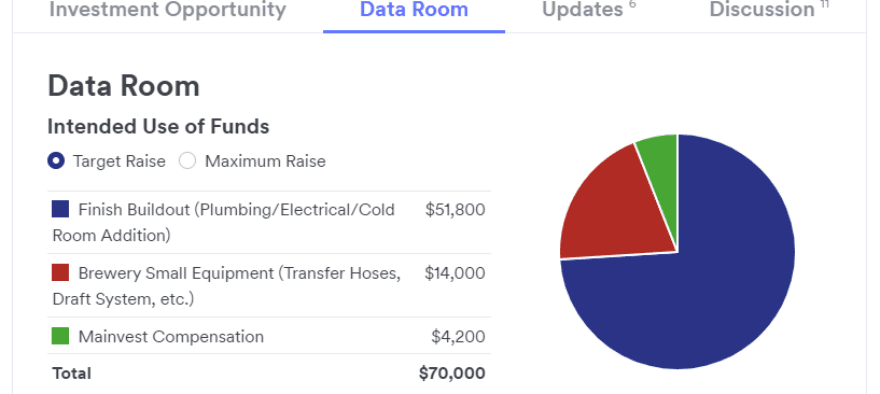 Mainvest offers several methods to learn more about the businesses listed on its platform. Whether you've signed up or not, you can find this information under the data room tab on each business investment proposal page. This tab includes information such as:
SEC filings: Mainvest lists whether the business you're investing in is regulated by the U.S. Securities and Exchange Commission (SEC). However, as most businesses on the Mainvest platform are small, this might often not be the case.
Business plans: Some businesses may include documentation of their business plan. The documentation might detail plans for using the funds they receive from Mainvest investors, their outlook for their future growth, and more.
Financial forecast: Some businesses might list an easy-to-digest financial outlook for the next 3 or 5 years. The information might include their expected expenses, sales, and gross profit.
Risk factors: Mainvest makes sure that you understand the specific risks you might be taking by placing your money in a small-to-medium business. This could include losing your money if a business fails, the tendency for small businesses to lack accounting control, and restrictions on investment sales that might stretch to 12 months or more.
This information allows you to evaluate the business you're considering investing in and the level of risk you might be taking. This risk could be due to stretched business goals, overreaching financial forecasts, or lower reporting requirements, meaning the business might not be as tightly regulated as bigger companies.
You could also talk directly with the business owners in the discussion tab at the top of each business investment proposal page. You don't need to sign up to use the discussion tab, but you'll need to fill in your first and last name.
Conversations could range from a simple good luck wish to detailed discussions of their current situation and future prospects. Keep in mind that these conversations are posted publicly.
Mainvest offers two types of investments
Once you choose a business to invest in, you could connect a U.S.-based bank account and put in at least $100 to get started. Mainvest doesn't support investing using your credit card or debit card.
Depending on the type of funding a business needs, you would receive either an equity investment security or a revenue-sharing note:
Equity investment security: This is a financial instrument that indicates partial business ownership. This form of investment would link your money to the performance of the business, so you'd gain or lose money as the business grows or shrinks. Potential gains might be high if the business is very profitable, but you also have a potential for loss.
Revenue-sharing note: This is essentially a form of debt that gets paid back with interest, which Mainvest refers to as an investment multiple. A revenue-sharing note has a maturity date, a date when the business would owe your money plus interest regardless of their revenue. This type of investment reduces your risk but also puts a cap on how much you'd earn. The amount you'd earn is defined in your revenue-sharing note.
Investments in equity-based securities allow you to take advantage of the more favorable rates of long-term capital gains taxes after holding these securities for more than a year. Mainvest displays the difference between both types, but it might be wise to double-check with a tax professional before moving forward.
On the other hand, revenue-sharing notes are considered debt investments since they're simply money the business owner borrows from you and then pays back with interest. As a result, the return on these investments might be reported on your taxes as interest, which would not qualify for the favorable long-term capital gains tax rates.
Mainvest doesn't offer a secondary market, so you might find it difficult to sell your securities or notes, and there might be restrictions on how you manage your note, including preventing you from transferring it to someone else or being able to ask for your money back.
How much can you earn with Mainvest?
Mainvest offers investment opportunities, meaning you could make money — or you could lose it. Your earnings would be based on the type of investment you put your money on.
The money you invest is sent to the company you chose and is used to grow its business. If you invest in equity securities, you'd receive quarterly reports and a percentage of the company's profits based on your equity share.
If you invest in revenue-sharing notes, your notes would have maturity dates. The maturity date is the deadline for getting back your original sum of money plus a certain percentage of interest.
Revenue-sharing notes are a form of investment that has a fixed rate of return and doesn't depend on a business's revenue. However, remember that if a business goes bankrupt, you may receive no money back.
Once the money has been disbursed and is settled in your Mainvest account, you could withdraw it to your bank account. Bank withdrawals are the only type of supported withdrawals on Mainvest.
Canceling your investment
It's important to note that businesses listed on Mainvest have an offering deadline. You can cancel your entire investment anytime up to 48 hours before that deadline. Your investment is locked in once that deadline passes and the company accepts your investment.
Canceling your investment after that deadline might not be possible. Selling your investment would be complicated and, in some cases, might simply not be possible.
When learning how to invest money, it's important to understand the risks involved and do your due diligence ahead of time. Make sure that you believe in the business idea and that you wouldn't need the money you invest for some time.
Who can earn money with Mainvest?
Anyone at least 18 years old and with a U.S. bank account could invest with Mainvest. Mainvest does not require its investors to meet the SEC definition of an accredited investor.
Mainvest requires you to invest at least $100 to get started. However, some projects or businesses might have their own minimum requirements. The relatively small starting point at $100 makes investing on Mainvest accessible to many people.
The low minimum might be one of the main selling points of Mainvest, as investing in private equities often comes with much higher requirements.
Keep in mind that some of the best brokerage accounts that give you access to the stock market might have an even lower minimum investment. Some may even offer fractional shares, allowing you to invest with as little as $1.
How to open an account with Mainvest
Signing up with Mainvest is free and fairly straightforward. It takes only a few minutes to set up your account:
1. Visit Mainvest.com to enter your email and create a password. It's also possible to sign up using your Google account.
2. Fill in your first and last name.
3. Select the categories you're interested in.
4. Provide an estimate of how much money you'd like to invest.
If you want to invest more than $5,000, you need to provide your Social Security number. If you want to invest more than $15,000, you must upload a government ID picture to verify your identity.
FAQs about Mainvest
Is Mainvest legitimate?
Mainvest is a legitimate funding platform that is registered with the Financial Industry Regulatory Authority (FINRA). Additionally, Mainvest is also registered with the U.S. Securities and Exchange Commission (SEC).
The company has raised $3 million in funding and is considered a startup in an early stage of development. Some prominent investors supporting Mainvest include Moving Capital and Rucker Park Capital.
Keep in mind that you could still lose money on your investment. Additionally, the money you place in investments offered via Mainvest isn't covered by the Securities Investor Protection Corporation (SIPC) insurance. You may lose your money if Mainvest or the businesses you invest in fail or shut down.
What businesses does Mainvest support?
Mainvest aims to support small-to-medium businesses that list themselves on their investment platform to raise capital through crowdfunding means. Mainvest uses a vetting process that requires businesses to first raise money from individual investors they personally know to create a form of social commitment to their investors.
Businesses listed on Mainvest are generally brick-and-mortar businesses and are small to medium in size. Examples are breweries, bakeries, coffee shops, housing cooperatives, and some regulated cannabis businesses.
What are the benefits of investing in Mainvest?
Mainvest could provide an easy way to access investments in local shops and small-to-medium businesses. This might offer an opportunity to diversify your portfolio with alternative assets.
Mainvest might allow you to get in on the ground floor with some of the businesses you invest in. This opportunity could present high profitability potential but also comes with a high risk.
Other investment apps to consider
If you're looking for other ways to invest and grow your portfolio, some of the best investment apps offer different methods of investing your money.
Betterment
Rather than investing in small businesses, Betterment chooses a portfolio of exchange-traded funds (ETFs) for you and automatically manages it. ETFs are often composed of stock, bonds, and other exchange-traded assets. Your portfolio is designed based on your risk tolerance and timeframe. Betterment offers access to financial planning advice and other portfolio goals, such as socially responsible investing.
Read our Betterment review.
Fundrise
You could invest in real estate projects without needing a considerable sum of money by using Fundrise. In fact, you could start with as little as $10. Fundrise allows you to choose from different types of projects, and you might receive ongoing revenue from these projects if they begin to make money.
Read our Fundrise review.
No matter how you decide to invest, it's essential to consider your risk tolerance and portfolio goals carefully. While Mainvest offers alternative investment opportunities, starting out with traditional asset classes might make more sense for new investors.
If you're a new investor, you could begin your journey by learning how to invest in stocks. Consider using stocks and other exchange-traded assets when saving for retirement. On the other hand, experienced investors might enjoy the diversification and opportunities offered by Mainvest.
FinanceBuzz is not an investment advisor. This content is for informational purposes only, you should not construe any such information as legal, tax, investment, financial, or other advice.
Lear Capital Benefits
Get your free precious metals investor kit
Discover why gold could be a hedge against inflation
See where experts think gold and silver could be heading
Learn how to diversify your portfolio with precious metals