The days are getting shorter, the leaves are getting crunchier, and we're rapidly approaching spooky season. That means it's time to pull out the pumpkins and start planning all of the scary fall festivities.
You could start innocently enough with a visit to the local corn maze or you could plan an entire trip around visiting the country's most iconic haunted houses. 
When you're booking your scary excursion, you can still avoid wasting money by using the top travel credit cards for benefits and points. These are the most iconic haunted houses found across the country.
Earn a $250 travel bonus with this incredible card
There's a credit card that's making waves with its amazing bonus and benefits. The Bank of America® Travel Rewards credit card has no annual fee and you can earn 25,000 points after spending $1,000 in purchases in the first 90 days of account opening.
You can earn additional points just by using this card for your everyday purchases — unlimited 1.5 points per $1 spent on all purchases. The 25,000 points can be redeemed for a $250 statement credit toward travel or dining purchases.
If you want to travel and dine out more, the Travel Rewards card can help you get where you want to go.
The best part? There's no annual fee.
SPONSORED
Alabama: Atrox Factory (Leeds)
The largest indoor haunted house in the Southeast, Atrox Factory is known for its elaborate sets. That can include everything from movie-inspired frights to holiday-themed haunts that run right through the holidays.
You can buy regular tickets for $25 or VIP for $50, allowing you to skip any lines and go straight to the scary fun.
Alaska: Fright Nite Haunted House (Anchorage)
A 10,000-square-foot haunted house in Anchorage is where Alaskans in search of a fright have gone for their Halloween fix for over three decades.
There are over a dozen themed rooms including the Endless Black Maze of Terror, clown rooms, laser shows, Elm Street, Mummy Boulevard, and Kings Pirate Cove.
Arizona: Fear Farm (Phoenix)
Attractions like Infestation and the Rot Shop will draw in visitors from across the state to Fear Farm.
You can get tickets starting at $27.99 depending on the weekday. The entry includes all of the spooky scenes, as well as a corn maze and a spooky carnival for those who prefer not to be startled.
If you're over 50, take advantage of massive travel discounts and trip-planning resources
Over 50 and love traveling? Join AARP today — because if you're not a member, you could be missing out on huge travel perks. When you start your membership today, you can get discounts on hotels and resorts, airfare, cruises, car rentals, and more.
How to become a member today:
Go here, select your free gift, and click "Join Today"
Create your account (important!) by answering a few simple questions
Start enjoying your discounts and perks!
An AARP membership not only unlocks discounts that could save you hundreds on your next trip, but you'll also have access to deals on vacation packages, guided tours, and exclusive content to help plan your next getaway.
Important: Start your membership by creating an account here and filling in all of the information (do not skip this step!). Doing so will allow you to take up to 25% off your AARP membership, making it just $12 per year with auto-renewal.
Arkansas: Reaper Haunted House (North Little Rock)
Make your way through over 30 scenes involving blood, gore, and everything that's spooky at The Reaper Haunted House.

For only $20 in October or $25 on Halloween night, you can get the scare of a lifetime in this popular haunted house that has been a favorite in Arkansas for over a decade now.
California: Universal Studios Halloween Horror Nights (Los Angeles)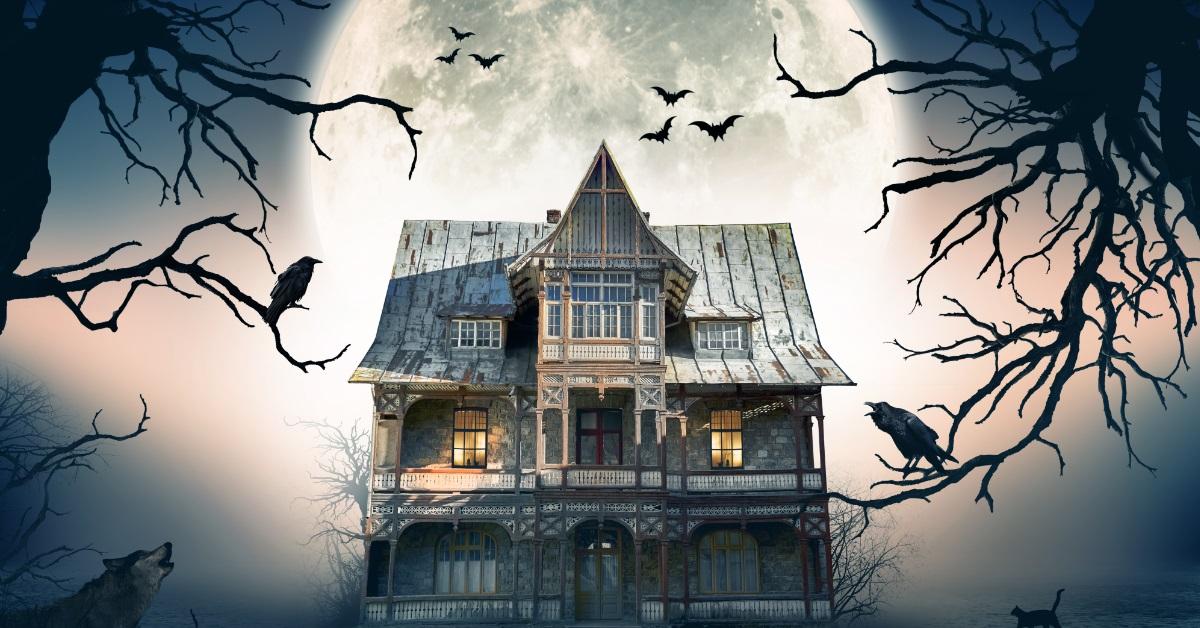 This is the ultimate horrifying experience for thrill seekers.
Universal Studios puts on the most professional of haunted houses with their Halloween Horror Nights, and, this year, you can expect a Stranger Things themed experience within the park.
Just be wary of the scary prices as general admission starts at $70, although you can actually save $40 on select nights.
Colorado: 13th Floor Haunted House (Denver)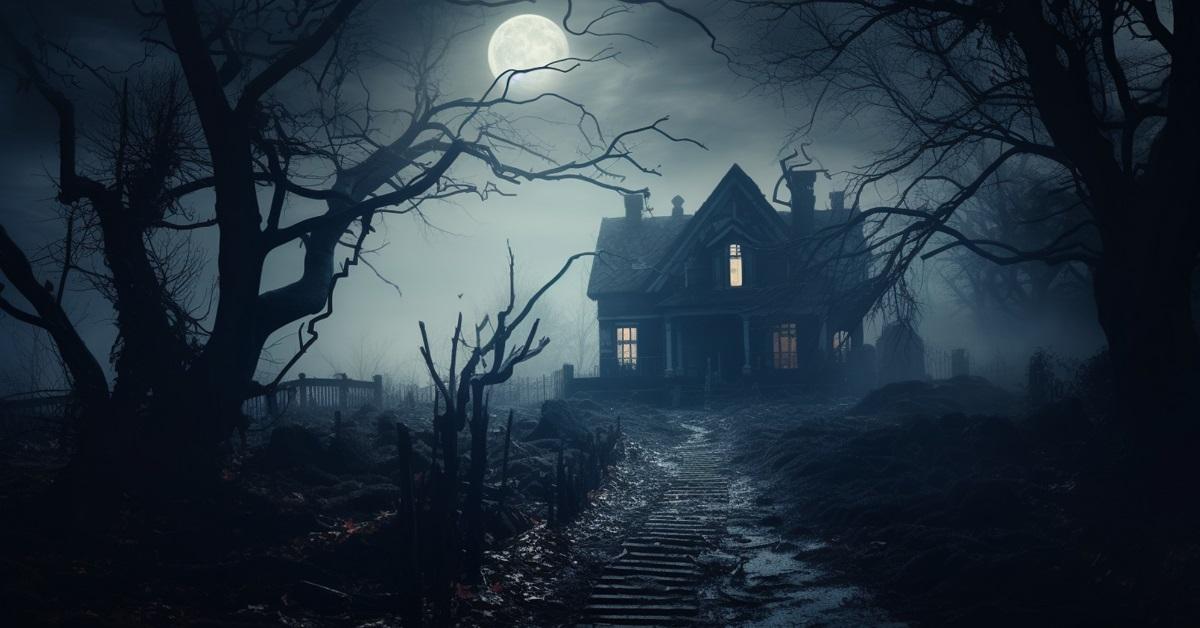 This year's 13th Floor Haunted House attractions are: Repossessed, the post-apocalyptic Deadlands, and the surreal spookiness of the Fairy Tale Nightmare.
One cool thing is, that you can add on additional stops like tarot card readings or ghoulish cocktails at the Shriekeasy Bar.
Connecticut: Trail of Terror (Wallingford)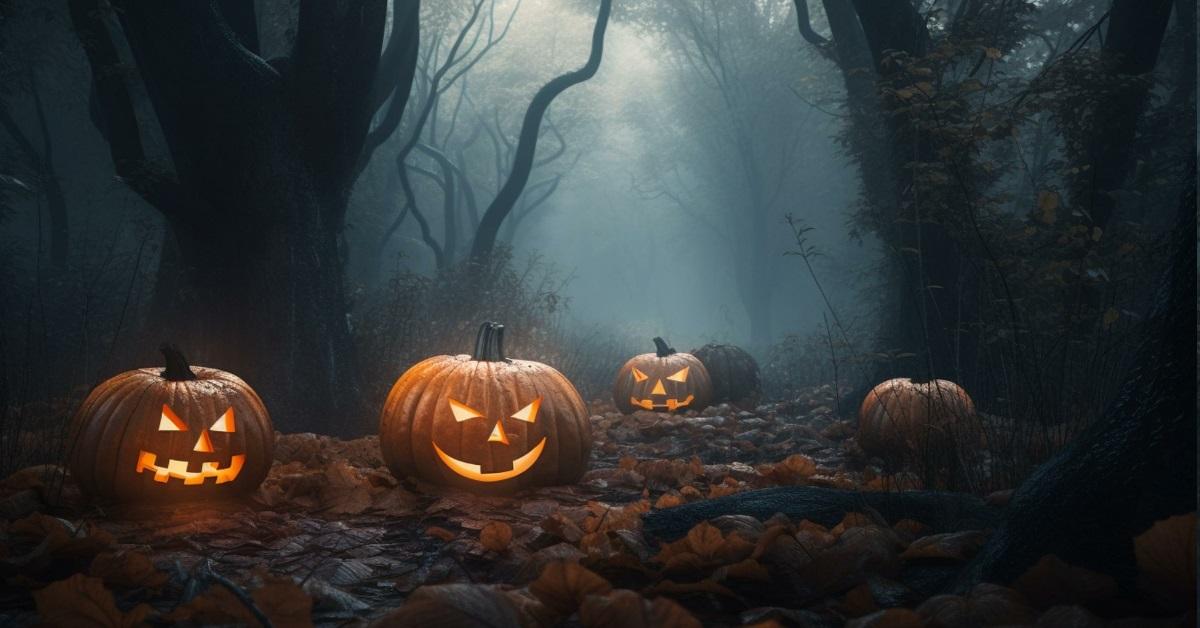 The Trail of Terror is built around the story of a pumpkin gone wrong, turned into the Harvester, who has become a dark force looming over the town.
You'll make your way through the hour-long trail encountering spooks all along the way. Well worth the $25 timed ticket or even the few VIP passes they are selling for $40 which limits your wait time.
Delaware: Frightland (Middletown)
Named one of the top 10 scary attractions nationwide by outlets including the Travel Channel, Forbes, and Huffington Post, you know that Frightland is going to be horrifyingly scary.
With themes that include the Horror Hayride and Zombie Town, this spine-chilling haunted attraction is well worth the weekday price of $40.
Florida: Halloween Horror Nights at Universal Orlando (Orlando)
From The Exorcist to The Last of Us™ to Chucky, Halloween Horror Nights at Universal Orlando brings out the best of horror movies and series.

You'll be transported to your favorite frightening scenes and live out Halloween in real life.
Earn a $250 travel bonus with this incredible card
There's a credit card that's making waves with its amazing bonus and benefits. The Bank of America® Travel Rewards credit card has no annual fee and you can earn 25,000 points after spending $1,000 in purchases in the first 90 days of account opening.
You can earn additional points just by using this card for your everyday purchases — unlimited 1.5 points per $1 spent on all purchases. The 25,000 points can be redeemed for a $250 statement credit toward travel or dining purchases.
If you want to travel and dine out more, the Travel Rewards card can help you get where you want to go.
The best part? There's no annual fee.
Georgia: Netherworld Haunted House (Stone Mountain)
Terrifyingly talented live actors and death-defying special effects have been drawing visitors from across the Southeast to Netherworld Haunted House for over three decades.
This year, frights including Primordial and Cryptoid Chaos join the spooky lineup.
Hawaii: Haunted Plantation (Waipahu)
Don't like clowns? Then don't even think about clicking through to the Haunted Plantation's website.
Over 60 actors come together to put on this hauntingly Hawaiian experience, with ghostly sights and spooky scenes. Tickets are $21.
Idaho: Requiem Haunted House (Caldwell)
Three floors and over 13,000 square feet greet guests as they make their way into the most ghoulish of scenes in the Requiem Haunted House.
The building is over 100 years old, adding to the dark and eerie atmosphere. Talk about a special Halloween scary treat for a not-so-scary price, you can pay $15 for this experience that lasts about 40 minutes.
Illinois: HellsGate Haunted House (Lockport)
Combine a ghost hunter's dream of walking through a haunted mansion with a haunted house fanatic's favorite gruesome scenes, and you'll get the HellsGate Haunted House.
This year, the frights get even better as the prisoners from Statesville Prison meet the House Staff of HellsGate. Tickets start at $37.
Indiana: The Haunted Angelus (Indianapolis)
While The Haunted Angelus' main goal is to scare thrill seekers who dare step foot through its doors, it also has a bigger mission.
This fright site charges just $16 and proceeds go to support Angelus, a group home for those with cerebral palsy.
Iowa: Scream Acres (Atkins)
Are you ready for the 3D Sinister Silo, Cell Block Z, the Slaughterhouse, or the Haunted Cornfield?
For $46, you can find all your frights by experiencing all four of these haunted attractions, but watch out for flash sales that can bring ticket prices down to $34.

Prefer to take it easy? The Glass Alley Beer Garden is more laid-back than spooky, but only allowed for those who are 21 and up.
Kansas: Exiled Trail of Terror (Kansas City)
The Exiled Trail of Terror isn't your usual stroll through a haunted house. Here, you're going to be running through the forest, testing your physical strength as spooky sights come at you from all angles.
Tickets start at $49, and the website warns that physical stamina is necessary.
Kentucky: Waverly Hills Sanatorium (Louisville)
For those who prefer a more haunting experience rather than a gruesome production, Waverly Hills Sanatorium is known as an active paranormal site.
You can book a tour and see for yourself what might be lurking in this former tuberculosis sanatorium for $25.
Louisiana: The Mortuary Haunted House (New Orleans)
In New Orleans, you'd expect nothing less than a side of Voodoo and an actual former mortuary with your haunted house experience.
This year, the haunted house takes on a wedding theme, transporting you to celebrate the Eternal Prince of the Air and the Undying Queen of Darkness. Tickets start at $30 to join the frightening festivities.
Maine: Maineiac Manor (Bangor)
Intricately planned out spooky themes and reasonable tickets?
Maine's Maineiac Manor haunted house is a must-see in the Pine Tree State. Tickets start at just $18 on Saturdays to experience the fully frightening event.
Maryland: Bennett's Curse Haunted House (Baltimore)
Bennett's Curse Haunted House in Baltimore has attractions that draw in Halloween fanatics from across the mid-Atlantic.
From the House of Demons to Halloween 3D to Ravenbrook Asylum and Legends of Halloween, enjoy all attractions with ticket prices starting at $27.99.
Massachusetts: Barrett's Haunted Mansion (Abington)
Elaborate storylines involving decade-old curses, chemical leaks, and other ghoulish tales set the stage for Massachusetts' most terrifying Halloween attraction that will make you want to travel more. 
You can buy tickets for Barrett's Haunted Mansion starting at $40 this Halloween season.
Michigan: Erebus Haunted Attraction (Pontiac)
A four-story haunted house with record-breaking length! Erebus Haunted Attraction brings terrifying surprises that draw in thrill-seekers looking for once-in-a-lifetime scares and Hollywood-level effects.
But, don't worry, they also manage to throw in a few laughs along the way. General admission starts at $20 for the weekdays.
Minnesota: The Haunting Experience on Highway 61 (Cottage Grove)
A spine-chilling haunted house is paired with the longest-running hayride in Minnesota at this legendary haunted experience that costs as low as $24.
Along the hayride, you'll come face-to-face with the haunted forest and the horrors of Wilhelm Steelworks.
Mississippi: Cedar Hill Farm's Haunted Hayride (Hernando)
Haunted hayrides can either be slightly spooky or downright terrifying, and this one veers a sharp right towards terrifying.
Since 1996, visitors have been experiencing extreme frights, including favorites like Sensturbia, the Zombie Apocalypse: Paintball Target Shoot, and the Corn Maize.
Missouri: The Beast (Kansas City)
Voodoo, werewolves, and phantoms are lurking around every corner at The Beast, a legendary haunted house in Kansas City that people from several states come to every year. 
Tickets start at $35, though you can spend over $100 if you want to experience the full scope of frights at this well-known attraction.
Montana: Field of Screams (Victor)
For the price of $24 admission, you'll experience more haunts than you could ever expect at the Field of Screams.
There are 5 acres of terror, 3 quick escape rooms, and over 30 different opportunities to be absolutely frightened.
Nebraska: Scary Acres (Omaha)
Combine an iconic haunted attraction with performers from the Omaha Circus Arts, and you're in for a chilling and incredible experience.
Between running from the creepiest of characters, you'll watch flamethrowers defy the laws of what seems possible for humans.
Nevada: Freakling Bros. Trilogy of Terror (Las Vegas)
What happens in Vegas, stays in Vegas, including the terrifying stories you'll keep after going to the Freakling Bros. Trilogy of Terror.

A three-part haunting experience including a visit to the creepiest of fortune tellers, with tickets starting at $50.
New Hampshire: Haunted Overload (Lee)
Depending on the level of scare you're ready for, you can choose the Day Haunt, a walk through the haunted trail without any frights, the Friday Night Lite, with spooky lighting but no monsters, or the Haunted Overload, which throws you into the deep end of terror.
New Jersey: Brighton Asylum (Passaic)
When you want to experience the real thing, go to Brighton Asylum, which was shut down in 1952 due to issues with disappearances and horrid living conditions.
This "active" location has now been turned into both a haunted house and a place for ghost hunters to conduct investigations.
New Mexico: McCall's Haunted Farm (Moriarty)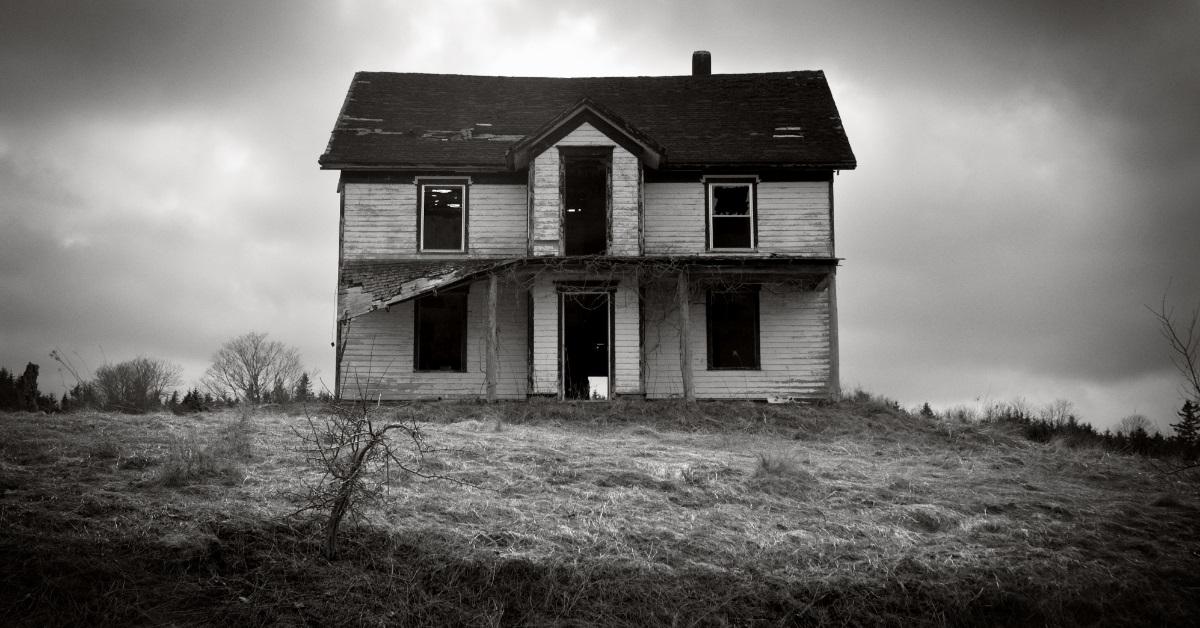 McCall's Haunted Farm has an appropriately Old West theme that includes a haunted cattle barn and meat processing facility.

You also find a haunted cornfield, all haunted by those who were wronged by Farmer McCall. Purchase tickets starting at $32.99.
New York: Headless Horseman Hayrides & Haunted Houses (Ulster Park)
For over 30 years, New Yorkers have flocked to the Headless Horseman Hayrides & Haunted Houses, where they can experience the eerie tale for themselves.
If you dare, tickets start at $59.95, and there's also a children's day with significantly fewer frights.
North Carolina: Woods of Terror (Greensboro)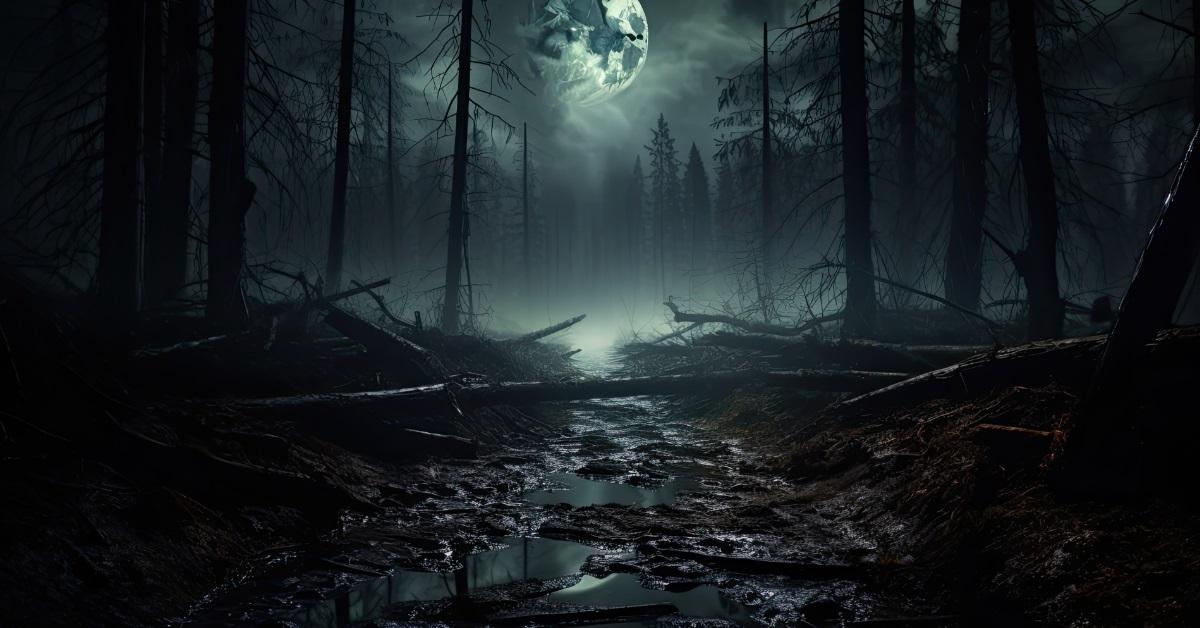 Over 16 haunted attractions await in North Carolina's dark and terrifying Woods of Terror.

But it's not all about the screams here. You'll also find the Monster Midway, where you can take a break for games, food, and fun.
North Dakota: Acres of Terror (Leonard)
At the Acres of Terror, you'll find all sorts of spooky characters from a werewolf to an erratic bus driver. There's a corn maze, an abandoned school, and more lurking on this rural property, ready for frights.
Ohio: Haunted Hoochie (Pataskala)
Get ready for one of the most intense haunted house experiences at the Haunted Hoochie.
From tight crowds packed into terrifying spaces to monsters ready to grab you at every turn, this is a fright for the senses. General admission tickets start at $30.
Oklahoma: The Trail of Fear Haunted Scream Park (Lawton)
Over 26 seasons, the Trail of Fear Haunted Scream Park has perfected their spooky experience.
This year, they have Twisty's Psychotic Nightmare with a terrifying maze, the Hackensaw Haunted Hayride, and more. You can even be a Scream Pass Season Ticket Holder if you can't get enough.
Oregon: Fear PDX Haunted House (Portland)
From Rotten Pulp to Smiley's Fun House to Hazelwood Hills Asylum and nearly a dozen other attractions, Fear PDX Haunted House has something for everyone's specific fright-inducing dreams. Tickets start at $29.99
Pennsylvania: Eastern State Penitentiary's Terror Behind the Walls (Philadelphia)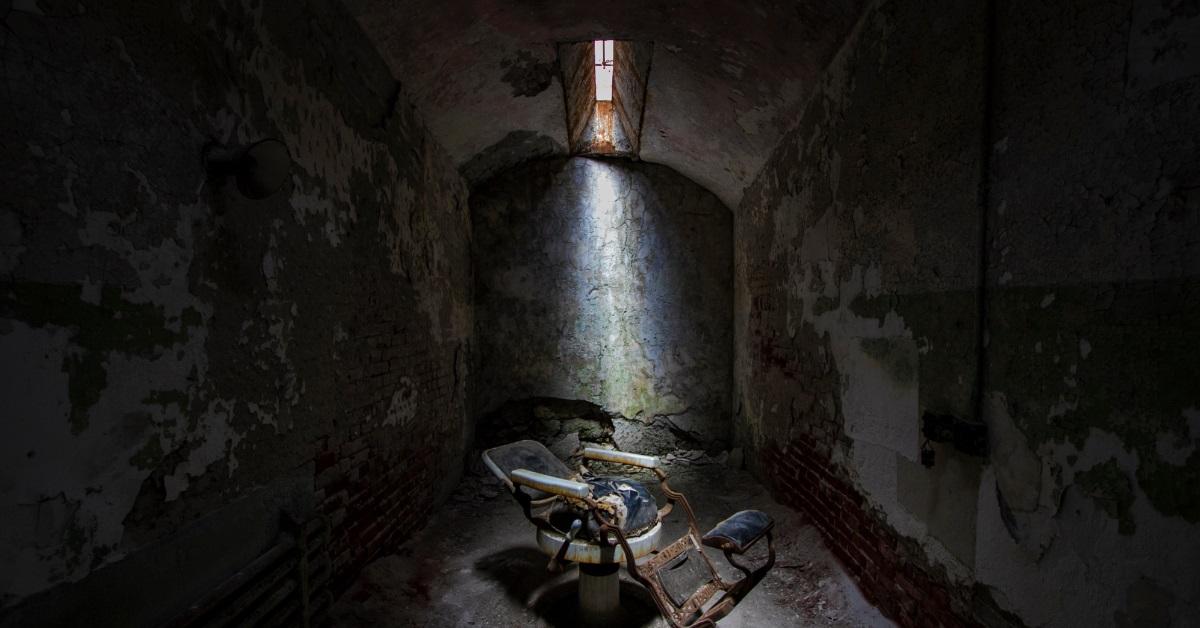 Located in an actual former prison, Terror Behind the Walls is a favorite of haunted house enthusiasts and paranormal hunters alike.
This Halloween experience is only for the bravest of souls — it's as spooky as it gets.
Rhode Island: Scary Acres (Hope)
The screams just keep coming at Scary Acres, where New Englanders start with a Dark Harvest Hayride before going into Haunted Town.
Then, they're shuttled over to Haunted Burial Grounds Corn Field before emerging and walking into the depths of their latest attraction, the Curse of the Bayou. You can see all three attractions for $30 or $35 on peak nights.
South Carolina: Kreepy Hollow (Bishopville)
For the creepiest of swampland houses, start off with the experience in Kreepy Hollow.

For the biggest frights, go on the two-mile ride that explores seven deadly scenes hidden throughout the terrifying property. Tickets start at $25.
South Dakota: Fear Asylum Haunted House (Brookings)
Fear Asylum is in its lucky number 13th year, which seems fitting for the spookiest place in South Dakota.
The entire storyline centers around an asylum that's lost control of its patients, and for just $12, you can become part of the story yourself.
Tennessee: Ruby Falls Haunted Cavern (Chattanooga)
Ruby Falls Haunted Cavern becomes the scene of a gruesome Halloween fright when it's transformed into the town of Dread Hollow and Deliverance Escape Rooms. You can also experience a ghost walking tour of Ruby Falls while you're here.
Texas: Cutting Edge Haunted House (Fort Worth)
Building a haunted house attraction in a real haunted place is a double whammy. If you're coming into the state for the season, consider using the right credit card that help you earn travel rewards and lower the cost of your trip.
Appropriately named Cutting Edge Haunted House is located inside a 100-year-old abandoned meat packing plant, but now it's become something much darker. Tickets start at $39.95.
Utah: Fear Factory (Salt Lake City)
Featured on Travel Channel, the Fear Factory is a favorite of thrill seekers in Utah.
From the Zombie Bus to Grimm Ghost Tours, there are countless ways to scream at this Halloween destination. General admission starts at $18.99.
Vermont: Nightmare Vermont (Burlington)
Live stage combat and original immersive theater are combined in this unique and haunting experience.
Staffed by volunteer actors and put on for charity, Nightmare Vermont is a unique and frightful experience you won't forget — even if you want to.
Virginia: Haunted Nightmares (Winchester)
You can sign up for screams starting at just $10 at Haunted Nightmares.
From an escape room to the Haunted House, filled with actors ready to startle and scare visitors, this haunted attraction is a favorite of those from across the Virginia region.
Washington: Stalker Farms (Snohomish)
Have you ever wanted to be transported right into a horror movie?
That's exactly what you're signing up for when you fall into the haunted corn trails at Stalker Farms. You can experience the Slasher Family Homestead and Pogo's Funny Farm​ for just $19.95.
West Virginia: Infernum In Terra (Wheeling)
One of the most gruesome and spooky haunted houses in West Virginia, the Infernum In Terra haunted attraction is designed to elicit screams at every turn.
General admission starts at only $15. Not up for the frights? There's also a Little Ghouls Family Friendly Haunt that's designed for everyone.
Wisconsin: Abandoned Haunted House Complex (Mt. Pleasant)
There's something ironic about the Abandoned Haunted House Complex being located in Mt. Pleasant, right?
There are three different haunted houses in one at this spooky compound, and, for $40, you can visit all three scary sights in one night.
Wyoming: Nightmare on 17th Street (Cheyenne)
Since 1989, the Nightmare on 17th Street has been terrorizing Wyomingites in a verified haunted building filled with 15 horrific rooms.
But, don't be too alarmed, it's all done for charity and to raise money for local causes. Tickets start at $17.
Bottom line
Finding quirky adventures like visiting haunted houses across the country is a great way to travel more and explore cities that might otherwise miss your radar.
And, while you're traversing from state to state in search of iconic landmarks, make sure you use one of the best credit cards for travel to maximize your points and earn perks on future getaways. 

Easy-to-Earn Unlimited Rewards
Earn 25,000 online bonus points after you make at least $1,000 in purchases in the first 90 days of account opening - that can be a $250 statement credit toward travel purchases
Earn 1.5 points per $1 spent on all purchases
Longer intro APR on qualifying purchases and balance transfers
No foreign transaction fees
Earn unlimited 1.5 points per $1 spent on all purchases, with no annual fee and no foreign transaction fees and your points don't expire.
25,000 online bonus points after you make at least $1,000 in purchases in the first 90 days of account opening - that can be a $250 statement credit toward travel purchases.
Use your card to book your trip how and where you want - you're not limited to specific websites with blackout dates or restrictions.
Redeem points for a statement credit to pay for travel or dining purchases, such as flights, hotel stays, car and vacation rentals, baggage fees, and also at restaurants including takeout.
0% Introductory APR for 15 billing cycles for purchases, and for any balance transfers made in the first 60 days. After the intro APR offer ends, 18.24% - 28.24% Variable APR will apply. A 3% fee applies to all balance transfers.
If you're a Preferred Rewards member, you can earn 25%-75% more points on every purchase. That means instead of earning an unlimited 1.5 points for every $1, you could earn 1.87-2.62 points for every $1 you spend on purchases.
Contactless Cards - The security of a chip card, with the convenience of a tap.
This online only offer may not be available if you leave this page or if you visit a Bank of America financial center. You can take advantage of this offer when you apply now.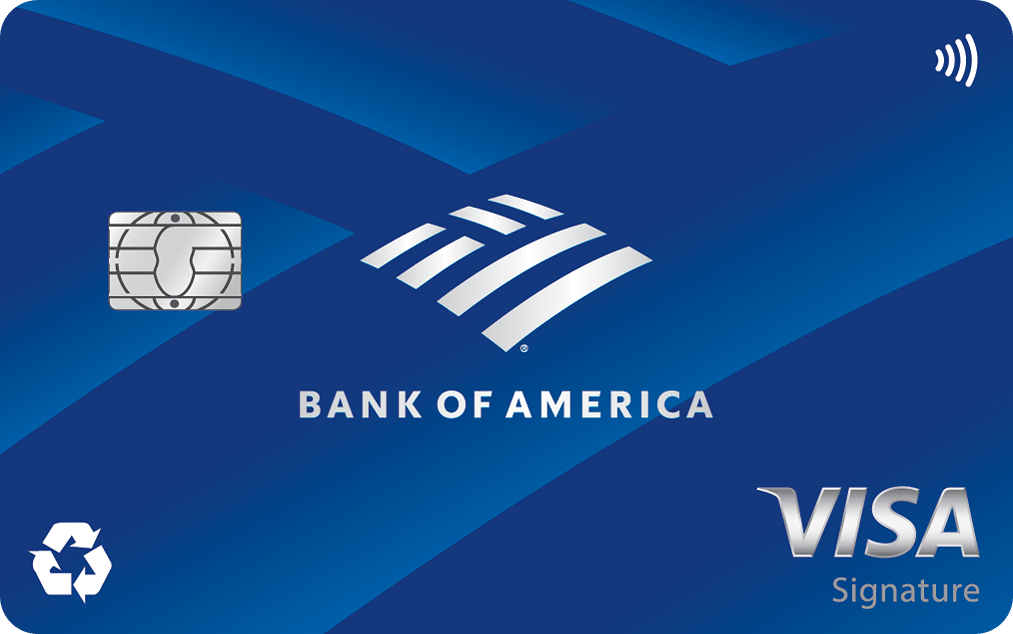 4.1
FinanceBuzz writers and editors score cards based on a number of objective features as well as our expert editorial assessment. Our partners do not influence how we rate products.
Apply Now
on Bank of America's secure website
Read Card Review
Intro Offer
Earn 25,000 online bonus points after you make at least $1,000 in purchases in the first 90 days of account opening - that can be a $250 statement credit toward travel purchases