Knowledgeable hosts, one-of-a-kind properties, and reasonable prices have lured plenty of travelers away from conventional hotels and into Airbnbs. However, some Airbnb users have encountered outrageous rules once they checked into their homes away from home.
Following are 10 of the most ridiculous rules users have encountered when searching for an Airbnb.
Astronomical cleaning fees
We've all been there: You search for an Airbnb and find one with a good price, only to be discouraged when the cleaning fee makes the booking no more affordable than a hotel.
That was the sentiment of @masonbriles, who wrote the following on Twitter: "They got $150 cleaning fee on a $90 a night apartment. I'll spend that at a hotel and they'll make my bed for me thank you."
Another Airbnb customer, @_va_ne, had a similar experience: "An Airbnb host when we went to Joshua Tree wanted to charge me $375 for not arranging the pillows correctly and for some hair in the shower."
A request to pretend you're something you are not
Picture this: You book what seems like the perfect Airbnb, you hop on the plane, and then you arrive — only to be told to pretend you're not staying at an Airbnb.
This has happened to more than one user of the service, including Patricia Payne. Payne showed up at an Airbnb only to be told by the host to act like a fugitive.
"He told me that if anyone asked, I was just here to visit him and his family, like we were friends … and not to speak to security or the concierge or really anybody who worked there," Payne said.
Demands to avoid heating the pool or using the hot tub
Some of the best aspects of staying at an Airbnb are the amenities, like swimming pools and hot tubs.
So, it's understandable that Twitter user @tristangraham lamented Airbnb hosts who charged $100 per day for heated pool access, but repeatedly texted not to use the pool too much.
Forbidding use of the climate controls
You would think that when you stay at an Airbnb, your hosts would want you to be comfortable. But Twitter user @cre8iv_sparq was in for a surprise after learning there was no option to control the temperature in an Airbnb.
"My last Airbnb wouldn't let me control my own A/C in FLORIDA!" the traveler tweeted. "I was melting during the day. I just wanted to nap after the plane and couldn't."
Strange food requests
We get it. Airbnb hosts want you to respect the property, be careful when using appliances, and in general take care of the space.
However, one host took things a bridge too far when telling Twitter user @tradbunni what couldn't be eaten during a stay at the property. "This one Airbnb was ran [sic] by vegetarians and they said we weren't allowed to eat meat in the house," the traveler explained.
However, we do have sympathy for hosts at another Airbnb who had to specifically ask guests not to leave bags of nuts on the floor, which were attracting squirrels.
Excessive chore lists
Arguably one of the most common gripes among Airbnb users is the excessive chore lists that hosts expect you to complete.
"My last Airbnb was like, 'Just run a load of laundry, take out the trash, remove the weeds, clean the gutters, and leave the key in the lockbox before leaving,'" Twitter user @minemystake quipped.
And if you mess up the chores? It can cost you, says Twitter user @thesarahkelly. "When I went home for Christmas they charged us $50 for completing the chore list incorrectly," the traveler shared. "I'm still not sure where I messed up."
No delivery allowed
Depending on where you're staying, your food needs may vary at your Airbnb. If you plan to cook and there's a kitchen you can use, great.
However, Twitter user @TrondyNewman had a rude awakening when the food she ordered never arrived at her Airbnb.
"The last one I stayed at the owner turned away my delivery person citing her 'no guests' policy," she revealed.
No noise allowed…at all
If you've ever been stuck with loud neighbors, you know the struggle. But some Airbnb hosts have taken it too far when it comes to their rules concerning quiet hours.
"At 8pm the owner texted us and said we were too loud – we were literally barely speaking and certainly not loudly," Twitter user @Owl_Whisperer explained. "We then whispered."
User @aesthdistance1 likely can relate after writing the following about a stay at another Airbnb: "The owners told me to stop walking around in the apartment between the hours of 10 am - 10 pm bc the downstairs neighbors didn't like the sound of footsteps, even barefoot."
Asking for pet-sitting
Finally, believe it or not, some Airbnb hosts have asked guests for help taking care of pets.
"There was a listing that came with a cat named Cosmo and in the notes had 'feeding schedule and care instructions will be provided' like I was paying HER $98/day to cat sit this thing," Twitter user @cannotbedan wrote.
Twitter user @Caisie had a similar experience when the Airbnb host asked the traveler to look for the cat and supervise it. "Ma'am, I'm not here for a capture & rescue mission," @Caisie joked. "I'm on a business trip."
Conversely, one Airbnb host explicitly had to make a rule about no pet grooming after one guest washed a dog in the shower.
Bottom line
While plenty of Airbnb hosts have reasonable rules for people who rent properties, that's not always the case. In fact, sometimes the regulations that hosts ask their guests to abide by are downright wild.
If you do decide to book an Airbnb, consider using one of the best travel credit cards to reserve your special getaway. And make sure to show respect to both your host and future guests by treating the Airbnb rental as if it were your own home.
Easy-to-Earn Unlimited Rewards
Earn 25,000 online bonus points after you make at least $1,000 in purchases in the first 90 days of account opening - that can be a $250 statement credit toward travel purchases
Earn 1.5 points per $1 spent on all purchases
Longer intro APR on qualifying purchases and balance transfers
No foreign transaction fees
Earn unlimited 1.5 points per $1 spent on all purchases, with no annual fee and no foreign transaction fees and your points don't expire.
25,000 online bonus points after you make at least $1,000 in purchases in the first 90 days of account opening - that can be a $250 statement credit toward travel purchases.
Use your card to book your trip how and where you want - you're not limited to specific websites with blackout dates or restrictions.
Redeem points for a statement credit to pay for travel or dining purchases, such as flights, hotel stays, car and vacation rentals, baggage fees, and also at restaurants including takeout.
0% Introductory APR for 15 billing cycles for purchases, and for any balance transfers made in the first 60 days. After the intro APR offer ends, 18.24% - 28.24% Variable APR will apply. A 3% fee applies to all balance transfers.
If you're a Preferred Rewards member, you can earn 25%-75% more points on every purchase. That means instead of earning an unlimited 1.5 points for every $1, you could earn 1.87-2.62 points for every $1 you spend on purchases.
Contactless Cards - The security of a chip card, with the convenience of a tap.
This online only offer may not be available if you leave this page or if you visit a Bank of America financial center. You can take advantage of this offer when you apply now.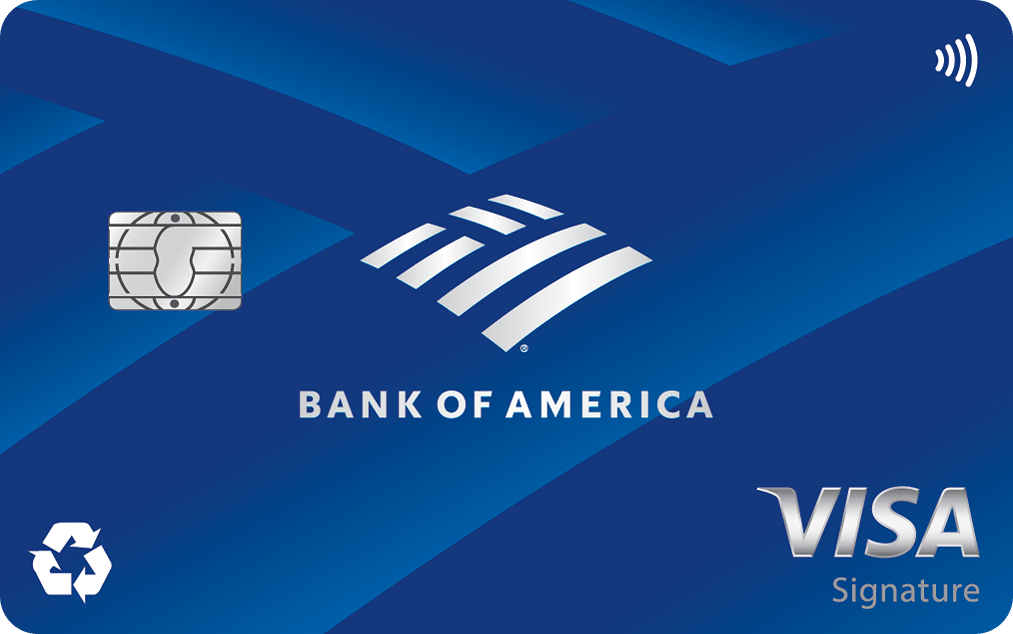 4.1
FinanceBuzz writers and editors score cards based on a number of objective features as well as our expert editorial assessment. Our partners do not influence how we rate products.
Apply Now
on Bank of America's secure website
Read Card Review
Intro Offer
Earn 25,000 online bonus points after you make at least $1,000 in purchases in the first 90 days of account opening - that can be a $250 statement credit toward travel purchases