Whether you're using points, miles, or hard-earned cash, choosing a vacation destination can be overwhelming. But if you're not careful, you could end up spending your precious vacation time in an overpriced locale surrounded by tourists.
To help you avoid this predicament, we've rounded up a list of 11 overrated destinations you should think twice about visiting and uncovered lesser-known spots that are worthy of a trip. We've done the research for you, so you can focus on planning an exciting trip. And with the miles you've earned on your best travel credit card, you could be sightseeing sooner than you think.
1. Overrated destination: Hawaii
Hawaii is a highly coveted destination, and because it's so popular among tourists, it's priced to drain your vacation fund. Members of our FBZ Elite - Travel and Points Facebook group commented that Hawaii felt fake and was filled with subpar restaurants. You might even end up with food poisoning from the buffet at an overpriced luau, like I did.
And while I can't deny the beauty of Hawaii's beaches, many resort areas have become overcrowded, and our members noted that there's no real vibe unless you get pretty far away from the tourist spots. Plus, there are hundreds of gorgeous beach destinations that cost far less than Hawaii.
Where to go instead: Aruba
Aruba has turquoise blue water and soft, white sand that's comparable to some of the most beautiful beaches in the world. You'll also feel safe as well as be able to access clean drinking water and enjoy the local street art. The island has banned plastic bags, and the sparklingly clean beaches reflect those efforts. What's more, it can be surprisingly affordable to get there, especially when compared to Hawaii.
2. Overrated destination: Las Vegas
Las Vegas is marketed as an all-around good time, but unless you want to spend all your time gambling, the best you can hope for is a headache from an oversized, frozen alcoholic beverage and a deep feeling of disappointment after waiting in line for expensive (and sometimes, subpar) entertainment.
Sure, there's plenty of shopping, but who wants to navigate through an overcrowded mall filled with drunk people? There are better options than this adult playground, even for people who love to party.
Where to go instead: New Orleans
If you're looking for all-hours nightlife, New Orleans has it — but it also has so much more to offer, from its vibrant music scene to its unique cuisine. You can hear top-notch jazz on Bourbon Street, see historic architecture, and watch artists at work in Jackson Square. Go during Mardi Gras if you're interested in seeing the streets filled with costumed partygoers.
3. Overrated destination: Times Square, New York
New York City is packed with tourists, especially in Times Square, and the long commutes and expensive hotels and restaurants mean you'll get a lot less bank for your buck ⁠— and your time.
While Times Square may seem iconic (and the sheer number of tourists may have you believe there's something special about it), you'll encounter the same chain stores you would in any regular mall. We recommend skipping the trip and checking out another part of New York City — or another city altogether.
Where to go instead: Boston
Boston provides a lot of the great entertainment you would find in New York City without the crowds. You'll be awed by the talent of street performers as much as you'll enjoy the city's bustling theater scene. There are plenty of museums, gorgeous parks, and other historic sights to see along the Freedom Trail. As an added bonus, you can find nice hotels at much lower prices than in NYC.
4. Overrated destination: Paris
Paris may be one of the most cited dream destinations out there, and that's part of the problem: It may not live up to the high expectations. This feeling of disappointment some tourists feel even has a name: "Paris Syndrome." Our Facebook group members agreed that Paris can be a dirty, smoke-filled city that's expensive to stay in and homes some less-than-welcoming locals.
Where to go instead: Krakow
Krakow, Poland has everything you're looking for in a European vacation — excellent food, gorgeous architecture, a rich history, and affordable accommodations. You can see underground chapels, castles, art museums, and more. Our Facebook members were hoping to keep Poland a secret, but we just had to share it with you; it's one of the most underrated destinations in Europe.
5. Overrated destination: Rome
There are so many bustling tourist sights in Rome, you'd be hard-pressed to get a photo on your smartphone that didn't include the backs of 100 strangers. Ultimately, the Spanish Steps are just stairs and the Trevi Fountain is just a fountain. And while there are some beautiful churches and museums in Rome, the lines to see the most popular sights are long enough to make you want to give up and go back to the hotel.
Where to go instead: Croatia
Croatia has a rich cultural history, with beautiful cathedrals and palaces that remain uncrowded when compared to Rome. In addition, the country also has plenty of nature to explore, from stunning parks to beaches to trails and bike routes. You may even catch sight of a dolphin leaping through the waves of the Adriatic Sea or encounter wild horses on land.
6. Overrated destination: Santorini
Santorini looks beautiful from a distance, but when you're stuck in a crowd of tourists trying to make their way between the white buildings, it can be pretty miserable. Furthermore, this highly sought-after destination isn't cheap. Our Facebook members noted that other Greek islands are far more beautiful and not nearly as packed with people. While a selfie in Santorini might get you some Instagram cred, rumor has it that the island just isn't that special in person.
Where to go instead: Naxos
The Greek island of Naxos boasts the gorgeous views of Santorini without the crowds. Explore the countryside, lounge on the beaches, check out ancient ruins and castles, and more. Our members noted that Naxos felt more authentic than Santorini and had more reasonable accommodations as well.
7. Overrated destination: Barcelona
Several of our Facebook members were disappointed with their experiences in Barcelona, Spain, and one noted that the city gets particularly overcrowded in the summers. Some people find it overwhelming and confusing to get around — and not quite beautiful enough to be worth the frustration. You might even get pickpocketed or harassed by street vendors. Staying and dining out in the city is also relatively expensive.
Where to go instead: Valencia
The coastal city of Valencia in Spain is packed with things to do and won't cost you an arm and a leg like other cities in Europe. It will feel a bit like a waterfront sci-fi adventure, what with the futuristic complex of museums, and you can easily explore without running into large tour groups everywhere you go. Valencia has some of the world's best farmers' markets and is known for its fresh seafood, so expect a rich culinary experience as well.
8. Overrated destination: Machu Picchu
Members said Machu Picchu in Peru is so overcrowded that you might find yourself waiting in line just to hike up a hill. There may be beautiful views, but there's nothing serene about being stuck in a crowd of strangers waiting to take in the sights.
Some people say it feels more like a theme park than a piece of history. Indeed, many of the "souvenirs" sold on the streets are actually made in China. Also, be prepared to spend exorbitant amounts of money getting to where you want to go, since transportation is quite pricey.
Where to go instead: Tikal
Guatemala's Tikal is relatively undiscovered and gives you the experience of being alone in the jungle. Hike and climb your way to a giant Mayan temple without bumping into anyone along the way. You'll see more wild animals and birds in this incredible green paradise than you will people. A lot of our Facebook members haven't even heard of Tikal, so head there now before it gains popularity.
9. Overrated destination: Denmark
Expect to pay a high price for everything in Denmark, even water. Beyond that, there isn't a whole lot to do when compared to some of the other exciting destinations on our list. There are castles and museums, but they may not be worth the cost of a hotel stay. And while pictures of Copenhagen may look impressive, there are few sites worth seeing in person; the colorful townhouses alongside canals are few and far between.
Where to go instead: Belgium
You'll find better restaurant fares and rates on hotels in Belgium, a country loved for its medieval towns. There are beautiful canals and cobblestone streets through Bruges, for example, and distinctive architecture in Brussels. The food is superb and the chocolate and beer are to die for. You can explore museums and galleries, kayak along canals, hide out in caves, or relax on the beach. The country is also home to some of the most delightfully bizarre carnivals.
10. Overrated destination: Fiji
Fiji is certainly a desirable beach destination but so are hundreds of other warm-weather escapes, from Cancun to the Bahamas. The resorts in Fiji are costly, and you have to get away from them in order to have an authentic experience. Some people say the food is disappointing as well. Our Facebook members also mentioned getting scammed by taxi drivers and other locals as well as feeling generally unsafe.
Where to go instead: Tasmania
Whether you're paying with cash or points, you'll get to Tasmania for far less than a trip to Fiji would cost. There's also a lot to love about the landscape, with beautiful parks, reserves, and beaches to explore. It's also an easy trip to Sydney and other destinations in Australia if you want to take a multi-stop vacation.
11. Overrated destination: Cancun
If you're just looking to relax on a beach for a week, there are plenty of other places where you'll find more secluded beaches for a fraction of the cost. And if you're looking for authentic Mexican culture, you won't find it in Cancun.
Instead, you'll encounter drunk tourists and plenty of sellers and scam artists trying to take your money. And many of the non-beach activities worth experiencing require you to travel outside of Cancun.
Where to go instead: Mexico City
Our members have written plenty of love letters to Mexico City. It's cheap and easy to get around by bus or Uber, and there's plenty to see and do: a plethora of museums and theaters, gorgeous murals everywhere you go, and some of the best and most authentic street food you can find anywhere.
Flights are cheap, hotels and Airbnbs are cheap, and the food is cheap, making it the perfect budget vacation. There are even places to hike outside the city and weird attractions like the Island of the Dolls, which features broken old dolls hanging eerily from the trees.
Take a tip from seasoned travelers and avoid tourist traps; by exploring these underrated destinations instead, you could pay far less for a more authentic experience.
With a little cost-comparison research, we're confident you can find a unique travel destination that won't set you back indefinitely. Take advantage of points and miles from the right credit cards, and you may even be able to arrange a free trip!
Easy-to-Earn Unlimited Rewards
Earn 25,000 online bonus points after you make at least $1,000 in purchases in the first 90 days of account opening - that can be a $250 statement credit toward travel purchases
Earn 1.5 points per $1 spent on all purchases
Longer intro APR on qualifying purchases and balance transfers
No foreign transaction fees
Earn unlimited 1.5 points per $1 spent on all purchases, with no annual fee and no foreign transaction fees and your points don't expire.
25,000 online bonus points after you make at least $1,000 in purchases in the first 90 days of account opening - that can be a $250 statement credit toward travel purchases.
Use your card to book your trip how and where you want - you're not limited to specific websites with blackout dates or restrictions.
Redeem points for a statement credit to pay for travel or dining purchases, such as flights, hotel stays, car and vacation rentals, baggage fees, and also at restaurants including takeout.
0% Introductory APR for 15 billing cycles for purchases, and for any balance transfers made in the first 60 days. After the intro APR offer ends, 18.24% - 28.24% Variable APR will apply. A 3% fee applies to all balance transfers.
If you're a Preferred Rewards member, you can earn 25%-75% more points on every purchase. That means instead of earning an unlimited 1.5 points for every $1, you could earn 1.87-2.62 points for every $1 you spend on purchases.
Contactless Cards - The security of a chip card, with the convenience of a tap.
This online only offer may not be available if you leave this page or if you visit a Bank of America financial center. You can take advantage of this offer when you apply now.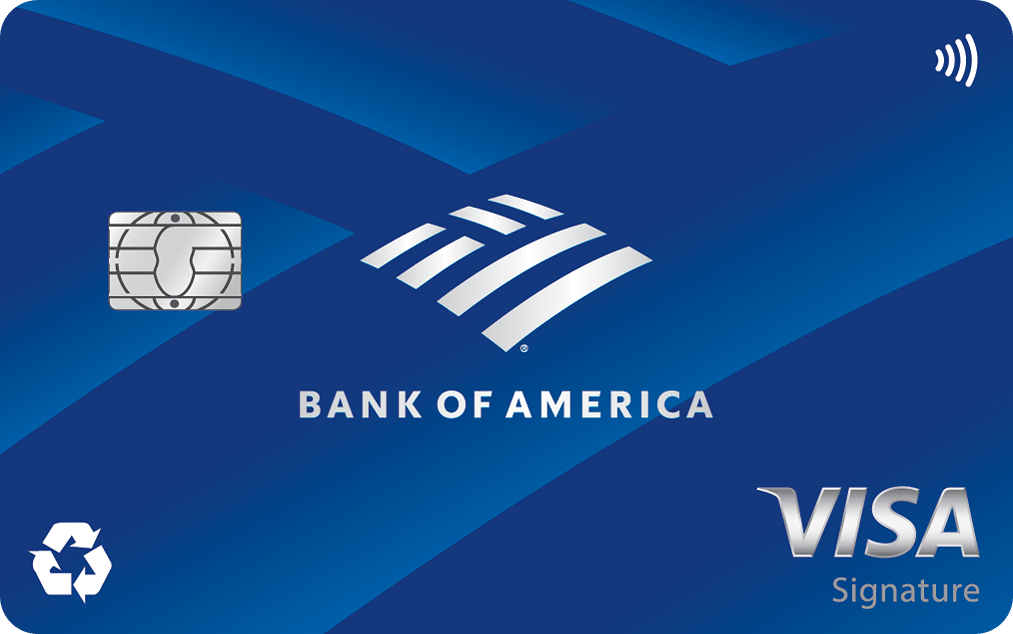 Apply Now
on Bank of America's secure website
Read Card Review
Intro Offer
Earn 25,000 online bonus points after you make at least $1,000 in purchases in the first 90 days of account opening - that can be a $250 statement credit toward travel purchases