It's been a tough couple of years but you have the power to make someone's day a little brighter. Feb. 17 is Random Acts of Kindness Day, celebrating all those little things that we can do for friends, loved ones and even strangers to bring a little more joy and kindness into their lives.
In most cases, we don't have to spend a dime to give someone a little lift. And you will likely lift yourself up in the process. Getting started is simple, just pick any one of the 21 ideas below — or come up with your own to help get the ball rolling.
Mail a note
Getting something unexpected in the mail (other than a bill that came out of nowhere) can truly brighten your day. It's a simple enough gesture. Write a quick note and tell someone they matter. You can add positivity quotes or a cute little hand-drawn image. Even a postcard saying you're thinking of them will likely get a smile! The only cost is a stamp.
Compliment a stranger
Tell that person behind you at the grocery store that they have a pretty scarf or that you like their jacket. Even little kids like a little acknowledgement for behaving well at a store. Or tell their mom or dad how sweet their little one is behaving. You might be surprised how truly nice that is to hear during a stressful day.
Teacher appreciation
You don't have to have school-age kids to let teachers know the work they do day-in and day-out is appreciated. Send an email to someone you know who teaches our youth and tell them you are thankful for all they do.
If you do have kids in school, a simple email to their teacher telling them you appreciate the time and effort they give your little one would likely make their day. Or have your student bring in a small gift card for coffee, coupled with a nice thank you note and/or picture they've drawn.
Pay someone's library fees
Library fees are usually more annoying than they are high, which is why paying someone's overdue fees is a nice (and affordable) gesture. A few cents here or there could really make a bookworm happy.
Text a friend
Is there someone you haven't talked to in awhile? Send a simple "just thinking of you" text to put a smile on their face and check in on them. Or find and share an old photo of the two of you together to remember a fun moment you had together.
Buy someone a coffee
When you are at a drive-through coffee shop, ask the barista if you can pay for the order of the person behind you. A cup of coffee gifted by a stranger is a nice unexpected surprise in the morning or afternoon rush.
See a loved one
We text so often that sometimes we forget to connect in real-life. Spending a little time in-person with someone is a great way to brighten their day. A nice walk with your mom, your niece, or your best friend you've not seen in a while could be good exercise and a lovely way to reconnect.
Pay a meter
Parking tickets can really ruin someone's day. Next time you head out to an appointment or to go shopping, consider grabbing a few extra coins to put into expiring meters you might see along the way.
Anti-litter bug
Picking up that piece of paper off the sidewalk and properly tossing it in the trash will make your neighbors a little happier. Plus, your taking the initiative could encourage others to do the same. It's a great way to keep your neighborhood, and everyone living in it, feeling good about their environment.
Give blood
With blood shortages around the country, the Red Cross is desperately in need of blood donations. Your random act of kindness is free, and it can save a life. Before you go, check with the Red Cross to see if you are eligible to donate.
Pup appreciation
Animals can bring smiles to so many faces, so maybe return the favor and offer to walk or play with your neighbor's dog. There are also lots of local animal shelters in need of supplies. Maybe check-in and see if there is anything you can bring by to help. They often need pet food, water bowls, or even old blankets and towels to help clean the animals' living spaces and make them more comfortable.
Compliment a co-worker
We work all day and often don't hear much about our performance. You can change that. Has someone at your job been doing exceptional work? Then let them know. It will brighten up their day and can boost attitudes in your office.
Piggy bank it
Do you have a loved one saving for a high-ticket item or something on their bucket list? Make them a piggy bank and help them save for what they want. Even an old shoebox or a coffee can can be a sentimental piggy bank with some creative decorating.
Hold the door
It sounds so obvious, but we've all had the elevator door or shop door close on us just as we're about to step through it. Help someone else out by flashing a smile and holding that door for them instead.
Share positive social thoughts
It's likely the people in your social feeds could use a little positivity in their life. We've had a rough couple of years. With a quick Google search you can find tons of positive quotes to choose from to counteract the sludge that sometimes seeps into our feeds. By posting something happy, you might just lift someone up.
Shovel a neighbor's sidewalk
With the snow and the cold in February, many of us are outside shoveling driveways and sidewalks. You might shovel a little bit more of the sidewalk next time around and give your neighbor a nice surprise.
Gift a gift card
Gift cards are a great way to give someone some spending money to brighten up their day. Some of the best rewards credit cards may allow you to buy gift cards with the points you've accumulated, making it easier for you to grab a few gifts for friends and family. Learn other ways to earn free gift cards.
Buy flowers
Many of the Valentine's Day flowers that don't get snatched up are going to be marked way down after the holiday. So pick up a discounted bouquet for someone you love to brighten their day.
Leave a coin by a fountain
It's fun watching people toss a coin in a fountain to make a wish, but most of us don't carry change around like we used to. So help out a dreamer and leave a few coins sitting on the edge of a fountain for free wishes.
Feed those in need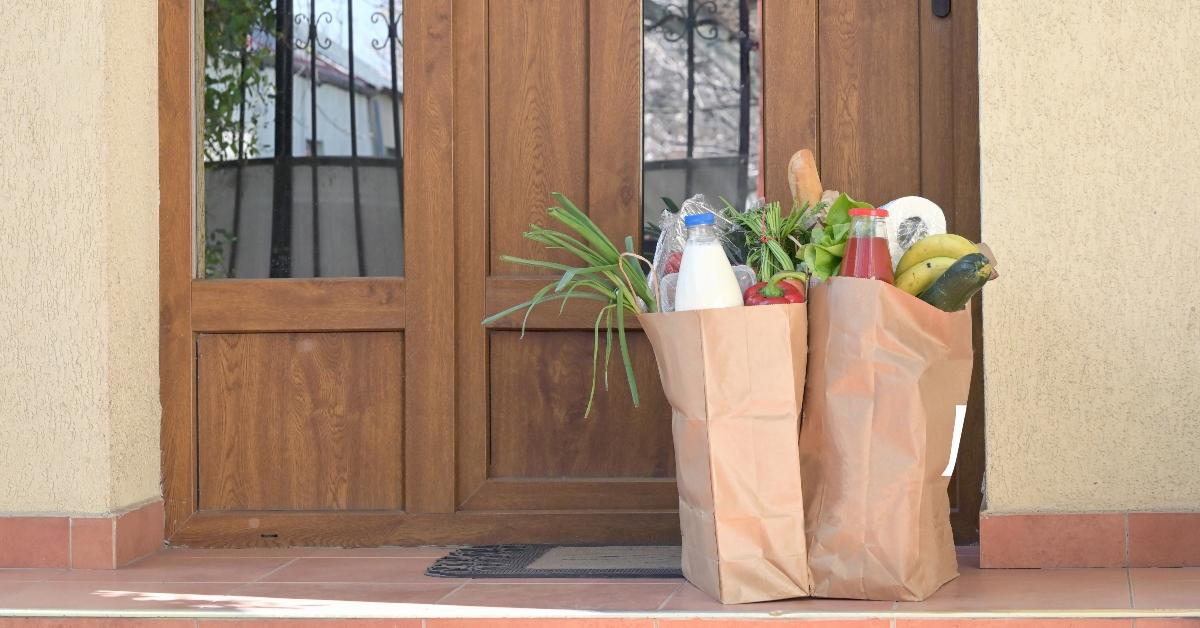 Your local food pantry or food bank likely needs more items to stock their shelves for those in need. Check your home pantry for non-perishable items (but be sure to check that they haven't expired) and donate them. Also think about other items like paper plates or individually wrapped silverware you get from your take-out orders. They may be helpful to serve meals to those in need.
Be kind to yourself
As you give to others, don't forget that it's OK to do something randomly nice for yourself. Watch a movie you haven't seen yet, read a book from your to-read pile, or take a hot bubble bath. Allow yourself ten minutes to finally do the meditation you've been talking about for months or treat yourself to a manicure! It can really lift your mood.
Bottom line
A little kindness really does go a long way, and you don't have to break the bank to spread some joy to the world. Perhaps after you do a few random acts of kindness, you might just make it a regular habit. Try it out and if you love the way it makes you feel you can try to do one thing for someone each and every week. Wouldn't it be great to wrap up this year knowing you did 52 things (no act is too small) to make someone else's day?