Given their terrible reputation, it's a mystery that timeshares are still a thing in 2023. And while big names like Marriott, Disney, and Wyndham try to lure unsuspecting folks with free vacations and swag to a quick (three-hour) presentation, the reputation is well deserved.
Here are a few reasons why you should avoid wasting money on a timeshare.
Timeshare scams
This industry is full of fraudulent claims and false advertising — so much so that the Department of Business and Industry Nevada Consumer Affairs has issued a letter warning people of some of the tactics that timeshare sales reps use, including:
Making verbal promises that don't make it into the contract
High-pressure sales methods
1-900 numbers
Fine-print exceptions for prizes and rewards
Getting-out-of-timeshare scams
As if it weren't bad enough getting scammed into a timeshare, some scammers prey on those looking to get out of timeshares as well. 
Professor Dr. Amy Gregory found in her research that 85% of people who purchase timeshares regretted their decisions, and this trend has created an extra industry — companies that claim to get you out of your timeshare contract.
But even endorsements from financial gurus aren't enough to ensure a company can get you out of your timeshare without losing money. 
Some timeshare resale companies tell owners they have a buyer ready and waiting but require a fee to close the deal. After the owner pays the fee, the sales rep is never seen or heard from again.
Low resale value
While many sales reps tout a timeshare as an excellent "investment," these vacation leases fail to meet the one critical criterion — gaining value over time.
Regardless of what the company tells you, timeshares lose value and are often sold for pennies on the dollar (many sell for just $1 on eBay). 
That's because owners get tired of paying all the fees associated with the property only to use it a few days per year. Once you get into a timeshare, it isn't easy to get out.
Scheduling your time could be difficult
Previously, timeshares granted you a fixed amount of time at the property (usually a week). Modern timeshares often work on a points system, giving you a set amount of points per year. 
While this offers more flexibility (you don't have to travel the same week every year, and you can borrow or trade points), high-demand times book up quickly, and you may have to pay extra points for them.
You may not actually own the property
Timeshares come in two varieties: shared deeded ownership and shared lease ownership. Shared deeded ownership means that a condo with a timeshare holder for each week of the year has 52 deeds, each representing 1/52 of the property's value. 
This type of timeshare can be sold as real estate or passed on with one's estate. Because of this, it's the more expensive type.
Shared lease ownership is more like a rental agreement with 52 tenants, each of which can occupy the property for a week each year. The developer retains the deed to the property. 
Just as you can't sell the lease to your apartment to another buyer at will, timeshares in the shared lease category are more restrictive than those with shared deed ownership.
Maintenance fees
Timeshares have all the downsides of owning real estate without any of the equity, including annual maintenance. 
The average maintenance fee for a timeshare was $1,000 in 2018, in addition to the contract itself. This makes that $75 Airbnb cleaning fee look pretty attractive by comparison.
Property taxes
Even though you don't own the property, as a timeshare holder, you're still responsible for paying your share of the annual taxes. Though, you may be able to get a tax deduction for these, depending on whether the taxes are billed to you individually or to the resort.
The hard sell
The tactics of used car salespeople pale compared to those used to sell timeshares. Those who have attended presentations note that they ran very long (sometimes three or four hours) and had to say no to multiple salespeople before they could leave repeatedly.
Some attendees reported that those who refused to buy the timeshare had to walk miles back to their accommodations as the salespeople stranded them.
You're locked in
Timeshare contracts can last from 20 to 99 years. That's a long time to be paying maintenance fees. Some timeshares can even be passed down to your heirs. You might wonder, "Can't you just stop paying for a timeshare?"
While you don't own the property in a timeshare, you could still face foreclosure if you do this. Even if you don't have a mortgage to pay for your timeshare, the resort company can still come after you for unpaid maintenance fees. 
This could result in collections and/or foreclosure, which can negatively impact your credit.
Financing is expensive
Most people don't have the average purchase price of a timeshare (around $22,000-$24,000) sitting around in cash, so they take out a loan to buy it. 
Most traditional lenders won't finance a timeshare; it's difficult to foreclose on 1/52 of a property for the shared deed ownership structure, and there's no asset backing the loan on a shared lease.
Because of this, the timeshare sales company often offers financing on its units — often at steep interest rates (the average is 17.9%). 
You could also take out a personal loan for a timeshare, which could be less than financing through the timeshare company but still an expensive way to pay for vacations.
The math doesn't add up
This is the top reason why timeshares are a waste. The property taxes and maintenance costs alone could pay for around a week in a nice hotel or Airbnb. 
Add in the average buy-in cost of around $22,000 plus interest on the loan you'll probably need to get the timeshare, and the extra perks and amenities just aren't worth it.
Bottom line
Timeshare salespeople must pull out all the stops because an expensive, multiyear vacation commitment with a tax bill and costly maintenance fees doesn't hold a candle to just renting an Airbnb or getting a hotel room whenever and wherever you want.
There are resorts and vacation rentals with pools, beachfront access, and all the bells and whistles a timeshare offers that don't require you to sign on a dotted line. 
Contrary to what the sales rep tells you, you're not missing out on anything when you pass on buying a timeshare. Instead, you'll eliminate a lot of money stress.
Easy-to-Earn Unlimited Rewards
Earn 25,000 online bonus points after you make at least $1,000 in purchases in the first 90 days of account opening - that can be a $250 statement credit toward travel purchases
Earn 1.5 points per $1 spent on all purchases
Longer intro APR on qualifying purchases and balance transfers
No foreign transaction fees
Earn unlimited 1.5 points per $1 spent on all purchases, with no annual fee and no foreign transaction fees and your points don't expire.
25,000 online bonus points after you make at least $1,000 in purchases in the first 90 days of account opening - that can be a $250 statement credit toward travel purchases.
Use your card to book your trip how and where you want - you're not limited to specific websites with blackout dates or restrictions.
Redeem points for a statement credit to pay for travel or dining purchases, such as flights, hotel stays, car and vacation rentals, baggage fees, and also at restaurants including takeout.
0% Introductory APR for 15 billing cycles for purchases, and for any balance transfers made in the first 60 days. After the intro APR offer ends, 18.24% - 28.24% Variable APR will apply. A 3% fee applies to all balance transfers.
If you're a Preferred Rewards member, you can earn 25%-75% more points on every purchase. That means instead of earning an unlimited 1.5 points for every $1, you could earn 1.87-2.62 points for every $1 you spend on purchases.
Contactless Cards - The security of a chip card, with the convenience of a tap.
This online only offer may not be available if you leave this page or if you visit a Bank of America financial center. You can take advantage of this offer when you apply now.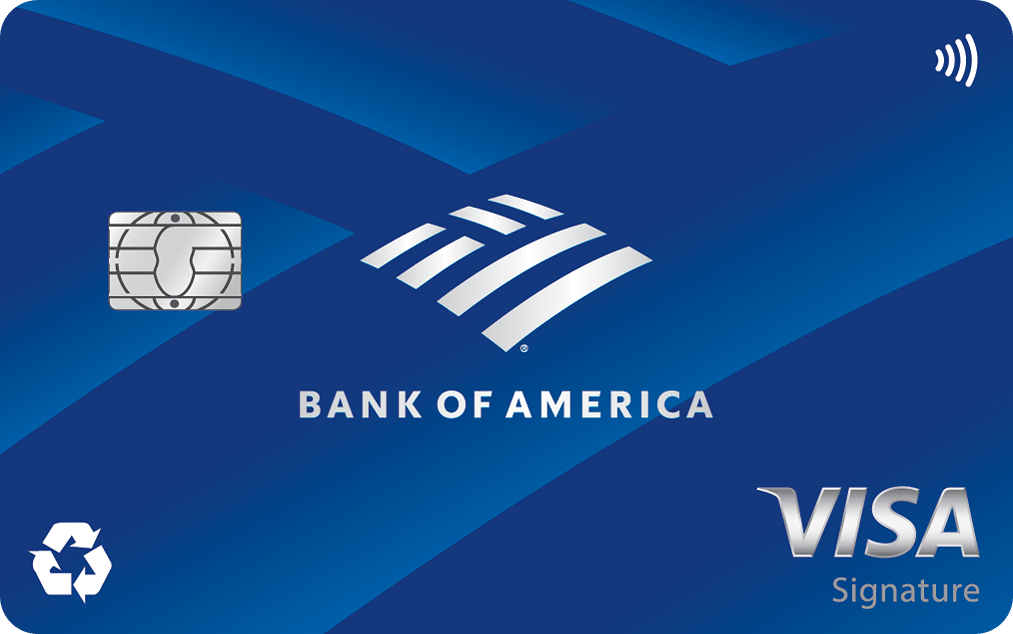 Apply Now
on Bank of America's secure website
Read Card Review
Intro Offer
Earn 25,000 online bonus points after you make at least $1,000 in purchases in the first 90 days of account opening - that can be a $250 statement credit toward travel purchases