Amusement parks have something fun for anyone who needs a break from the real world. For some, it means eating fried foods that you only get on special trips or taking a day off of work to spend with family or friends.
But for thrill seekers, it means roller coasters. Some fans love that huge drop at the beginning while others enjoy getting flipped upside down on a loop or a corkscrew. And of course, there is the speed as you go around tight corners or quick switchbacks.
Whatever the reason, there are plenty of roller coasters to amuse fans who want the most thrilling ride. Grab your best travel credit cards and check out some of these roller coasters the next time you're ready to have fun.
Millennium Force, Cedar Point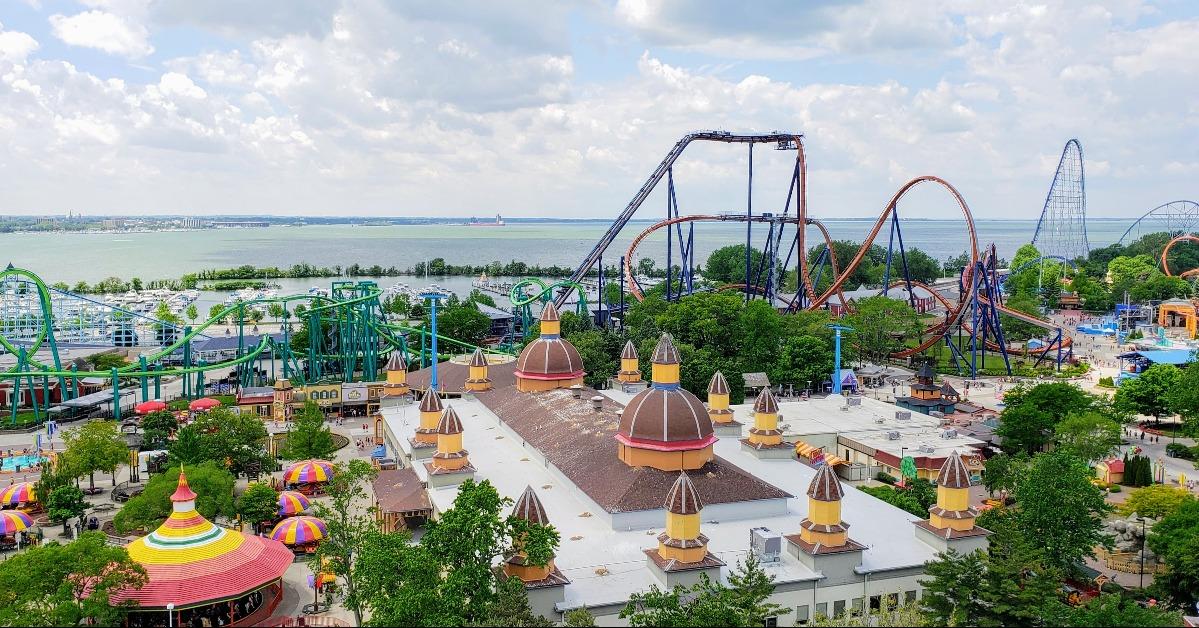 Along the shore of Lake Erie in Ohio is Cedar Point, which is known for its large collection of roller coasters. One of the tallest in the world is the Millennium Force, which was the first roller coaster to hit 300 feet high when it opened in 2000. The coaster reaches speeds above 90 miles per hour in its two-minute ride that is sure to excite any coaster fan.
Takabisha, Fuji-Q Highland
This coaster in Japan has a unique opening for thrill seekers with an inverted drop of 121 degrees. After that is a series of hills, loops, and inverted twists that may cause you to be disoriented as you go on the two-minute ride. You may need one of your best travel credit cards to head overseas for this one, but it could be a highlight for thrill seekers.
TMNT Shellraiser, Nickelodeon Universe
In the mood for a roller coaster in the middle of winter? There are still some options despite the snow outside. One of the best indoor theme parks to try may be the Nickelodeon Universe in the American Dream Meadowlands complex in New Jersey. The TMNT Shellraiser may be a highlight for coaster fans with its inverted drop at the beginning along with seven inversions during your trip on the Teenage Mutant Ninja Turtles-themed ride.
The Beast, Kings Island
Kings Island outside Cincinnati has plenty of newer coasters and attractions, including a water park, that bring fans in every summer. But the best coaster there may be one of its oldest attractions: The Beast. The wooden coaster winds its way through the hills and wooded areas of the park on a ride that lasts more than four minutes. In fact, even though the roller coaster was built in 1979, it still holds the record for longest wooden coaster in the world at more than 7,000 feet long.
Crazy Bird, Happy Valley Tianjin
This Chinese coaster is one of the steepest indoor coasters in the world. The first hill is a 120-degree vertical drop before taking riders on a series of inversions and tight turns for a fun indoor experience. The amusement park also includes a second steel coaster and a wooden coaster for thrill seekers who want some extra rides.
Cannibal, Lagoon
Utah's Lagoon park is home to Cannibal, which gives riders 4.2 Gs as it twists and turns for 2,700 feet. The ride's initial plunge starts from more than 200 feet in the air with an inverted dive before going through a tunnel and water feature to give riders extra thrills as the coaster cars reach 70 miles per hour.
Mumbo Jumbo, Flamingo Land
England is home to Flamingo Land with its compact but crazy Mumbo Jumbo. The ride starts out with an inverted drop before hitting a series of drops, twists, and turns that are sure to thrill and amaze riders. The coaster also features two inversions and can reach 4 Gs for riders.
Fury 325, Carowinds
North Carolina's Carowinds is home to Fury 325, which stands for the height in feet of the coaster's first hill. It also reaches up to 95 miles per hour, hurtling riders under a pedestrian bridge as well as an S-curve and banked turns for more than three minutes of ride time.
Formula Rossa, Ferrari World
Abu Dhabi's Yas Island is home to a Ferrari-themed amusement park that is sure to thrill car enthusiasts and thrill seekers alike. The coaster is recognized as the fastest in the world, reaching speeds of almost 150 miles per hour and almost 5 Gs. In fact, riders are required to wear goggles to protect their eyes before they get launched from the coaster's standing start.
Kingda Ka, Six Flags Great Adventure
Six Flags Great Adventure in New Jersey boasts the tallest and fastest roller coaster in North America. Kingda Ka reaches a height of more than 450 feet as it barrels up a U-shaped track before dropping back down. And to reach the speed needed to get up that track, riders are launched out of the station, reaching a speed of 128 miles per hour in less than four seconds.
The Smiler, Alton Towers
Another British coaster that is sure to amaze is The Smiler at Alton Towers in Staffordshire. The coaster set a record when it opened in 2013 with 14 loops. It also is a fast ride, reaching speeds of more than 50 miles per hour as it repeatedly twists thrill seekers upside down.
Tower of Terror, Gold Reef City
Located in South Africa, the Tower of Terror has the distinction of reaching 6.3 Gs for passengers, which may cause some riders to pass out, and puts it at the top of the list for highest g-forces for a roller coaster. The park, located on an old gold mine, incorporates a tower from a former mine around the coaster.
Goliath, Six Flags Great America
Just north of Chicago is Six Flags Great America and the Goliath wooden coaster, which drops riders through an underground tunnel to give them an added thrill to open the ride. The coaster also features tight twists and several inversions as it weaves its way through the wooden structure, disorienting riders as it reaches 72 miles per hour, making it the fastest wooden coaster in the world.
Full Throttle, Six Flags Magic Mountain
California's Six Flags Magic Mountain is home to the tallest looping roller coaster in the world. Riders are flipped upside down at 160 feet in the air for a truly hair-raising experience. The attraction also has three stand-still launches, including one that takes riders 70 miles per hour in a matter of seconds.
Bottom line
Are you ready to ride your next roller coaster? Consider the best credit cards for saving on gas depending on how far you may have to drive and find ways to make extra money before you go so you have plenty of spending cash. Remember that on hot days, you may also want sunscreen and extra water depending on your needs. And then go have fun on the biggest and fastest coasters you can find.
Easy-to-Earn Unlimited Rewards
Earn 25,000 online bonus points after you make at least $1,000 in purchases in the first 90 days of account opening - that can be a $250 statement credit toward travel purchases
Earn 1.5 points per $1 spent on all purchases
Longer intro APR on qualifying purchases and balance transfers
No foreign transaction fees
Earn unlimited 1.5 points per $1 spent on all purchases, with no annual fee and no foreign transaction fees and your points don't expire.
25,000 online bonus points after you make at least $1,000 in purchases in the first 90 days of account opening - that can be a $250 statement credit toward travel purchases.
Use your card to book your trip how and where you want - you're not limited to specific websites with blackout dates or restrictions.
Redeem points for a statement credit to pay for travel or dining purchases, such as flights, hotel stays, car and vacation rentals, baggage fees, and also at restaurants including takeout.
0% Introductory APR for 15 billing cycles for purchases, and for any balance transfers made in the first 60 days. After the intro APR offer ends, 18.24% - 28.24% Variable APR will apply. A 3% fee applies to all balance transfers.
If you're a Preferred Rewards member, you can earn 25%-75% more points on every purchase. That means instead of earning an unlimited 1.5 points for every $1, you could earn 1.87-2.62 points for every $1 you spend on purchases.
Contactless Cards - The security of a chip card, with the convenience of a tap.
This online only offer may not be available if you leave this page or if you visit a Bank of America financial center. You can take advantage of this offer when you apply now.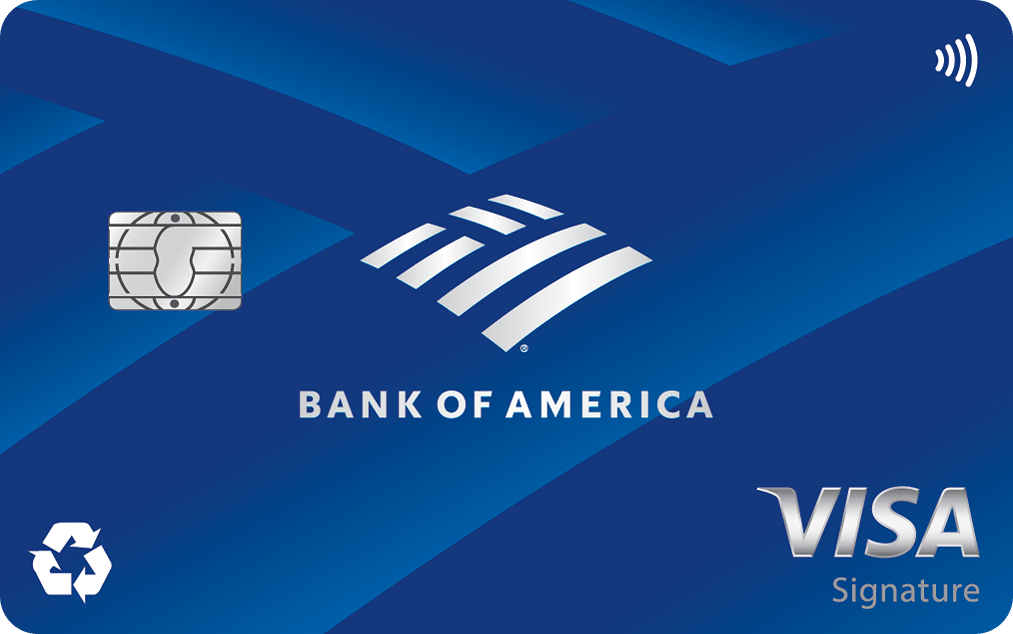 4.1
FinanceBuzz writers and editors score cards based on a number of objective features as well as our expert editorial assessment. Our partners do not influence how we rate products.
Apply Now
on Bank of America's secure website
Read Card Review
Intro Offer
Earn 25,000 online bonus points after you make at least $1,000 in purchases in the first 90 days of account opening - that can be a $250 statement credit toward travel purchases