During the coronavirus pandemic, when so many people saw their flights canceled and had their vacation plans upended, many Americans decided to hit the road and vacation domestically instead. And it looks like the trend might be here to stay. After all, traveling on the road offers the opportunity to see some of the country's hottest vacation spots for much cheaper — if you do it right — and you can do it on your own time. 
Tip: Stock up at Costco before you head out to save money on food and other essentials. These 6 simple hacks can help you save even more at Costco. 
If you're traveling with a family, or if you simply want to take your necessities with you in a way that would be impossible with air travel, hitting the road in an RV may be your best bet. That doesn't mean you have to shell out the cash and buy one, though, as there are plenty of options for rental RVs as well.
If RV travel is something you're considering, check out this list of eight reasons why it's a great option for families.
RV rental is affordable
If you don't want to buy, you can rent an RV that perfectly fits your family's needs. Sites like RVShare will match those looking to rent an RV with RV owners in the area.
The site offers plenty of different models to choose from at varying price points. For example, if you're looking to simply rent out a travel trailer that attaches to a truck, you could rent something as low as $90 per day. Motorhomes will run a bit more — with models averaging around $150 to $200 per day — but if you consider the cost of air travel and hotels, you'll still likely be saving a significant amount.
Savings compared to hotels
Sleeping in an RV is often going to be less expensive than a hotel. If you purchase your RV outright, you'll only have to worry about parking fees, which can vary from place to place, when you are traveling.
Those who are renting an RV will have to pay for the vehicle's daily fee plus the site fee if you decide to park at a campground or RV park. However, this can still end up saving you hundreds of dollars — if not more. An RV that can sleep six for a week will cost significantly less than air travel plus hotel accommodations for six, especially if you are visiting a hot tourist area.
RV kitchens make food prep easy
Every now and then you may come across a hotel room with a nice kitchenette, but it's rare. Most come with a mini fridge, which is simply not going to cut it for most families — and being forced to eat out for every meal every day can get expensive fast.
Families traveling by RV are less likely to have this problem. Since many RVs will come with your basic necessities — like a place to sleep, bathroom, and kitchen basics — you will be able to cook all your meals in the vehicle if you choose to.
No need to find a pet sitter
Although there are more and more dog-friendly vacation spots and hotels, it can still be a hassle to arrange to take your pet on a trip, especially if you're traveling by air. Plus, these pet-friendly hotels may still tack on a fee for your furry friend.
With RV travel this is not a problem. Since this type of vacation tends to leave plenty of time for enjoying the outdoors, you won't have to worry about keeping your pet cooped up inside for too long, either.
Scheduling freedom
When traveling by air, your time and plans are at the discretion of the airline. Hotels come with check-in and checkout times as well — and all of these things have to be booked in advance.
When you travel by RV, you're making your own schedule. If you decide you want to take a trip for a day or two away from your planned destination, you can just hit the road. (Though you will still need to make reservations if you're traveling to popular locations.)
However, do consider the changing costs as you hop from destination to destination. If you are parking at RV parks overnight, you will likely be paying a parking fee, which could range from around $20 to $90, depending on what state it's in and if it is a public or private RV park. Parks that offer more amenities tend to lean toward the higher end.
Go anywhere on the open road
Perhaps the most enticing thing about RV travel is that you can take it anywhere there are roads. You can take an RV across the U.S. on a national park road trip or drive one up and down the Appalachian Trail, and you can hike and camp out along the way.
Gas prices are obviously something to consider, and it'll be more expensive to fill the tank on such a large vehicle. But this is where budgeting comes in. Before you go, you may want to check out things like the cheapest areas to buy gas and the best credit cards for gas.
More time to spend outdoors
Wherever your destination, RV travel provides families with the ability to spend some quality time enjoying the great outdoors. Since you will have all of your basic needs covered right there in your vehicle, you won't necessarily need to travel to an RV park every night to hook up if you don't want to. RV travel and all its convenience means you can park out in the wild for the night — or for the week.
No need to pack light
Kayaks, surf boards, and bicycles are extremely difficult — not to mention expensive — to pack when traveling by air. One of the biggest conveniences the RV offers is space.
It gives your family space to sleep, space to spread out, and space to pack whatever you want. If you're planning to hit the bike trails or catch a few waves on your vacation, this extra space will be invaluable.
Bottom line
RV travel certainly comes with its benefits, but also comes with a cost. If you're planning to rent or purchase an RV and begin budgeting for a big trip, you may want to look into the best travel credit cards or best cash back credit cards as the costs you incur along the way could be turned into rewards.
If you're still on the fence about an RV trip, spend some time looking up popular routes — like the California Loop or Route 66 — both of which will offer some incredible sites, scenic views, and of course, an unforgettable vacation.
Easy-to-Earn Unlimited Rewards
Earn 25,000 online bonus points after you make at least $1,000 in purchases in the first 90 days of account opening - that can be a $250 statement credit toward travel purchases
Earn 1.5 points per $1 spent on all purchases
Longer intro APR on qualifying purchases and balance transfers
No foreign transaction fees
Earn unlimited 1.5 points per $1 spent on all purchases, with no annual fee and no foreign transaction fees and your points don't expire.
25,000 online bonus points after you make at least $1,000 in purchases in the first 90 days of account opening - that can be a $250 statement credit toward travel purchases.
Use your card to book your trip how and where you want - you're not limited to specific websites with blackout dates or restrictions.
Redeem points for a statement credit to pay for travel or dining purchases, such as flights, hotel stays, car and vacation rentals, baggage fees, and also at restaurants including takeout.
0% Introductory APR for 15 billing cycles for purchases, and for any balance transfers made in the first 60 days. After the intro APR offer ends, 18.24% - 28.24% Variable APR will apply. A 3% fee applies to all balance transfers.
If you're a Preferred Rewards member, you can earn 25%-75% more points on every purchase. That means instead of earning an unlimited 1.5 points for every $1, you could earn 1.87-2.62 points for every $1 you spend on purchases.
Contactless Cards - The security of a chip card, with the convenience of a tap.
This online only offer may not be available if you leave this page or if you visit a Bank of America financial center. You can take advantage of this offer when you apply now.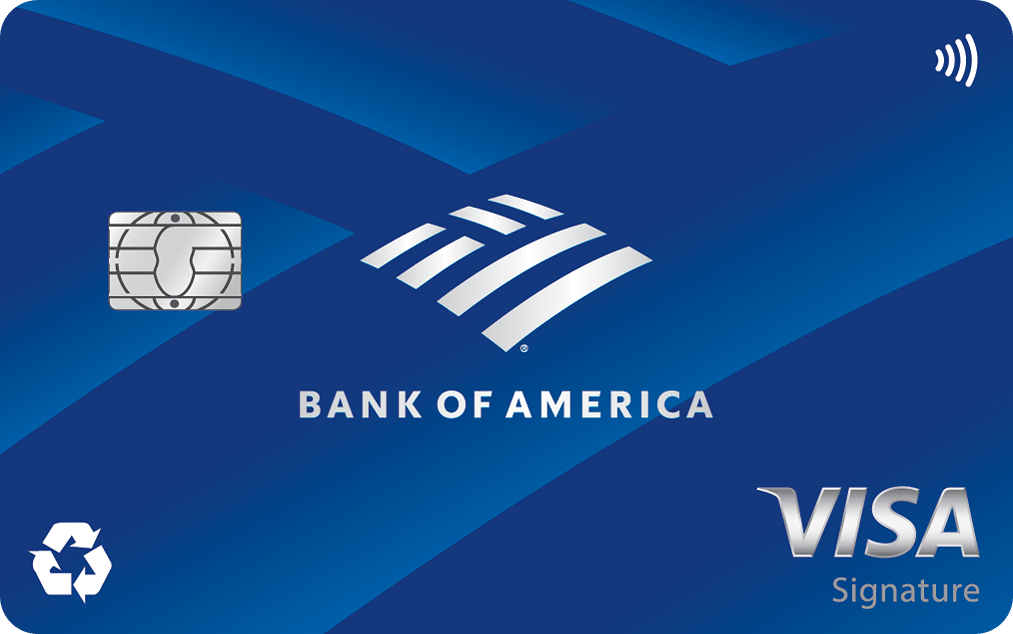 4.1
FinanceBuzz writers and editors score cards based on a number of objective features as well as our expert editorial assessment. Our partners do not influence how we rate products.
Apply Now
on Bank of America's secure website
Read Card Review
Intro Offer
Earn 25,000 online bonus points after you make at least $1,000 in purchases in the first 90 days of account opening - that can be a $250 statement credit toward travel purchases