Layoffs have battered the American workforce recently. 
Perhaps no industry has been hit as hard as tech, which has seen over 220,000 people lose their jobs this year alone. Those tech companies include household names like Amazon, Google, Meta, and Microsoft.
While widespread tech industry layoffs have taken many of the headlines, experts forecast a recession for late 2023 or early 2024. Layoffs could find their way to your sector and your company, so it's important you don't get caught off guard.
Here are 15 signs that could mean layoffs are headed toward your company.
Earn money online by taking surveys
$55,000 might sound crazy … but with a company called Survey Junkie, it's possible to get your share of it every day by taking their simple surveys.
While it might sound strange, these "market research" surveys are a known way to make extra cash online. Of course, they won't make you rich … but if you have some extra free time, the money you earn could be enough to cover gas, groceries, coffee, and more!
Follow these simple steps to get your share of $55,000:
Take surveys.
Repeat daily and get paid!
Sign up here and share your opinion on these companies with simple surveys. Survey Junkie has paid out over $76 million to date.
P.S.: You can cash out with as little as $5 through PayPal or bank transfer, or transfer to gift cards from a number of stores.
Get your share of $55,000 daily by signing up here
SPONSORED
Expenses start to get cut
When a company starts slashing expenses, which could include cutting travel budgets and trimming down on bonuses, it often suggests the company is worried about its finances or what might happen to its finances soon.
In short, the more perks or fun stuff the company starts to cut, the more concerned you should be and the more you should prepare yourself financially.
Hiring freezes begin
Depending on the size of your company, you might be accustomed to seeing an influx of new hires. That's not uncommon for businesses during economic upswings.
Unfortunately, the opposite is also true. Companies facing economic uncertainty tend to curtail their recruitment efforts as they aim to trim expenses.
Products and programs get eliminated
Companies may terminate specific programs or initiatives when the economy seems unsteady or uncertain. 
That might mean discontinuing some products in development or putting an end to marketing products or services that don't rake in the big bucks.
These decisions can have a profound effect on the teams who were working on them, including being laid off.
Resolve $10,000 or more of your debt
Credit card debt is suffocating. It constantly weighs on your mind and controls every choice you make. You can end up emotionally and even physically drained from it. And even though you make regular payments, it feels like you can never make any progress because of the interest.
National Debt Relief could help you resolve your credit card debt with an affordable plan that works for you. Just tell them your situation, then find out your debt relief options.
How to get National Debt Relief to help you resolve your debt: Sign up for a free debt assessment here. (Do not skip this step!) By signing up for a free assessment, National Debt Relief can assist you in settling your debt, but only if you schedule the assessment.
You feel left out and your workload is smaller
Being consistently excluded from meetings and communications might indicate your diminishing importance within the company. You should always ask, but it could be a sign.
Similarly, if you suddenly find yourself with a shrinking workload, and there are no attempts to address it, that could be a sign that you're considered redundant.
Your boss is acting different
Sudden changes in your boss's behavior can hint at layoffs. If your typically hands-off manager starts micromanaging or asking about your projects and contacts, it could indicate they're preparing to assume your responsibilities.
Managers may struggle to communicate during tough economic times due to conflicting loyalties. See if they can clarify the reasons behind these changes, as it could signal what's to come.
Executives head for the door
When senior managers, who typically have access to information beyond the reach of lower-level employees, begin to bail, it can be a foreboding sign of impending company-wide layoffs.
At the upper echelons of management, the financial trajectory of a company becomes more discernible, and executives may choose to exit before a potential collapse.
A merger makes your job redundant
Mergers between companies can enhance those companies' overall strength and profitability, but they often result in the elimination of redundant positions.
So, while such mergers may benefit the companies involved, they can raise concerns for employees with overlapping skill sets. 
According to the Harvard Business Review, roughly a third of workers "are deemed redundant after a merger or acquisition in the same industry."
Consultants get called in
Consultants are often brought in to assess company performance and identify areas for restructuring, including potential redundancies. The addition of time tracking is another common early sign of cost-saving efforts.
You should be particularly cautious if third parties are brought in to review the company's finances.
Restructuring plans are announced
The phrase "restructuring" typically means people will lose their jobs.
Sure, sometimes businesses reorganize for efficiency, but it's also a method by which companies assess and eliminate redundant positions.
Earn up to $75/hour working from home
Bookkeeping is a basic (but powerful) way to earn money online.
And while $75/hour might sound like a lot of money, the data backs it up: Thanks to its high profit, low cost nature, Foundr Magazine has described it as one of the most profitable businesses you can start …
Plus, data from a 2021 survey by Intuit shows that the average hourly rate for this in-demand skill jumped from $69/hour to $75/hour! This unique skill can help you supplement your existing income … or even replace your current job.
Start learning how to launch a bookkeeping business by taking this free 3-class intro from Bookkeepers.com. The classes cover:
How you can own a virtual bookkeeping business.
What it takes to run a profitable virtual bookkeeping business.
How to land high paying clients … even if you've never done bookkeeping!
BTW: You don't need to be a math savant or even have an accounting degree. Like anything, it does take work, but you can be successful even if you're busy with kids, family, or a regular 9-5 job.
Layoffs are happening in your industry
If you see or hear that one company in your industry is going through layoffs, it might not mean they're coming to you, so there's no reason to panic immediately.
However, it is worth paying attention to and keeping your ear to the ground so you can be prepared.
Your company hired too fast
Hiring too many people too fast is one of the key causes of the recent tech industry layoffs. In particular, major tech companies over-hired during the pandemic because everyone had to work online and from home.
So, while tech profits soared when most of America was housebound, the reckoning arrived as the country reopened. Be wary of seeing too many new faces too quickly. There is usually a downside somewhere along the line.
There's an emergency meeting
If you're suddenly expected to be there for a major company-wide meeting, and none of your coworkers seem to know what it could be about, expect the higher-ups to deliver details on some massive changes.

There have been earlier rounds of layoffs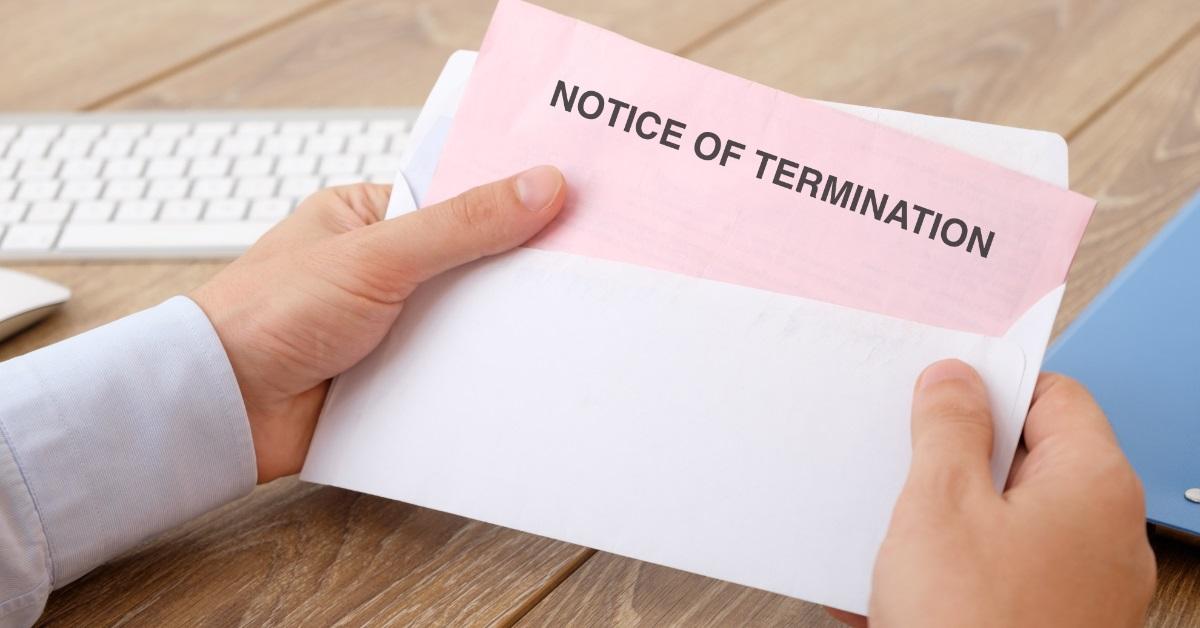 Frequent layoffs can suggest financial instability but don't panic if there's been one round. Multiple rounds, however, could signal ongoing issues. Surviving one round doesn't guarantee safety, either, so stay vigilant.
You can't get into your email
It might seem obvious, but if you suddenly find yourself locked out of emails, files, or even certain folders on the company's network, it could be a sign and not simply a computer malfunction. It's especially worrisome if you can't get an answer from the IT department.
A WARN notice gets posted
The WARN (Worker Adjustment and Retraining Notification) Act is in place to ensure that employees get a heads up from their employer if there are going to be "qualified plant closings and mass layoffs," per the Department of Labor. 
"Mass layoffs," in this case, mean at least 33% of the workforce.

Bottom line
Navigating the waters of the corporate world can feel like trying to predict the weather when you're not a meteorologist — unpredictable and full of surprises.
Hopefully, after reading the subtle, or maybe not-so-subtle, indicators can help you know when there are challenging times ahead for your organization. 
Understanding the signs allows you to make informed decisions and take proactive steps to secure your professional future, like making extra money.
National Debt Relief Benefits
No upfront fees
One-on-one evaluation with a debt counseling expert
For people with $7,500 in unsecured debts and up