The Southwest Companion Pass is a benefit unmatched by any other U.S. airline. With it, Southwest Airlines flyers can bring a plus-one with them for free whenever they fly for up to two years.
While that sounds like it's too good to be true, obtaining the Companion Pass is easier than you may think. Here's what you need to know about the pass, its terms and limitations, and how to earn it in a way that maximizes its value.
What is the Southwest Companion Pass?
Qualified Rapid Rewards program members with the Southwest Companion Pass get a free ticket — excluding taxes and fees — for a travel companion every time they fly with the airline. The pass works whether you pay for the flight out of pocket or redeem points for an award ticket.
Once you earn the pass, it's typically good for the remainder of the current calendar year plus the next calendar year. This means that if you time it right, you can get the benefit for up to almost two full years, potentially saving you thousands of dollars on flights.
There are, however, some limitations. For example, you can only change your companion up to three times per calendar year. So if you rarely travel with the same person, you may not get much in terms of savings. Also, if you want to change your companion, you'll need to cancel any reservations you have with that person to make the switch.
It's also important to note that if you're an A-List or A-List Preferred member, the benefits you get from that status don't transfer over to your companion. This means you may have to board separately.
Finally, you can't include your companion on your reservation while booking your ticket. Instead, you'll need to book your ticket first, then add your companion to the reservation.
How to get a Southwest Companion Pass
In general, there are two ways to earn the Southwest Companion Pass: Fly enough qualifying one-way flights in a calendar year or earn enough Rapid Rewards points in a calendar year. Starting Jan. 1, 2023, you'll need 135,000 qualifying points or 100 qualifying one-way flights in a calendar year to earn your Companion Pass.
Southwest has also offered the Companion Pass to holders of Southwest credit cards as part of a limited-time offer for new applicants in the past. It's impossible to predict if or when this may happen again, so it may not be worth banking on if you already have travel plans.
Between the two primary ways to earn the pass, earning 135,000 points in a calendar year is the easier option for most people. For the points to qualify, you need to earn them by booking flights with Southwest Airlines or spending money with Southwest Rapid Rewards partners or on a co-branded Southwest Airlines credit card.
The last option makes it possible to use a Southwest credit card to qualify for the Companion Pass.
3 strategies to quickly earn Rapid Rewards points
Earning 135,000 points in a calendar year may sound like a monumental task. But with the right steps, it's possible to make it happen. Here are a few strategies to consider.
1. Sign up for new Southwest credit cards
Because points earned with Southwest co-branded credit cards qualify, getting one or two cards and earning their welcome offers could help you earn the Companion Pass quickly. Having a Southwest credit card also automatically gives you a 10,000-point boost toward the Companion Pass requirement.
Here's a list of the recommended airline credit cards from Southwest and their current welcome offers:
With just one of these cards, you could potentially earn a major chunk of what you need to qualify for the Companion Pass. And if you get two cards, you could get pretty close to (or even hit!) your goal in a flash, as long as you can meet the minimum spend requirements for both cards in time.
One thing to note, however, is that you can't have two personal Southwest credit cards at the same time. And if you've earned a welcome offer from one of the personal Southwest credit cards in the last 24 months, you won't qualify for a new bonus until that period ends.
That said, you could get approved for a personal and business Southwest credit card at the same time, as long as you're eligible. And if you haven't received a bonus from one of the personal cards in the past two years, you can apply for both at the same time and be eligible for their bonuses.
If you take advantage of this Southwest credit card Companion Pass strategy, try timing your bonuses to receive them at the beginning of a new calendar year. This means qualifying for the bonus on both cards at the end of the year. That way, if the credit card statement ends in January, you earn all the points from the bonuses during that month and get the Companion Pass through the end of the following year.
2. Use your Southwest credit card for everyday spending
Once you've got your new Southwest credit cards, you can help bridge the gap to reaching 135,000 points by using them for all of your spending. For example, if you have the Southwest Rapid Rewards® Premier Credit Card, you'll earn 3X points on Southwest purchases; 2X points on participating Rapid Rewards hotel and car rental partners; local transit and commuting, including rideshare; and on internet, cable, phone services, and select streaming; and 1X points on all other purchases.
Using your existing Southwest credit card for spending is also a great strategy if you can't or don't want to get a second Southwest card, and therefore can't use a welcome offer to get partway to your Companion Pass.
Depending on which card you have, you'll also earn between 3,000 and 7,500 bonus points every year after your first anniversary, which count toward your Companion Pass eligibility.
Getting just one point per dollar on most of your purchases likely won't be enough for most people to earn the Companion Pass, so this strategy may be best used in tandem with a new card welcome offer and our third strategy.
3. Use the Southwest shopping and dining programs
The Southwest Airlines Rapid Rewards shopping portal and dining program allow you to earn extra points when you shop at certain retailers or eat at participating restaurants.
With the shopping portal, you have two options to earn points. First, you can go directly to the Rapid Rewards shopping website, search for participating retailers, and click through to shop.
Second, you can add the portal's browser extension to your Google Chrome browser. It will notify you when you're on a website that allows you to earn extra points and help you activate the offer immediately.
With the Rapid Rewards dining program, simply register your credit card — you can use any credit card, it doesn't have to be a Southwest credit card — and eat at participating restaurants, bars, and clubs to earn up to three points per dollar spent. You can search for participating merchants through the dining program website.
Again, this strategy may not be enough alone for most people to earn the pass. But coupled with a Southwest credit card and everyday spending, it could be enough to get you there.
What to know about the Companion Pass once you've got it
After you qualify for the Companion Pass, start planning as many trips as possible to maximize the value of the perk. Because there are no restrictions on how many times you can use it, the sky's the limit until the end of the following calendar year.
Remember, though, that you'll still need to pay taxes and fees for your companion, which typically amount to $5.60 each way for most domestic flights.
If you're thinking of changing your companion, keep track of how many times you do it, and remember the limit of three times per calendar year. The last thing you want is to forget about a change and get stuck with a companion you don't fly with often enough to maximize the benefit.
Also, don't forget that you now probably have 135,000 Southwest Rapid Rewards points to use when booking your flights. Depending on how you use them, they could go a long way.
Frequently asked questions
Is the Southwest Companion Pass worth it?
If Southwest flies through your local airport and you regularly travel with a family member or friend, the Southwest Companion Pass can offer incredible value. It covers your travel companion's airfare, excluding taxes and fees. If Southwest doesn't stop at your airport or you're not likely to travel very often (or rarely have a travel buddy along on trips), you may wish to compare the best travel credit cards as other options.  

Can you buy a Southwest Companion Pass?
A Companion Pass can't be purchased using cash or non-qualifying points. Starting on January 1, 2023, to get a Southwest Companion Pass you'll need to fly at least 100 qualifying one-way Southwest flights per calendar year or earn 135,000 qualifying Companion Pass points to access this benefit.
Does Southwest Companion Pass always have to be the same person?
According to the Southwest Rapid Rewards Program, you're allowed to change your companion up to three times per calendar year. To make the change, log into your Rapid Rewards account and find the "Choose Your Companion" section. 
Click on "Enter Companion Info" to update the personal information for your new travel companion. You can also call 1-800-435-9792 to make this change.
Is it worth it to buy Southwest points?
Technically, you can purchase Southwest points with cash. Accruing points this way, however, doesn't provide the best value. Depending on the number of points you purchase, each point may end up costing you double its redemption value. 
So, no, typically, it is not worth it to buy Southwest points. Also, remember that purchased points don't qualify as Companion Pass points.
Do hotels booked through Southwest count toward Companion Pass?
Yes, hotel reservations booked through SouthwestHotels.com count toward the Southwest Companion Pass. As long as the hotel is a Rapid Rewards partner, the points earned are considered qualified base points.
Do Chase Ultimate Rewards points count toward Southwest Companion Pass?
Bottom line
The Southwest Companion Pass is one of the most valuable airline benefits you can get. And despite its lucrative nature, it can be relatively easy to get using the Southwest credit card Companion Pass strategy.
If you regularly fly with someone else, getting the Companion Pass may be a no-brainer. But if you don't fly often or Southwest doesn't fly through your local airport, it may not be worth the trouble. Consider getting another valuable credit card that's a better fit for you if that's the case.
If you think the Companion Pass is right for you, carefully consider all of your options, and try to time it right to maximize how long you can take advantage of its value.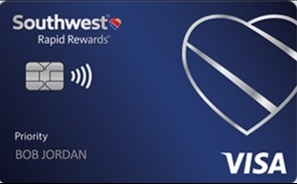 4.8
FinanceBuzz writers and editors score cards based on a number of objective features as well as our expert editorial assessment. Our partners do not influence how we rate products.
Southwest Rapid Rewards® Priority Credit Card
Current Offer
Earn 75,000 bonus points after spending $3,000 on purchases in the first 3 months from account opening
Rewards Rate
3X points on Southwest purchases; 2X points on participating Rapid Rewards hotel and car rental partners; local transit and commuting, including rideshare; and on internet, cable, phone services, and select streaming; and 1X points on all other purchases