Your boarding pass is a bit like a lottery ticket when it comes to how much time you'll spend going through security. Get randomly assigned TSA PreCheck and you win! You'll fly through security. But if you get the dreaded "SSSS" mark on your boarding pass, expect your security check to be a lot more involved.
What does SSSS mean on your boarding pass?
Seeing the letters "SSSS" in the corner of your boarding pass indicates you've been chosen for "Secondary Security Screening Selection." This is a prescreening selection that's part of the Secure Flight Program administered by the Transportation Security Administration (TSA), and it means you'll need to undergo a variety of additional security measures before boarding.
You won't know if you have an SSSS designation until you get to the airport, since you'll be unable to print your boarding pass ahead of your arrival if you've been selected. You can be chosen for any flight arriving in, departing out of, or connecting through a U.S. airport.
Why might you be flagged for SSSS?
The TSA won't tell you why you've been selected for extra screening and also doesn't provide official information on the reasons for selection. But many sources indicate that you may be selected for suspicious flight patterns, such as one-way international flights; last-minute bookings; or traveling from a country deemed "high-risk." Avoid paying for airfare with cash, since it's possible that this might get you flagged as well.
But sometimes, your selection might be completely random. If this happens to you, stay calm, be patient, and learn what to expect to make the experience more manageable.
What to expect if you have SSSS on your boarding pass
After showing the security agent your ID and boarding pass, you'll be directed to another agent or team of agents who will begin the screening procedures. You'll be able to cut the rest of the line from there.
Not all searches are alike, but you can expect to go through a metal detector and full-body scanner, sometimes multiple times, before receiving a complete pat-down. You can request to have this done in private if you'll be more comfortable.
The lengthiest part of the process will involve the TSA agents inspecting everything you've brought with you. They'll also swab both your items and hands in order to detect any explosive residue. You might also be asked to turn on your electronics.
The entire process can take 10 to 30 minutes — sometimes longer — which is why it's always a good idea to arrive early and allow plenty of extra time.
FAQs
Will I always get SSSS on my boarding passes from now on?
Not necessarily. If you booked a one-way or last-minute flight but that's not typically how you travel, you might not see SSSS appear again. But if you've visited "high-risk" countries or have had criminal charges against you, you might get SSSS on your boarding pass repeatedly.

Can TSA PreCheck or Global Entry membership prevent SSSS?
While TSA PreCheck and Global Entry can be great ways to save time while traveling, applying for one of these programs will not protect you from an SSSS designation. You won't see your usual TSA PreCheck designation on your boarding pass if you're chosen for additional screening. Some of the best travel credit cards can help offset the cost of TSA PreCheck and Global Entry if you're interested in the service. 
How does an SSSS boarding pass affect my connecting flights?
An SSSS boarding pass and a connecting flight can cause double the stress, since you may need to go through additional screening multiple times. However, that's not always the case. Check each individual boarding pass for each flight segment so that you're prepared.

How can I avoid SSSS in the future?
Unfortunately, there's no surefire way to prevent being selected for SSSS. However, if you notice that you're getting selected repeatedly, you can find out what a redress control number is and apply through the Department of Homeland Security Traveler Redress Inquiry Program (DHS TRIP).
If you've been experiencing frequent delays due to security screenings, this is an opportunity for the DHS to resolve any issues that may have designated you as a risk. Find out if applying for a redress number is the right choice for you, and note that it may take a month or longer for the DHS to process your application.
Keep calm and travel on
A delay due to extra security screenings can cost you time and money, but that doesn't mean you should panic if you see SSSS on your boarding pass. Always allow plenty of time to navigate through security, especially if you have difficulty printing your boarding pass prior to arrival at the airport.
And remember to stay positive and cooperate with the TSA agents, who are just doing their jobs to try to ensure the safety of all travelers. Unfortunately, even choosing the best credit cards for your travel tickets can't save you from this process. Hopefully, you'll arrive at your destination without any hiccups, and your extensive security search will become a distant memory.
Easy-to-Earn Unlimited Rewards
Earn 25,000 online bonus points after you make at least $1,000 in purchases in the first 90 days of account opening - that can be a $250 statement credit toward travel purchases
Earn 1.5 points per $1 spent on all purchases
Longer intro APR on qualifying purchases and balance transfers
No foreign transaction fees
Earn unlimited 1.5 points per $1 spent on all purchases, with no annual fee and no foreign transaction fees and your points don't expire as long as your account remains open.
25,000 online bonus points after you make at least $1,000 in purchases in the first 90 days of account opening - that can be a $250 statement credit toward travel purchases.
Use your card to book your trip how and where you want - you're not limited to specific websites with blackout dates or restrictions.
Redeem points for a statement credit to pay for travel or dining purchases, such as flights, hotel stays, car and vacation rentals, baggage fees, and also at restaurants including takeout.
0% Introductory APR for 15 billing cycles for purchases, and for any balance transfers made in the first 60 days. After the intro APR offer ends, 18.24% - 28.24% Variable APR will apply. A 3% fee applies to all balance transfers.
If you're a Bank of America Preferred Rewards® member, you can earn 25%-75% more points on every purchase. That means instead of earning an unlimited 1.5 points for every $1, you could earn 1.87-2.62 points for every $1 you spend on purchases.
Contactless Cards - The security of a chip card, with the convenience of a tap.
This online only offer may not be available if you leave this page or if you visit a Bank of America financial center. You can take advantage of this offer when you apply now.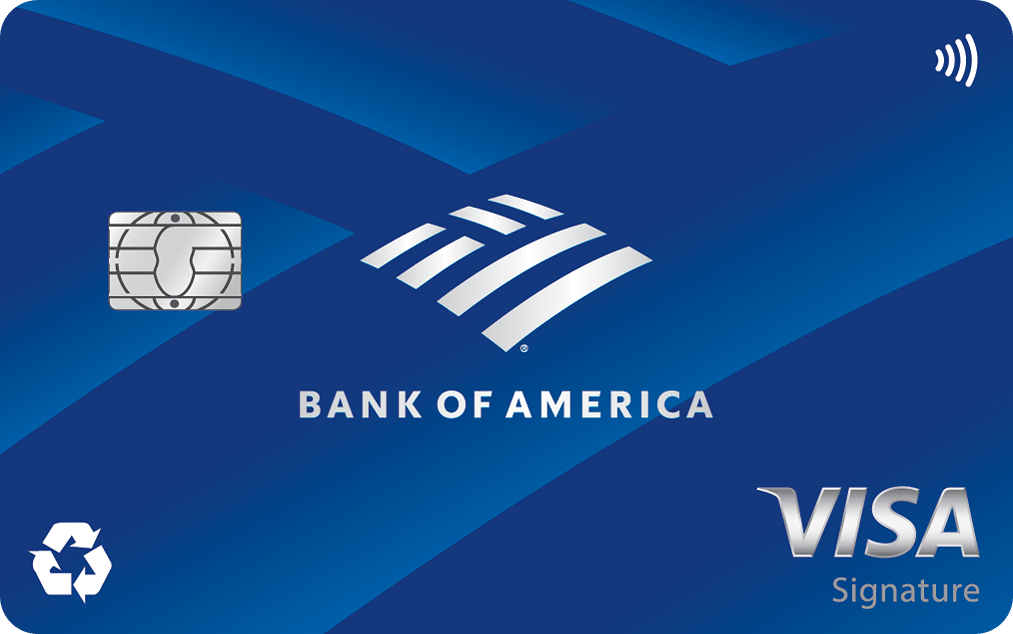 4.1
FinanceBuzz writers and editors score cards based on a number of objective features as well as our expert editorial assessment. Our partners do not influence how we rate products.
Apply Now
on Bank of America's secure website
Read Card Review
Intro Offer
Earn 25,000 online bonus points after you make at least $1,000 in purchases in the first 90 days of account opening - that can be a $250 statement credit toward travel purchases