Mishaps happen anytime and anywhere, but there tends to be an added vulnerability if a problem happens while on vacation. Anyone who travels regularly likely has their own travel horror story, particularly if they've been voyaging long distances and spending time in unfamiliar places. A travel mishap can ruin your trip and be very costly.
Of course, experiencing new adventures is one of the most exciting things about traveling, and these tales aren't to scare you, but to alert you. We combed through travel blogs and message boards to find 10 wild travel mishaps — from disappearing hostels to an accidental trip with school children — to inform your next trip.
The dislodged hostel houseboat
Reddit users didn't disappoint when sharing their nightmare travel tales, including this harrowing experience about a stay in a floating hostel near Iquitos, Peru. The user detailed how their hostel houseboat was docked and anchored in the river. While they were out for dinner one night, it began to pour.
The storm was fierce, so the guests waited out the rain for a couple of hours at a bar to keep dry. When they returned to their hostel for the night, the houseboat was gone. It had accidentally dislodged from the anchor that held it in place and floated down the river in the rough waters from the storm. The hostel owner had thought they were still in the floating houseboat and had called the police who were frantically searching the river for them. Luckily, everyone was okay.
Turkish bathroom mishap
Using a public bathroom can be a horrifying experience on its own, but this Reddit user shared a funny but frightening tale of her father's experience before he even entered the loo on a thread about travel horror stories. While visiting a high tourist area in Turkey, this woman's dad needed to use the bathroom. The public toilets have attendants outside of them and users pay a fee to use the facility.
The father attempted to pay a woman who was sitting near the entrance, only she was not a bathroom attendant and was not happy to be mistaken for one. She began screaming, "You think I am a toilet attendant?!" at the man and eventually chased him down the road.
Vanishing travel companion — and money
While visiting Argentina alone, one traveler — whose story was shared on Tourradar — was delighted when a fellow tourist came up to them in Buenos Aires and asked if they wanted to explore the city together.
The man suggested that they go for some food and wine. Later that day, they decided to stop for more drinks at a spot with an outdoor bar. After a few liters of beer, the user said they woke up about eight hours later missing their debit card, iPod, cellphone, and travel guide.
Pro tip: Travelers often have to worry about tourist scams, so be alert and heed caution when meeting strangers.
An accidental school trip
Taking and finding the right public transportation to get to where you need to go can be tricky when you don't speak the language of the country you're visiting. Another Reddit commenter used her friend's visit to Poland to inform the public about the perils of travel. The friend planned to take a bus from the airport to Krakow. She went to the area where she was told buses would be waiting, and hopped on board.
She noticed some people giving her strange looks, but figured she was sticking out as a tourist. It also appeared that everyone else seemed to know each other. Shortly after the bus departed from the airport, she realized she had gotten on a bus full of Dutch students who were on a school trip visiting Krakow. The embarrassing mishap did score her a free bus trip, though.
Drunk hostel guest
Travel blogger Inessa of Through a Travel Lens shared a story with Ladies What Travel about a creepy night spent at a mixed dorm hostel in Triglav National Park in Slovenia.
In the middle of the night, she woke up and noticed a figure in the room, silently standing right beside her bed. At one point, the person even began touching her blanket. The blogger said she was completely paralyzed with fear, but later found out the mysterious figure was an extremely drunk woman who ended up wandering into the wrong room.
A banking mishap in Thailand
Making sure you have access to your money is a big deal when abroad. Blogger Grasya explained her cautionary tale with Ze Wandering Frogs about a time her bank abruptly changed their rules for accessing money while she was in Thailand.
This blogger had no issues on previous trips to nearby countries, and said she was given no warning about the changes. This is a situation where it pays to have a backup plan, like one of the best travel credit cards. She was thankfully prepared for any issues like this and had a second debit card from a different bank just in case.
A honeymoon hurricane
Amanda from the blog Toddling Traveler had her pre-baby horror story shared with Ze Wandering Frogs. She had quite the unforeseen end to her honeymoon in St. Lucia in 2010. Hurricane Tomas was headed toward them, and was downgraded to a tropical cyclone by the time it hit the island. There was still a huge amount of damage and not the most pleasant thing to experience when celebrating your marriage.
Among the damaged buildings was the island's main airport. Luckily, the couple was able to leave St. Lucia from a small island hopper airport. But to get home to Pittsburgh, they needed to stop overnight in Antigua, then fly to Puerto Rico, Atlanta, and finally, home.
Stranded in Romania with five kids
When you think about Romania, you may think of Dracula or haunted mansions, and this story is just as scary. Blogger LeAnna of The Economical Excursionists told her story of going to Romania with a group of friends — and their five children under age five. The flights were cheap and they thought it would be the experience of a lifetime.
As they were getting ready to fly home, they found out that the airline (that had offered the cheap flights) was on strike, leaving them stranded. After a few unsuccessful attempts to book hotel rooms and rebook flights, the whole gang ended up on a long and complicated train trip back to Germany.
Pro tip: It may be shocking to learn about a canceled flight, especially when you are trying to get home. But even more shocking are the bad behaviors on airplanes that have been reported. Try to steer clear of mile-high drama and learn as many flying tips as you can to best prepare.
A Swiss cash dilemma
We've all been forgetful here and there, but blogger Alexx of Finding Alexx shared how terrifying forgetfulness can be when traveling. During a solo excursion to Switzerland, Alexx took a bus to Interlaken to walk around a bit before going out for a fancy dinner. When she tried to pay for her meal, she couldn't locate her wallet.
Luckily, she had her phone and was able to use Apple Pay, but the heart dropping knowledge that your wallet is missing wouldn't be wished on anyone. She had to cancel all of her cards to protect herself, leaving her feeling quite vulnerable in a pricey vacation spot. By some miracle, the bus driver who had taken Alexx to Interlaken showed up at her hostel the next day with her wallet, which she had left on the bus.
Bed bugs biting
Travel blogger Carrie Ann shared on her Should Be Cruising blog that the first leg of her journey was a week-long expedition cruise in Glacier Bay, Alaska. That was followed by spending a few days taking in the sites of Juneau.
She found a quirky and cozy-looking hotel to stay at and after checking in, decided to take a quick nap for a refresh. After an hour, she woke up covered in bed bug bites with the critters visibly crawling around the bed. This is exactly the opposite of relaxing. Luckily, she was able to debug and find a different place to stay nearby that didn't have any uninvited guests.
Bottom line
When it comes to travel, you can try to plan as much as possible, follow and bring a back-up of your necessities, but sometimes, the unexpected will happen. It's especially awful when the unexpected is horrifying.
Although travel issues are often impossible to predict, there are different types of travel insurance — from medical coverage (for those unforeseen vacation injuries) to coverage for baggage and personal effects. If anything, insurance may be able to provide some peace of mind for a long-awaited trip.
Plus, learning the mishaps and unfortunate situations others have experienced might help you avoid them and avoid wasting your hard-earned money trying to get out of them.
Easy-to-Earn Unlimited Rewards
Earn 25,000 online bonus points after you make at least $1,000 in purchases in the first 90 days of account opening - that can be a $250 statement credit toward travel purchases
Earn 1.5 points per $1 spent on all purchases
Longer intro APR on qualifying purchases and balance transfers
No foreign transaction fees
Earn unlimited 1.5 points per $1 spent on all purchases, with no annual fee and no foreign transaction fees and your points don't expire.
25,000 online bonus points after you make at least $1,000 in purchases in the first 90 days of account opening - that can be a $250 statement credit toward travel purchases.
Use your card to book your trip how and where you want - you're not limited to specific websites with blackout dates or restrictions.
Redeem points for a statement credit to pay for travel or dining purchases, such as flights, hotel stays, car and vacation rentals, baggage fees, and also at restaurants including takeout.
0% Introductory APR for 18 billing cycles for purchases, and for any balance transfers made in the first 60 days. After the intro APR offer ends, 17.99% - 27.99% Variable APR will apply. A 3% fee applies to all balance transfers.
If you're a Preferred Rewards member, you can earn 25%-75% more points on every purchase. That means instead of earning an unlimited 1.5 points for every $1, you could earn 1.87-2.62 points for every $1 you spend on purchases.
Contactless Cards - The security of a chip card, with the convenience of a tap.
This online only offer may not be available if you leave this page or if you visit a Bank of America financial center. You can take advantage of this offer when you apply now.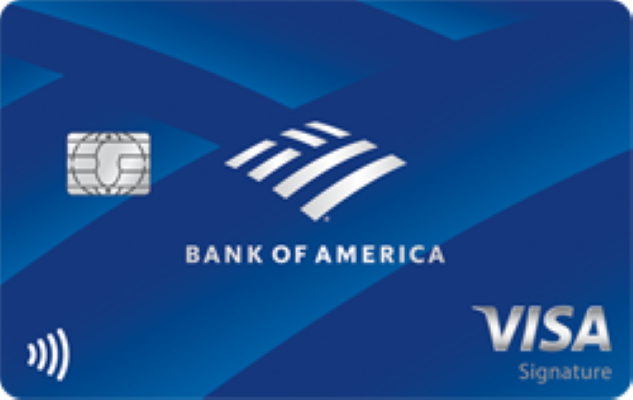 Apply Now
on Bank of America's secure website
Read Card Review
Intro Offer
Earn 25,000 online bonus points after you make at least $1,000 in purchases in the first 90 days of account opening - that can be a $250 statement credit toward travel purchases