If you feel like you have to take more and more precautions with your sensitive information every year, your feelings are spot on. According to the 2017 year-end review of data breaches released by the Identity Theft Resource Center, the number of credit card numbers exposed in 2017 totaled roughly 14.2 million, up 90% over 2016.
As a traveler, you may frequently use one of the best travel credit cards for the associated benefits, but the concern of having your information stolen might also be top-of-mind. This kind of theft can indeed happen, and there's a good chance you wouldn't even know it until well afterward. So it's understandable that you want to protect yourself every chance you get.
RFID (radio-frequency identification) is used in many credit cards to allow for contactless payment. Instead of swiping or inserting your card into a reader, RFID-enabled cards need to be within just a few inches of the reader for the payment to process, allowing for a more timely transaction.
As the popularity of RFID-enabled credit cards as grown, however, so has concern over its vulnerability. If your credit card needs to only be near the reader for it to process, what happens if a criminal holds a reader next to your RFID-enabled credit card?
If you've got one of these RFID-enabled credit cards and you're concerned it's making you a target, there are a few things you should know first. Once you do, you might feel a little better the next time you step out the door.
What is an RFID sensor chip?
An RFID chip is used to exchange information with an RFID reader using radio waves. Depending on the RFID chip — active or passive — these radio waves can broadcast from only a few inches to upwards of 1,500 feet. The RFID chips used in credit cards, thankfully, are passive RFID tags, so the chip has to be close enough — usually four to six inches — from the RFID reader for it to pick it up. If you think the few seconds it takes to swipe your credit card or insert the chip into the reader is too long, RFID's contactless capabilities make the transaction even faster, allowing you to just tap and go.
If this type of touch-and-go technology sounds familiar, it's because it's the same sort of technology used in transit systems all over the world. With one of these contactless smart cards in hand, you simply tap it on the terminal and your fare is registered. It's quick and simple.
RFID technology has also made its way into US passports issued after 2007. Embedded in the cover, these chips contain the personal contact information found on the photo page of your passport, such as your name and photo. But that's about it. So if someone steals your passport and alters the information found on the photo page, a simple scan of the chip will show the information doesn't match. Additionally, these passport covers come with a shielding layer for added protection. Even Global Entry cards are issued with shielded sleeves.
How do you know if your card has an RFID chip?
Not all credit cards come with an embedded RFID chip, but if your card has one, it's easy to spot. Credit cards that come with an embedded RFID chip have a WiFi-looking symbol on either the front or back of the card that's pretty hard to miss.
Here's an example of the image in the upper righthand corner of this card: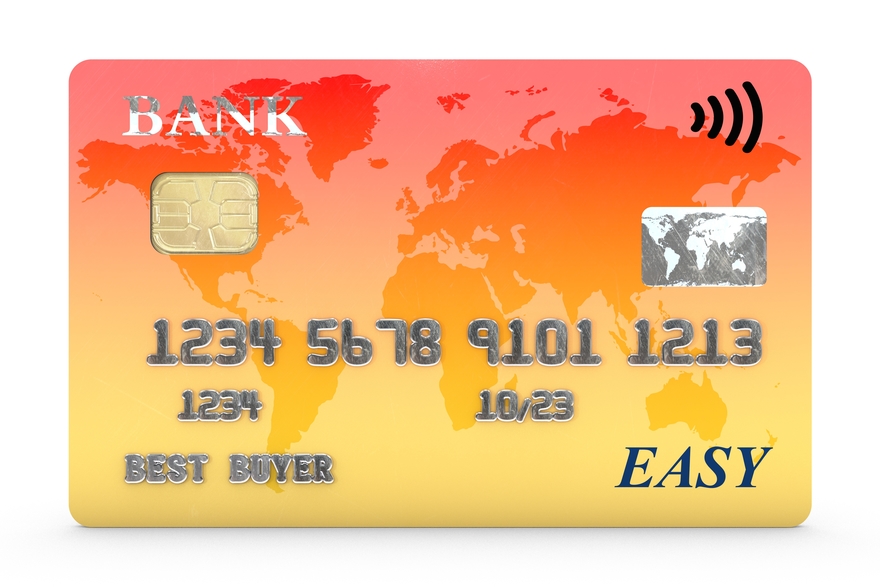 You'll find many newer credit cards tend to have RFID technology. If your card isn't RFID-enabled and you'd prefer to have it, you can call your credit card issuers and ask for a newer card that comes with an RFID chip embedded. If they use RFID, they should be able to issue you a new card that includes it.
How criminals could steal your credit card information
According to USA Today, your RFID-enabled credit card is constantly emitting its information, and as soon as your card is close enough to a reader, the reader records the info. This is what makes the transaction occur in a matter of seconds. So, technically, all a thief needs is a scanner that can read the radio signals emitted by the RFID chip in your card. If they have one of these scanners, theoretically they would be able to steal credit card data if they're within close proximity, and you wouldn't even know it.
But they've got to be close — usually within four to six inches of the card — unless they have a really strong antenna. At that close of a distance, you'd probably notice, but it does depend on where you are. If you're walking through Target, someone coming within six inches of you would be incredibly noticeable, but that proximity might not be as suspicious if you're crammed in a crowded train. In that scenario, someone just brushing against you might be enough for a criminal to potentially get your information.
While this might have you on guard the next time you leave your house, looking at anyone standing next to you in line or in a crowded place as a potential thief, American Express notes that signals coming from the RFID chip only emit the credit card number and expiration date; not the CVV code or cardholder's name. While this can be enough for a thief to successfully duplicate your card for in-store purchases, online purchases typically require you to enter the CVV code and expiration date, which isn't transmitted through the RFID.
Furthermore, many RFID-enabled credit cards send out a unique serial code, which, according to both Visa and Mastercard, changes every time you use it, so if someone does get your information and is able to duplicate it, they'll likely only be able to use your information once — if at all.
But we can probably all agree it only takes one occurrence for credit card fraud to be damaging. And if these criminals are stealing the information from multiple people, imagine what they can walk away with.
What are RFID blocking products?
Out of this new concern over RFID vulnerability, RFID blocking products have sprung up left and right. Everything from wallets and purses to backpacks and even clothing are being sold and marketed as having RFID protection. Whether they actually work is the question worth asking. You would need to know the exact materials being used and any tests that were performed for these products to be worth considering.
RFID blocking wallets and bags that claim to block RFID signals typically use what is called a Faraday cage, named after scientist Michael Faraday. Faraday cages are essentially metal cages that shield their contents by taking the electromagnetic radiation and distributing it around the exterior of the cage, instead of allowing it to penetrate. Bags and wallets lined with this material are said to block RFID signals, as well.
While there are plenty of these products that claim to be the solution to your concerns with RFID skimming, wrapping your card in thick aluminum foil will likely work as well as any special wallet or bag.
The reality about identity theft and RFID blocking
If your information is stolen, the problem is that it's just about impossible to determine whether the theft was committed by someone using an RFID scanner. Therefore, without real statistics, you can't determine if RFID blocking products are worth it or if these products would have prevented your information from being stolen in the first place.
Credit card fraud by RFID theft may also be considered a waste of time by a thief, as it will likely be obvious if someone is hovering around other people in the hopes they're carrying an RFID-enabled credit card. As noted by NPR, it's a lot less risky for criminals to go online and buy thousands of credit card numbers and security codes for just a couple hundred dollars.
Even simpler, and likely a much bigger threat, are telephone and email scams — where criminals simply call or email and ask people for their information, under the guise that they're your bank or the IRS. Unfortunately, too many people fall for this and willingly release their information.
Most experts agree that RFID-blocking products are a waste of money. According to Digital Trends, the largest independent technology publisher in the world that provides consumers with product information, there has yet to be a report of a single crime that an RFID-blocking product would have prevented. Additionally, there's rarely any evidence these products do, in fact, guard against RFID skimming.
So, do you really need RFID blocking products?
If you're in the market to buy a new wallet, and it will make you sleep better, it wouldn't hurt to consider an RFID-blocking wallet, otherwise, it might not be worth it. Since there's no way to tell that RFID skimming actually results in credit card fraud, it really boils down to whether you think it's worth the money and not the risk. Just do your due diligence and shop for a product with trusted reviews and evidence that it does protect from RFID skimming.
Credit card fraud does happen, there's no conspiracy there. As an inexpensive alternative to shelling out money for something that might not work, you can wrap your credit cards in aluminum foil.
Great for Flexible Travel Rewards
Current Offer
Earn 60,000 bonus points after you spend $4,000 on purchases in the first 3 months from account opening
Rewards Rate
5X points on travel purchased through Chase Ultimate Rewards®; 3X points on dining, select streaming services, and eligible online grocery purchases; 2X points on all other travel purchases, and 1X points per $1 on all other eligible purchases