Train travel evokes a sense of wonder and nostalgia often unmatched by other forms of modern transportation. Flying is amazing, but you're thousands of feet in the sky, far away from the land below. Driving is helpful for stopping as you please, but you're focused on the road, unable to fully share in the passing scenery.
On a train ride, you simply sit back and enjoy the landscapes as they roll by. It's a step away from the hustle and bustle of daily life because the experience receives your full attention. You don't typically choose to ride a train because it's the most convenient or affordable option (in many cases it's not), but because you want a unique and memorable experience.
If you want to enjoy one of these 15 scenic train rides, it will likely take some planning. But it is indeed possible to take your dream trip without creating debt. After the list of epic rail journeys, we've shared a list of money moves you can make in preparation for future train travel. Applying these tips could help you achieve the financial freedom you need to take one of these incredible train rides.
Inca Rail First Class – Machu Picchu, Peru
The Inca Rail First Class train isn't the only way to make it to Machu Picchu, Peru, but it's one of the best. Large, comfortable seats and massive windows help you relax and enjoy the ride from the town of Ollantaytambo to the town of Aguas Calientes, at the base of Machu Picchu.
Of course, to even get to this point of your journey, you've likely already passed through the ancient Incan capital of Cusco and the beautiful Sacred Valley region. This train ride helps to build the anticipation even more as one of the final steps before seeing Machu Picchu for yourself. Heading into the Andean jungle while following the Urubamba River is a great precursor to the big event up in the mountains.
In addition, Inca Rail First Class passengers are provided with meal service and drinks during the nearly two-hour train ride.
Adirondack Scenic Railroad – New York, United States
Upstate New York is an ideal destination for immersing yourself in beautiful foliage and visiting quaint towns and villages seemingly untouched by time. The Adirondack Mountains provide the perfect backdrop for a train ride along the Adirondack Scenic Railroad.
Choose from one-way or round-trip itineraries between Utica and Thendara (Old Forge) and enjoy train travel through lush forests and over multiple rivers and streams. A one-way journey takes about 2 1/2 hours, whereas a round trip takes about 4 1/2 hours. Be sure to include time in your itinerary to visit and explore the Old Forge area if you want a true upstate New York experience.
California Zephyr – United States
If cross-country train trips are your thing, add the California Zephyr ride to your bucket list. This train journey, operated by Amtrak, runs from Chicago, Illinois, to Emeryville (San Francisco), California, and takes more than 50 hours to complete.
The itinerary also includes stops along the way in Iowa, Nebraska, Colorado, Utah, and Nevada. It's possible to create a customized itinerary for part of the journey, like jumping on in Denver, Colorado, and getting off in Reno, Nevada.
Many of the scenic highlights include mountain ranges like the Rocky Mountains and Sierra Nevadas. Near the end of your journey you'll also be able to see the San Pablo Bay and Carquinez Strait.
Pacific Surfliner – California, United States
The Pacific Surfliner, also operated by Amtrak, offers a stunning train journey along 351 miles of California's Pacific coastline from San Luis Obispo to San Diego. Take your time to enjoy views of pristine beaches and rolling green hills from the comfort of your reclining seat.
Potential stops to visit along the way include Grover Beach, Santa Barbara, Oxnard, Los Angeles, and Anaheim. Each destination has its own range of activities and highlights. The beach is located just two blocks from the Santa Barbara rail station or you could head to the Channel Islands National Park from Oxnard.
Sri Lanka Railways – Sri Lanka
If you've seen photos of passengers hanging out of a blue train surrounded by dense, green foliage, you've likely seen the Sri Lanka Railways journey from Kandy to Ella in Sri Lanka. Although it may not be recommended to hang from objects moving at high speeds, you wouldn't want to miss the views on this train ride between the central city of Kandy and the small southern town of Ella.
The ride takes about seven hours and offers views of tea plantations, green hills, bridges, and villages. It's recommended not to book first class tickets for your itinerary, as you won't have the experience of mingling with the locals and having open windows.
The Jacobite – Scotland, United Kingdom
The Jacobite steam train is run by West Coast Railways, an independent train operating company based out of Lancashire, England. This train ride takes you on an 84-mile round-trip journey between Fort William and Mallaig in the Scottish Highlands.
The Scottish Highlands are a global destination known for their impressive natural beauty, including striking lochs and windswept hills. However, The Jacobite train in particular is famous for its starring role as The Hogwarts Express in the Harry Potter films.
For the full magical experience, book a first class "HP" compartment carriage for your own private compartment with a large viewing window. This will help you take in the sights, including the Glenfinnan Viaduct.
Venice Simplon-Orient-Express – Europe
The Venice Simplon-Orient-Express, operated by Belmond, offers modern luxury travelers the opportunity to experience a journey reminiscent of famous train rides of the past. This train can take you through many popular European cities, though it depends on which booking you select. London, England, to Venice, Italy, is a classic route, but you may prefer Paris, France, to Venice or Paris to Verona, Italy.
Whichever route you select, you'll enjoy panoramic scenes of lush vineyards and mountain landscapes as you travel through Western Europe. You'll pay more for this luxury experience, but getting to take in the scenery from your own private cabin might be well worth the cost.
Snowdon Mountain Railway – Wales, United Kingdom
For a shorter train journey with unbelievable views, consider a ride with Snowdon Mountain Railway in Wales. A small diesel carriage takes passengers nearly the whole way up to the summit of Snowdon, the highest mountain in Wales.
The journey takes about 45 minutes and ends at Clogwyn Station, where you can take time to enjoy the views of Snowdonia National Park. The park is within driving distance of Liverpool, so it could provide a welcome escape from the city if you're interested.
Northern Explorer – New Zealand
The longest-running passenger service in New Zealand is ready to give you a taste of everything the North Island has to offer. For a full-day journey, take the Northern Explorer train from Auckland to Wellington, with seven stops in between. Of course, if you're coming from the South Island, you'd take the train in the opposite direction from Wellington to Auckland.
Highlights on your trip may include spending time in both cities, but also taking in the unique views of New Zealand. Gaze out across the rocky Kapiti Coast, admire the white cliffs above the Rangitikei River, and marvel at the Ruapehu active volcano in the distance. If you have the time, be sure to make a few stops.
New Zealand Rail has paused train services during COVID-19, so check that they are back up and running before you make your plans.

Korail V-Train – South Korea
South Korea's Korail offers a variety of train routes for traversing different parts of the country while enjoying the scenery along the way. The V-Train follows a route through different valleys in a mountainous region of the country between Buncheon and Cheoram.
Three observatory cabins provide ample space to enjoy the passing scenery and there's a mini cafe if you need refreshment. The V-Train runs at a slower pace than typical transporter trains so you can take your time with sightseeing.
Mount Fuji Shinkansen – Japan
Japan's Shinkansen, or bullet train, is an experience in itself with a top speed of nearly 200 mph. But the journey becomes more special when you include sights along the way, such as Mount Fuji, Japan's highest mountain and an active volcano.
If you're traveling by train between Tokyo and Kyoto, consider your seating selection so you get the best view of Mount Fuji as you speed by. You want to be on the right side of the train car if you're coming from Tokyo and the left side if you're coming from Kyoto. Of course, it's best to hope for a clear day so the massive mountain is visible.
Bernina Express – Switzerland
Do you dream of viewing and crossing the incredible Alps landscape from the comfort of a train car? If so, consider the Bernina Express, by the Swiss Rhaetian Railway company, to bring your dreams to life. The train journey begins in Chur, Switzerland, and ends in Tirano, Italy.
Along the way you'll cross 196 bridges and pass through 55 tunnels, all while enjoying pristine alpine landscapes and panoramic views. Highlights include multiple viaducts, views of glaciers, and passing the highest point of the journey at 2,253 meters (about 7,400 feet) above sea level. The full journey takes about four hours.
Bergen Railway – Norway
If you're exploring the Scandinavian lands of Norway, take the opportunity to travel from Bergen to Oslo by train on the Bergen Railway. This train ride takes about seven hours, has 22 stops, and passes through 180 tunnels. In addition, you'll see plenty of amazing scenery, including potential views of forests, lakes, mountains, fjords, rivers, and waterfalls.
For an additional boost of pleasant views, get off the train at the Myrdal stop and take another train to Flåm. This side adventure has been called one of the top 10 train journeys in Europe, as well as the best train journey in the world.
Rocky Mountaineer – Canada
The Rocky Mountaineer is a Canadian company that offers three rail journeys in Canada and now offers one U.S. rail journey as well. The most popular route is from Vancouver to Banff/Lake Louise. This ride takes you through the Spiral Tunnels, next to mountains, and past stunning lakes.
If you want to break up the trip, book a package deal that includes overnight stays along the way. This can help you enjoy the journey more by spending time in the beautiful provinces of British Columbia and Alberta.
Rovos Rail – South Africa
African safaris aren't limited to lodges and vehicles with four-wheel drive. If you're feeling adventurous, you can opt for a scenic train ride with Rovos Rail in South Africa instead. You'll have different itineraries to choose from, but the Cape Town to Pretoria option is likely one of the most epic.
This ride is an 11-day journey that includes an ostrich farm visit, a boat cruise, multiple game drives, city tours, and more. In addition, your private sleeper coach makes it easy to enjoy the South African landscapes as you pass by, including the beaches, lakes, and rolling hills of the famous Garden Route.
How to save money on train travel
Train travel can often be expensive, especially if you have to factor in flying to another country and then booking your train tickets. Fortunately, you have options to reduce your train travel costs, including using credit cards.
Here are a few tips to help you save money on train travel:
Use credit cards. Many of the best travel credit cards offer rewards for travel purchases, which often includes train tickets. Using the right credit card for booking train travel could net you valuable rewards you can use for future travel redemptions such as flights or hotel stays. In addition, if you're taking a flight or staying in a hotel as part of your train journey, having a credit card with specific perks or benefits can be helpful. Airport lounge access or complimentary elite status at a hotel or could help you save money on parts of your itinerary or simply have a more enjoyable adventure.
Earn points. Using specific credit cards to book train tickets, like an Amtrak credit card, can help you earn points and reduce overall travel costs. If you want to save up for a train trip, though, many of the best cash back credit cards offer better rewards on everyday purchases. You also have the option to earn points from partnerships with train companies. For example, Amtrak partners with hotel, retail, and car rental companies to provide everyday ways to earn points you can put toward future train tickets.
Skip the flight. If you're already planning to travel to another country or city and have an open itinerary, consider taking a train instead of a flight if geography allows. This will put the money you save from not flying straight into an enjoyable train journey.
Pack supplies. The train's concession or restaurant area can be tempting, but you'll likely save money if you bring your own food and drinks. Be sure to check ahead of time what the restrictions are for food and beverages on any train ride, as some companies may not allow you to bring your own.
Bottom line
If you're putting together travel plans, remember to include train travel as an option. Not every train ride will be the same, but it could be a fun opportunity to switch up your typical routine and have a new experience. You're especially likely to have a memorable trip if you include one of the exciting rail journeys mentioned above.
Keep in mind, train travel doesn't have to be financially overwhelming if you're prepared for what to expect. It may be less expensive to travel by train in certain countries, but you have to get to those countries first. So earning points or miles now to cover your flight and hotel expenses could leave more room in your budget for the train rides you want to take.
Easy-to-Earn Unlimited Rewards
Earn 25,000 online bonus points after you make at least $1,000 in purchases in the first 90 days of account opening - that can be a $250 statement credit toward travel purchases
Earn 1.5 points per $1 spent on all purchases
Longer intro APR on qualifying purchases and balance transfers
No foreign transaction fees
Earn unlimited 1.5 points per $1 spent on all purchases, with no annual fee and no foreign transaction fees and your points don't expire.
25,000 online bonus points after you make at least $1,000 in purchases in the first 90 days of account opening - that can be a $250 statement credit toward travel purchases.
Use your card to book your trip how and where you want - you're not limited to specific websites with blackout dates or restrictions.
Redeem points for a statement credit to pay for travel or dining purchases, such as flights, hotel stays, car and vacation rentals, baggage fees, and also at restaurants including takeout.
0% Introductory APR for 18 billing cycles for purchases, and for any balance transfers made in the first 60 days. After the intro APR offer ends, 17.99% - 27.99% Variable APR will apply. A 3% fee applies to all balance transfers.
If you're a Preferred Rewards member, you can earn 25%-75% more points on every purchase. That means instead of earning an unlimited 1.5 points for every $1, you could earn 1.87-2.62 points for every $1 you spend on purchases.
Contactless Cards - The security of a chip card, with the convenience of a tap.
This online only offer may not be available if you leave this page or if you visit a Bank of America financial center. You can take advantage of this offer when you apply now.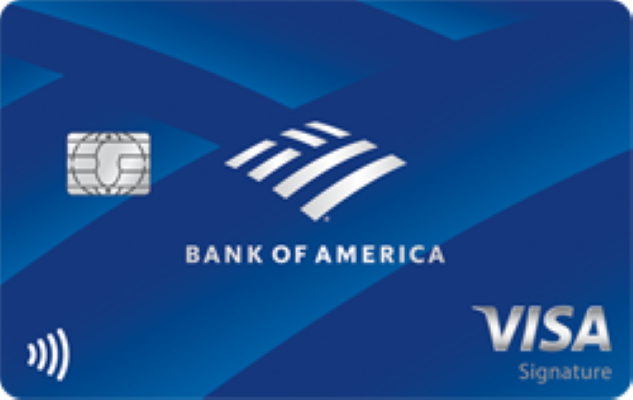 Apply Now
on Bank of America's secure website
Read Card Review
Intro Offer
Earn 25,000 online bonus points after you make at least $1,000 in purchases in the first 90 days of account opening - that can be a $250 statement credit toward travel purchases