A fascination with the unknown and a fear-induced rush of hormones drive many travelers to some of the most disturbing corners of the world. Sometimes this is an abandoned place with a violent past, said to be haunted by tormented souls. Other locations offer a quiet crypt or a lonely, dimly-lit road, where macabre energy is believed to linger. Wherever it is that gets your blood pumping, the most frightening part of the trip doesn't have to be the cost of getting there. Let's leave the feelings of terror for the haunted houses and musty dungeons.
As you prepare for your next haunted trip, consider how you can get there without breaking the bank. With a plan and some helpful tools, you can enjoy the same scares for less. To help you choose where to get your next horror fix, here's a list of spooky destinations that should be on any fear-hunter's radar.
Ancient Ram Inn (Gloucestershire, England)
The Ancient Ram Inn, in the village of Wotton-under-Edge, Gloucestershire, is a quaint, 11th-century inn and one of the oldest in the country. It's also considered the most haunted house in the U.K.
First used as a keeping house for slaves and workers constructing the St. Mary Church, the inn is said to be built on an ancient burial ground — as the story often goes. Not only that, it's believed the inn also sits on the intersection of two ley lines that directly connect it to Stonehenge. Legend has it these ley lines are the source of the Inn's paranormal power.
Over its long history, the inn is said to have been witness to everything from murder and human sacrifice to witchcraft and devil-worshipping. Visitors who stayed at the inn claimed to have seen the spirit of an executed witch, a Roman Centurion, a little girl, and a High Priestess dressed in white robes. It's said the priestess would often appear at the foot of a guest's bed, hands raised in the air and repeating unintelligible chants, before vanishing once again. But the Bishop's Room is the most haunted room of them all — with over nine different ghosts spotted within. While you can't stay the night anymore, the inn is still open for tours.
How to reach: Fly into either Bristol or Birmingham Airport, as it's about an hour's drive from each. Save money by booking one of the many local room shares instead of a hotel (some even claim to have views of the Ancient Ram Inn).
Aokigahara Forest (Yamanashi Prefecture, Japan)
Aokigahara Forest — also known as the Sea of Trees or, more creepily, the Suicide Forest — is a beautiful wooded area sprawling 13.5 square miles northwest of Mount Fuji. Unfortunately, the name comes from the countless people who have chosen this place for their final moments.
Aside from its bad reputation, the forest is naturally eerie as well — full of twisting and turning trees, winding roots, and uneven ground, pierced by hundreds of caves. Most jarring is the feeling of isolation, with trees so dense that wind and noise are reduced to almost nothing.
Some believe vengeful spirits of the elderly linger in these woods. It is thought that their families abandoned them in the forest after failing to support them in a time of famine. Legend says these spirits try to lure visitors who are sad and adrift from the path to join them. If you visit the forest, you might want to stay on the path or risk getting lost as well — as the area is rich with magnetic iron that interferes not only with cell phone service and GPS but also compasses.
How to reach: Fly into and stay in Tokyo. Aokigahara Forest is only a 90-minute drive from the city. But make sure you're carrying a credit card with no foreign transaction fees. That way, you won't be horrified by fees every time you swipe your card for fuel or food.
Shades of Death Road (Warren County, New Jersey)
Subject of numerous local legends, Shades of Death Road is a winding two-lane road that stretches nearly seven miles alongside Jenny Jump State Forest in central Warren County, New Jersey. Theories of how the road got its name span from countless murders at the hands of bandits and highwaymen to malaria-carrying insects that led to a multitude of deaths in the 1850s. There have been claims of ghosts alongside this windy road, and numerous travelers have reported being chased by trucks that vanished into the night just as quickly as they appeared.
If you dare to get out of your car, there's a haunted lake just off the road as well, which often produces wraith-like vapor formations on top of the water. If you're feeling particularly fearless, drive up the road from Ghost Lake and to a cross street called Lenape Lane. At the end of this dead-end road sits an abandoned stable where apparitions and floating orbs are seen. Look out, though, as they say if the white orb chases you and turns red, you will die.
How to reach: Shades of Death Road is an hour drive northeast of Lehigh Valley International Airport, and if you're brave enough, you can camp for cheap right in Jenny Jump State Forest. Since you'll be driving, bring a credit card that gets cash back on your gas expenses. Your card won't protect you on Shades of Death Road, but it will save you at the pump. Check out our list of the best credit cards for gas to learn more.
Shanghai Tunnels (Portland, Oregon)
Once only a small river town settled in the 1840s, the city of Portland's population grew quickly with its direct water access to the Pacific Ocean, turning it into a bustling port city. But as its economy grew, so did its reputation for being the most dangerous port city in the United States, if not the entire world.
Legend has it Portland was a hotspot for "shanghaiing" — a form of human trafficking. Swindlers would drug and kidnap unsuspecting men from local saloons outfitted with trap doors that dumped them into a network of underground tunnels. Held captive in cells beneath the city until sea captains needed laborers, these men would then be drugged again and transported onto ships where they wouldn't wake until hours into the voyage. Forced to work for the duration of the voyage, it sometimes took years for these men to return home.
Today, these tunnels are said to be haunted by the aggrieved spirits of those who died in the dark confines beneath the city. While many of the tunnels are closed off, there are tours available for the tunnels that are still accessible.
How to reach: Fly into Portland International Airport (PDX) and grab a nearby hotel. When you're ready to head to the tunnels, order up a rideshare. Don't worry, though — every rideshare service we know of has a strict "no shanghaiing" policy. So you don't need to fear waking up on a ship halfway across the Pacific.
The Stanley Hotel (Estes Park, Colorado)
Opened in 1909 in the foothills of the Rocky Mountains, the Stanley Hotel has hosted numerous celebrities over the years. However, the hotel is most famous for creeping out Stephen King enough that he woke from a nightmare and penned the framework for "The Shining," his classic 1977 horror novel.
King stayed in room 217 during his visit, thought to be haunted by the hotel's head housekeeper, but the oddities aren't confined to one room. Guests staying on the fourth floor have claimed to hear children running, giggling, and playing. There have also been reports of lights turning off and on, doors slamming shut, and sudden drops in temperature. A cowboy is said to sometimes appear at the corner of the bed in room 428. And if you listen carefully, you might hear Stanley Hotel founder Flora Stanley playing the piano — even though she's been dead for eighty years.
How to reach: An hour's drive from Denver, the Stanley Hotel is situated near Rocky Mountain National Park and plenty of budget-friendly camping. If you opt for a hotel, make sure to book a room well ahead if you plan to visit during the hotel's special fall events — the annual Shining Ball and Halloween Masquerade Party.
How to book your trip to your haunted destination
Using one of the best travel credit cards to rack up points and miles is a top way to travel on the cheap. Use your points to book free hotels and flights, and continue to earn rewards toward your next trip while you're there. 

If you're flying, use websites like Dollar Flight Club and a fare tracker like Hopper or Google Flights to ensure you're getting the best deal possible. A trip to your favorite haunted destination doesn't have to rattle your bank account. Make sure to plan ahead because some haunted locations are popular tourist attractions!
Easy-to-Earn Unlimited Rewards
Earn 25,000 online bonus points after you make at least $1,000 in purchases in the first 90 days of account opening - that can be a $250 statement credit toward travel purchases
Earn 1.5 points per $1 spent on all purchases
Longer intro APR on qualifying purchases and balance transfers
No foreign transaction fees
Earn unlimited 1.5 points per $1 spent on all purchases, with no annual fee and no foreign transaction fees and your points don't expire.
25,000 online bonus points after you make at least $1,000 in purchases in the first 90 days of account opening - that can be a $250 statement credit toward travel purchases.
Use your card to book your trip how and where you want - you're not limited to specific websites with blackout dates or restrictions.
Redeem points for a statement credit to pay for travel or dining purchases, such as flights, hotel stays, car and vacation rentals, baggage fees, and also at restaurants including takeout.
0% Introductory APR for 15 billing cycles for purchases, and for any balance transfers made in the first 60 days. After the intro APR offer ends, 18.24% - 28.24% Variable APR will apply. A 3% fee applies to all balance transfers.
If you're a Preferred Rewards member, you can earn 25%-75% more points on every purchase. That means instead of earning an unlimited 1.5 points for every $1, you could earn 1.87-2.62 points for every $1 you spend on purchases.
Contactless Cards - The security of a chip card, with the convenience of a tap.
This online only offer may not be available if you leave this page or if you visit a Bank of America financial center. You can take advantage of this offer when you apply now.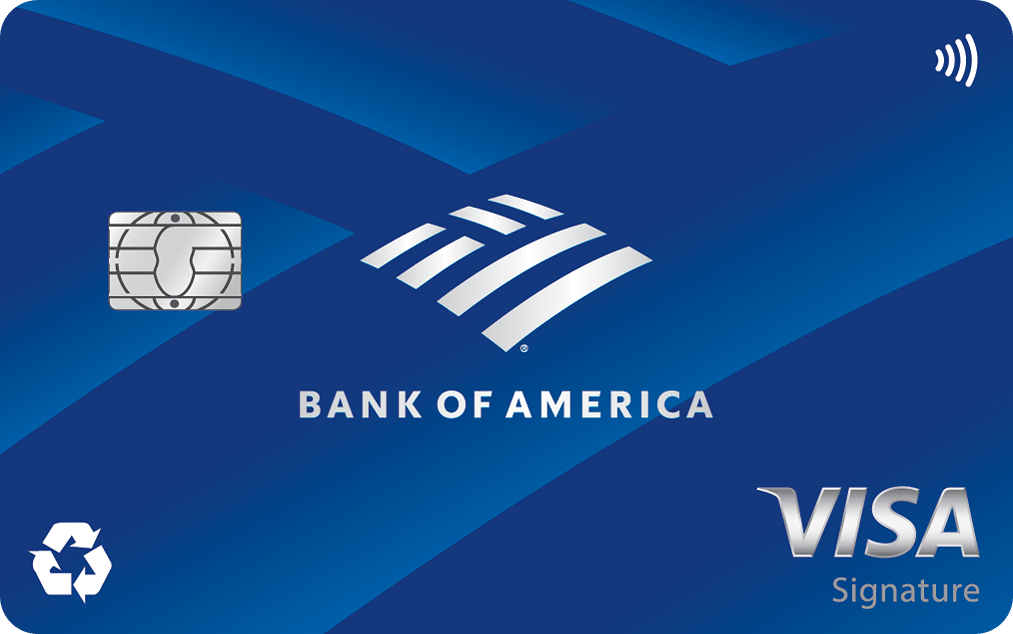 4.1
FinanceBuzz writers and editors score cards based on a number of objective features as well as our expert editorial assessment. Our partners do not influence how we rate products.
Apply Now
on Bank of America's secure website
Read Card Review
Intro Offer
Earn 25,000 online bonus points after you make at least $1,000 in purchases in the first 90 days of account opening - that can be a $250 statement credit toward travel purchases