As the COVID-19 pandemic recedes and Americans begin to travel more, airlines are seeing a jump in passengers. But many of us may still view airline travel as a hassle more than a help, especially with stories about unruly passengers and canceled flights.
So, what can you do to make your flight a little less of a pain and reduce your money stress? Here are some secrets the airlines don't want you to know.
You can get cash if your flight is canceled
Flights sometimes can be delayed or outright canceled. If a cancellation happens to you, know that you have options.
If you have some flexibility with your travel, consider asking for a cash refund for your unused ticket instead of vouchers or rescheduling a flight. The airlines might not mention the cash option to you or may only push vouchers for your flight, but you do have the right to ask for a full refund.
Book direct through an airline's website
Many travelers love to use third-party sites, such as Kayak or Expedia, to compare prices for their next flight and to book a flight. However, it can be wiser to use third-party sites to compare prices, and then go to the airline carrier's website to actually book the flight.
Sometimes, you will get a better deal or more options if you buy direct. The airlines may also offer you better protection when you have to change a flight if you booked through them rather than through a third-party site.
You can get a seat on a competitor
If your flight gets canceled, you can ask the airline to book you on a flight with a competitor. Before you reach the gate agent or while you are waiting on the phone for customer service, try to look up flights from other carriers so you have a few options ready for when you talk to the airline's representative.
Be aware that this may only work in certain circumstances, such as a cancellation due to maintenance or airline staffing issues. Weather, on the other hand, may be an equalizer that doesn't allow any flights out regardless of carrier.
They can cancel your ticket if they overbook
Overbooking is always a risk when you travel. Legally, airlines can do this. However, federal law states that they must first ask passengers to voluntarily give up their seats. And when they make this request, the airline must offer compensation to those who accept.
Checking in early — or being a member of the airline's frequent flier program — may make it less likely that you will be bumped.
You should call customer service if your flight is canceled
What should you do if you're already at the gate when your flight is canceled? Call customer service.
While some people get in line with their fellow passengers at the gate in hopes that the gate agent can process a reassignment quickly, calling customer service is often a better, quicker option. A customer service representative may answer your call sooner and have additional information to get you back into the air.
Flight attendants get paid when the door is closed
When you board a plane, you may see flight attendants directing passengers to open space in overhead storage, or checking on food and drinks in the galley to make sure everything is ready for the flight. But flight attendants aren't technically on the clock until the door closes on the airplane.
Things are changing, however, and Delta recently announced that it will start paying attendants before the doors close. But in the meantime, give flight attendants a little extra understanding before you sit down, or when you disembark after the flight.
You can't be held on a plane for too long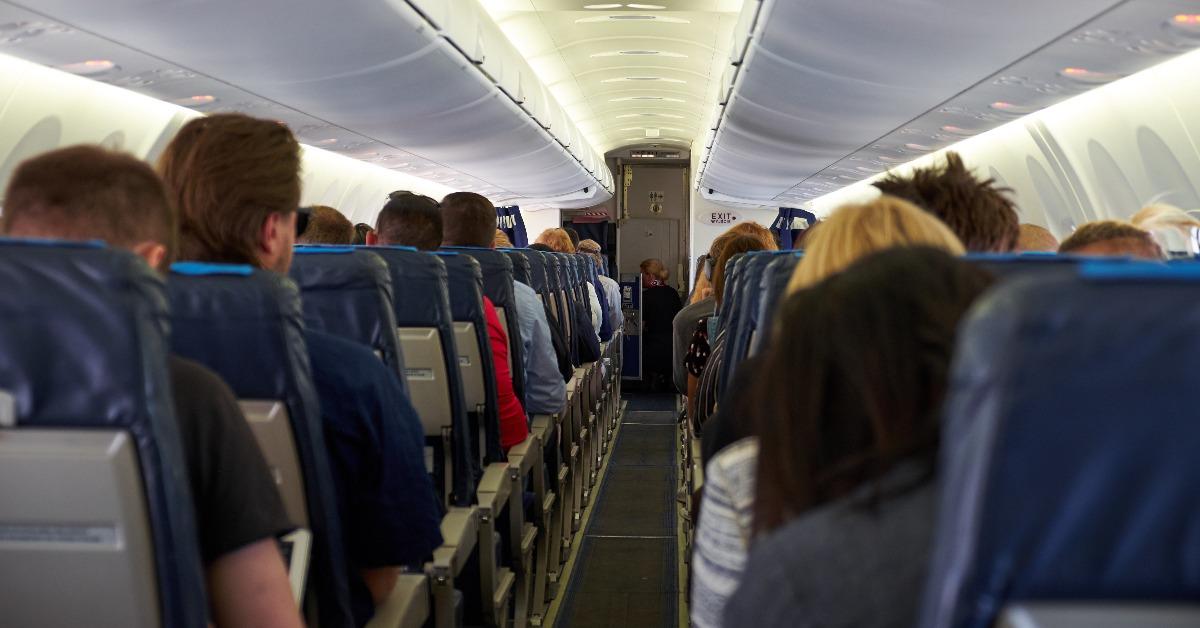 Airline laws changed in 2010 and now prohibit airlines from keeping passengers on a plane indefinitely. This was the result of some flights that were parked at airports for hours on end with no movement.
Remember that you have rights if you get stuck on the tarmac and the time continues to tick by. Airlines can only keep you in this state for three hours.
Blankets and pillows aren't often washed
One of the small perks of airline travel may be that extra time you have to take a nap before you reach your destination. But be aware that the blankets and pillows you may be offered might not be all that they seem.
Sure, a blanket could be in a protective plastic covering, but that doesn't necessarily mean it's been through a thorough wash and dry before it arrived at your seat. Instead, consider bringing your own travel pillow and maybe skip the blanket if you can.
Airlines owe you for lost baggage
If the airline loses your luggage, you can have them compensate you for anything inside. They may not be willing to give you more than a basic amount, but keep trying to make sure you get compensated for any lost items that you can prove were in the bag.
Pro tip: Take a picture of the contents before you pack them in so you have proof of what was in your bags. You may also want a picture of the outside as well to help find your baggage if it gets lost.
Bottom line
Air travel may be a good option to get from one place to another, but you might want to do some research before you get on your next flight. There may be ways to make your trip more enjoyable if you know how to work around the secrets that airlines might not reveal when you buy your ticket.
Ready to get back to travel now that the pandemic has subsided? Check out some of the best travel credit cards so you can take advantage of great perks as you explore new places. If you're planning a trip this season, you'll be faced with inflated prices on flights. Consider these legit ways to earn extra cash to help offset higher travel costs.
Easy-to-Earn Unlimited Rewards
Earn 25,000 online bonus points after you make at least $1,000 in purchases in the first 90 days of account opening - that can be a $250 statement credit toward travel purchases
Earn 1.5 points per $1 spent on all purchases
Longer intro APR on qualifying purchases and balance transfers
No foreign transaction fees
Earn unlimited 1.5 points per $1 spent on all purchases, with no annual fee and no foreign transaction fees and your points don't expire as long as your account remains open.
25,000 online bonus points after you make at least $1,000 in purchases in the first 90 days of account opening - that can be a $250 statement credit toward travel purchases.
Use your card to book your trip how and where you want - you're not limited to specific websites with blackout dates or restrictions.
Redeem points for a statement credit to pay for travel or dining purchases, such as flights, hotel stays, car and vacation rentals, baggage fees, and also at restaurants including takeout.
0% Introductory APR for 15 billing cycles for purchases, and for any balance transfers made in the first 60 days. After the intro APR offer ends, 18.24% - 28.24% Variable APR will apply. A 3% fee applies to all balance transfers.
If you're a Bank of America Preferred Rewards® member, you can earn 25%-75% more points on every purchase. That means instead of earning an unlimited 1.5 points for every $1, you could earn 1.87-2.62 points for every $1 you spend on purchases.
Contactless Cards - The security of a chip card, with the convenience of a tap.
This online only offer may not be available if you leave this page or if you visit a Bank of America financial center. You can take advantage of this offer when you apply now.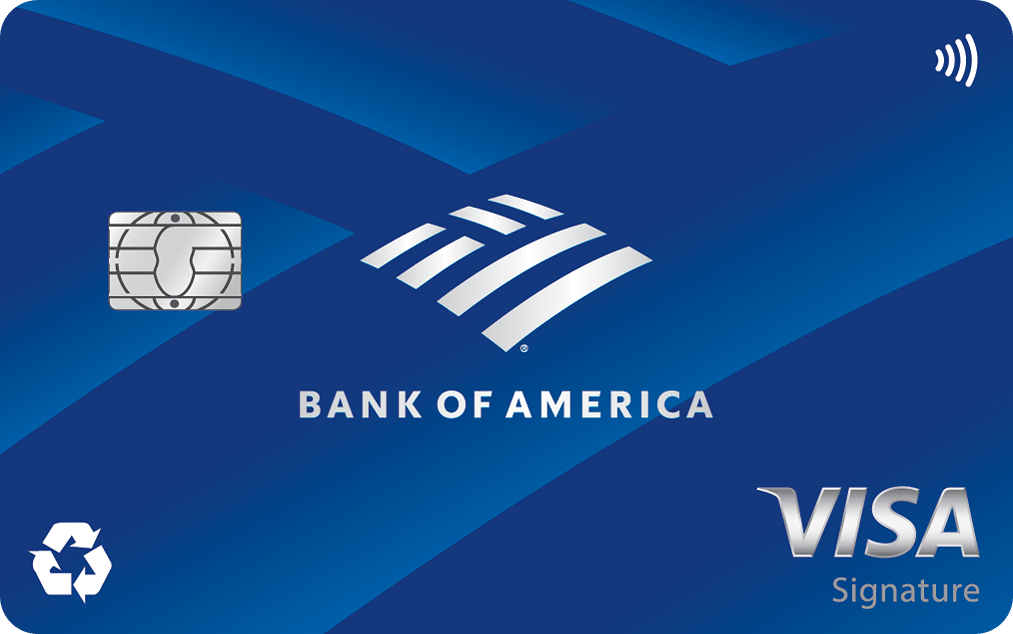 4.1
FinanceBuzz writers and editors score cards based on a number of objective features as well as our expert editorial assessment. Our partners do not influence how we rate products.
Apply Now
on Bank of America's secure website
Read Card Review
Intro Offer
Earn 25,000 online bonus points after you make at least $1,000 in purchases in the first 90 days of account opening - that can be a $250 statement credit toward travel purchases