The airport is often the gateway to exotic travels and epic vacations, but it can also feel like an overpriced market for rip-offs. If you want to avoid overspending at the airport, you might want to keep away from purchasing certain items and look for easy solutions instead.
Read on for more money moves and tips for saving money at the airport.
Water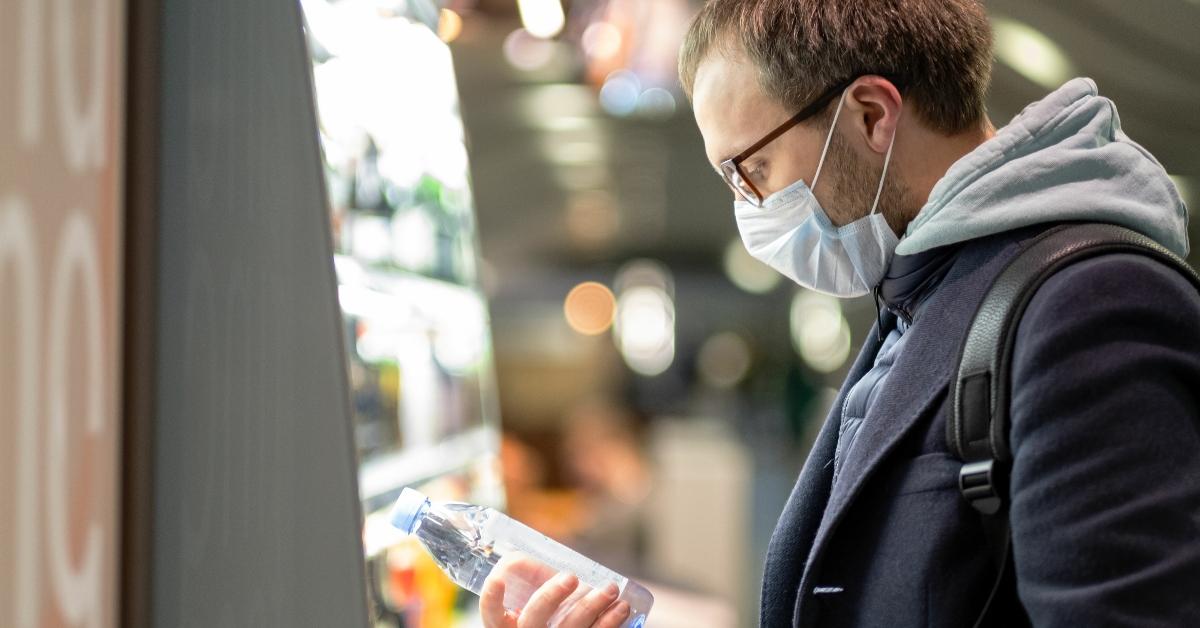 If you're wondering how to save money at the airport, avoid buying bottled water. In some cases, a bottle of water at the airport could cost around as much as a whole case of water you can get from the grocery store.
While you're at it, you might want to avoid other bottled beverages as well, whether it's soda, alcohol, juice, or something else. Similar to bottled water prices, you should expect these beverages to cost more as well.
Solution: Since you typically can't bring water through airport security, bring an empty water bottle with you to fill up past the security checkpoint.
Snacks
Buying snacks or other food at the airport often follows the same pattern as buying drinks, which means you'll likely pay much more than the food is typically valued.
Solution: Bring your own snacks. Solid items are allowed through TSA security checkpoints, so feel free to pack some goodies for your trip. If you want to eat for free at the airport, get a credit card with Priority Pass or other airport lounge access. Many airport lounges offer complimentary drinks and food, which could include full meals or buffet-style options.
WiFi
Staying connected to the internet is important for many travelers, which is why airports often provide free WiFi. But that doesn't mean the airport's connectivity will be the same as your at-home experience. It could be slower and you also might have to watch ads during use. In some cases, you'd have to pay for faster internet speeds.
Solution: Use certain credit card perks to access the lounges where the WiFi is free and often better than what's available at most airport gates. Some of the best airline credit cards offer airport lounge access as an included benefit.
Toiletries
Many airport convenience stores carry a wide variety of products because people forget to pack certain items. This could include a toothbrush, comb, lotion, and more. Even though these are common things and not typically expensive, you'll pay the "airport tax" on them.
Solution: Buy travel-sized containers that are TSA-compliant for gel, shampoo, conditioner, and other liquids. This will help you avoid having to buy new toiletries for every trip. If you forget any toiletries, it likely makes sense to buy small items at a grocery store when you arrive at your destination. Most toiletry items are available worldwide and you're likely to save money from buying things at a non-airport store.
Local currency
You've just landed in a foreign country and you need some cash in the local currency, what do you do? It depends on your situation, but you'll typically pay more than you need to if you head to a currency exchange in the airport.
Solution: A potentially safer option than carrying around loads of cash is to use credit cards. Most of the best travel credit cards don't have foreign transaction fees and are often accepted worldwide. If you like to have some local cash on hand, consider getting money from an ATM that works with your bank. Certain debit cards reimburse ATM fees, helping you not to spend more than you have to while withdrawing cash.
Travel gear
While airport stores might carry neck pillows, luggage, and extra phone chargers, you likely want to skip buying these things at the airport. The stores know some travelers might have to make a purchase in certain situations, so they can mark up prices to feed off of emergency buying.
Solution: If it's not an emergency, buy what you need at your destination. It will likely be less expensive and could be more reliable. For example, a cheap (but expensive) phone charger at the airport might quickly stop working.
Entertainment
You're facing a long flight or layover, or both, and you don't want to be bored to tears. You might be tempted to make an impulse buy of a book, magazine, or other type of entertainment purchase at the airport. It's going to cost you.
Solution: The internet is your friend. It's possible to load up movies, shows, books, and audiobooks on your phone or other device before you ever get to the airport. And this could all be with titles you already have access to through Netflix, Amazon Prime, or another service. If you're already at the airport, it may still be possible to acquire if you have a decent internet connection.
Parking
Airport parking options are notoriously expensive, especially if you'll be away for a while. But learning how to manage your money involves being able to research and compare different options and see where you can cut costs.
Solution: Explore parking options in and around the airport by searching online. This could include seeing what other travelers are saying on popular online forums such as Reddit or TripAdvisor. There are often multiple options to choose from if you look around.
Souvenirs
If you want a keepsake from your trip or you promised you'd bring something back to a family member or friend, avoid the souvenirs at the airport. Like almost everything else being sold, they're going to be expensive.
Solution: Wherever you travel, you're likely to find interesting knickknacks and other items all over the place, especially if it's a touristy area. If you search around, the prices should be better than what you'd find at the airport, and you also might have room to negotiate. Keep in mind that it could also offer more sentimental value if you get a souvenir from a little shop in downtown Barcelona or wherever you're vacationing compared to a store at the airport.
Medicine
Something to help with a headache, allergies, or an upset stomach could be just the thing to keep your trip smooth and uninterrupted. If you remember, always pack your own TSA-compliant medicine along with your travel essentials to avoid paying higher prices at the airport. But if you forget and you are suffering, you may need to spend money while at the airport.
Solution: If it's not an emergency, wait until you arrive at your destination to find a pharmacy that sells over-the-counter medications. Common types of medicine are typically available worldwide and could be less expensive than what you might find at an airport.
Bottom line
One of the best ways to avoid making expensive purchases at the airport is to remember to pack all your essentials. Airport stores exist because people use them, and most people likely only use them because they can't go anywhere else for something they feel they need. You may need to splurge sometimes, but the more prepared you are, the more you'll avoid a potential rip-off.
Apart from remembering to pack everything, it's also important to make savvy decisions that could help you save money on your travels. For more tips, see how you could save for a debt-free dream trip.
Easy-to-Earn Unlimited Rewards
Earn 25,000 online bonus points after you make at least $1,000 in purchases in the first 90 days of account opening - that can be a $250 statement credit toward travel purchases
Earn 1.5 points per $1 spent on all purchases
Longer intro APR on qualifying purchases and balance transfers
No foreign transaction fees
Earn unlimited 1.5 points per $1 spent on all purchases, with no annual fee and no foreign transaction fees and your points don't expire.
25,000 online bonus points after you make at least $1,000 in purchases in the first 90 days of account opening - that can be a $250 statement credit toward travel purchases.
Use your card to book your trip how and where you want - you're not limited to specific websites with blackout dates or restrictions.
Redeem points for a statement credit to pay for travel or dining purchases, such as flights, hotel stays, car and vacation rentals, baggage fees, and also at restaurants including takeout.
0% Introductory APR for 15 billing cycles for purchases, and for any balance transfers made in the first 60 days. After the intro APR offer ends, 18.24% - 28.24% Variable APR will apply. A 3% fee applies to all balance transfers.
If you're a Preferred Rewards member, you can earn 25%-75% more points on every purchase. That means instead of earning an unlimited 1.5 points for every $1, you could earn 1.87-2.62 points for every $1 you spend on purchases.
Contactless Cards - The security of a chip card, with the convenience of a tap.
This online only offer may not be available if you leave this page or if you visit a Bank of America financial center. You can take advantage of this offer when you apply now.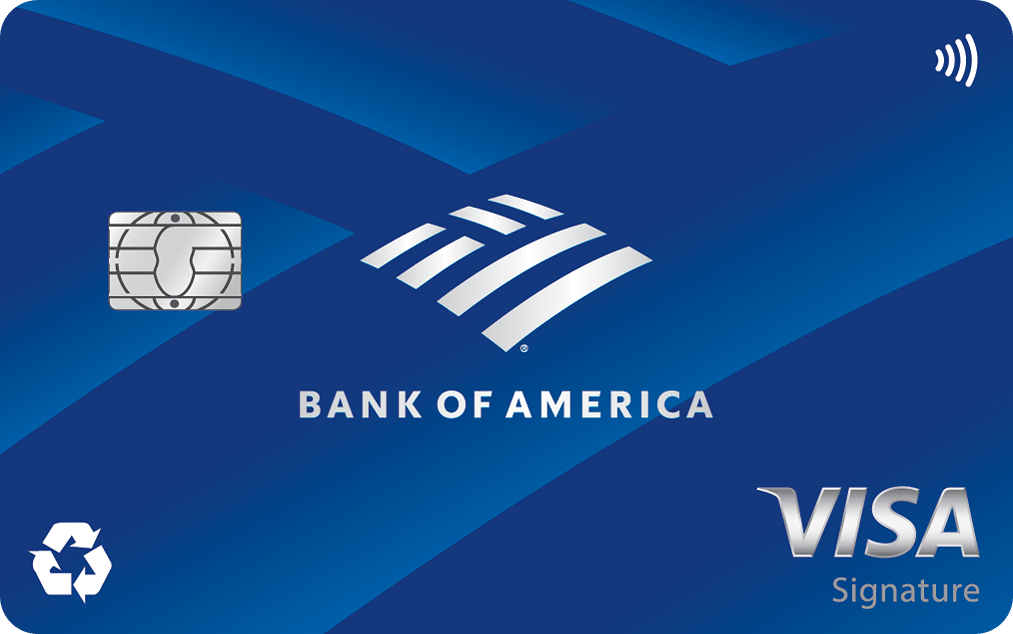 4.1
FinanceBuzz writers and editors score cards based on a number of objective features as well as our expert editorial assessment. Our partners do not influence how we rate products.
Apply Now
on Bank of America's secure website
Read Card Review
Intro Offer
Earn 25,000 online bonus points after you make at least $1,000 in purchases in the first 90 days of account opening - that can be a $250 statement credit toward travel purchases